So you might have noticed that my blog has been a little quiet lately (which I apologise for!), but that's because I've been out in Vegas celebrating my 24th birthday… Which was SUPER amazing by the way!
First things first, to everyone that wished me a happy birthday – I want to say thank you very much! I haven't really had chance to reply to all the messages yet but I will get back to you for sure. I'm really grateful 🙂
I still haven't properly unpacked yet… and to be honest my body is still kind of broken, haha.. but you only live once right!? (though probably not for very long though in Vegas)… The place is insane.
So what went down?
You should already know this, beacuse you should of course be following me on Instagram… but if you're not I'll let you off, you can do that now 😉
For those of you who weren't following me on Instagram (tut tut) – here's what went down…
2 weeks ago on Monday the 15th of August I flew out from Heathrow – on a direct flight straight to Vegas.
I've flew out to Vegas quite a few times in the past, but this time I upped my game and flew First Class. I knew it was going to be a heavy week (or two) and I knew I was going to need that bed on the way home. So here I am looking very happy in First:
Flying First was awesome. Such a different experience, and such a pleasurable one thanks to British Airways & their team.
The First Class lounge was a great way to start the holiday too, with unlimited (and free) alcohol – what more could I ask for??
And being the hard worker that I am I even managed to push out a blog post on the plane too. I'll admit it probably wasn't the best blog post I've ever put together but hey I was 40,000 feet in the air and intoxicated, can you blame me? Heh.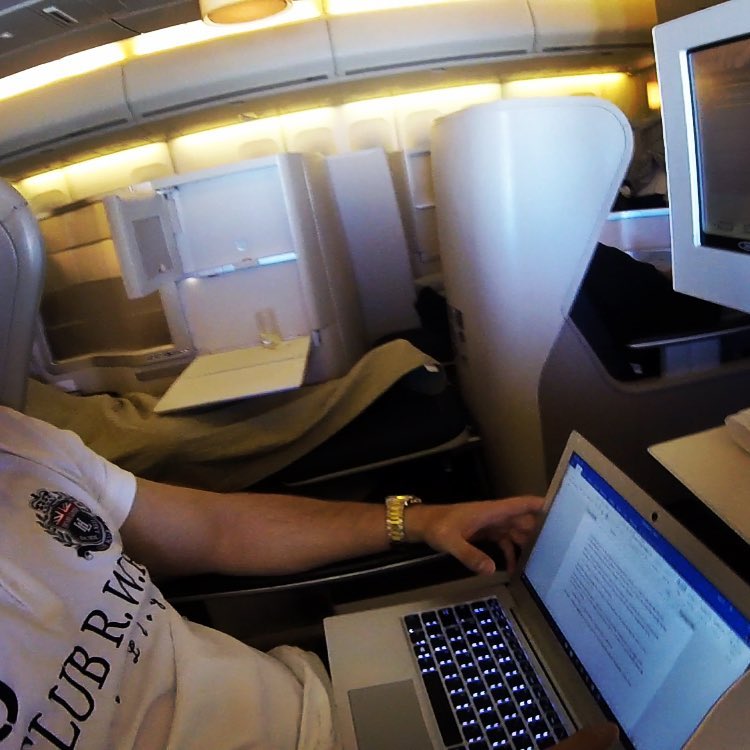 But let me assure you that was the last piece of work that was getting done for a while! Once that was posted, the laptop was closed and the party was to commence!
We touched down at the airport at around 3pm Vegas time on Monday – my birthday was on the Tuesday so that meant Monday was all about the sleep so that I was fully fired up ready to go hard!
Whenever I go to Vegas I stay at the Aria – I just LOVE this hotel, I can't describe the vibe in words but it's just amazing… My favorite place to stay in Vegas hands down.
And this trip they once again lived up to my expectations – I actually stayed in the exact same room I did last year. It felt like I was arriving home (I wish!).
Here's a quick video I took as soon as I arrived:
Awesome right? But even more awesome was the fact they left me a complementary bottle of champagne for my birthday:
No doubt I probably paid for it somehow – but I like to think it was free at least, haha!
Like I said though, Monday was all about the sleep – so no bottles were getting popped this night. I ordered some food, chilled out and got myself straight off to bed (rockstar right?) ?
Then Tuesday rolled around and now it was time to party… but check this for a way to wake up:
Literally everything in the room can be controlled from the tablets they leave in the room. Some next level sh** ?
So birthday boy was up, awake, and ready to roll:
The first thing on my agenda was to go and shoot some guns – being an English guy I don't get much chance to do this (for obvious reasons), so when I come to Vegas this is always one of the first things I want to do.
I've shot before, in fact I've shot pretty much everything there is to shoot haha… Except for the Desert Eagle… I've always been too much of a wussy to shoot it, but this time I manned up.
And I'm glad I did because WOW was that an awesome feeling. It sure lived up to my expectations, and it was one hell of a powerful gun but I handled it… I'm not sure what I hit, but I didn't end up with a black eye so I'd say I did good ?
Check the pic:
And the video for anybody that's interested in seeing my reaction to the first shot ?
Then once that was out of the way I headed over to the Lago restaurant which overlooks the fountains at the Bellagio for some food. The Aria had called through to let them know it was my birthday (very kind) which meant I got a table right up at the window to get the best view of the fountains.
If that wasn't cool enough, after I finished my food they kindly brought this out as a complimentary gift:
How cool ?
But it didn't stop there because when I got back to the hotel, they'd gone ahead and done this…
I was having the best birthday ever! And with it rolling in night time, it was now time to get the party started ?
The champagne got popped, the Grey Goose was flowing, the music was pumping, and the good times were rolling.
This is the moment the week of craziness was about to start.
The week of…
Eat.
Sleep.
Rinse.
Repeat.
Only with a lot less of the eating and sleeping than we should have probably had.. but YOLO we were in Vegas! Who sleeps in Vegas!?
So the limo rolled up and we were good to go to the club…
What an awesome limo it was too – definitely pulling up to the club in style!
From there the rest is pretty much history – we hopped from club to pool party to club to pool party and it's all a bit of a blur ?
I'd love to tell you which DJ's we seen but I can't really remember! I think it was….
Afrojack, Tiesto (I know we definitely seen Tiesto, more on that in a mo), Marshmello, Nervo, Chainsmokers, Hardwell… and probably some others haha.
Basically, the rest of our time in Vegas consisted of this:
And of course this:
But here's the most awesome part…
Tiesto signed my T-shirt!!
I was in totally ecstasy… Literally the happiest man alive.
In fact I was so happy that according to my iPhone I danced 8.3 mile at Wet Republic that day ??
Check this:
So awesome!!
It's safe to say that shirt is now on absolute lockdown… I am definitely going to treasure that.
So yeah, that's pretty much my birthday summed up – a week of absolute madness in Vegas (and I mean next level madness!).
All in all I think I probably grabbed about 4 hours sleep over 9 days – I'm not even quite sure how I'm still alive to tell the tale.
Despite the amount of fun I was having this was the first Vegas trip were I was kinda looking forward to going home purely for the sake of my health – haha.
But of course, now I'm home all I want to do is be back.
Vegas is a bad place!
But until next time….
If You Are Interested In Making Extra Money You Will Like This...
I'm no millionaire but I do make a good living online & I earn around $10,000 each month which is a life-changing amount to me. If you want I can show you exactly how I do it & how you can also start making around $500-$1,000+ per month for yourself