It seems like I am just discovering scam after scam today, as I had literally just exposed the Guaranteed Money System when immediately afterwards I came across this CFD Society system which promises earnings of $60k per year.
The CFD Society system has been launched by a guy named Chris Chase who has supposedly been featured in several high profile publications including Forbes & Bloomberg.
The website claims that he's a successful investor who now has a once-in-a-lifetime opportunity for you that could see you earning upwards of $60k per year – however there's one big problem….
The problem is that it's all a lie.
Something important for you to know…
Before I dive into this review & expose the CFD Society system for what it really is, I want to make something very clear.
I want to make it absolutely clear that I am not an affiliate of the CFD Society system.
The reason I want to make that clear is because a lot of the other reviews online have been written by people affiliated with this system which means they get paid when they get you to sign up. This unfortunately means that many of the reviews are unbiased and contain lies.
I want you to be able to rest assured that what you'll be getting here is the TRUTH about this system from an independent third party who has no interest in getting you to sign up because I am not affiliated with it (meaning I don't get paid for referring you).
What is the CFD Society system?
The CFD Society system is another junk piece of "automated" binary options trading software. It's supposedly been launched by an expert trader named Chris Chase, only the big problem is that Chris Chase does not exist.
The website itself claims the creator, Chris, has been featured in Forbes, Bloomberg & Fortune but I checked all of these sources and there is not one mention of him.
Further to that I discovered that Chris (which isn't his real name) is actually a model for a stock photo website:
He is not, and never has been a real trader.
This means that right from the off this system is built up on lies – a common trend for these scam binary options systems.
But it's not just Chris that's fake, the testimonials are all fake too:
Using Google's reverse image lookup tool you can quickly and easily discover that these people are all too just stock images.
They're meant to look like they have been left as Facebook comments but if you hover over the names you'll see that they're not hyperlinked to any Facebook profiles – a quick telltale sign that they are not real.
How is CFD Society supposed to work?
You might be interested in learning how CFD Society is supposed to actually be able to generate you profits of $60k per year on auto-pilot, so let me explain…
Basically Chris (the fake owner) is supposed to have discovered a logic that enables him to make guaranteed profitable binary options trades.
Because of how proud he is about his reputation (which again we know is fake) he claims he has decided to build this logic into a software to enable anybody to be able to profit, regardless of their experience.
It sounds feasible, but remember this is a common story used by many other binary options scams. A good example is the Automated Binary system, which is a similar scam but one that takes a more humble approach… Don't be fooled – if it sounds too good to be true it generally is.
Binary options is
very

risky

These types of automated binary options systems target those with relatively little to no experience in the field of binary options trading, so I want to take a second in this review just to highlight the potential dangers.

You see binary trading is designed to look easy, and it does a very good job at it… But the truth is that it's one of the most riskiest forms of trading out there.

However because of it's seemingly simplicity many people get sucked in and decide to try it out.

The problem is that it's very easy to get hooked, because it's built in a way that makes you think that you'll be able to apply logic to make profitable trades.

But in reality there is no logic that can be applied because the periods of time in which the decisions are made are way too volatile – meaning there is no way you can make an educated decision to predict which way the trade is going to go. It's pure pot luck.

That's why even Forbes themselves have articles on their website advising against binary options trading: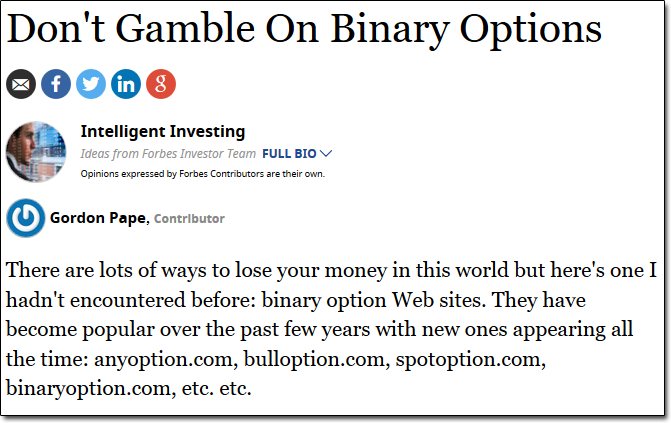 Here's how the CFD Society really works…
The CFD Society system has no interest in helping you to be able profit, the only interest they have is in parting you with your hard earned cash.
The creators of this system have affiliated themselves with a rogue binary options broker, and this particular broker company is paying them BIG commissions for each new member they get to sign up and deposit funds.
However, because binary options trading is renowned as being so risky most people are very reluctant to sign up.
So the creators of this system are presented with the opportunity to earn big commissions by getting people to sign up, but there's no way they'd be able to get people to sign up by simply referring them straight to the broker.
They need to come up with a way to make people think that they'd be able to actually profit.
Which of course is when the CFD Society system was born.
This system is nothing more than a clever ploy designed to make you think that you'll be able to profit from binary options trades.
Because naturally if you think you can profit, you'll be more likely to sign up & deposit which means the creators can earn themselves those BIG commissions.
The big problem
Once you make your deposit with the CFD Society system you are left to find out the hard way that this system does not work as promised.
You'll realize this as you begin to see your account balance quickly deplete when all your trades start losing.
You might still have hope that you'll be able to withdraw your funds – but that's where they'll have trapped you. In the small print when you sign up & deposit with the broker there's a little bit that informs you of a minimum trade amount that's required before you can withdraw, which is usually around $1,000.
This means that if you've deposited the minimum $250 then the only way you could withdraw any funds you have left is to first lose more money.
So basically what I'm trying to say is that you may as well kiss goodbye to any and all of the money that you deposit into this system.
Verdict – Is CFD Society a Scam?
Absolutely not – I have a lot of experience with systems like these & I know exactly how they work.
As I like to often say "you do not have to be scammed to detect a scam" and in this instance I do not even need to try the CFD Society to know that it is undoubtedly a scam that's targeting vulnerable people in need of quick cash.
There are many genuine ways to make money online but unfortunately the CFD Society is not one of them.
If you are interested in learning about genuine opportunities then be sure to click here to check out my list of easy ways for anyone to make extra money.
I really hope you appreciated my insight into this system & more importantly I hope I was able to help you dodge this vicious scam.
If you have any comments or questions then be sure to leave them below, and don't forget to share this post with your friends & family to make sure they don't also end up getting scammed by this system.