It's been a while since I've came across any binary options systems (thankfully) but recently I happened to stumble across a brand new one named LazyTrader.
The reason this system caught my eye is because of it's bold promises.
For instance on the very homepage itself your promised to be able to earn up to $237 per hour just by testing it out for 5 minutes.
After reading that I naturally just had to check this system out to find out what it's all about, and most importantly whether or not it actually works.
So if you've come across this same system & you're wondering if you can make any money with it then stick around because your in the right place.
I'm going to be revealing everything there is to know about this particular system right here in this LazyTrader review.
But firstly I want to make it absolutely clear to you that I am not affiliated with the LazyTrader system in any way shape or form.
The reason I want to tell you that is so that you can rest assured that what you'll be reading here will be the honest TRUTH about this system.
You see most other reviews online are actually written by affiliates who are biased because this means that they're getting paid commissions for any new members they get to sign up. This means that quite often you'll be fed lies and told that systems work when in fact they're actually nothing but scams.
Now that we've got that straight & you know that you're getting honest information, let's crack on with the review…
What is the LazyTrader system?
LazyTrader is a brand new automated binary options trading platform & hence the name it claims to be able to make you an auto-pilot income by placing profitable trades on your behalf.
It certainly sounds good in theory but I've seen a lot of similar binary options systems surface before & they've turned out to be nothing but scams, so before you get drawn in let me give you all the information to enable you make a better decision as to whether or not you really want to join.
What is binary options trading?
Before I dive into the meat & bones of this review I just want to mention a little bit about binary options trading itself because I know that some of the people landing on this page will probably be completely new to the world of binary options & might not know too much about it.
Basically binary options is one of the more "easier" forms of trading, but because it's easier to do, do not be fooled into thinking that it's easier to make money.
Binary options is actually one of the most risky forms of trading that you can participate in.
The concept of binary options is that you first select a time frame & then you decide whether or not the trade price will be higher or lower after that specific amount of time. If you get it right you make money, but if you get it wrong you lose money.
Many people get involved with it because it seems so easy, but the truth is that it's VERY difficult.
To back up that statement here's an article written about binary trading that was published on the official Forbes website: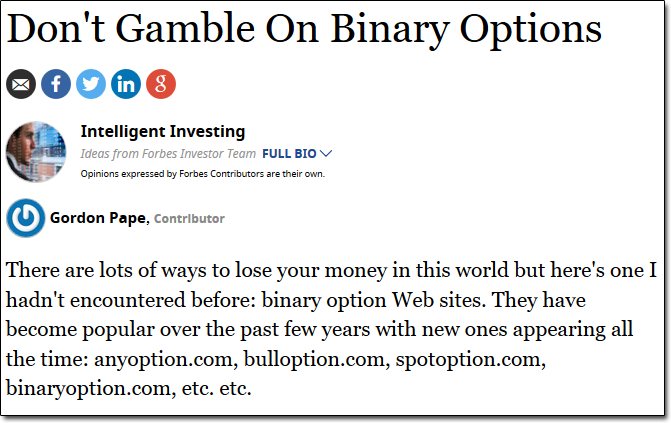 So with that being said, naturally whenever I come across any binary options trading platforms or opportunities I immediately become very skeptical.
Especially when they're combined with systems that make bold promises such as auto-pilot profits & pitched to you by a guy driving a Lamborghini. ?
It definitely rings alarm bells!
In fact during my entire time online I don't think I've actually came across a single person who's been able to prove that they've made consistent profits from binary options trading. I mean sure some people DO make profits because they get lucky now and then, but overall their losses tend to outweigh those profits.
Anyway let's take a closer look into this particular LazyTrader & see if they really have come up with a "magical answer" to profitable trades…
How does the LazyTrader system work?
The LazyTrader system, according to the video on the homepage at least is a system that's been developed by a guy named Rick Daniels.
Rick was supposedly born with a gift for complex mathematics and after 10 years of being jobless he eventually developed a formula that would enable him to make consistent, profitable binary options trades.
Here's a picture of our main man Rick Daniels:
He apparently went from ZERO to over $17 million dollars with just a few clicks of his mouse.
I don't know about you but to me that sounds ludicrous. I mean if that's truly the case then how come I discovered this website via a popup and not via the news? LOL.
Rick's mission…
If you watched the video on the LazyTrader website for any length of time you'll see that apparently Rick has a mission, and that mission is to help 47 people earn $150,000 in the next 10 days.
How very kind of him!
However, if that's really true & the profits can be made so easily then why does the website come with a 2,600+ word risk disclaimer?
If you want to read the risk disclaimer yourself then you can access it from a link at the bottom of the LazyTrader website, however let me share with you 1 interesting piece from it…
Well isn't that confusing??
According to the homepage of LazyTrader they promise you profits of up to $237 per hour, and in the video Rick promises you profits of $150,000 in just 10 days… Yet according to their disclaimer they promise you nothing.
This leaves me wondering something…
If their system really can provide these auto-pilot profits and their method really is so risk-free then why on earth do they need a disclaimer?
Very suspicious indeed!
Does LazyTrader work?
Unfortunately the LazyTrader system seems to be nothing more than another "too good to be true" system that's been designed to do nothing other than part you with your hard earned cash.
Whilst I didn't personally deposit the required $250 into this system myself, I did some research & managed to find out exactly how it all worked.
It's no different to any of the other binary systems I've reviewed in the past like the Millionaire Blueprint system. Similar scam, different front.
You see once you go through the process of entering your name & email address to get started with the LazyTrader system your told that before you can begin using it you need to make a minimum deposit of $250 with their recommended broker.
Now here's the important part – when a binary options system LOCKS you into depositing with a specific broker, there's generally something fishy going on.
A genuine system will usually let you place a deposit with whoever the heck you want – however these systems require you to deposit with a specific broker because either they're owned & operated by that particular broker company OR because they're affiliated with them and earn money when you deposit.
And yes, believe it or not some of these systems are actually owned by broker companies to try & entice you to sign up and deposit funds. Crazy!
But in this particular instance it looks like the creator of the LazyTrader system is an affiliate of OptionStarsGlobal.
This means that when you follow their link and deposit funds with their "recommended" broker, the creators of the LazyTrader system will earn a commission (a pretty huge commission too).
Then, once you've placed your deposit you'll be given access to the LazyTrader system.
However, this is where you'll discover you've been scammed, because when you initiate the LazyTrader system you'll quickly realise that it does NOT work as promised.
Instead of generating the profits that you were promised, you'll see the funds quickly begin to deplete from your account as all your trades LOSE.
Here's how it really works…
The LazyTrader system was never built with the intention of making you money, it was simply built with the intention of convincing you that it can you make you money so that you'll sign up and deposit funds with their "recommended" broker.
As soon as you do that, the creators of this system will get paid a huge commission from the broker company and you'll be left with nothing but a duff system.
It's a very clever scam, but all the same it really is nothing more than a scam. They're indirectly taking your money off you.
Don't get caught out by the clever traps…
These systems prey on you thinking that you'll be able to "try it out" and then simply withdraw your funds if it doesn't work.
Let me make it very clear that you will LOSE any funds you deposit into these types of systems.
The people behind them are very clever and they make sure that refunds are next to impossible.
If you read the small print when you sign up you'll see that in order to qualify for refunds (or to withdraw cash) you need to make a minimum amount of trades.
Usually you'll need to trade around $1,000 before you can actually withdraw anything, so ultimately if you want to get your money back you would actually have to LOSE more money (which is crazy).
Do I recommend LazyTrader?
Absolutely not! In fact I strongly recommend that you stay well away from this system, unless you're looking for an easy way to LOSE your cash.
Being a person that has experience in the online world it's fairly easy for me to spot dodgy systems, but I can appreciate that this kind of thing could look convincing to you if you're just getting started. Simply take my advice, stay safe & avoid it.
If you're looking for ways to make money online then you might want to check out my list of different methods. You'll find a whole bunch of SAFE ways that you can begin building an income online & some of them are very easy to do.
Anyway, I hope you found my review of the LazyTrader system insightful & more importantly I hope it helped you keep a hold of your hard earned cash.
If you have any comments about this system (or questions) then be sure to leave a comment below, I'm always happy to help. 🙂
P.S. Be sure to share this post with your friends & family too so that they don't end up getting tricked into falling for this system.