My Business Venture is a website that claims it can provide you with a done-for-you profitable online superstore. You're led to believe that you can sign up, get your own store & begin making money the very next day.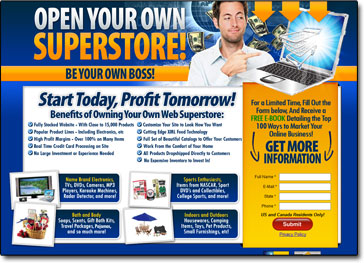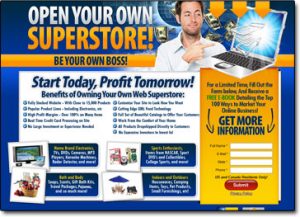 They even state that you don't need any experience & that the My Business Venture team will handle literally everything for you, including stocking your store with around 15,000 products…
But is it actually legit or is My Business Venture a scam that'll just see you wasting money rather than making it?
Thankfully you've landed in the right place to find out because I've done the digging & in this review, I'm going to be uncovering the truth about this program including how it all works & whether or not it's really as good as they make it out to be.
What Is My Business Venture?   |   How Does My Business Venture Work?   |   My Take On The Plans   |   A Big Problem   |   Not As Easy As They Claim   |   Complaints   |   Is My Business Venture a Scam?   |   A Better Alternative
What Is My Business Venture?
My Business Venture basically claims to provide people with done-for-you online businesses, or online superstores to be more precise. They make out as if you can just hand over some cash & get your own profitable online store that will begin making money for you almost right away…
But right from the off, I'm going to admit it all looks a bit sketchy – I mean immediately upon landing on the page you're presented with some extremely bold claims such as "start today, profit tomorrow" (as shown below)… Claims that are typically associated with the likes of get-rich-quick scams.

Though it's worth pointing out that they do seem to keep these extremely bold claims hidden away on "secret" sales pages which aren't accessible from the main site – so it's possible if you landed directly on their main site you might not have seen them…
Here's a look at one of those "secret" sales pages side by side with their main site: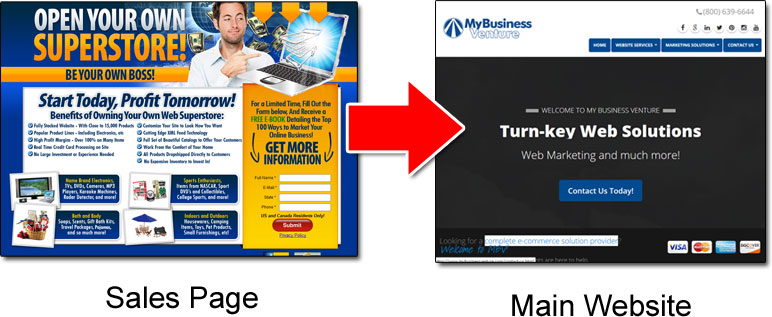 You'll clearly see that the two are wildly different & I'll admit that on their main site they keep things a little more subtle as on there rather than claiming to help you make money fast they just claim to be a "complete e-commerce solution provider"…
So what's going on here with My Business Venture & why do they have different pages like this? Is there some sort of scam going on? Let me dive into how it all works & you'll soon see for yourself what's really happening here…
How Does My Business Venture Work?
Okay, so as I mentioned a little bit above in this review the whole idea is that you simply hand over some cash to My Business Venture & in return they provide you with your own profitable online superstore that you should allegedly be able to start making money from fairly easily…
The three different "done-for-you" packages they offer are as follows: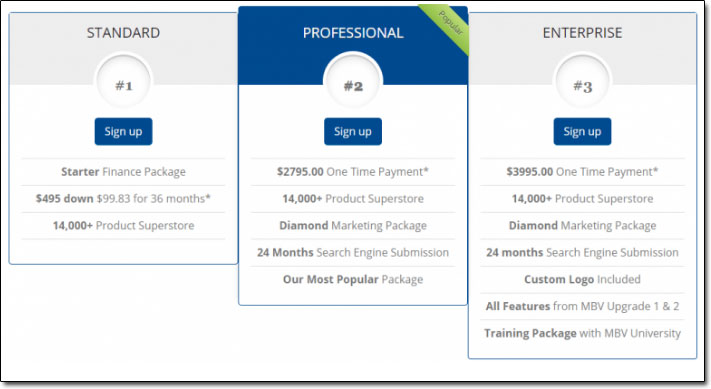 The Standard Package literally just gets you the website setup, nothing else – and this will cost you $495 upfront then $99.83 for 36 months ($4,088.88 will be payable in total over the full plan).
The Professional Package which is supposedly the most popular package costs $2,795 upfront & this basically gives you access to some marketing training in addition to the website being set up for you.
The Enterprise Package which is the most "complete" package costs $3,995 upfront – yet the only real addition is that you get a custom logo & some extra training through what they call the "MBV University".
My Personal Take On The Plans…
I've been in the online marketing space for a while now & whilst those prices might seem pretty reasonable to a newcomer, they seem pretty darn expensive to me – in fact, I think "outrageous" is a better word to use.
$4,088.88 for a website & they don't even create you a logo!
But what worries me the most is the fact that they've listed "Search Engine Submission" as if it's a really valuable addition to the plan. The truth is this is something you can do easily & free in around 30 seconds.
I don't know… I'm really sceptical here…
Plus There's Another BIG Problem…
Okay it's all fair and well My Business Venture creating you a website – but a website alone is not going to make you any money. To make money with it you need visitors, they are the lifeblood of online business…
Without visitors, it doesn't matter how great your website is – you ain't gonna make money.
And guess what one of the hardest types of websites to get visitors to is? Yup, an E-commerce site like the one provided to you by My Business Venture – so you're really going to have your work cut out for yourself in making it a success.
I mean I know My Business Venture list a marketing package within their plans but ultimately these plans consist of a one-time fee so the marketing they do for you is obviously not going to last forever…
This means that at some point you'll have to start marketing the website yourself – and you can do that one of 2 ways. You can use free traffic, which will take a lot of time & effort… Or you can use paid traffic, which will require a lot of upfront investment.
So basically what I'm saying is that unless you've got a huge budget it's unlikely that you'll see any speedy results from the store they provide you with, and if you do have a big budget then you should know that paid advertising involves a LOT of trial & error…
When it comes to paid advertising unless you're already a very experienced marketer you could (and likely will) see yourself burning all the way through your funds before you even manage to turn a profit.
It's Not As Easy As They Claim…
The truth is that My Business Venture make everything seem really easy. They make out as if you can just buy a plan, get an "online superstore" and start seeing profits almost immediately… But it's nonsense.
The reality here is if you hand over your cash & buy a "done-for-you" site from them you'll likely just end up spending more money than you ever manage to make because it's much more difficult than it seems.
Yes you'll have a website with products – but as I mentioned above you're going to have to market it & without a solid background in online marketing you're likely going to find yourself struggling to get the ball rolling.
And of course, you'll be a few thousand dollars out of pocket…
Not good – and although My Business Venture is technically legit since they do actually provide you with the site as they claim, you should probably know that there's a whole bunch of complaints about them online (which you now might not find surprising).
You Might Also Like:
My Business Venture Complaints
After digging deeper into how this whole My Business Venture things works I was a little worried about what was really going on so I decided to look around for complaints to see what others had to think…
I was pretty shocked at some of the complaints I came across & it kinda confirmed my initial suspicions. I mean on their BBB profile, for example, they had only 1 positive review & 29 complaints which I think speaks volumes alone.
Unfortunately, most of their complaints on that particular site have been hidden, but here is an excerpt from one that remains which I think you'll find pretty interesting: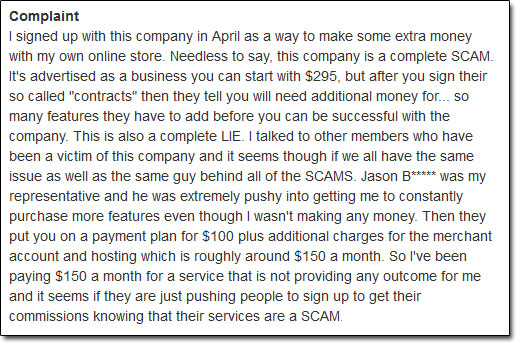 And from another website here's another complaint left by a disgruntled customer:

This particular customer mentions that My Business Venture pushed useless yet expensive upgrades on them, but more interestingly they state that MBV charged them $295 for "Google verification"… Something that can be done easily for free & takes around 30 seconds in total.
This is pretty similar to the "Search Engine Submission" I talked about earlier in the review. In my opinion, it just seems like they're set out to take advantage of newcomers looking to start an online business.
I mean yes, they are providing the customers with sites – but it seems (based on the complaints) that they're charging them extortionate prices for things that are relatively easy or free to do.
Is My Business Venture a Scam?
Well, it's not really a scam as such since you do get provided with a website in return for your money like they promise – I think misleading & highly overpriced would be a better way to describe it.
The truth is that if you purchase a "done-for-you" online superstore through My Business Venture then you'll probably just end up finding yourself spending more money than you ever manage to make.
It seems to me like the only real winners are My Business Venture themselves & as far as I'm concerned in my opinion they're simply set out to take advantage of newbies & profit at their expense.
Therefore overall I won't be recommending them because I feel like if you invest money with My Business Venture you'll likely just find yourself disappointed at what you actually receive compared to what you were promised.
If you really want to get started online properly & build an income the right way then I highly advise you check out Commission Academy instead. It's there that you'll get the proper step-by-step training & tools you need.
But anyway hopefully this review gave you a good insight into My Business Venture & helped you understand how it really works. I also hope it helped save you some cash too. If you do happen to have any further comments or questions though then don't hesitate to leave them below & I'll get back to you as soon as I can.
A Better Alternative
The sad truth is that unfortunately most of the programs promising to help you make money online are scams. I can say that confidently after exposing over 500+ of them here on this blog.
But the good news is that even though most of them are indeed scams, there are actually some very good programs in amongst them - some programs that can truly help you to earn money.
And out of all of the legit programs I've seen, the one I would recommend the most to anybody looking to get started online is Commission Academy. In my own opinion, that's the best place to start.
At Commission Academy, you'll be provided with everything you need (including the training & tools) to begin earning real money by promoting products or services for companies like Amazon online.
The best part is that there's literally no limit on the amount you can earn with it & the process is pretty simple which means that it's absolutely perfect for people that don't have much experience.
Some wealthy affiliates even earn as much as 5-figures per month... Or more!

I mean don't get me wrong, that kind of money won't just fall into your lap without doing any work... But the harder you're willing to work at it, the more you stand to earn with it.
So if you're looking to get started but don't know which route you should go down or which program you should join (and don't want to waste money on bogus things that don't actually work), then I'd highly recommend checking out Commission Academy first. You can learn more about it here.