For the past couple of years I've been using both LeadPages & OptinMonster but recently I decided that rather than paying for both (since they both do similar things) it would make more sense to figure out which one is best & just use that one instead.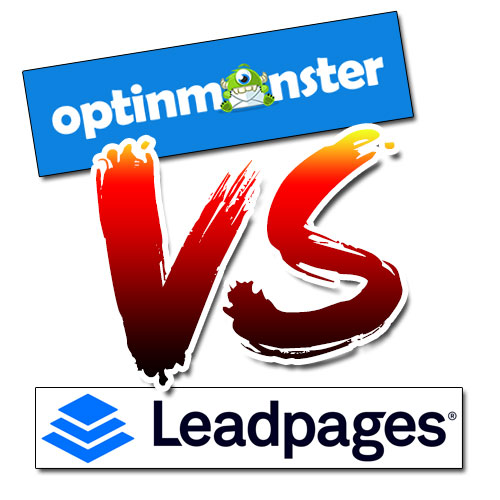 The main benefit of me dropping one of the services would be that it would obviously save me some money, but on top of that it would also make things easier because by just having the one service it would mean I'd be able to manage everything from the same place rather than switching between the two.
It kind of seemed like a win-win (or at least so I thought) but after running a bunch of tests I reluctantly ended up keeping both services, despite the costs and you'll find out the reason why later in this post.
The quick truth is that whilst at a quick glance OptinMonster & LeadPages can seem quite similar, in reality they're actually very different & which one you pick will depend on what business you're running.
Thankfully though you're in the right place because in this post I'm going to help you determine exactly which ones YOU need (and why you need them) to maximize the success of your business.
A Quick Insight Into My Current Implementations…
Before I dive into talking about each service in more detail I want to quickly show you how I'm currently using them right here on my blog so that you can get quick idea of their main benefits & uses.
OptinMonster
At the moment I'm using OptinMonster for one thing & one thing only, which is to power the popups around this website (some of which you might have seen already). The reason I'm using OptinMonster for this is because to the best of my knowledge this isn't something LeadPages enables you to do, certainly not with the standard membership anyway… And to be honest, I personally don't think I could justify paying the higher LeadPages membership even if it did include popups.
But regardless, OptinMonster is hands down the top-dog when it comes to placing targeted popups on your website. Now, don't get me wrong "popups" sounds like a nasty term & you probably relate it with annoying windows that open up without your say so, but I use the term "popups" loosely because OptinMonster popups are actually what's known as floating overlays.
This means that they don't open in a new window like a traditional popup, they open as part of your website and just overlay the content of the page. This also means that they're unblockable (well, 99.999% unblockable anyway).
The great thing about OptinMonster is that the level of targeting you have control of is insane… Literally, there's no other word to describe it (and you'll find out more about it shortly).
As an example, here's a popup (floating overlay) that I've set to deploy when a user scrolls 40% down the page:
And here's another one that I have set to display when a user goes to leave the website: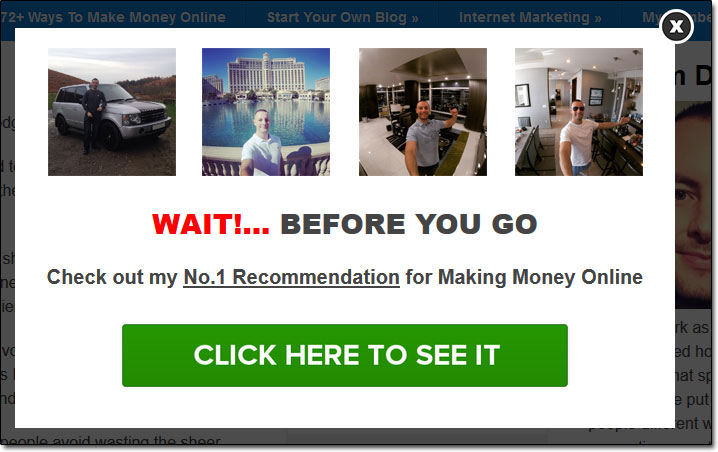 The second one uses something called exit-intent technology and let me tell you that is powerful – in fact it's 1 reason alone why you NEED to have OptinMonster running on your blog. Exit-intent popups are probably one of the quickest & easiest ways to increase your blogs conversions right now. Period.
So at the moment those popups (floating overlays) are the only things I'm utilizing OptinMonster for on this blog, but let me tell you that those 2 features alone (exit-intent and delayed popups) are WELL worth the cost of running OptinMonster. They have blown my conversions through the roof.
Don't get me wrong there's way more you can do with OptinMonster as you'll find out as I talk about in more detail but even the most basic of features make it an absolutely worthwhile add-on.
LeadPages
Alongside OptinMonster I also run LeadPages on this blog & there's a few reasons why I've chosen to run LeadPages alongside OptinMonster as opposed to just running OptinMonster solo like I had thought about doing.
The first thing I use LeadPages for is to produce what they call LeadBoxes which are basically 2-step opt-in forms. The user clicks a link and then an opt-in box appears for them to enter their details. If you've never used a LeadBox (or 2 step opt-in method) before then let me tell you that they are superb for conversions.
Here's an example of one in practice: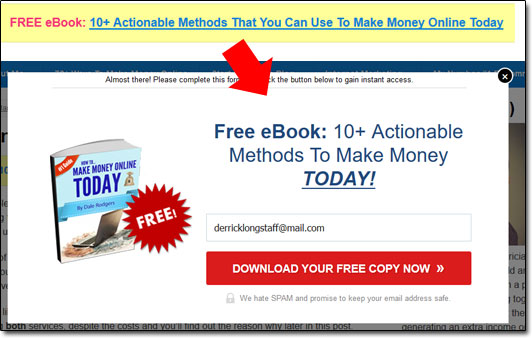 Now here's the deal – OptinMonster DO have a similar feature which they called MonsterLinks, but if you use AWeber like me then you'll probably find that the conversions of their MonsterLinks suck compared to that of LeadBoxes (unless you're willing to mess around with HTML).
The reason for that is because OptinMonster integrates via the AWeber API which means you'll be forced into using double opt-in (the user will have to click a link to confirm their email). The only way to get around this is to paste the HTML code into OptinMonster and manually design the form which is a pain in the butt.
With LeadPages LeadBoxes you can just drop the HTML straight in from AWeber & it'll integrate nicely into their forms so you don't have to do any messing around, but you can still reap the benefits of using single opt-in.
So to summarize that point – if you use AWeber & you want to use those "clickable popups" with single opt-in then LeadPages is my recommendation. You can do it with OptinMonster but it truly is a pain in the butt, and if you switch to double opt-in you'll notice that conversions drop dramatically.
The other thing I use LeadPages for is to create quick & easy "action pages". What I mean by that is if I want to send my prospects to something where I have a particular call-to-action in mind I will use LeadPages to create a quick and easy page.
As an example my number 1 recommendation will take you to a LeadPage's page which looks something like the one below:
The reason I use LeadPages for this is because I can literally put that page together in around 60 seconds, and the page is super simple which means there's no distractions for the person on that page.
If I was to do a similar thing but host the video & button on my blog then there's a solid chance that the viewer would get distracted and end up clicking on something that I didn't really want them to click on. Plus LeadPages also enables me to see the statistics of the page too.
This also gives me the ability to promote the page elsewhere – for example on Instagram, Facebook & Twitter. With OptinMonster you're limited to running the promos directly on your website – with LeadPages you can create actual pages that you can link people to.
Now Let's Find Out Which One's Right For
You

…

If you have a blog and your goal is to simply get more people subscribing to your newsletter them I'm confident that OptinMonster alone will be more than ample for you (and will send your conversions through the roof).

If however you're looking to take your marketing to the next level by promoting elsewhere or your possibly trying to sell your own products too like an eBook or course then I'd say it's time to get LeadPages involved.
The Benefits of OptinMonster…
The main benefit of OptinMonster is that it enables you to add eye-catching popups to your website that will without a doubt send your conversion soaring through the roof. On top of that, unlike traditional popups that just pop up at any time, OptinMonster gives you a crazy amount of targeting options too.
You can set multiple rule-sets up for each popup & you can target users based on things like how long they've spent on the page & how far they've scrolled. You can even target visitors based on where they're located, which websites they came from & how many pages they've viewed.
There's so many different options you can pretty much target just about whoever you want.
The other HUGE additional benefit of OptinMonster is the exit-intent technology, and that's actually the reason I initially purchased OptinMonster in the first place. Around 70% of the people that visit your website will never come back so OptinMonster's exit-intent popup gives you a way to grab your visitors attention before they go to maximize your conversions & increase sales from what would have otherwise been "wasted" traffic.
On top of that they do have an array of different features too such as floating bar opt-in forms that you can stick to the top or bottom of your website, sidebar & after post opt-in forms as well as slide-in popups & full screen takeovers. All of these can also be subjected to the same targeting rules as the popups.
OptinMonster does also give you the ability to add clickable popups (2 step opt-ins) too by using what they call their MonsterLinks, but remember that if you're using AWeber then if you want to use these along with single opt-in you'll need to be fairly confident with editing HTML.
The Benefits of LeadPages…
My favorite thing about LeadPages is definitely their LeadBoxes because they are great for conversions are easily integrate with AWeber as single opt-in forms (meaning unlike with OptinMonster your subscribers wont need to click a link to confirm). I've found LeadBoxes to be among the highest converting feature that I've ever implemented onto my blog especially when I link them from inline content.
On top of that you're given access to hundreds of landing page templates that you can use to either generate more subscribers or increase sales. If you have a product such as an eBook or a course that you're selling then I'd say that LeadPages is a must if you're looking to take your business to the next level.
My Verdict On Which One You Should Choose…
If you're running a blog & you're just looking for a way to get more subscribers onto your email list then OptinMonster is the one for you. That alone will be able to do everything you need & it'll integrate nice and easily with near enough every email marketing service out there. Whilst I wasn't a fan of OptinMonster's MonsterLink boxes because they required double opt-in, they'll still be ample if you're just starting out & double opt-in isn't always too bad of a deal anyway depending what you're promoting.
On the flipside if you have a product that you're trying to promote or you're looking to take your business to the next level then I'd say LeadPages is a must have because their landing pages will without a doubt help you get more sales & more leads.
So when it comes to battling OptinMonster against LeadPages I wouldn't say there is any real winner. OptinMonster is a good starting point & then LeadPages is something you can introduce once you start doing well to up your game even further.
If however you don't actually have a website or blog then LeadPages will be the only one out of the two that will work for you since that's the only one out of the two that lets you build physical pages that you can promote. OptinMonster is simply a tool that embeds into your current website or blog.
Anyway, I hope this post helped you work out which service would be best for your needs. As I say I personally have decided to keep both services running because I feel that they each have their own place in my business – yes LeadPages is fairly expensive, but I do feel that it justifies it's cost because it helps make my life easier which means I can ultimately be more productive.
Be sure to leave a comment below to let me know your thoughts – if you'd picked one over the other I'd love to hear why. 🙂