Product Name: Orion Code
Product Owner: Edward Robinson (false identity)
Cost: Minimum $250 (pressured into paying more)
My Score: 0/100
Quick Summary: The Orion Code system is one of the most convincing binary scams that I've seen launch to date, but the bottom line is that it's still a scam nonetheless & despite it's hopeful claims and promises of easy riches the system is set out to do nothing other than part you with your hard earned cash.

Read on for my full review…
Before I Start
In just a moment I'm about to dive in and expose this system for what it really is, but before I do that I want to make it very clear to you that I am not affiliated with the Orion Code in any way shape or form.
The reason I want to make that really clear is because I've noticed that there are several other reviews for this system but they've been put together by affiliates and as a result they contain biased information because those reviewers are simply trying to get you to sign up to earn a commission at your expense.
I want you to rest assured knowing that what you'll be getting here will be the TRUTH about this system written by an independent third party who's only interest is in protecting you from losing your hard earned money because I've been there & done it, I know what it's like… It's not nice!
What Is The Orion Code System?
Judging by the way things have been going lately if you follow my blog you won't be shocked to hear that this is yet another so-called "free" binary options system that's promising easy autopilot riches. If you don't follow my blog, basically there's been an influx of these binary systems launching lately & each one I have reviewed has turned out to be nothing but a dangerous scam.
Some of them you might have already seen, the more "popular" ones included the Guaranteed Money System, The Brit Method & The Bahama Banker. Out of those 3 it was The Brit Method that seemed to hit the most people, but ultimately they all sucked thousands of people in & took their money, now it looks like the Orion Code system is out to do exactly the same.
You're led to believe that the system has been put together by a guy named Edward Robinson & the video starts out with Edward boarding his private jet as he tells you how his system is going to make you $100,000 or more in the next 30 days. He even goes on to say that if it doesn't work he'll personally give you $5,000 for "trying".
The problem is that whilst all that sounds very kind, unfortunately Edward Robinson isn't a real person – he's an actor from Portland, Oregon.
I managed to discover that Edward was an actor from a comment that was left on the companies YouTube video. They put several measures in place to try & stop you accessing the video directly over at YouTube, such as linking it through various external services but with a few tricks I managed to get to the source.
Here's what I discovered:
This comment looks like it's been left by somebody who has tried the Orion Code system & been burned as they've clearly written in a very angry tone. I decided to do some research & check that the claims held true, and surprised surprise yes they did.
Our man Edward Robinson is actually an actor named Jeffrey Gorham & here's some proof for you to digest:
Nearly every single one of these binary options systems that launch use actors in their videos to hide the true identities of the creators that are behind them, however generally they use low-key or "cheap" actors that don't have much recognition so it's hard to 100% verify that an actor has been used. In this particular instance they've clearly paid more for a "better" actor, but this has come at a cost because this means the actor is more well known and people have been easily able to spot the signs.
The reason they've paid more for a better actor is because it seems like the Orion Code is operating on a massive scale unlike many of the other binary scams that launch, target a few hundred or thousand people & then disappear. The Orion Code looks like it's not only around to stay, but it's around to target the masses too.
That's why I just had to put this review together as quickly as possible so that I could warn people about the dangers of this system. In fact as you're reading this right now it would be a good idea to share this post on social media to prevent your family or friends from getting sucked into this scam too.
I Want To Make Something Clear…
When it comes to binary options systems if a system is found to be using an actor in it's sales video then it's generally a good indicator that it's a scam system. However, obviously that factor alone does not 100% brand it as a scam so I want to give you the rest of the information so that you can see for yourself how this system actually operates and why it is undoubtedly 100% a scam.
Firstly, You're Fed Nothing But Lies…
Right from the very moment that you land on the Orion Code website you're fed nothing but lies which is a typical trait of a scam binary options system.
Firstly you're presented with a VERY bold & unrealistic income claim. This particular system claims that it can make you $100,000 in 30 days starting from complete scratch without doing anything which is just outrageous. If a system promises you that you don't need to do anything at all then it's usually a major red flag.
Secondly you're shown 3 fake counters which are designed purely to rush you through the process of signing up. The counters supposedly display how many people are on the page, how many VIP spots are available and the time until membership closes, 3 tactics put together to make you rush into a decision.
In some circumstances these tactics can be used legitimately, for example to promote a live webinar that will be airing or to promote an event that will be taking place. In this instance however it seems they are being used to prevent you from searching for reviews.
The creators know that if they give you time to go & look for reviews that the chances are you'll find out the truth about the system & avoid signing up so they've put these measures together to make you think that you don't have time to find a review.
It's not the first time I've seen this tactic being used, the Copy My Websites system for example operates a very similar process.
The System Isn't Free At All
One of the tricks this system uses is to lead you into thinking that it's free, because if you believe it's free then you'll begin to think that it simply couldn't possibly be a scam… After all, a scam would require you to pay money right?
Well yes, that is right – however the Orion Code does require you to pay money. The scam operates in a very clever way & instead of taking the money off you directly they take the money from you via a broker.
As soon as you enter your details into the page on the Orion Code website you'll be asked to then sign up with their recommended broker and make a deposit of at least $250 before you can gain full access to their system and "switch it on" to trade.
But I'll explain more about that right now…
Here's How The Orion Code Actually Works…
Basically the Orion Code is nothing more than a ploy that's been purely & to simply to get you to sign up and deposit funds with their recommended broker. It doesn't really work as promised, they just want you to make a deposit with the broker that they recommend because they're affiliated with them & they'll get paid a huge commission when you do.
You'll be at least $250 down and you'll have nothing to show for it other than a duff system that simply doesn't work as promised.
The cleverest part of this scam is how they make you feel that you'll be able to just "try it out" and then withdraw your money if it doesn't work out. The truth is you can't "try it out" at all because these guys work with unregulated brokers who will make it nearly impossible for you to get any of your funds back (even if you don't trade the full amount).
So basically you will lose any & all of the money that you deposit into this system, and the shocking part is that this system has actually been designed to make you lose quicker. Yes, that's right because the moment your funds are fully depleted they'll call you up again and try to get you to deposit even more claiming that there was a glitch in the system the first time around & that the next time you'll be sure to make money. This time around they're basically preying on your heightened desperation.
It's Making Binary Options Even Worse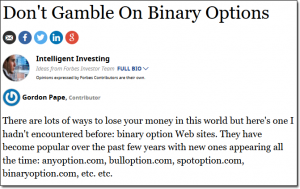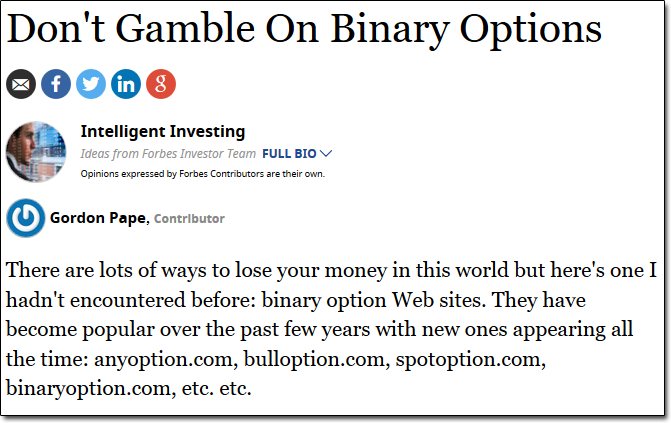 As if binary options trading wasn't already risky enough as it is systems like these are just making it 100x worse and they appear to be targeting people who are in the most desperate situations.
Binary options trading has now been banned in the most parts of the USA (thankfully) and now the UK are looking at issuing a ban too which is definitely welcomed by me. I've seen way too many people lose way too much money to binary options brokers over the years, it's a terrible industry.
In my opinion (and I think it's an opinion shared by many others) binary options trading is more dangerous than gambling. Binary options is not only a gamble, but it's one that makes you think you have an educated chance at winning when in reality it's impossible. The short trading windows that binary options runs on means that there's no way you could predict trends, it's just a total guess whether you win or lose… Only it makes you feel like you're in control.
I would strongly advise you to stay well away from binary options, there are many genuine & risk free alternative methods to make money online which I would recommend pursuing instead. If you're interested in making extra money then here's a great starting point.
My Verdict On The Orion Code
It's clear to me that the Orion Code is nothing more than yet another binary options scam and for that reason I will not be recommending it, in fact I'll be doing the complete opposite and strongly advising you to avoid it.
I'm fed up of seeing systems like these that are set out purely to part people with their hard earned cash. The only people that are making money from these systems are the creators & the affiliates that are pushing them onto people. In my eyes it's just plain wrong, the guys behind these systems could easily create something that could genuinely help people but instead they are just focused on nothing more than lining their own pockets.
To make sure you stay safe online & avoid bogus systems like the Orion Code be sure to keep an eye on my reviews. I watch out for the latest money making systems & review them based on my experience to help others make informed decisions based on the facts.
Anyway, the bottom line is that the Orion Code is something that you stay well away from. If you'd like to leave a comment or question about the Orion Code system then feel free to do so below, I always love hearing from my readers & I'm always happy to help with any questions that you might have.
Also, once again be sure to share this post on social media so that your family & friends don't end up getting caught out by this scam too.