Welcome to my very own review of The Secret Millionaire Society – the latest system released that claims it can help you make $1,948.22 in just 60 seconds. That sounds great if it's true, but the big question is – is it? Let's take a look & find out for ourselves, once again here I am bringing you a no BS review.
Right off the bat I'm going to tell you that this system is none other than a rubbish binary options "system" that's doing nothing more than trying to flog you a dream & hoping you'll buy into it. The promo video itself is full of blatant actors that each claim they've made thousands of dollars in just a matter of seconds. Whilst this is entirely possible, when it comes to binary systems you've got just about as much chance of making a thousand dollars as you have by taking a spin on the roulette. Binary options are nothing more than a gamble & these systems despite their claims that they help you win are actually put together to help you lose.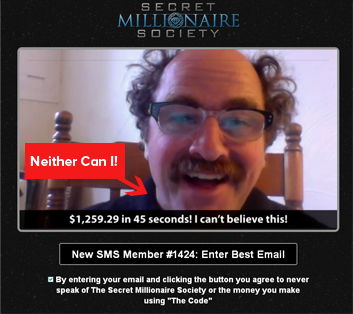 You might be wondering why they would design a system to make you lose, well that answer's simple. Basically these websites aren't setup by traders, they're actually setup by internet marketers who are just looking to turn a quick profit (which admittedly they probably do). These internet marketers work with the brokers & they get paid each time they refer a new member to the broker who goes ahead & makes a deposit – this pay can be pretty high (often in excess of $200).
So basically these internet marketers put together a hoax video trying to make it seem like they've managed to build a system that will be able to allow you to make money from all of your trades. Obviously if you come across a system like this then it's going to make you really interested & probably want to try it out – after all who wouldn't want more money! That's exactly what they prey on – they prey on you deciding to try it out because as soon as you've deposited money over the broker they'll get paid a nice big commission.
So can you make money?
Nope, the only people who'll be making money out of this system will be the owners and it's affiliates. OK sure, you might get lucky and make a bit of money but you'll soon lose it – like I said above binary options are nothing more than a gamble and my main recommendation would be to avoid them at all costs. Take a leaf out of the internet marketers game & rather than gambling with binary options look into real ways to make money online.
The reason I say it won't make you any money is because well think about it, the brokers are still in business. If these companies were paying out these huge sums to people all over the world then they wouldn't be able to make business, either that or they'd soon shut your account down and claw back the money you made for cheating the system (not that you're going to be able to cheat the system).
Unfortunately these systems are nothing but cleverly designed hype trying to sell people a dream. They'll do nothing but leave you out of pocket & feeling embarrassed. If you've fell for it yourself & you're reading this review after signing up then don't worry, you're not alone. These binary options systems are popping up all over the place at the moment so clearly they're drawing a whole load of people in.
If you're lucky, maybe you can get a refund but I'm afraid to say I highly doubt that's going to happen. It's crazy to think how much money these companies must be making & how many people they must be scamming if they can afford to pay over $200 to their affiliates for each new member they refer. That means they're actually expecting you to lose more than $200!
My conclusion.
Stay away! Save your money & if you really do want to make money online then look into getting started with internet marketing instead, something where there is actual real money to be made & something that doesn't just simply rely on a gamble. I've personally made a living from internet marketing for a good few years now & getting started was the best decision I ever made.
If you're reading this review after signing up with The Secret Millionaire Society then I'm sorry to hear that & I hope you didn't lose too much money. I would like to hear your thoughts on the system though as I'm sure many others would that have also came across the system & are wondering what it's all about. You can leave a comment below this post.
If You Are Interested In Making Extra Money You Will Like This...
I'm no millionaire but I do make a good living online & I earn around $10,000 each month which is a life-changing amount to me. If you want I can show you exactly how I do it & how you can also start making around $500-$1,000+ per month for yourself