If you came here via my Ultimate Guide To Making Money Online then you can use this link to head back over there once you're done reading this post. If you didn't come here via that guide, then it's something you might want to check out after this post (I'll put a link at the bottom to remind you).
But getting into the topic of starting an affiliate store…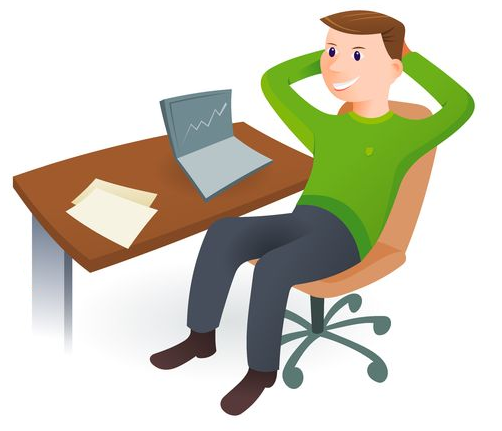 One fantastic thing about the internet is that it gives you the opportunity to be able to open your very own online store with a start-up cost of almost next to nothing.
If that wasn't already good enough on it's own, then let me tell you that it also gives you the opportunity to be able to do just that but without actually having any of your own products.
Yep you heard me right, you can create your very own online shop for next to nothing, without even having any of your products.
…and that's by being something called an affiliate.
What is an affiliate?
In internet marketing terms an affiliate is somebody that's selling other companies products or services & receiving a commission in return for doing so.
Many, in fact most companies nowadays run affiliate programs so there is certainly no shortage of products or services that you can offer out as an affiliate. The other great thing is that there generally isn't very strict requirements for you to become an affiliate of a company so pretty much anybody & everybody can get involved.
Probably one of the most well known affiliate programs is the Amazon affiliate program which they've named Amazon Associates.
Amazon give it's affiliates the ability to choose from over a million products to promote & offer up to 10% commission on each one they sell.
Amazon sell all sorts of products, meaning from their program alone you could quite easily build an online store dedicated to a particular subject of your choice. As an example let's say you were interested in fishing & always dreamed of opening a fishing supply store, you could quite easily do it and here are just a few examples of the types of products you could promote from Amazon alone…
You would have to check the individual program's terms & conditions, but generally there isn't a rule as to how many different affiliate programs you can promote at once. This basically means that your shop could not only consist of items from Amazon, but items from other suppliers too meaning it is easier to give your customers the best price at any given time.
I've used Amazon purely to give you an example but as I said above there are many other companies that run affiliate programs & their commission rates can vary significantly. Some offer higher payouts, some offer lower & some offer recurring payouts for things like subscriptions which is often referred to as residual income.
How does it work?
One question you might be asking is how the company is going to know that it's you who made the sales, and obviously that's really important because if your the one putting in the work to get the sales then you'll certainly want to be the one that's getting paid for them.
Basically, when you join up to an affiliate program you'll be assigned a unique affiliate ID. What this looks like can vary from company to company usually it's simply just a string of numbers & letters or possibly the username that you joined the network with.
The only important thing is that it's totally unique to you, and nobody else in that particular affiliate program will have the same affiliate ID as you.
This affiliate ID is then attached to the links of the products that you are selling, so that when one of the visitors to your store clicks the link and is taken to the suppliers website, the supplier knows that it was you that sent them there.
Take a look at the example below of a "normal" link compared to that of an affiliate:
It's worth noting that the image above is just an example and that if you type those links into your browser they might not work, but hopefully you can now understand the difference between a normal link & an affiliate link.
If you were to send somebody over to the Amazon website via the first (normal) link then chances are they wouldn't have a clue which affiliate sent them there, but use the second link and they will know for certain that in this instance it was "dale" that sent them there.
Getting a little bit more technical…
I don't want to overwhelm you, but at the same time I do want to touch on something that's very important for an affiliate to understand as it's a vital component to determining how much money you'll make & that's something known as "Cookie Duration".
If you don't know what a cookie is (in internet terms not food) it's basically a very small file that websites can store on your computer. Most websites will actually store cookies on your computer & they generally do this in order to give you a more personalised experience. For example, if you visit a website today they might store a cookie with a unique ID so that when you come back they know it's you again & can give you personalised offers based on the things you bought last time.
Hopefully that concept in itself makes sense to you so I now want to explain why this is so important for affiliates, because affiliates LOVE cookies (or at least they should do anyway)…
Basically retailers understand that customers don't generally make a purchase the first time they see a product. Usually they'll go elsewhere then come back & buy it later.
Thankfully they often help affiliates out by setting a cookie with the affiliates ID so that when they do eventually come back & purchase, you still get the commission.
However these cookies don't last forever & some programs set for longer periods than others.
Obviously a longer cookie period (or cookie duration as they're more commonly known) means more money in your pocket because it gives you a higher chance of being credited for the sale.
As a rule of thumb the cookie period with most merchants is set to around 30 days, however Amazon's for example is set to just 24 hours.
So keep in mind when looking for affiliate programs to promote that a longer cookie duration will generally help you to make more money.
The benefits of being an affiliate as opposed to selling your own products.
There are admittedly several advantages to creating & selling your own products as opposed to running an affiliate store but in the same breath running an affiliate store can be just as, if not even more lucrative. So with that being said let's take a look at some of the advantages of running an affiliate store…
You don't need to create your own products, or handle inventory (the obvious advantage).
Start-up costs are generally a lot lower (since you don't need premises to store/sell inventory or funds to buy it)
No payment/order processing (you're only an affiliate, the companies will take care of all the order processing)
No customer support required (again you're only an affiliate, the companies will deal with all the pre & post sale customer support)
Add/remove products as & when you please (no waiting around for new stock to be delivered, just find the latest deals and promote)
Less risk (if your store fails you're not going to be stuck with a whole bunch of stock)
Ability to run better offers for your visitors (you can get the leverage of the big retailers offers which are generally more competitive than small businesses)
So running an affiliate store is not only easy to do, but it has quite a few plus points to compared to running a business whereby you're selling your own products. I'm not necessarily saying it's better than creating your own products as ultimately by creating your own products you're putting yourself at the top of the chain, but it's certainly a viable & profitable alternative.
How can you get started?
You now hopefully know what an affiliate is & understand how affiliate marketing works, so I'm guessing that the next thing you're probably wondering is how you can get started which is what we're going to move onto talking about now.
The concept of this post is to show you how to put together a complete affiliate web store so that it would basically look as it were your own shop. The only point people would notice it wasn't your own shop is the point they hit the purchase button & get taken to the merchants website via your affiliate link.
However with that being said I want to make it clear that you could lay it out completely as you wished. You don't need to have it look like a shop in order to make money, in fact you could simply make money from your affiliate links by posting them on a blog or on social media.
For example I could tell you right now how great the book is that I just read, called Rich Dad Poor Dad and I could also tell you that you could go buy it here. Now if you did happen to go buy it after clicking that link then I'd make a commission because I just linked you via an affiliate link.
See how straight forward it is to make money as an affiliate?
And P.S. that's a true story, I did actually just finish reading that book and it is actually great (so I would definitely recommend buying a copy). ?
But let's go with the premise that you do want it to look like a shop…
The easiest thing to do is…
Pick a domain name
Pick a web host
Install WordPress
Install a shop plugin
Add your products & Bob's your uncle
All that may have just gone whooooosh straight over your head but don't worry I'm going to explain each step in a little more detail right now.
Pick a domain name.

If you don't know what a domain name is, it's the bit that you type in the address bar of your browser in order to get to a website.

In the instance of my website you would have to type "LivingMoreWorkingLess.com" into the address bar to get here, and just like that your new affiliate web store is going to need it's own domain name too.

There are plenty of websites you can get them from & they're pretty inexpensive, I generally use 123-reg or Godaddy for my own domains.

As an example, if your name is Jim and you plan on selling fishing equipment then an appropriate domain could be "JimsFishingEquip.com". I'm sure you get the idea and I'm sure you can probably think of a better one than I can too.

Pick a web host.

After choosing a domain name it's now time to choose a web host. I won't go too much into the technicality but basically this is where are the files for your new website will go.

For an affiliate web store you won't need to spend much on web hosting, the cheapest package will usually suffice. You can upgrade your hosting at any point in the future if your store becomes really popular but that's something you can worry about at a later date.

For now just head over to a reputable web host such as HostGator & get their cheapest package so that you can get started creating your store.

Once you've purchased a hosting account you'll need to then point your domain name to this account so that your visitors arrive at the right place when they type it in the browser, this is a relatively easy process that your webhost themselves (or domain registrar) will be able to assist you with.

Install WordPress

There are several different things you can use as a platform for your new online affiliate store but the one I would personally recommend is WordPress.

Originally WordPress started out purely as a blogging platform but as it become more popular people began creating plugins so that you could do different things with it.

One of the things you can now do with it is of course create your own online affiliate store, and you could it pretty easily too.

The first thing you'll need to do though is install WordPress itself. These days most web hosts have a "1 click install" for WordPress whereby you can literally click a button & WordPress will be pretty much magically installed for you.

Ask your web host about that first of all, but if not then don't fear as there are plenty of guides available that will run you through installing WordPress. Even as a complete newcomer you should be able to get it installed in under 30 minutes or so with the help of a guide.

Install a shop plugin.

Once WordPress is installed you can go ahead & look for a shop plugin to install. This will turn your WordPress installation into an eCommerce platform as opposed to a blogging platform so that you can begin adding items into your shop.

There are several different plugins that you can use but this is where it becomes a matter of personal preference. There is no right and wrong plugin, it's merely a matter of what works for you as opposed to how it looks & how easy you feel it is to use.

It's worth mentioning too that some plugins are free whilst others are paid, generally the paid ones tend to be built to a higher standard but this isn't always the case so be sure to look at reviews before spending any money.

A couple of examples plugins you could use are PG Simple Affiliate Shop or WooCommerce (one of the most popular WordPress eCommerce plugins).

Add your products.

Once you've installed & activated your eCommerce plugin of choice you're good to go. It's then simply a case of joining affiliate programs & adding products as you desire then marketing your new affiliate store to your chosen target audience.

This is where the fun begins because you'll get a glimpse into what it's like being a real business owner. You'll have to figure out the best (and cheapest) ways to attract new customers and come up with strategies to increase the amount you make per visitor.

Don't worry though it's not as daunting as it sounds & once it's setup you'll be able to find lot's of information right here on this blog to help you get going with your marketing to begin making some money.
It's as easy as that!
So that's it, a pretty straight forward run down as to how you can start your very own affiliate web store as soon as today.
As I mentioned there are several other ways you can go about it & you don't necessarily have to use WordPress as your chosen platform for your store.
Personally I'd recommend using WordPress as it gives you additional flexibility that a dedicated eCommerce solution might not, for example you might decide that 6 months in time you want to start a blog alongside your store & WordPress will give you the ability to do it – another platform may not.
I know I didn't go into too much technical detail on each of the steps but that's because I didn't want to overwhelm you and throw all the information at you at once. I aim to create individual posts for the process of each of those steps so that you can go through it in bite-size chunks as opposed to trying to tackle it all in one go.
If you have any questions or you feel there's something that I haven't covered then feel free to leave a comment below & I'll try to help you as best as I can.
I really do hope you found the guide useful & if you do decide to setup your own affiliate store as a result of reading it then be sure to let me know how you get on.
Oh and by the way, be sure to check out my Ultimate Guide To Making Money Online for a whole load of other cool ways that you can build an income online.