"Since you don't have a job and you work from home, how an earth can you afford a Range Rover?"…
…that's a question people ask me a LOT.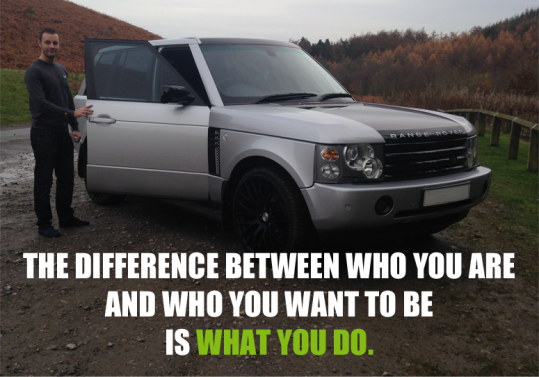 You see I don't know where about in the world you're from, but here in England people don't really believe the whole "working from home" concept is real. In fact if you don't go to school, go to college & get a job it's almost….well….weird.
The thing is, I'm the opposite – I really don't understand the whole "get a job" thing. Think about it, you're never going to get the opportunity to scale your earnings & instead you're always going to be stuck receiving whatever you employer wants to pay you.
By working for yourself you're in control – how much you earn is totally up to you. If you want to earn £1,000 in a day there's nothing stopping you but yourself.
I haven't by any means put this post to brag, instead I've put it together to hopefully change the way you think & show you how it's possible to bring in more income. Enough income to well, be able to afford a Range Rover if that's what it is you want to buy.
You see when I personally left school I did actually go down the route of a job. For around 3 and a half years I worked as an electrician on the steelworks (there's a glorious photo of me below):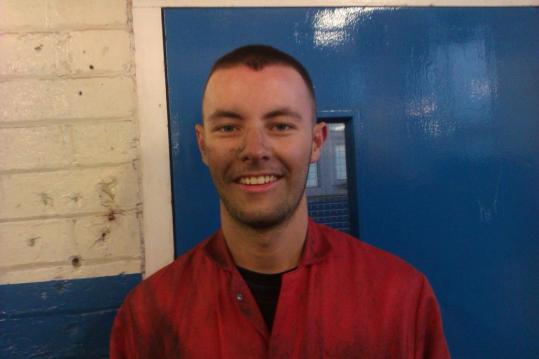 As you can see it was a dirty job, it was freezing cold through the winter and it meant I had to get up at stupid o'clock in the morning to go to work.
Frankly… I hated it, and I wanted out.
I decided that I needed to make a change & I'm not the sort of person that just says something… I go ahead and take action. The way I seen it I had 2 options, I could have stayed in my job & moaned about how much I hated it each day or I could have done something different and chased the lifestyle that I actually wanted.
I chose to do something different, and I didn't go at it half-heartedly either – I walked in and I quit my job there and then.
At the time of quitting my job I wasn't making a penny online (it was probably a bit of a crazy thing to do) but I had a theory, and my theory was that since the internet is online 24/7 that meant that even if I could make just £1 an hour then I'd have made £672 by the end of the month. Similarly if I then upped that £1 to £2 I'd have made £1,344 come the end of the month.
I knew about affiliate companies on the internet and I knew that they paid you commissions every time you sold their product. You didn't even have to handle anything to do with the product, all you had to do was send people to their website via an affiliate link which tracked the sale to you, and if the somebody went on to purchase then you'd be paid a commission.
I then came across this system which basically had everything bundled into one. It had the sales page already created & the products were already there – all that was left for me to focus on was getting traffic to that page. Not only was everything already there, but it was also already proven to work. If I was to create my own sales page from scratch it would have taken a whole load of trial & error which of course would have cost a whole load of time & money – something I didn't have.
That system not only came with everything bundled in but it also paid out residual commissions of around $25 per sale and the commissions ranged all the way up to around $3,000 – a crazy amount. That meant that even if I only made around 1 or 2 sales per day I'd have hit my initial target or of course alternatively if I landed just 1 of the high ticket $3,000 sales I'd have been set for a full month.
I figured that with billions of people online, how hard could it be just a get a few hundred of those, even a few thousand to my sales page each day?
The answer turned out to be not very…. not very hard at all.
I started reaching out to people through social media at first & in my first month I made just over $1,000 – it might not seem like a lot but I was totally chuffed. I'd made $1,000 sitting on the settee at home!
From there I started taking things a bit more seriously & I upped my game. I began researching loads of different ways of driving traffic to the sales page & I managed to find some great techniques. I implemented a few of these different methods & in month 2 things went crazy, I averaged around 3 sales per day & made a whopping $7,000. Yes, $7,000!
I couldn't believe it myself, and in just 6 months I managed to make over $150,000 which of course I used to treat myself to a Range Rover.
What am I trying to say?
I want to get the point across once and for all that "working from home" is very real & that just because everybody follows the whole "go to school, go to college, get a job" lifestyle doesn't mean that you have to.
If you want something you've never had then you've got to do something you've never done.
If you want to get the things you want in life & want to earn more than you do now then you've got to be prepared to make a change. Things won't fall into your lap but you have the opportunity to make it happen, just like I did.
The system helped me turn my dreams into reality, the hardest part was just saying OK… let's do this:
[youtube id="fNcUrtYuHdQ" responsive="true" showinfo="false" branding="false" hd="false" autoplay="false" controls="false" theme="light"]
I hope my post has inspired you to break free & get more from life.