(and how you can copy what I did to do the same for yourself)…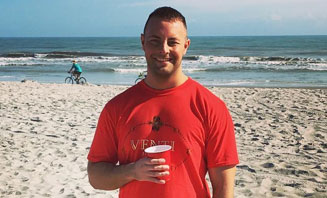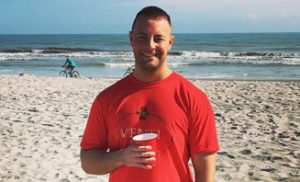 Hey there! My name's Dale and I'm just your average 20-something-year-old guy… Well, kinda.
You see back in 2012 I managed to leave my job as an electrician after "accidentally" discovering a means of legitimately earning a full-time income online instead.
Yep, that's right – a truly accidental discovery literally changed my life & since then I've been exclusively earning an income from the internet.
Now there's no alarm clock, no commuting & best of all no boss…
But despite all that I still get paid a handsome amount of money at the end of each week – in fact, this may sound surprising but some companies even now pay me every single day. 🙂
And I know what you're probably thinking… HOW?
Which is exactly why I put this page together… I wanted to take the time to explain;
Who I actually am (and prove that I'm a real person)
What I accidentally discovered that enabled me to leave my job
The exact 4-step evergreen method I use to make money online
And how you can copy what I do to do the same for yourself!
The best part is that I'm going to be giving you all of this information for free…
Yep, you heard that right – 100% FREE!
And I appreciate that not everybody reading this page will take action on my advice… In fact, I know that not everybody will even stick around & read this page to the end – but if you do, I can promise you 1 thing which is that you will be provided with genuine life-changing information.
I am not going to be holding anything back here, so let's dive in & get started…
Beginning With Who I Actually Am…
You might be expecting me to turn around & tell you that I'm some sort of "internet guru" or "computer genius" but in all honesty, I'm not… I truly am just your average 20-something year old, apart from the fact that I now make a full-time living from the internet of course.
I enjoy typical things such as going to the gym, listening to music & hanging with friends…
(that's right – believe it or not, I'm actually a real, human being… LOL)
I also enjoy travelling as I love seeing different parts of the world & the beauty it has to offer.
And thanks to the fact that I can now literally earn an income from wherever I can grab an internet connection (crazy I know) I've been able to do quite a lot of travelling, to say the least.
Here are a few photos from some of the recent trips I've taken:

And aside from travelling I also love music festivals… I try to attend as many as I can – which thanks to my online business I've actually had the opportunity to do.
In fact, in one year alone I actually went to over 20+ music festivals! 😳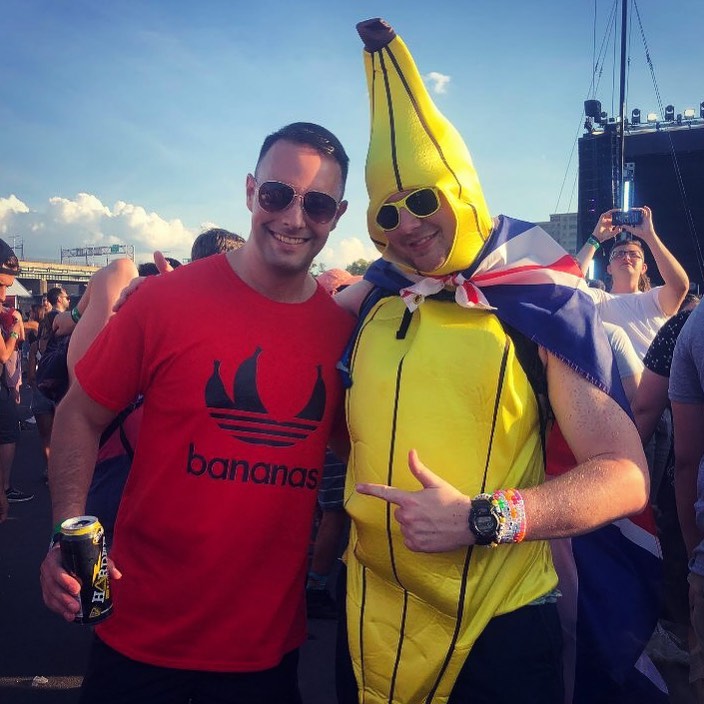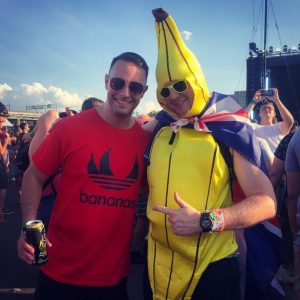 To the right that's a photo of me at a festival recently in New York ➡
I went to that festival dressed in a joke t-shirt that said "bananas" (as you can see) & then, funnily enough, I actually happened to bump into a guy dressed as a full-blown banana! (hence the pic)
But here's the deal – before all of this "internet stuff" I was literally just your complete "average Joe"… I started out life in a typical way – I went to school, went to college & got a job.
(I didn't even know there was another way of earning a living)…
For a few years, I was working as an electrician on the steelworks. It was my duty to help maintain equipment so that it didn't breakdown – and to do the repairs if something did.
I'm not going to say that I "hated" the job because I worked with some great people, made some good friends & had some fun times… But it was definitely a dirty & dangerous place to work – and it certainly wasn't something I wanted to do for the rest of my life.
Let me tell you, it was HARD work (even as a young person)…
And I'll admit that back then I was a pretty boring guy… My life basically consisted of just going to work, coming home to eat, going to sleep & then going back to work again the next day…
The only real passion in my life outside of work was cycling… I really enjoyed cycling.
In fact, here's a picture of me taken many years ago doing exactly that: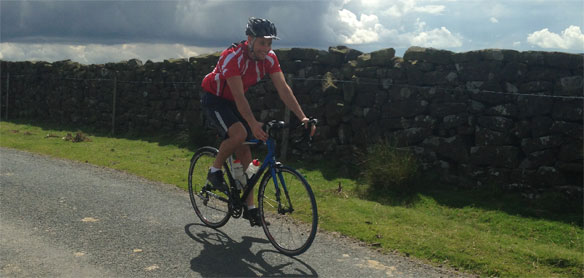 I enjoyed cycling so much that I actually used a free online tool to create a simple little website where I'd share photos from my rides & write about new bikes or equipment that I'd seen.
(I'll share that free tool with you in a moment)…
But little did I know that publishing content online (not just on websites but even publishing it on social media, YouTube, forums etc) could turn out to be so insanely lucrative.
I mean I didn't set out to make money from it at all – I was just doing it for fun…
But thanks to what I accidentally discovered I quickly managed to turn just "talking" about what I enjoyed to actually earning a full-time income from it.
Yep, that's right – as cliché as it sounds I literally turned my passion into profits.
And the best part is that literally, ANYBODY can earn from this exact same method because it's actually super simple. In fact, as you'll soon see it literally only consists of a mere 4 steps.
So What Did I Accidentally Discover?
I discovered that there are actually thousands – if not millions of companies & businesses out there online that are willing to pay you money (and LOTS of money) to promote their products or services for them.
It doesn't matter who you are, what experience you have or where you are from – there are companies that desperately want you to help them sell their products or services…
And they're willing to pay you VERY handsomely in return.
Even the big names like Best Buy, Amazon, Walmart & so on are all in on this…
They have things called affiliate programs and it's through these programs that you can promote their products/services for cash.
If you take a look on the Best Buy website for example & scroll all the way to the bottom then you'll see that they have a subheading named "Partnerships" with a link reading "Affiliate Program" beneath it: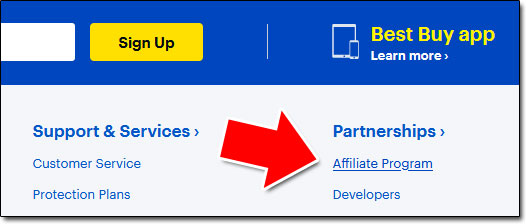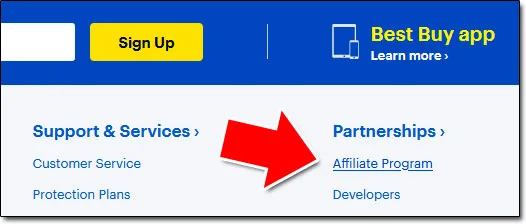 And guess what? It's the same story with Amazon… Only they call their program the "Associates Programme":


The Associates programme reveals that Amazon is willing to pay you a whopping 12% in advertising fees if you decide you want to promote any of the products from their website: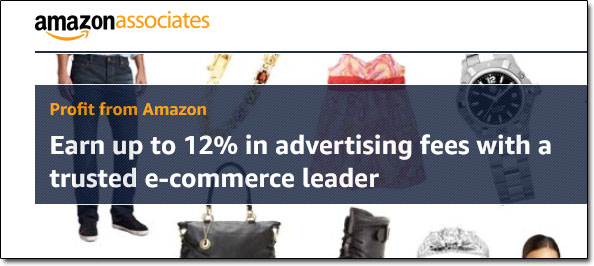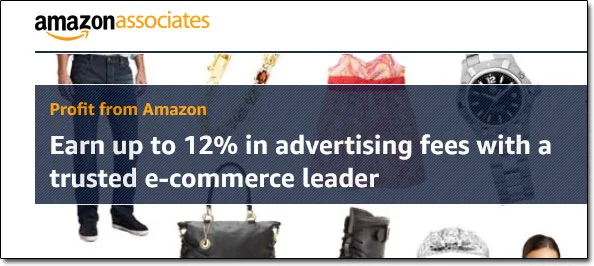 Which means if you promote a $1,000 item & somebody buys it then Amazon will pay you a whopping $120 in advertising fees just for promoting it on their behalf…
And it also means that if you happen to get a mere 10 people to buy that same item then you'll find yourself banking a whopping $1,200 in earnings…
Or 100 people and you'll bank $12,000.
See the potential here?
The sky truly is the limit – and the best part about all of this is that you don't even ever have to speak to anybody.
In fact, you'll soon see that thanks to the 4-step method I'm about to share, you'll be able to earn these advertising fees & affiliate commissions even when you're:
On holiday
Working out in the gym
Spending time with family
Or simply lying fast asleep in bed
That's right – this method will enable you to generate a stream of 24/7 commissions.
And I know, it almost sounds like a "gimmick" but it's 100% real… This method of earning from online content creation is extremely powerful & as you'll soon see each piece of content you create will essentially act as your own virtual piece of real estate.
Which brings me onto…
The 4-Step Method For Making Money
Remember a little bit above when I said that you can do all of this easily & free? Well, thanks to the free tool I'm about to share with you you'll be able to get on your way with this method as soon as TODAY, even if you don't have experience with any of the steps mentioned below…
That aside for now though, here are the 4 simple steps:


And I'll dive deeper into each one below so that you can get a better of understanding of how it all actually works (and how you can begin earning with this even if you're totally new):
Step 1 – Choose an Interest
The first thing you need to do is simply think of something that you're interested in… It could be anything at all so just ask yourself – what are you passionate about?
What interests you?
Some examples could include "learning to play the guitar" or "producing recipes for vegans"…
And even if nothing immediately springs to mind it's perfectly okay as I'm also going to be giving you access to hundreds of pre-selected topics so that you can literally just pick one & get started right away.
Step 2 – Build a Website
Building a website might sound difficult (and many years ago it was) but these days thanks to huge advancements in technology it can literally be done with just a few clicks.
You can actually launch a new website online within just 30 seconds.
Yep, really – just 30 seconds a few clicks & you can have your own website live on the internet.
Then once you've got a website you'll be able to begin publishing content & this is how you'll be making your money because once you've got content published online advertisers will want to pay you for you to feature their products or services on the pages that you've created.
Which brings me onto…
Step 3 – Attract Visitors
In order to make money, you simply need people to visit your website & then purchase any of the products that you have listed there…
They make a purchase, you get paid… It's THAT simple.
And the best part about this method is that once you've created content you'll be able to get truckloads of visitors coming to your website for FREE from search engines like Google.
You see when you publish something on your website – search engines (like Google) list it within their results automatically… Which means that if somebody searches for something related to it, your content will get shown to them as an option to click on.
Plus once you've published the content it'll be there forever, meaning that visitors could be coming to your website & buying things day or night which gives you the potential to earn commissions even whilst you're sleeping.
Here's a real-life example of that to prove how powerful this is:


The person who published that piece of content published it way back in 2013 yet it's still ranked on the first page of Google meaning it's still earning the owner money.
People click it, he (or she) promotes dog care products, they get paid when people buy.
Even if they did nothing extra whatsoever since publishing that post they'll still be getting paid from it all the same – and the more content you publish, the higher you can increase your earnings. So the amount you can earn with this is literally unlimited.
And that brings me nicely onto…
Step 4 – Earn Revenue
Once you've got visitors you've got the power to make money on demand as all you need to do is simply direct your visitors to products that you're affiliated with.
The good news is that it's free to become an affiliate & you can promote literally almost anything that you can imagine. There are over 488 million products you can promote just on Amazon alone & there are over 100,000 other different programs that you can join!
Plus the best part is that many affiliate programs pay commissions of up to 75%, yes – 75%!
I'm sure you can already see the potential with this but just to highlight it I want to point out that last year alone the affiliate marketing industry generated over a whopping $5.9 billion in sales…
And as you can see from the graph below that's only set to increase: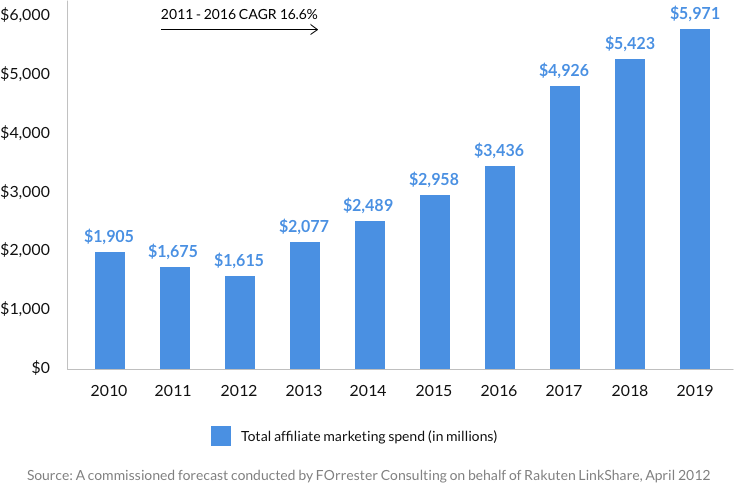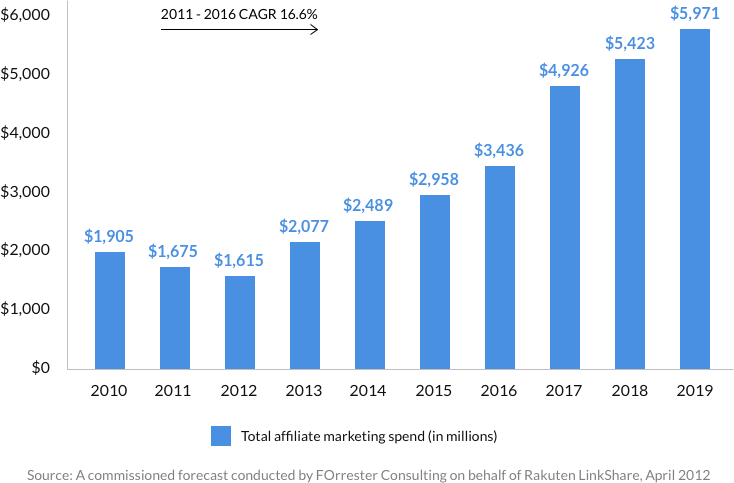 So How Can You Get Started With This?
The good news is that I'm going to show you how you can get started with all of this in the shortest time possible completely free of charge – even if you're totally brand new.
But first, before I do that, to prove it's not just me who's found success with this method I want to share with you some stories from the other people that have gotten started with it too:
This method hands-down will work for ANYBODY, providing you put in the work.
And if you're ready to get started then I urge you to check out Commission Academy.
Commission Academy is basically a training platform that teaches you step-by-step how you can do all of the things that I mentioned above – and you'll get all of the tools you need as well.
Through Commission Academy, you'll also be provided with access to something known as SiteRubix which enables you to create profit-ready affiliate websites in just a few clicks. Choose a name, pick a theme & hit "build" as shown below: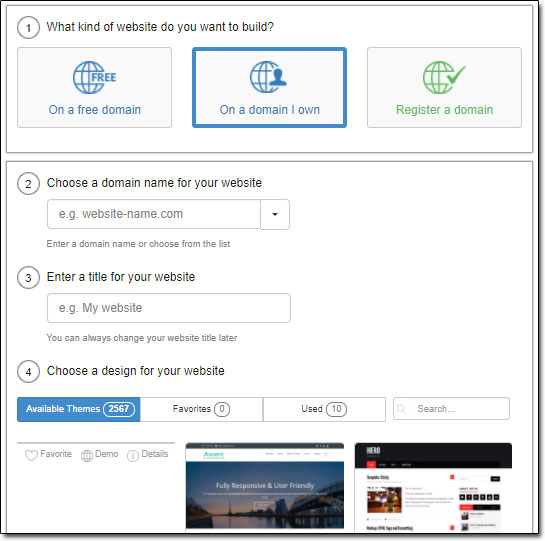 You can try the SiteRubix website builder for free right here now.
Plus alongside that, Commission Academy also offers you access to AMAZING community support so if you ever happen to feel stuck you can ask a question & it'll typically get answered within just a few minutes. In fact, many questions are actually answered within just seconds of being asked.
And I'll Provide You With EXPERT Assistance
That's right – if you join Commission Academy through my link here then you'll be able to get direct access to me inside of the platform meaning I'll be able to personally help you to get things rolling.
And you might have noticed that I just called myself an "expert"…
I don't really like using that word, but after doing this full-time for so long I've learned many little-known tips & tricks that can help you literally skyrocket your business.
I've also been awarded the title of "Super Affiliate" & been invited to exclusive all-paid-for conferences in Las Vegas to which less than 30 people worldwide were invited: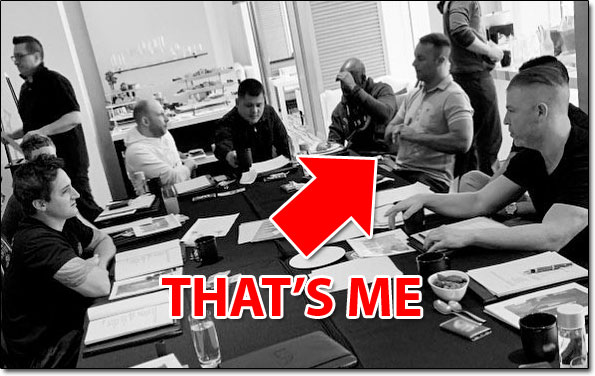 So if you do happen to join Commission Academy & do so using my link then you can rest assured that you'll be in good hands as I have the first-hand experience to help you get started.
I also have the added bonus of starting with no knowledge of this at all, meaning that unlike the other "gurus" out there I can explain things to you in easy to understand layman's terms.
At the same time though if you want to get technical then I can share you with in-depth SEO knowledge that I've learned, sales funnels knowledge, sale conversion knowledge & so on…
Basically, I've got your back regardless of what level you're at.
So if you'd like to take advantage of this opportunity then create your free account here now.
But I Do Appreciate It's Not For Everybody…
In my opinion affiliate marketing is, without a doubt, THE best & most lucrative way to earn money online, but it does take work in order to see results & it can it also take a little bit of time too.
I'd love to say you could start today & earn tomorrow but that would be unrealistic.
It's like any business online or offline, initially, you have to be prepared to put in some work without any sort of payment in return – you need to approach it with a bit of a long-term vision.
Yes, you can build up a 4-figure, 5-figure, even 6-figure income – in time.
So if you are expecting to just sign up & "get rich" without really having to do anything then I've got to admit this probably isn't for you. Nothing will get you rich "quick" or "easily".
Providing you're willing to put in the work though, affiliate marketing is a great option.
However, alongside affiliate marketing, there are still other methods of making money online & I have decided to list a bunch of them here on my top picks page to give you some choice.
After all, you might not want to earn a full-time income…
Maybe you just want to do some paid surveys to bring a little extra each month?
Or if you live in the UK then maybe you'd like to learn about something called matched betting instead (which enables you to turn "free bets" from bookmakers into real withdrawable cash).
Whatever your situation you'll definitely be able to find a solution on my top picks page.
And just in case you still have any doubts, you don't need to just listen to what I say about myself – instead, you can take a look at what other people are saying about me below: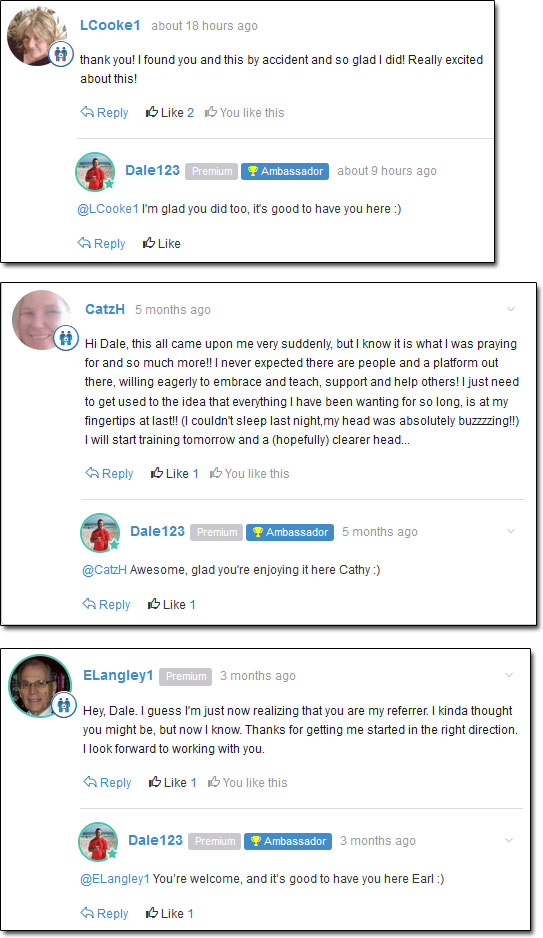 So if you're ready to get started online with affiliate marketing & would like me to help you to launch a highly-successful business then don't hesitate to create your free account here & make a start on it today. 🙂
Or if you still need to hear about a bit more success…
…or make yourself the next success story by getting started here.