(and how you can copy what I did to do the same for yourself)…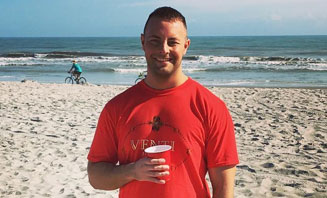 Hi there! My name's Dale & I'm a full-time affiliate marketer from England, UK.
This essentially means that I earn a living by connecting people with the products or services that they're looking for online, and in short, I do this by creating simple web pages or placing advertisements on the internet.
In my opinion, it's a really fun way to earn… And when done right, it's also pretty passive.
But funnily enough, this was never something I set out to do in life. I mean, as a child, I wasn't saying "when I grow up, I want to do affiliate marketing". The reality is, I didn't even know it existed.
Affiliate marketing was literally something I "accidentally" stumbled across back in 2012 & within that same year, I managed to generate enough revenue online to say goodbye to my job as an electrician.
Don't get me wrong. Things weren't all plain sailing & I've had some ups & downs… But I learned a skill that will stay with me forever, and that skill was how to make money online as an affiliate marketer.
And believe it or not, it's really not all that difficult.
But what I love about it most is that:
You get to set your own hours
You don't have to show your face or talk to anybody
You can earn from anywhere in the world
The amount you can earn is completely uncapped
And when done right, maintaining your income requires very little work
In fact, maintaining your income takes such little work that I was able to take a 4-year break whilst still earning more money per year than I would have been whilst working my job as an electrician.
During that break, I travelled the world, went to several festivals & met some truly amazing people.

But of course, I don't say that to boast. I say it is because I want to highlight what's possible.
So, with all that in mind, I decided to launch this website, Living More Working Less, as a means of showcasing what I was up to & teaching others how they could do the same to earn money online.
Plus, I also started using this website as a means of exposing scams & shady programs because whilst there is the "good" when it comes to making money online, there is also the "bad" and the "ugly".
Though, the good news is that over the years, my reviews on this website have helped protect thousands of people from getting scammed & helped put several scammers out of business.


And it's been quite a journey since I initially launched this website. Not only have I helped a lot of people get started online & earn their first commissions, but I've also learned a lot myself.
In fact, since initially starting this website, I have:
Gone on to generate over $1,000,000 (1 million) in all-time affiliate commissions.
Launched a website that passively generated over 6-figures per year through paid advertising.
Been recognized as a Super Affiliate by the world's largest affiliate marketing training platform.
Launched my own training course teaching people how to succeed with affiliate marketing.
So it's safe to say it's been a fun ride for sure & I've met some amazing people along the way.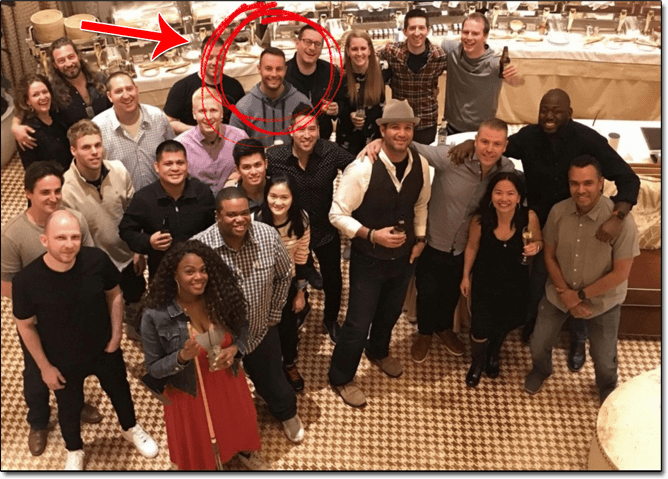 But I'm not done yet 💪
Earning over a million dollars in commissions through affiliate marketing is a solid achievement… But my mission is to build a truly thriving affiliate business that generates multi-millions every year.
And more importantly, I want to continue to help others do the same.
As a result, these days, I'm always working hard to stay fully up-to-date with what's going on & making sure that I'm delivering the most cutting-edge training & tools through my free training course.
Alongside, of course, continuing to expose scams here on this blog & helping people to stay safe.
So if you'd like to learn more about affiliate marketing & would like to find out how you can get started with it, be sure to sign up for my free step-by-step training course via the button below.
Alternatively, if you keep reading, I'll explain more about my accidental affiliate discovery below.
The Accidental Discovery That Ended Up Changing My Life
I discovered that there are actually thousands – if not millions of online businesses out there online that are willing to pay you money (and LOTS of money) to promote their products or services for them.
It doesn't matter who you are, what experience you have or where you are from – there are companies that desperately want you to help them sell their products or services.
And they're willing to pay you VERY handsomely in return.
Even the big names like Best Buy, Amazon, Walmart & so on are all in on this.
They have things called affiliate programs, and it's through these programs that you can promote their products/services in return for cash that's paid out on any successful sales you manage to generate.
If you take a look on the Best Buy website, for example, & scroll all the way to the bottom, then you'll see that they have a subheading named "Partnerships" with a link reading "Affiliate Program" below it: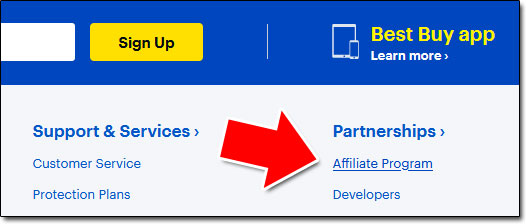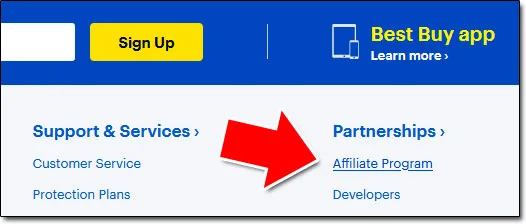 And guess what? It's the same story with Amazon… Only they call their program the "Associates Programme", as shown in the screenshot below:


The Associates programme reveals that Amazon is willing to pay you a whopping 12% in advertising fees if you decide you want to promote any of the products from their website: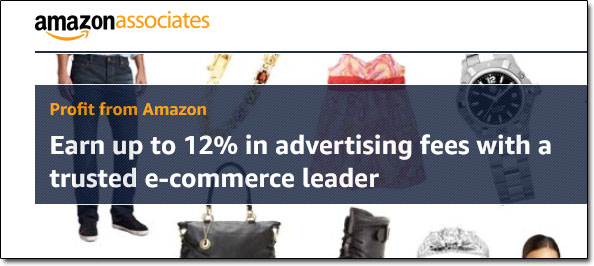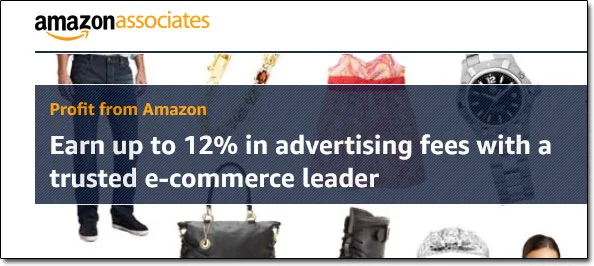 This means if you promote a $1,000 item & somebody buys it, then Amazon will pay you a whopping $120 in advertising fees just for promoting it on their behalf.
And it also means that if you happen to get a mere 10 people to buy that same item, then you'll find yourself banking a whopping $1,200 in earnings…
Or 100 people, and you'll bank $12,000.
I'm pretty sure you can see the potential here. The sky truly is the limit – and the best part about this is that you never even have to speak to anybody or show your face. You can stay totally anonymous.
In fact, you'll soon see that thanks to the 4-step method I'm about to share, you'll be able to earn these advertising fees & affiliate commissions even when you're:
On holiday
Spending time with family
Or simply lying fast asleep in bed
You see, the income that you earn from this can end up becoming almost entirely passive.
And I know it almost sounds like a "gimmick", but it's 100% real. This method of earning from online content creation is extremely powerful & as you'll soon see, each piece of content you create will essentially act as your own virtual piece of real estate, enabling you to build your own online empire.
The 4-Step Method For Making Money As An Affiliate
As I've mentioned throughout this page, the process of earning with affiliate marketing doesn't have to be complicated. In fact, the easiest & most effective way involves just 4 simple steps, which are:


And I'll explain each step in further detail below so you can see exactly how it all works.
Step 1 – Choose an Interest
The first thing you need to do is think of something you're interested in that you'd like to build your business around. It could be anything at all, so ask yourself – what are you passionate about?
What interests you?
Some examples could include "learning to play the guitar" or "resistance band workouts"…
For me personally, I got started with cycling. I used to love cycling when I was younger & being able to earn money by talking about it was a dream come true. That's a photo of me out on my bike below: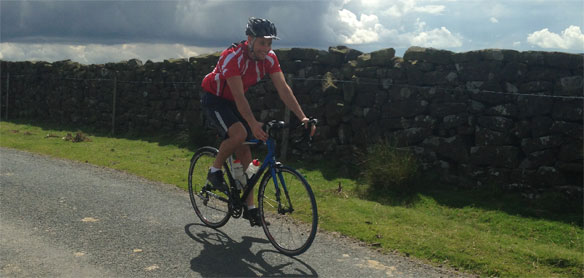 And even if nothing immediately springs to mind, it's perfectly okay as I'm also going to be giving you access to hundreds of pre-selected topics so that you can literally pick one & get started right away.
Step 2 – Build a Website
Building a website might sound difficult (and many years ago, it was), but these days thanks to huge advancements in technology, it can literally be done with just a few clicks.
You can actually launch a new website online within just 30 seconds.
Then once you've got a website, you'll be able to begin publishing content & this is how you'll be making your money because once you've got content published online, advertisers will want to pay you for you to feature their products or services on the pages that you've created.
Step 3 – Attract Visitors
To make money, you need people to visit your website & purchase the products you're promoting.
They make a purchase. You get paid… It's THAT simple.
And the best part about this method is that once you've created content, you'll be able to get truckloads of visitors coming to your website for FREE from search engines like Google.
You see, when you publish something on your website, search engines (like Google, Yahoo or Bing) automatically discover it & they list it within their results… This means that if somebody searches for something related to it, your content will get shown to them in the results as an option to click on.
And once you've published the content, it'll be there forever, meaning that visitors could be coming to your website & buying things day or night, which gives you the potential to earn passive commissions.
Here's a real-life example of that to prove how powerful this is:


The person who published that piece of content published it way back in 2013, yet it's still ranked on the first page of Google for its relevant search terms, meaning it's still earning the owner money.
People click it, the author promotes dog care products, and he or she gets paid when people buy.
So, even if they did no extra work whatsoever since publishing that post, they'll still be able to continue earning commissions all from that initial one-time effort – and the more content you publish, the higher you can increase your earnings. So the amount you can earn with this is literally unlimited.
And that brings me nicely to…
Step 4 – Earn Revenue
Once you've got visitors, you've got the power to make money on demand, as all you need to do is direct your visitors to the products or services you're affiliated with.
The good news is that it's free to become an affiliate & you can promote literally almost anything that you can imagine. There are over 488 million products you can promote just on Amazon alone & there are over 100,000 other different programs that you can join!
Plus, the best part is that many affiliate programs pay commissions of up to 75%, yes – 75%!
I'm sure you can already see the potential with this, but to emphasize it even more, I want to point out that last year alone, the affiliate marketing industry generated over a whopping $5.9 billion in sales.
And as you can see from the graph below, that's only set to increase: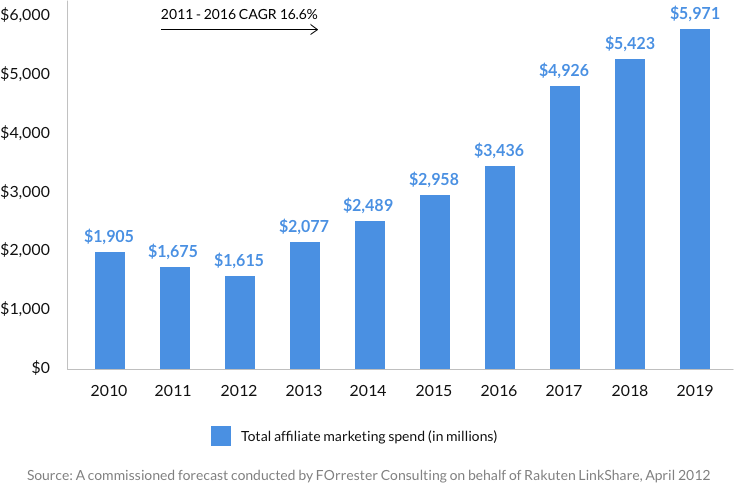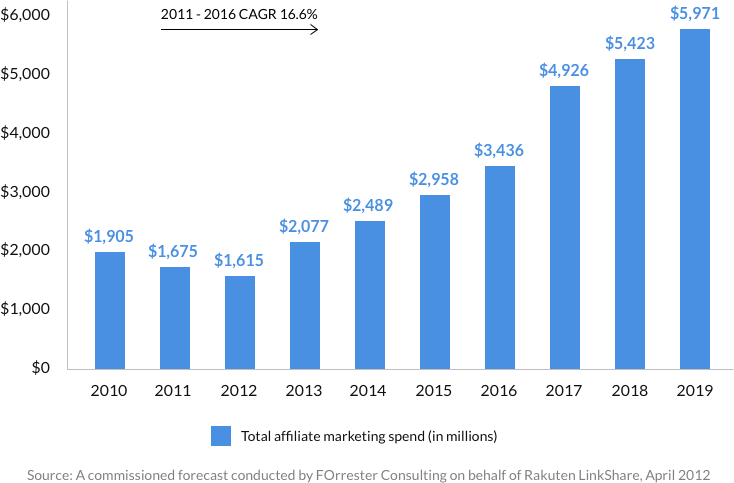 Onto the big question, then…
How Can You Get Started With This?
As mentioned, I've now put together a full-blown step-by-step affiliate marketing course that walks you entirely through the process of generating profits with this method right from the beginning.
So, the best way to get started with this would be to sign up for my free training course.
As I say, you'll be walked step-by-step through the entire process all the way from the very beginning, right through to generating your first commissions, so there's no previous experience required.
And the best part is that as you'll be getting trained by a Super Affiliate who actually leverages the exact methods that he teaches, you can rest assured that everything you're being taught works.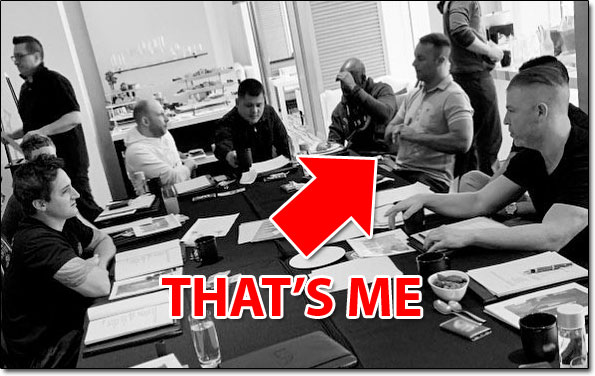 But as there's no cost, there's no risk, meaning you've got nothing to lose yet everything to gain.
And here's what some other people are saying about the training: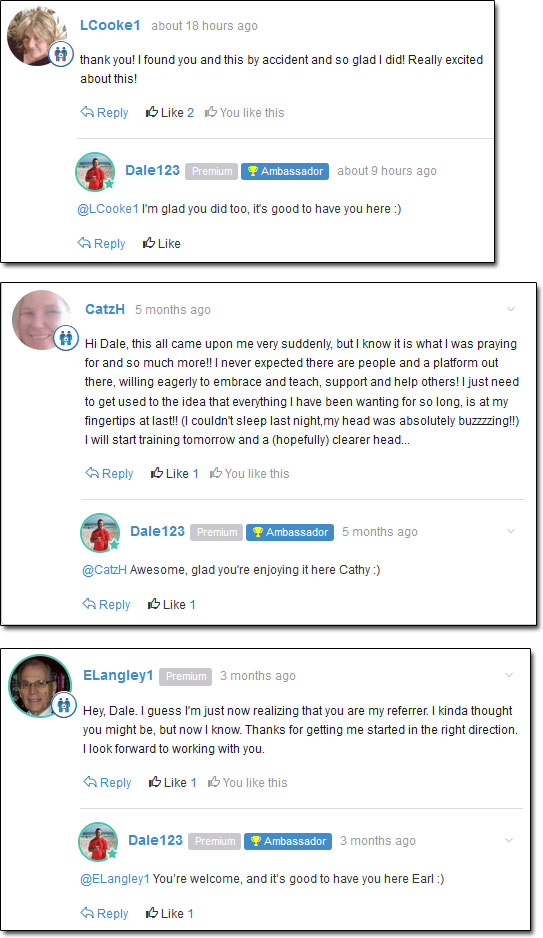 So do go ahead & sign up for it because I'm absolutely confident you'll find massive value in it.
But if you're still on the fence, though, then feel free to read some of the success stories below:
…or make yourself the next success story by getting started here.
And, of course, if you happen to have any questions or comments, feel free to leave them below.