AffiliSites PRO has been created by a guy named Glynn Kosky & it claims to be a piece of "epic new software" that can allegedly create done-for-you websites which will supposedly earn you 4-figure daily commissions.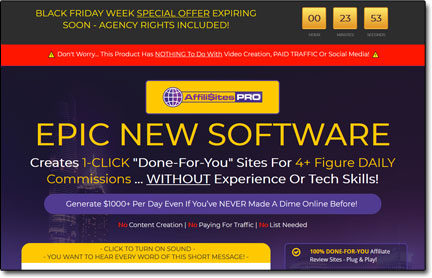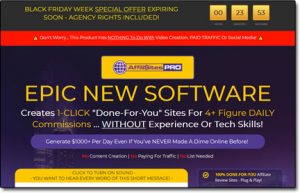 And if that on its own didn't already sound good enough, Glynn Kosky even claims that his software will create those sites for you with literally just 1 click.
So you're basically led to believe you can sign up, click, then profit.
But is AffiliSites PRO legit? Or is this just another hyped-up scam to avoid?
Well, I can immediately tell you right from the off here in this review that there is "some" substance to the program however the reality is that you'll be much more likely to just end up spending money as opposed to earning it.
What Is AffiliateSites PRO?   |   How Does AffiliSites PRO Work?   |   Why You Won't Earn Anything   |   The True Costs   |   Is AffiliSites PRO a Scam?   |   A Better Alternative
What Exactly Is AffiliSites PRO?
AffiliSites PRO is the brainchild of a guy named Glynn Kosky & it's basically a piece of software that's supposed to take the heavy-lifting out of affiliate marketing & enable you to generate big profits quickly.
Well, that's the idea in theory anyway…
Glynn Kosky claims that his software creates websites in just 1 click which will be able to generate you 4+ figure daily commissions – even if you have no experience or tech skills whatsoever (as shown below):

And if that on its own didn't sound good enough, Glynn even offers you access to his software for just a mere $19.97.
But wait a minute…
If Glynn's software can create your websites which will earn you 4+ figures per day with just 1 click (which would equate to $30,000+ per month), then why on earth is he offering you access for such a small fee?
Well, unfortunately, the reason is because as you can likely guess the AffiliSites PRO software doesn't really work as promised. It's basically just another hyped-up product which will fail to deliver the promised results.
You'll be able to see that for yourself below as I explain in finer detail exactly how it all really works…
How Does AffiliSites PRO Work?
First off, in case you don't already know – let me explain the concept of affiliate marketing (since this is what the AffiliSites PRO software is based around & this is how it'll supposedly make you money).
Basically affiliate marketing involves you connecting people with the products or services that they're looking for online & getting paid commissions in return… And in itself, it's a legitimate way to earn money.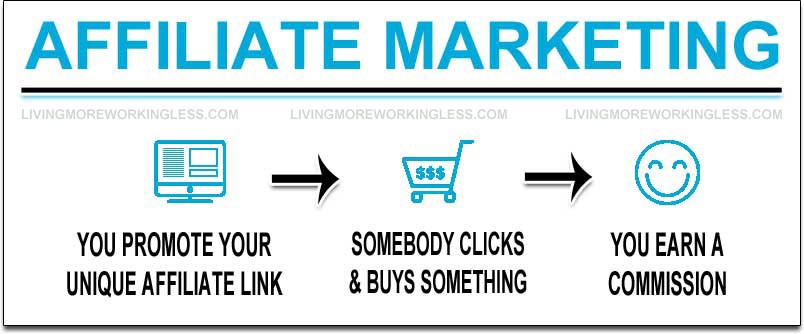 In fact, it's actually the same way I make most of my own money online.
However, in order to see success with affiliate marketing, you need to put in work to make it happen. You need to get people to click on your links, and if they click on your links & make a purchase – you get paid.
And this is where the AffiliSites PRO system comes into play because basically it's supposed to provide a "shortcut" for making money from affiliate marketing so that you don't actually need to do any work.
You see one method lots of affiliate marketers use to make money is to publish product reviews online – because product reviews (good ones) can get listed in search engines like Google, Yahoo & Bing etc.
So marketers publish reviews, buyers get the information they need & then they potentially buy the product through the reviewers link.
But obviously publishing a review takes some work. You have to research the product & write the review etc…
This though is what the AffiliSites PRO software claims to be able to automate. You're led to believe that with just 1 click the software will set you up a website that's already full of reviews so that you can just "click & earn".
And it's true – the AffiliSites PRO software will provide you with a "done-for-you" website packed with reviews that all contain your affiliate links… But I can confidently tell you that it won't make you any money.
Here's Why You Won't Earn Anything…
The simple reason as to why you won't earn anything is because every member that purchases the AffiliSites PRO software is getting provided with the same sites & content, which means they're all duplicates.
And search engines don't list websites containing duplicate content…
I mean why would they? If they have the original piece of content within their results then why on earth would they list duplicates? That would just annoy the people who are searching for stuff.
If you want to earn money by publishing reviews then there's ONE very important thing you need to do, which is making sure that your review is actually unique… If it's not then you'll stand no chance of seeing success.
So yeah, in short, the AffiliSites PRO software is made to sound the part, and it does "half" live up to its claims… But when it comes to earning you money it's just yet another over-hyped but under-delivering program to avoid.
You Might Also Like:
And $19.97 Isn't The "True" Cost
For a seemingly small fee of just $19.97, you might be thinking "what the heck, I'll just try it out anyway" but don't – because that small fee is basically just designed to get you through the door.
Once you've paid that fee & they have you credit card details on file, that's when the real fees begin…
Take a look at what I mean below: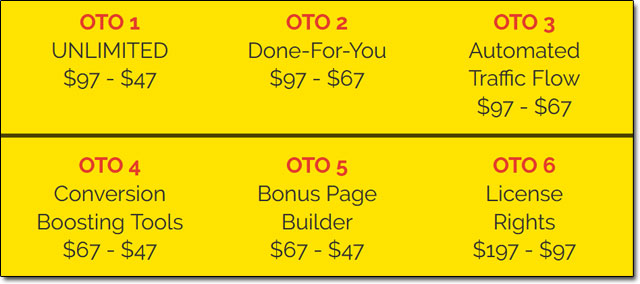 Those are all of the additional upsells inside of the AffiliSites PRO program & in total, they could see you spending hundreds of extra dollars which I think you'll agree is far from the seemingly small fee of $19.97.
And even if you do happen to purchase all of the additional upsells you'll still be very unlikely to see success because just like the main program itself, the additional upsells don't provide any real extra value for your money.
Which brings me onto…
My Verdict – Is AffiliSites PRO a Scam?
Well, this is a bit of a difficult question to answer because from a technical standpoint the AffiliSites PRO software does indeed provide you with a "1-click website" as it claims… However, it's not going to see you earning money.
And it certainly won't see you earning 4+ figures per day…
So I guess it's technically not a scam, but in the same breath it's clearly extremely misleading & it's clearly been designed purely so that its creator Glynn Kosky can cash in at the expense of others… Therefore, in my opinion, it is a borderline scam.
Either way, though whatever you want to call it there's one thing for sure & that is that it should be avoided (in my opinion) because it'll just result in you losing money rather than actually making it.
Instead, if you truly want to see success with affiliate marketing I'd recommend you join a legitimate & proven program like Commission Academy. It's there that you'll get the proper training & support you need.
Or alternatively, you could check out all of these other legit ways to earn online.
But whatever you decide to do I just hope that my review of AffiliSites PRO here has helped you to save some cash & I hope it's given you a good insight into how the software really works.
If you still happen to have any questions or comments about it though then, of course, don't hesitate to leave them below. 🙂
A Better Alternative
The sad truth is that unfortunately most of the programs promising to help you make money online are scams. I can say that confidently after exposing over 500+ of them here on this blog.
But the good news is that even though most of them are indeed scams, there are actually some very good programs in amongst them - some programs that can truly help you to earn money.
And out of all of the legit programs I've seen, the one I would recommend the most to anybody looking to get started online is Commission Academy. In my own opinion, that's the best place to start.
At Commission Academy, you'll be provided with everything you need (including the training & tools) to begin earning real money by promoting products or services for companies like Amazon online.
The best part is that there's literally no limit on the amount you can earn with it & the process is pretty simple which means that it's absolutely perfect for people that don't have much experience.
Some wealthy affiliates even earn as much as 5-figures per month... Or more!

I mean don't get me wrong, that kind of money won't just fall into your lap without doing any work... But the harder you're willing to work at it, the more you stand to earn with it.
So if you're looking to get started but don't know which route you should go down or which program you should join (and don't want to waste money on bogus things that don't actually work), then I'd highly recommend checking out Commission Academy first. You can learn more about it here.