Ads Supply (located at Ads-Supply.com) is a new website that promises to provide an easy way for beginners to start making lots of money online by investing in online advertising campaigns.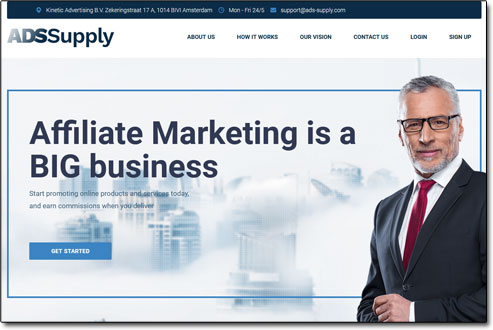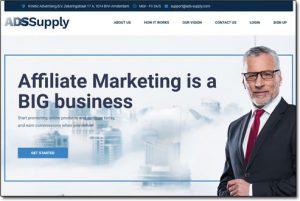 They claim to have taken the complexity out of online marketing & through what they refer to as their "self-service platform" you're led to believe that you can simply invest & earn, without any experience or work whatsoever.
But as somebody who's worked online for many, many years, I can tell you that's a very bold claim.
So, what's the truth about Ads Supply?
Is it really legit & can you really make good money with it?… Or is Ads Supply a scam that's just set out to part you with your hard-earned cash?
Well, if that's what you've been trying to find out you can rest assured that you've landed in exactly the right place because in this Ads Supply review I am going to be uncovering everything there is that you need to know.
What Is Ads Supply?   |   How Does Ads Supply Work?   |   The Red Flags   |   Fake Reviews   |   Ads Supply Complaints   |   Is Ads Supply a Scam?   |   A Better Alternative
What Is Ads Supply?
Ads Supply claims to be a self-service online advertising platform & basically, they promise to provide you with an opportunity to earn easy money online by investing in banner ads.
According to them, there are many companies that are looking for new customers online & willing to pay for them… And you can get a slice of the pie through Ads Supply by simply handling the running of their advertisements.
You're told that all you need to do is simply sign up & either create a banner ad yourself or choose one from their selection of pre-made ones.
Then, you pay Ads Supply to run it on the network of websites that they allegedly own & you earn commissions each time somebody clicks on it & signs up with the company that it's promoting.
And to make it even easier, they also promise that you'll be put in touch with an "account manager" who'll help you with every step of the process in order to make sure you generate profits.
So ultimately, you're almost led to believe that Ads Supply provides a simple and guaranteed way to make money…
But does it really?
Well, in short, no – it doesn't.
And I can say that so confidently because I've actually already seen the Ads Supply scam several times before. It simply keeps on changing its name in an attempt to escape negative reviews so that the people behind it can continue tricking unsuspecting folk into signing up.
The Ads Supply scam has previously been named Clicks Dealer, Click2Sell & Banner Bit, among other names.
And I was actually alerted to it recently when a visitor to my website left the following comment on my Click2Sell review:

So how exactly does Ads Supply really work? And is there any chance that you can actually make money with it?
Keep on reading to find out because that's exactly what I'm going to be covering next.
How Does Ads Supply Work?
Ads Supply essentially promises to provide you with an easy way to make money through something known as lead generation, which is the process of sourcing new customers for companies online.
They claim that there are several companies online that pay commissions to people for referring new customers to them… And it's true, there are indeed such companies that pay money for referrals.
It's a process known as affiliate marketing.
Now, Ads Supply claims to have developed a platform that has made it really easy for people to begin making money with affiliate marketing, even if they have absolutely no experience whatsoever.
And more importantly, they claim that their method requires no work – only investment.
So if you have some money, then Ads Supply essentially promises to provide you with a way to turn that money into a passive online income by simply investing in banner advertising.
They claim that the banner adverts will be run across the huge network of websites that they claim to own & that you'll begin earning commissions from anybody that happens to click on them & sign up with the company that they're promoting.
And I think you'll agree, it sounds pretty attractive…
After all, who on earth wouldn't want to turn a one-time investment into a passive income without having to do any work whatsoever?
But the problem is that whilst to a newcomer the opportunity may seem legitimate & lucrative, in reality, it's completely fake & Ads Supply will do nothing other than scam you of your cash.
You see, whilst it is indeed possible for newcomers to make money with affiliate marketing, it's simply not possible to do it the way that Ads Supply claims you can – and that's why they offer no real proof as to what websites your banner ads are actually running on.
The whole thing is a complete con – but a clever one, I'll admit.
The Red Flags
Firstly, the Ads Supply opportunity simply sounds WAY too good to be true… And as the good old saying goes, "if something sounds too good to be true, then it probably is".
In the instance of Ads Supply, it definitely is.
But on top of that, there are also several other red flags with Ads Supply that I will list below.
Fake Company Address
The Ads Supply website has the company listed as follows;
Kinetic Advertising B.V. Zekeringstraat 17 A, 1014 BIVI Amsterdam
But that address is actually the address of a company named The Behaviour Company, as shown below: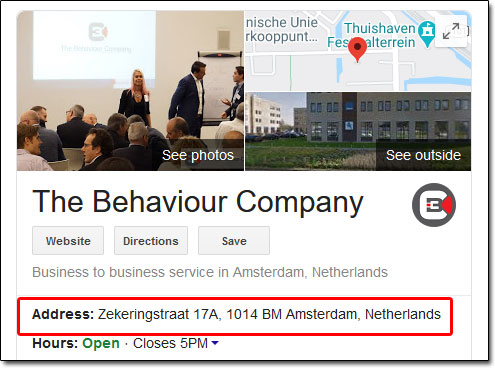 What legitimate company uses a fake address? Quite simply, none.
Connections With Similar Scams
The Terms & Conditions on the Ads Supply website state the following:
"AdsSupply" a brand owned and operated by RONTAMEL LTD, Registration No. 399962, Archiep. Meletiou Kronidi 14, 1025 Nicosia, Cyprus.
And not only is the address/company name listed in their Terms & Conditions different to that shown on their homepage, but a quick search reveals it's also connected with a similar scam named Click2Sell.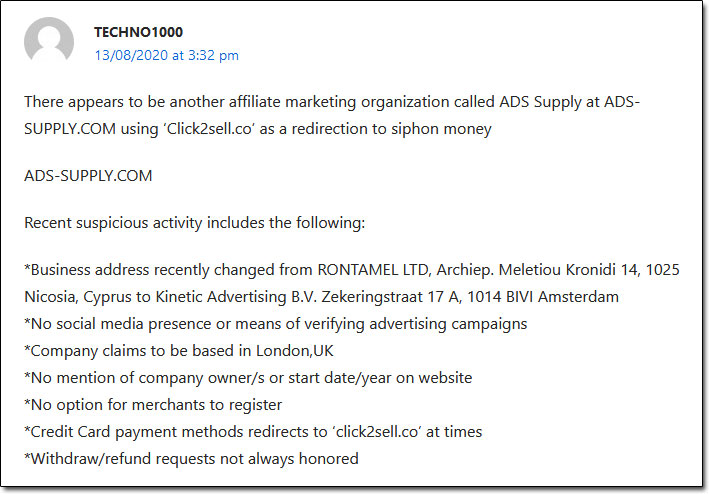 Warning By US Federal Trade Commission
On the website JustAnswer, a concerned Ads Supply investor asked a fraud expert if they believed that Ads Supply was a scam. The fraud expert outlined that the US Federal Trade Commission warns against the Ads Supply model as shown below:

Fake Reviews
One of the reasons so many people got caught out by the Click2Sell scam (the previous version of this scam) was because the scammers behind it spent so much money on investing in paid, fake reviews.
This meant that when people searched for things like "is Click2Sell a scam?" they were greeted with fake reviews which assured them that it wasn't and that it was actually legitimate.
And the same is happening with Ads Supply.
If you run a search for Ads Supply review then you are greeted with over 10 paid reviews on the very first page of Google, which hides the REAL (negative) reviews about the company.
It's easy to see that the review are all paid reviews because not only do they all say extremely positive things about the company, but they also contain several links to the Ads Supply website.
Here is an example of what I mean:
All of the so-called honest Ad Supply reviews are all promoting the Ads Supply website, yet it is a complete scam, so it's clear to see that the owners of those websites have been paid by Ads Supply to write fake reviews.
Not good.
You Might Also Like:
Ads Supply Complaints
This section of my Ad Supply review will be an ongoing-updated part of the review in which I will aim to bring to light Ad Supply complaints as & when they surface, to help share the real truth about the company.
Already, I have had visitors sharing complaints on my blog about the Ad Supply scam as shown below:

And a fraud expert on JustAnswer even said the following when questioned about Ad Supply:

So it's safe to say that it's already not looking very good for Ads Supply & it seems that their company has only very recently actually begun promoting this new version of their scam.
I imagine there will be hundreds more Ad Supply complaints coming to light very soon.
Is Ads Supply a Scam?
Yes, absolutely. Ads Supply (found at ads-supply.com) is most definitely a scam. There is simply no way that you can "flip online advertising" like they claim you can & generate a profit in doing so.
The reality is that the website has just been built on a ploy that the creators have compiled in an effort to trick newcomers into making large deposits so that they can line their pockets at their expense.
I mean yes, it is indeed possible to earn money in the way that Ads Supply claim (by generating leads & promoting companies) but you cannot just invest & earn with ease like Ads Supply claim you can.
Instead, to make good money online you need to put in work to make it happen… There are no shortcuts or magic-platforms that'll see you making lots of money really easily – that's just a pipe-dream.
The good news, however, is that if you are indeed prepared to put in that work to make it happen then there are plenty of legitimate places where you can get started & learn how to do it.
One of my personal top-recommendations for newcomers to start with is Commission Academy.
At Commission Academy, you'll learn exactly how money is made online & you'll learn how you too can get a slice of the pie for yourself. Plus, the best part is that you don't have to pay anything to get started.
So if you're looking to earn money online legitimately (without the risk) then I'd highly recommend checking that out.
But whatever you decide to do, I simply hope that my honest Ads Supply review here has given you a good insight into how the whole thing really works & most importantly, I hope it has helped you to save some money.
Do feel free to share your experiences below.
A Better Alternative
The sad truth is that unfortunately most of the programs promising to help you make money online are scams. I can say that confidently after exposing over 500+ of them here on this blog.
But the good news is that even though most of them are indeed scams, there are actually some very good programs in amongst them - some programs that can truly help you to earn money.
And out of all of the legit programs I've seen, the one I would recommend the most to anybody looking to get started online is Commission Academy. In my own opinion, that's the best place to start.
At Commission Academy, you'll be provided with everything you need (including the training & tools) to begin earning real money by promoting products or services for companies like Amazon online.
The best part is that there's literally no limit on the amount you can earn with it & the process is pretty simple which means that it's absolutely perfect for people that don't have much experience.
Some wealthy affiliates even earn as much as 5-figures per month... Or more!

I mean don't get me wrong, that kind of money won't just fall into your lap without doing any work... But the harder you're willing to work at it, the more you stand to earn with it.
So if you're looking to get started but don't know which route you should go down or which program you should join (and don't want to waste money on bogus things that don't actually work), then I'd highly recommend checking out Commission Academy first. You can learn more about it here.