Click2Sell calls itself a "self-service online advertising platform", claims to be based out of London & promises to provide people with an easy way to earn tons of cash by investing in online advertising.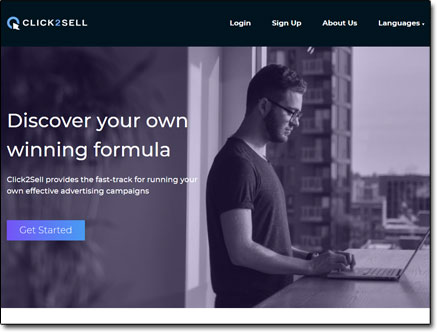 According to their promotions, they claim to essentially act as a "crowdfunding" website for companies that want to advertise online & by investing in the banners through their website you can supposedly see yourself earning a healthy share of the profits generated.
But wait, investing in banners?
That sounds… Weird.
I've been doing this online marketing thing full-time for many years now & I've never heard of any sort of opportunity to invest in banners. In fact, I don't even see how it could possibly work.
Is Click2Sell a scam?
That's what I wondered, and to find out I decided to take a closer look into the company, try it out, see exactly how it all works & most importantly determine if you can really make money with it.
In this review of Click2Sell I'll be sharing my findings…
Click2Sell Company Information   |   How Does Click2Sell Work?   |   How To Get Your Money Back From Click2Sell   |   Is Click2Sell a Scam?   |   A Legitimate Alternative
Click2Sell Limited – The Company
The first thing I decided to do was take a closer look at the company itself because as you might have already noticed there isn't actually a great deal of information on their main website (located at click2sell.co).
My initial discovery was that the company seems to be operating under a few different names.
BannerBit & Clicks Dealer seem to be the 2 main alternative names the company is using, but there may be more – and both of those websites follow a similar theme to that of Click2Sell.
They too claim to provide people with access to a great opportunity for making easy money online.
Stranger though was my next discovery, in which I found that not only was Click2Sell using multiple names, but it was also using multiple "doorway websites" for its promotions.
So instead of promoting the BannerBit, Clicks Dealer & Click2Sell websites directly, the people behind the whole thing were promoting doorway sites that led people through to them.
These doorway sites presented the visitor with a video, asked for their contact details & then redirected them through to one of the three sites – either BannerBit, Clicks Dealer or Click2Sell.
And here's a list of some of the many doorway sites I discovered:
As you can see there are quite a few, to say the least, & this is where things started getting pretty shady because all of those websites put a "get-rich-quick" style hyped-up spin on things.
Plus, one of the sites (Digital Payday) even claimed to have been endorsed by Mark Zuckerberg, but the photo had quite clearly been photoshopped as shown below:

Would a legitimate company go to such lengths to create so many shady doorway websites & photoshop images in an attempt to trick people into believing things that weren't true?
I highly doubt it.
So what's really going on here? Let's take a look…
How Does Click2Sell Work?
The Click2Sell opportunity is promoted as an "investment" in banner advertising – so you're led to believe that you'll be helping companies acquire advertising funds & that you'll be able to get a share of the profits as a result.
Now because you're allegedly "investing" in the ads, they also claim to give you the opportunity to resell your ads at a later date to either recoup your initial investment or hopefully turn a profit.
The problem though is that none of this makes sense.
I'm an experienced online marketer – I've been earning a living online for many years now & there is just hands-down no way that you could "invest" in banner advertising like Click2Sell (and it's various aliases) claims you can.
Forgetting about that "small issue" for now though, if you do indeed sign up to Click2Sell as I did (which I don't recommend doing) then you'll discover that they do indeed have a banner ads marketplace.
This is how it looks:

So you can deposit money & purchase banner advertising – which to the unsuspecting may seem fairly legitimate…
But going back to what I just mentioned above about it not physically being possible to invest in & earn from advertising like this – the question is, where is your money actually going?
The answer = straight into Click2Sell's pockets.
That's right, the whole thing is a complete fraud. They've basically invented the whole idea of ad flipping & developed a fake website around the imaginary concept in order to take people's cash.
Unfortunately, it's been pretty successful.
Take a look at these reviews which mention BannerBit – which is the same group as Click2Sell:


Those reviews were published in 2018 & it seems that Click2Sell is essentially a "relaunch" of the scam, using a new name in an attempt to escape the negative reviews to trick more people into joining.
And that's why they also appear to be using all of the "doorway" sites that I mentioned earlier in this review too so that they can try to hide the true name of the company behind the scenes to prevent as many negative reviews.
If you want more information on the scam itself, I wrote a detailed post explaining how the ad flipping scam works here.
Back onto Click2Sell though, what do you do if you've already lost money?
Can you get a refund from Click2Sell?
You Might Also Like:
How To Get Your Money Back From Click2Sell
Unfortunately, it seems that the people behind Click2Sell are actually pretty clever when it comes to taking money from people, and they've instructed for most payments to be made via bank transfer or Bitcoin.
This generally makes it extremely difficult for people to get their money back, because those types of transactions aren't usually covered by any sort of protection, and aren't processed by a third-party merchant.
Regardless though, your first step should be to contact your bank.
It may feel like an embarrassing call to make, but call your bank & tell them exactly what's happened. Your bank should be able to offer you the best advice in terms of getting a refund from Click2Sell.
You may also find helpful information from other people who have been caught out by the scam in the comments section of this Click2Sell review below – and if you can share any information to help others in the comments it'd be great if you did.
Anyway, wrapping it up…
Is Click2Sell a Scam? Yes, It Is In My Opinion
From my experience as an online marketer, I can tell you that there's simply no way the ad flipping concept described by Click2Sell could possibly work, and so, therefore, I conclude that Click2Sell is indeed a scam.
The people behind Click2Sell have just come up with an imaginary concept that is designed to almost sound plausible & simple to a newcomer, but leaves just enough confusion to force them into "trusting the process".
The problem though is that instead of investing in advertising you'll just be lining the pockets of the people behind the scam because any money deposited will be going directly to them.
Plus there's also all of the suspicious doorway websites that I mentioned, the shady photoshopping tactics & the past negative reviews of the interlinked website BannerBit.
It's safe to say that it should be definitely be avoided.
A Legitimate Way To Actually Make Money Online
Yes, ad flipping & Click2Sell may be scams but the good news is that there are still alternative, legitimate ways that you can earn money online.
One of my top-recommended methods is something called affiliate marketing, which basically involves you promoting products or services for companies online & getting paid commissions in return.
The best thing about affiliate marketing is that it requires minimal start-up cost, it's relatively simple, and the amount you can earn with it is completely uncapped.
The harder you work, the more you can earn.
And affiliate marketing is actually the primary way that I personally make most of my own income online. It's what enabled me to leave my job as an electrician & do this thing full-time.
So if you'd like to learn more about that instead then I'd highly recommend you check out Commission Academy, which is a place where you can get all of the training & tools you need to get started.
Or, alternatively, you can check out these other cool ways to earn online.
But whatever you do I just hope that this review of Click2Sell has given you a good insight into how the whole thing actually works (or should I say doesn't work) & I hope it has helped you to avoid it.