Adflippers over at Adflippers.com is a new service that claims to provide the easiest way to make money online, even if you've got no technical knowledge or previous experience at making money online before…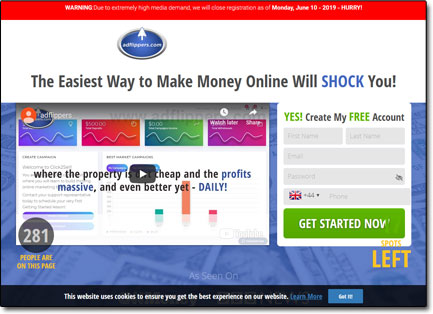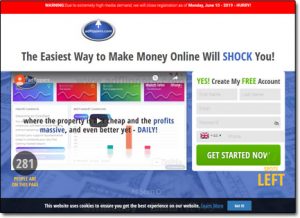 You're led to believe that you can simply participate in something called ad flipping to see massive profits of over $1,000 per day… But is it actually a legitimate way to make money? Or is Adflippers a scam that you should avoid?
Well the good news is that you've landed in exactly the right place to find out as I have personally taken a closer look into the Adflippers website & in this honest review I'm going to be uncovering everything you need to know, including whether or not you can really make money with it like they claim.
What Is Adflippers?   |   How Does Adflippers Work?   |   The Red Flags   |   Is Adflippers a Scam?   |   A Better Alternative
What Is Adflippers?
Adflippers is a newly launched website that promises to provide a super-easy way for people to make lots of money online, even if they have absolutely no experience at doing so, all through a method called ad-flipping.
You're led to believe that by investing just a "mere $250" to get started you'll be able to buy & sell online advertisements for profit, or invest in them in the hope that they'll provide a solid long-term revenue.
But can you really do that? Can you really "buy & sell advertisements" like they claim?
Well the answer is no, you can't – and I can actually tell you right from the off that Adflippers is a scam. The reason I can say that so confidently is because it's part of the Click2Sell & BannerBit scams which I've already exposed on this blog.
Plus the Adflippers system itself has also been launched under various different names such as the Quantum Ad Code, the Ad Formula & Crowd Profits. It simply keeps changing its name in the hope of escaping the negative reviews to continue parting people with their cash.
But I know what you're probably wondering… How does it actually work? And how does it scam you? Well keep on reading this review to find out as that's exactly what I'm going to be running over next…
How Does Adflippers Work?
Basically Adflippers is just your typical get-rich-quick style scam in that it promises you the world, pushes you into investing money, and then fails to deliver on its initial promises once it's got your money.
The whole ad-flipping thing is completely fabricated… There's no way you can "flip ads" like they claim & it's all just a ploy to trick you into depositing some money to try it out… But the real problem comes on the inside.
The real problem is that they don't just take your $250 and run, oh no – the ad flipping scam is much worse than that, because instead they actually make it seem like you are profiting to trick you into depositing even more.

So after depositing your initial $250 & trying it out you might see your account balance begin to increase, and the so-called "account manager" will contact you to try & encourage you to deposit more to see greater profits.
He or she will pressure you into depositing literally as much as you can, which could include tens of thousands…
And from there they will continue to do exactly the same. They will continue to make you think that you are profiting to get you to invest more & more, until eventually you have nothing left to invest.
Then, when you go to attempt to make a withdrawal you will be told that the process takes some time due to the large amounts of funds & process of getting the money invested back out of the advertisements, etc…
But as you can probably imagine all of this is nonsense too.
The truth is that no money will ever come back to you, and instead all of your investment will be lost to the hands of the crooks that are behind the Adflippers scam. You'll be left to discover it was all a big con.
So it's safe to say that if you haven't already signed up or invested with Adflippers – you definitely shouldn't, and as I point out the red-flags to you below you'll soon likely realize just how fake the whole thing is…
You Might Also Like:
The Red-Flags That Scream Scam
Well firstly, the primary red-flag is that the whole thing just sound way too good to be true. The Adflippers website makes out as if you can just sign up & begin making good money, guaranteed, with no risk to your capital…
And if that were true then everybody would likely be doing it – nobody would be left working a job & the world would be in crisis… But as I say it's just a classic case of "too good to be true".
You see the internet is great & it is does indeed provide many ways to make money, but it's not magical & it is not ever going to see you earning lots of money with little to no work or risk… And anything that promises otherwise is likely just trying to scam you.
But that's not the only red-flag, there are actually several, such as…
1. The False Scarcity Counter
Whilst some legitimate websites do use countdown timers to display when a deal is ending, many of the scams like the Adflippers scam also use them to try to get you to sign up as quickly as you can.
The difference though is that on scam websites they're fake, like the one on the Adflippers website (shown below):

At the time of me writing this review (Monday 10th of June 2019) the Adflippers website states that registration will close today… However it said the exact same thing yesterday, and no doubt on the day that you are viewing it it will still say the exact same thing too.
So clearly it's a lie, and the scammers use this tactic to try to prevent you looking for reviews… Because they know that if they give you time to look for reviews that you will likely discover it's actually all a scam.
2. Lies About News Features
Another way scam websites often try to make themselves seem legitimate is by pretending to have been featured on high-profile news websites, and the Adflippers scam does exactly that.
On their website (as shown below) they claim to have been featured on both CNN Money & BBC News:

However needless to say that's just another lie as I searched both of those news sites and they returned absolutely nothing with regards to the Adflippers system… The creators are simply hoping that you don't actually search them to find out.
3. Fake Member Income Claims
Finally one of the most other common tricks scam websites use is to include "social proof" – so they basically try to make you believe that other people in the world are finding success with the system & making money.
The Adflippers website publishes earning details for some members including Sherri Myers, Natalie Ricci, Fabrice Pierro & Chris Matheson (among others) as shown below, but these are all fake too:

How do I know they're fake? Simple – they have no links to real social media profiles (to verify the claims) and furthermore all of the "profile images" shown have been pulled from stock image websites, shown below:

But anyway I think I've said enough about this thing now, I'm sure you get the idea, which brings me onto…
Is Adflippers a Scam?
Yes absolutely, there's no doubt about it. The entire Adflippers website has been built on lies & deceit & the sole intention of it is to trick you into signing up & depositing $250 so that the people behind it can earn at your expense.
The is simply no way whatsoever that you will find yourself earning money through the Adflippers scam & instead the people behind it will just pressure you & trick you into depositing more & more, until you're finally left to discover the hard way that it's all a con.
I previously exposed the ad flipping scam on this blog earlier last year & I am quite shocked that it is still active, but no doubt regulatory authorities will soon catch up with it & it will be closed down for good, hopefully.
In the meantime though if you are still looking for a way to generate an extra income online then I urge you to check out my top picks page here as that's where you'll find the best legitimate opportunities that I've come across.
Or alternatively if you just want to go straight to my all-time top recommendation then check out Wealthy Affiliate here.
But whatever you decide to do I just sincerely hope that my Adflippers review here has given you a good insight into how it all really works & more importantly I hope I have been able to prevent you from losing money to it.
If you do still happen to have any further questions or comments though then don't hesitate to leave them below & as always I'll do my absolute best to respond back to you in the shortest time possible.
A Better Alternative
The sad truth is that unfortunately most of the programs promising to help you make money online are scams. I can say that confidently after exposing over 500+ of them here on this blog.
But the good news is that even though most of them are indeed scams, there are actually some very good programs in amongst them - some programs that can truly help you to earn money.
And out of all of the legit programs I've seen, the one I would recommend the most to anybody looking to get started online is Commission Academy. In my own opinion, that's the best place to start.
At Commission Academy, you'll be provided with everything you need (including the training & tools) to begin earning real money by promoting products or services for companies like Amazon online.
The best part is that there's literally no limit on the amount you can earn with it & the process is pretty simple which means that it's absolutely perfect for people that don't have much experience.
Some wealthy affiliates even earn as much as 5-figures per month... Or more!

I mean don't get me wrong, that kind of money won't just fall into your lap without doing any work... But the harder you're willing to work at it, the more you stand to earn with it.
So if you're looking to get started but don't know which route you should go down or which program you should join (and don't want to waste money on bogus things that don't actually work), then I'd highly recommend checking out Commission Academy first. You can learn more about it here.