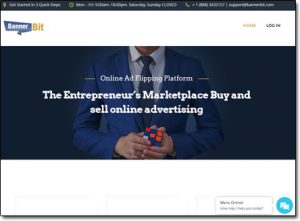 Banner Bit is a newly launched company that claims to be the entrepreneur's marketplace for buying & selling online advertising. You're led to believe that over 42,000 people use the platform & that you easily make thousands of dollars through their site by "flipping ads".
At a glance, it all seems fairly legit, but as you dig deeper into it all the whole thing starts looking extremely suspicious… So what's the deal, is it actually legit or is Banner Bit a scam that's just going to part you with your cash?
Luckily you've landed in the right place to find out because things aren't actually quite as they seem with this company & in this review, I'll be uncovering the truth along with how it all really works & whether or not you actually make money.
What Is Banner Bit?   |   How Does Banner Bit Work?   |   The Red Flags   |   Is Banner Bit a Scam?   |   A Better Alternative
What Is Banner Bit?
Banner Bit claims to be an online marketplace for entrepreneurs who are looking to make money by buying & selling advertising. Though I have to admit right from the off that the concept seems a little strange to me…

I've been in the online marketing industry for around 6 years now & I've never heard of "flipping ads" or "buying and selling advertising" – that alone immediately made me very sceptical about the whole thing.
The other thing that made me very sceptical about it was the fact that I actually found out about Banner Bit through a get-rich-quick style program named the Free Ad Cash System which promised you could easily make $3,671.32 per day.
But I have to admit the Banner Bit website looked fairly professional & I became pretty curious to see what it was all about. Was there really a way that you could make money by "flipping ads" as they claimed?
It seems like a weird method, but I'm all for innovation & exploring new ways to make money so I figured I'd take a look into it rather than just brushing it off as a scam…
How Does Banner Bit Work?
Signing up to Banner Bit is entirely free as the Free Ad Cash System which referred me into it promised, however, it's clear that to open up the potential to make some money you're first going to have to spend some.
That's because as shown in the screenshot below the whole concept of making money through Banner Bit is by buying & selling ads so you're going to need some capital to try it out. In order to get started, they require a minimum deposit of at least $200.

But if you haven't done so already, DON'T invest in Banner Bit. The reason I want to stress that is that Banner Bit isn't actually what it seems – in my opinion, it seems like it's just a scam that's been designed to part you with your cash.
You see you're led to believe that you can simply log into Banner Bit, purchase some advertising & earn money from the revenue that the ads generate – but this business model just totally doesn't make sense.
You're also led to believe that you can then re-sell the ads later & that you a stand a chance of making extra money if the value of the advertising increases (for example by the websites they're displayed on becoming more popular).
To a newbie, the whole thing may seem fairly legit and it could be quite easy to get convinced about it – but like I mentioned above as far as I'm concerned the business model just makes no sense at all.
For example… In the above screenshot, you're shown a Nike advertisement which you can purchase for $240… But why would Nike want you to invest in their advertisements & why would they pay you a percentage of their profits in return?
If the ad was actually profitable then they may as well just pay for the advertising themselves & keep all the profits for themselves.. It doesn't make sense to involve a third party & that's why I believe Banner Bit to be nothing but a get-rich-quick scam.
Well, this is just one of the reasons at least, there are actually several other red flags (and many member complaints as you'll see below).
Why Banner Bit Looks Suspicious…
Well firstly, in my opinion, the whole "ad flipping" concept itself seems flawed so obviously that's a major red-flag to start out with but on top of that, there are actually several other issues that have led me towards believing Banner Bit is nothing but a scam.
Let me show you what I mean…
The Company Is Not Based In The USA or Canada
Upon landing on the Banner Bit website you're provided with USA & Canadian based telephone numbers which makes things seem a little reassuring. Often scams don't provide any contact details at all so this alone may lead you into thinking that it's legit…
However, don't be reassured too quickly because Banner Bit isn't actually based in the USA or Canada at all. I looked up the company & they're actually operating out of Cyprus – they're just re-routing calls through an American & Canadian contact number.
Take a look for yourself (Volo Corporate LTD is the company behind Banner Bit):

Lies In The Promotional Videos
One of the videos on the Banner Bit promotional pages shows you a video in which a guy tells you he has over 2 decades of experience buying & selling ads online & that the Banner Bit system has made him thousands of dollars…
The problem is the guy is lying – he's actually just an actor that he's been hired from the website Fiverr. I was able to find his profile (which I've shown a screenshot of below) so you can't believe a word he says.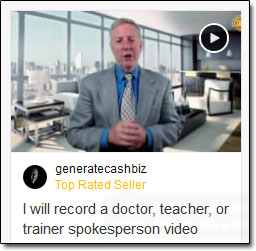 If the system really worked as promised then why are they having to pay actors to produce testimonials for them? Why can't they just get real testimonials from the real members that are supposedly profiting?
You Have To Submit Confidential Details
Signing up to Banner Bit is easy, you can register for free & all you have to do is enter your name, email address, phone number & create a password. However, if you want to withdraw you'll have to submit a LOT more information… Information that they could potentially use to rob your bank account.
They ask for your full home address, a copy of a utility statement that proves your address and a scanned company of both the front & back of the bank card you wish to be paid too. This is bad very news – you should never have to send a scanned copy of your card online like this & if somebody is asking you to then it's likely they're just trying to scam you.
Hundreds of Member Complaints
I'll admit that I didn't personally invest any money into Banner Bit to try it out – there was no way I was going too because all of the signs just screamed scam, however sadly it seems quite a lot of people have.
Just take a look at some of these reviews they left:


It certainly doesn't look good – both of these people have reported that they've been flat out scammed. Banner Bit have apparently just taken their money, not delivered on their promises & ignored all refund requests.
You Might Also Like:
Is Banner Bit a Scam?
Well, I'll be honest, all the signs here are leading me towards believing Banner Bit is a scam. They promise that you can make easy money, their method doesn't make sense & they're associated with numerous scam sites like the Ripple Code system for example. None of it looks good.
Not to mention the fact that there are hundreds of member reviews online in which people are stating that they've been flat out scammed & that Banner Bit have taken their money & won't give them a refund.
It's, therefore, safe to say that I won't be recommending this opportunity to you because in my opinion it just looks like a get-rich-quick scam that's been designed to make the creator wealthy at your expense.
Yes, it is possible to make money online but not in the way Banner Bit claims. If you want to learn the REAL way to get started online then I suggest you check out my Wealthy Affiliate review because that will help you out.
I just really hope that you came across this review before investing & were able to keep hold of your cash rather than losing it to these crooks. If you happen to have any further questions or comments feel free to leave them below.
A Better Alternative
The sad truth is that unfortunately most of the programs promising to help you make money online are scams. I can say that confidently after exposing over 500+ of them here on this blog.
But the good news is that even though most of them are indeed scams, there are actually some very good programs in amongst them - some programs that can truly help you to earn money.
And out of all of the legit programs I've seen, the one I would recommend the most to anybody looking to get started online is Commission Academy. In my own opinion, that's the best place to start.
At Commission Academy, you'll be provided with everything you need (including the training & tools) to begin earning real money by promoting products or services for companies like Amazon online.
The best part is that there's literally no limit on the amount you can earn with it & the process is pretty simple which means that it's absolutely perfect for people that don't have much experience.
Some wealthy affiliates even earn as much as 5-figures per month... Or more!

I mean don't get me wrong, that kind of money won't just fall into your lap without doing any work... But the harder you're willing to work at it, the more you stand to earn with it.
So if you're looking to get started but don't know which route you should go down or which program you should join (and don't want to waste money on bogus things that don't actually work), then I'd highly recommend checking out Commission Academy first. You can learn more about it here.