The Ripple Code claims to be a free cryptocurrency-based system that can allegedly guarantee you huge automated online profits of up to $7,000 per day and you're led to believe that absolutely anybody can get started with it.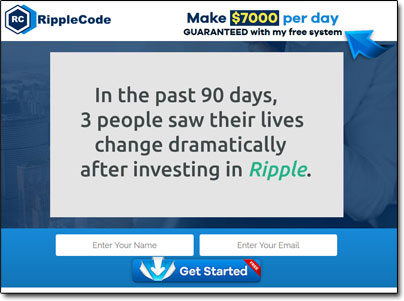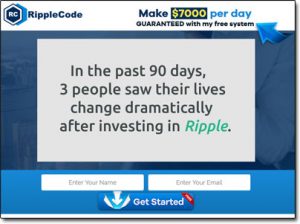 The website makes out as if you can simply sign up & start making money without actually having to do anything, but as far as I'm concerned the whole thing just sounds way too good to be true… So what's the deal?
Is it actually legit or is the Ripple Code a scam that's just going to see you losing money rather than making it?
Thankfully if you've been thinking about signing up to the Ripple Code you've landed in the right place because in this review I'm going to be uncovering everything you need to know about it, including how it all really works & whether or not you can actually make any money with it.
What Is Ripple Code?   |   How Does Ripple Code Work?   |   Is Ripple Code a Scam?   |   A Better Alternative
What Is Ripple Code?
As I briefly touched on above the Ripple Code claims to be a free system that can supposedly see you generating profits of up to $7,000 per day online and as if that wasn't already good enough on its own it also claims it can enable you to achieve that level of income without any work at all.
You're literally lead to believe that you can just sign up & start making money…
But before you go rushing into joining you should know that the truth about this system isn't quite so great. In fact, the Ripple Code system is actually nothing more than a get-rich-quick scam that's been designed to take your money.
How can I be so sure about that?
Easy, because I've seen this exact same scam launched before under 2 different names. It's previously been called the Bitcoin Advertising System & the Free Ad Cash System. They just keep changing the names & switching the layout of the website around a little bit to dodge the negative reviews so that they can continue scamming people. It's definitely something to avoid.
But I appreciate that you may have been quite interested in the Ripple Code system & really hoping that it would work so obviously I'm not just going to expect you to take my word for it when I say it's a scam. Instead, let me show you exactly how it all works so that you can see for yourself…
How Does Ripple Code Work?
Well, the truth is that the Ripple Code certainly doesn't work as promised – instead of helping you make money the only thing the Ripple Code (or the system it refers you into) will do is take money from you.
Surprisingly the Ripple Code system doesn't even actually have anything to do with Ripple at all…
Basically it claims that you are going to be building your own Ripple based online advertising empire & that you'll to learn a fast & effective way to build a large income from home by "flipping" online advertisements.

But flipping online advertisements is total nonsense. I've been in the online marketing for around 6 years or more now and I can tell you that there's no such thing as "flipping" online ads.
This is just a gimmick they're using to try & get you to buy into their program so they can take your cash.
What you'll find if you continue through the sign-up process is that you actually end up just getting referred through to a website named BannerBit instead. The Ripple Code system in itself doesn't exist.
The reason they've created the Ripple Code website is merely to try & trick you into buying into BannerBit. You see BannerBit is a nothing but a huge scam & I've come across it several times before. If you searched for reviews on it you'd quickly discover it's a scam & you wouldn't bother signing up to it, so that's why they create the Ripple Code system instead… In an attempt to escape the negative reviews.
Like I said above this system was previously called the Free Ad Cash System & before that, it was the Bitcoin Advertising System. Once people start writing negative reviews they just change their name to try & keep scamming people.
You Might Also Like:
How Does BannerBit Work?
Okay so as we've established BannerBit is the "real" system that the Ripple Code website tries to get you to buy into, so now you're probably wondering how BannerBit itself actually works (or should I say doesn't work)…
BannerBit is actually a very dangerous scam.
Basically it claims to be a marketplace for online advertising. You're led to believe that you can invest in advertising that is displayed on various websites & earn profits from each of the clicks the advertising gets as a result. You're also told that you can resell the advertising, so if the websites the advertising is displayed on start getting visitors you're led to believe you can resell it and stand to make a profit.

If you're new to online marketing or making money online it might sound quite convincing. Sadly though it's total BS.
BannerBit will see you spending hundreds, if not thousands of dollars on advertising – and when you begin "flipping" it, they'll make it seem like you're making money. Naturally, you'll invest in more advertising to keep making money… But sadly when it comes to making a withdrawal you'll realize that it's all a big scam.
You see when you try & request a withdrawal they'll ask for your personal details (such as address etc), a copy of a recent letter that has your name & address on & a scanned copy of both the front & back of the card you'd like to be paid to.
They will simply use all this information to empty your bank account!
That's right – BannerBit won't honour your withdrawal request at all. They will just use the information you give them to take even more money from you – that's why I said this is a very dangerous scam.
Some people have lost multiple thousands to this scam… Some people have probably lost their whole life savings.
Is Ripple Code a Scam?
Yes, it is, I can tell you with 100% confidence that the Ripple Code is a scam & it should definitely be avoided. Despite claiming to help you make money the Ripple Code system will do nothing other than part you with your cash.
As I say you'll be redirected through into the BannerBit system & they'll just do whatever they can to milk your bank account dry – including trying to get your personal details so that they can totally empty it.
There is a popular saying that "if it sounds too good to be true it probably is" and that definitely applies here. The internet provides you with several great legitimate ways to make extra money but it's not magical & it's not going to see you earning crazy amounts of income like the Ripple Code system promises with such ease.
It's clear to me that the creators of the Ripple Code (and BannerBit) are just trying to take advantage of people who are new to making money online. If you're reading this & happen to be new but want to find a legitimate way to get started then I recommend you check out my Wealthy Affiliate review instead. That is without a doubt the best place for beginners to start.
But overall you should definitely avoid the Ripple Code & BannerBit systems at absolutely all costs… They are very bad news. I just hope my review helped to prevent you from parting with your cash. If you do happen to have any further questions or comments though then don't hesitate to leave them below.
A Better Alternative
The sad truth is that unfortunately most of the programs promising to help you make money online are scams. I can say that confidently after exposing over 500+ of them here on this blog.
But the good news is that even though most of them are indeed scams, there are actually some very good programs in amongst them - some programs that can truly help you to earn money.
And out of all of the legit programs I've seen, the one I would recommend the most to anybody looking to get started online is Commission Academy. In my own opinion, that's the best place to start.
At Commission Academy, you'll be provided with everything you need (including the training & tools) to begin earning real money by promoting products or services for companies like Amazon online.
The best part is that there's literally no limit on the amount you can earn with it & the process is pretty simple which means that it's absolutely perfect for people that don't have much experience.
Some wealthy affiliates even earn as much as 5-figures per month... Or more!


I mean don't get me wrong, that kind of money won't just fall into your lap without doing any work... But the harder you're willing to work at it, the more you stand to earn with it.
So if you're looking to get started but don't know which route you should go down or which program you should join (and don't want to waste money on bogus things that don't actually work), then I'd highly recommend checking out Commission Academy first. You can learn more about it here.