The Free Ad Cash System promises that you can make an extra $3,671.32 per day for free & that you can even start earning the very same day you get started, regardless as to whether or not you have any previous experience at making money online…
The system allegedly entails you flipping online real estate & it's supposedly been put together a guy named Simon Green – but is it actually legit or is the Free Ad Cash System a scam that's just going to see you losing money rather than making it?
Thankfully you've landed in the right place to find out because I've took a closer look at this system to see what's really going on & in this review I'm going to be uncovering everything there is you need to know, including how it all really works… 🙂
What Exactly Is The Free Ad Cash System?
The Free Ad Cash System which has allegedly been put together by a guy named Simon Green, or Simon "the flipper" Green as he claims to be better known is a system that can supposedly see you generating guaranteed profits of over $3,000 per day by "flipping" online real estate.
Simon claims that he's discovered a loophole for earning money within the multi-billion dollar advertising industry & he says that he personally has made over $22 million from the exact same Free Ad Cash System that you're going to be getting access to, and he's done that without ever leaving his house…
At least that what you're told anyway.
Sadly the truth about this whole thing isn't quite so great. After taking a closer look at the system & delving into how it all supposedly works I quickly realized that it was just a cover up for the Banner Bit scam.
Banner Bit was a trading system that previously launched some time ago & it too claimed that you could generate thousands of dollars from "flipping" online advertising. It actually used the exact same video that's now being shown on the website of the Free Ad Cash System.
In fact if you open up the video that's embedded on the Free Ad Cash System website in YouTube you'll find out that it's title actually still relates to the old Banner Bit scam as shown below:

But that's only where the problem begins – if you actually take a look at the user's account that's uploaded this video you'll see that there are several other make-money related videos in there.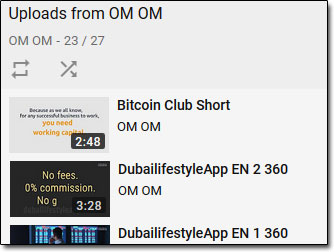 2 of them being for the Bitcoin Code & the Dubai Lifestyle App systems – both are which are scams I previously exposed right here on this blog. That's certainly not a good sign to start off with.
So yeah, it's safe to say that the Free Ad Cash System is a scam – but obviously I don't expect you to just take my word for it like that so instead let me show you how it all works so that you can see for yourself.
How Does The Free Ad Cash System Work?
Okay so as I pointed out above the Free Ad Cash System was previously known as Banner Bit, and before that it was actually also known as the Bitcoin Advertising system. Despite it's change of names, and slightly different websites – the way it works remain exactly the same. The whole thing is nothing more than a binary options trading scam.
Basically the Free Ad Cash System website gives you a whole bunch of spiel on how you're going to be able to make lot's of money by flipping online advertising, but in reality this doesn't make sense.
I've been in the online marketing game a long time & there's no such thing as "flipping advertising". As I say this is just jargon & it's just been put together in an attempt to fool people who are new to making money online.
The whole thing is just a ploy to make you think that you'll be able to make money (and lot's of it) really quickly & easily. The reason they want you to think that is so that you'll sign up to their system & deposit with their "recommended" broker.
Funnily enough their "recommended" broker happens to be unlicensed, unregulated & also paying them big fat commissions for each new member they send their way who goes on to deposit.
And guess what happens if you were to sign up to this system & deposit to try it out (which I obviously don't recommend)?
Well this is the bit where you'd find out that the whole thing's just a big fat scam that's been put together to part you with your cash. After depositing and getting access you'd find out that the system doesn't actually worked as promised, and that instead of making profitable trades it makes nothing but losses.
You'd also find out that despite what you were told it has absolutely nothing to do with online advertising… Like I say all that nonsense was just a ploy to get you to hand over your cash in the first place.
And if you think you'll be able to simply withdraw out any cash that you might have left in your account then think again. As I mentioned above the broker is unlicensed, they're not even a real broker… They're frauds and they're just out to take your cash. Once they've got their hands on it they won't let you get it back – regardless as to whether you have some left or not.
Even Forbes put out an article on their website warning against this whole binary options thing as shown below: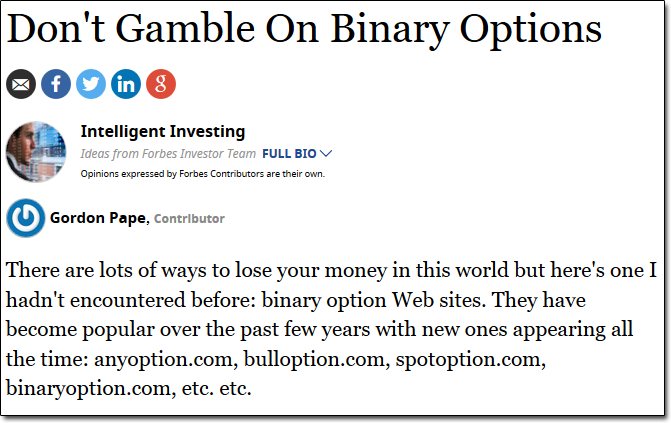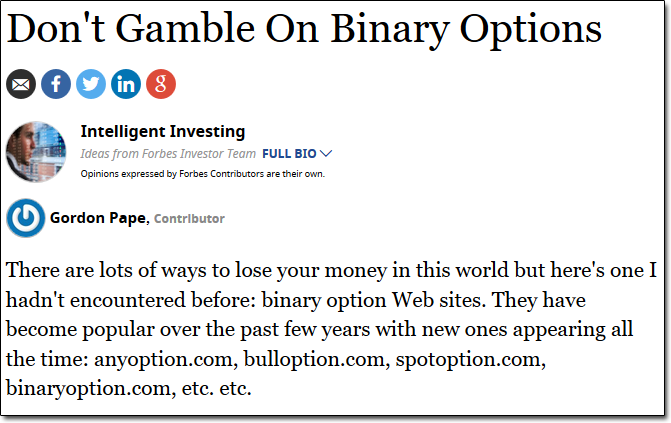 Honestly the whole thing is just total bad news & you should definitely stay away from it. The brokers & the creators of the Free Ad Cash System are both in on it together & they're just set out to make money at your expense.
The guys behind these programs will sadly be making millions, but unfortunately you are not going to be making a dime through it.
The Dubai Lifestyle App & the Bitcoin Code programs that I mentioned these guys are also associated with work in exactly the same way. They just keep changing the names so that they can continue scamming people out of their hard earned cash.
My Verdict – Is The Free Ad Cash System a Scam?
I can say with 100% certainty that the Free Ad Cash System is a scam. The guy who allegedly presents the video named Simon Green certainly tries to make the whole thing sound convincing but in reality it's nothing but a ploy to part you with your cash.
There are several legitimate ways to make money online but this is just not one of them.
Because they know that people are so wary about trading binary options due to the extremely high risks involved they've tried to cover it up as being some sort of ad flipping scheme but after you sign up (which I don't recommend doing at all) it quickly becomes clear that there is no ad flipping going on at all. The whole thing is indeed just a binary options scam.
It's therefore safe to say that I certainly won't be recommending this program to you – instead I'll actually be advising you to stay away from it because I can clearly tell that it's nothing but bad news.
Anyway, hopefully you found this review before you signed up to it & hopefully it helped you save some cash. If you do happen to have any further questions or comments about this program then don't hesitate to leave them below. 🙂