In this review, I'm going to be taking a closer look at The Bitcoin Code system which is something that's supposedly been created by a guy named Steve McKay who claims it can enable you to achieve "insane returns" from Bitcoin investment (his words, not mine).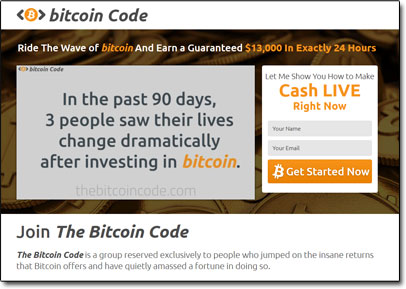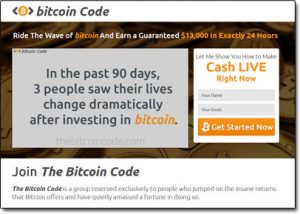 Amazingly he even claims that he takes all of the members of his program on free monthly retreats around the world… But is it actually legit? Or is The Bitcoin Code a scam that's somehow out to part you with your hard-earned cash?
And if it does really work then is it legal, and can you really make good money with it?
Those are the exact things I'm going to be answering right here in this Bitcoin Code review, meaning if you've been thinking about getting started with this system then you can rest assured that you've landed in exactly the right place to find out everything you need to know about it before you do.
What Is The Bitcoin Code?   |   How Does The Bitcoin Code Work?   |   The Truth   |   Is The Bitcoin Code a Scam?   |   A Better Alternative
What Is The Bitcoin Code?
The Bitcoin Code system claims to be able to change your life dramatically through tactical Bitcoin investments. Steve McKay who supposedly created the system claims that it earns you guaranteed profits of $13,000 within just literally 24 hours of signing up – a pretty bold claim I think you'll agree.
Steve claims that he's currently running a beta test for trading algorithm he's created & you're offered free access into the "test" – which as it turns out actually isn't quite so free (more on that in a moment).
You're then shown a whole bunch of testimonials from other so-called beta testers who each claim that since joining the program have begun making thousands of dollars online on complete autopilot.
But the worrying thing that I noticed is that these testimonials are fake – the people that are claiming to have made thousands with the system are actually paid actors from the website Fiverr.
Take a look at the proof below: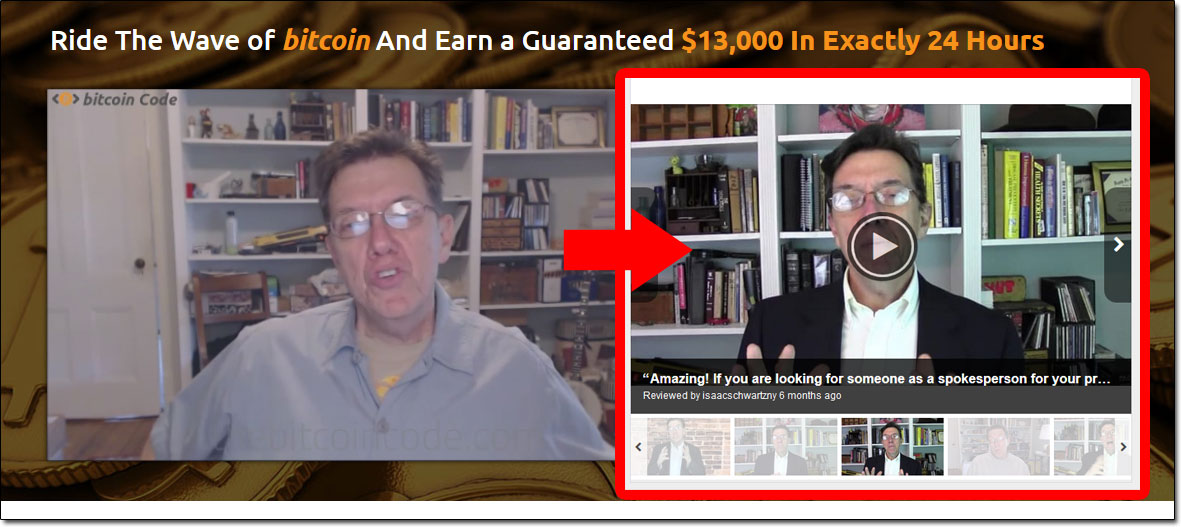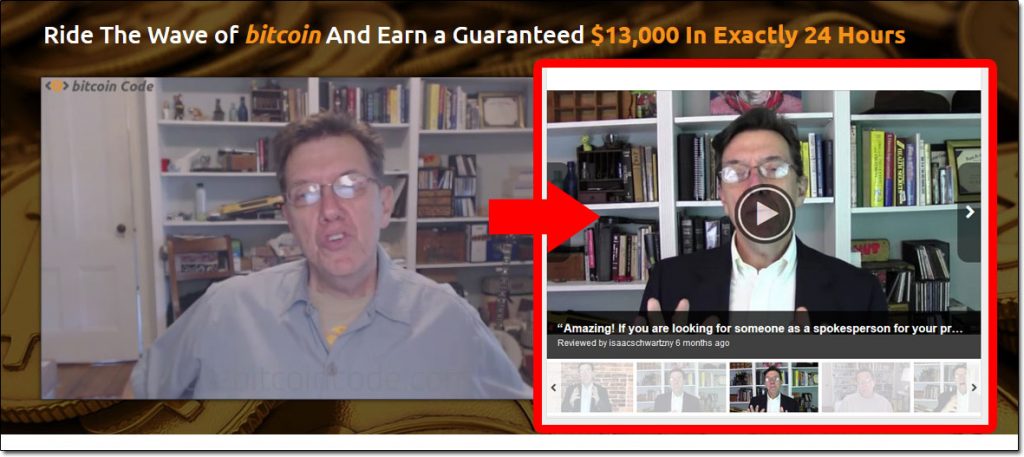 If you were truly making thousands of dollars on auto-pilot from a system like The Bitcoin Code would you still be working around the clock online producing videos for people for a measly $5? I don't think so.
This is a major red flag & it leaves my very sceptical indeed.
How Does The Bitcoin Code Work?
One thing Steve McKay (the creator of The Bitcoin Code) stresses is that the system is very easy to use and that all you need to do is simply sign up, deposit your funds & press the start button.
The system will then automatically trade Bitcoin cryptocurrency & supposedly has a 99.99% probability of making a profitable trade due to Steve's "genius algorithm", or at least so he claims anyway…
You're told that you don't even need to know a thing about cryptocurrency to be able to profit with this program, so even if you've never heard of a Bitcoin before Steve still claims that you will be able to make money.
But Here's How It Really Works…
I was quite intrigued by this system, but of course, knowing that the testimonials were fake I still remained very sceptical about the whole thing – so I decided to conduct some further research into how it worked.
Sadly what I found was disappointing, though to be honest hardly surprising. The Bitcoin Code doesn't actually work as promised at all, in fact, it turns out it's nothing more than a scam to part you with your cash.
And Steve McKay who you're led to believe created the system isn't actually real either – he's just a made-up person who's been used to cover the identity of the real person that's behind this scheme.
The program has actually been created by an online marketer who remains anonymous – but basically, he or she has launched The Bitcoin Code in a cunning effort to get you to make a deposit with a cryptocurrency broker that they are affiliated with so that they can earn commissions at your expense & the expense of others.
As you progress through The Bitcoin Code program you will eventually be taken to a page where you're asked to fill in a quick survey & make a deposit, but if you take a look at your browser URL you will actually notice you're on the CoinDuo website – NOT the website of The Bitcoin Code.
Basically, The Bitcoin Code program is just a ploy to get you hyped up about the potential opportunity of making money through Bitcoin, then without your knowledge they discreetly forward you on to a broker through their affiliate link.
This means that when you deposit your funds the creators of The Bitcoin Code system will get paid a huge commission for referring you to the broker – but then when you go to trade you will realize there is actually no profitable system.
Yes, you are given a system that will automatically place trades for you, but if you try & run this then you will quickly notice that each of the trades lose as they are just placed randomly, there is no algorithm as promised.
The other worrying thing is that the broker you're referred to, CoinDuo, is a brand new company. The domain was registered just over 1 month ago & the company is actually so new that there is absolutely no information about them anywhere online.
Prior to this I have seen several binary options scams which operated in a similar way, and the newly launched brokers later refused to let people withdraw their funds – I assume the same may be happening here.
You Might Also Like:
Is The Bitcoin Code a Scam?
Yes, The Bitcoin Code is clearly a scam that's set out to do nothing other than part you with your hard-earned cash. This is a program that's been designed with the pure intent of making the creator rich at your expense.
The website feeds you with nothing but lies & even uses several marketing tactics to try & rush you through the decision of signing up to prevent you from looking for reviews which is a major red flag indeed.
On top of all that the broker that the program refers you to is literally brand new & there's absolutely no information about them available online which is just another thing that makes me very suspicious.
So overall as you can probably imagine this program is going to be getting a huge thumbs down from me & I certainly won't be recommending it to you as it's clearly nothing more than a cryptocurrency scam.
A Better Alternative
The sad truth is that unfortunately most of the programs promising to help you make money online are scams. I can say that confidently after exposing over 500+ of them here on this blog.
But the good news is that even though most of them are indeed scams, there are actually some very good programs in amongst them - some programs that can truly help you to earn money.
And out of all of the legit programs I've seen, the one I would recommend the most to anybody looking to get started online is Commission Academy. In my own opinion, that's the best place to start.
At Commission Academy, you'll be provided with everything you need (including the training & tools) to begin earning real money by promoting products or services for companies like Amazon online.
The best part is that there's literally no limit on the amount you can earn with it & the process is pretty simple which means that it's absolutely perfect for people that don't have much experience.
Some wealthy affiliates even earn as much as 5-figures per month... Or more!


I mean don't get me wrong, that kind of money won't just fall into your lap without doing any work... But the harder you're willing to work at it, the more you stand to earn with it.
So if you're looking to get started but don't know which route you should go down or which program you should join (and don't want to waste money on bogus things that don't actually work), then I'd highly recommend checking out Commission Academy first. You can learn more about it here.