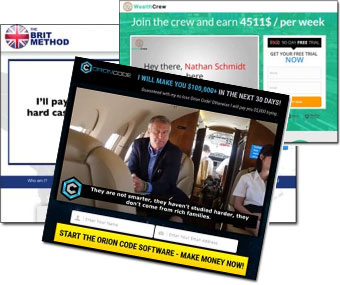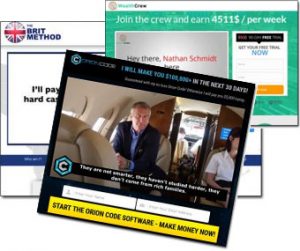 If you've been unfortunate enough to have fallen to a binary options scam then thankfully you've landed in the right place because I am determined to help you get your money back.
Binary options scams took over the internet throughout the most part of 2014/2015 & whilst there has been a major crackdown throughout 2016 there are even still some lingering around to this very day.
The major player that seemed to lure in the most victims was the Millionaire Blueprint system and this was closely followed by another system named The Brit Method which despite the intention of being soley targeted at Brits ended up parting thousands of people globally with their hard earned cash.
But regardless as to which particular scam system or broker it was that lured you in personally you'll be glad to know that the process of obtaining a refund is exactly the same & that the steps outlined in this blog post will work for you too, since all of these scam binary systems followed the exact same traits.
Firstly, Do You Need The Help of a Third-Party?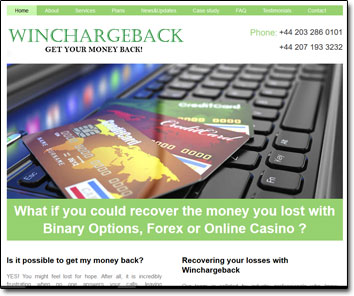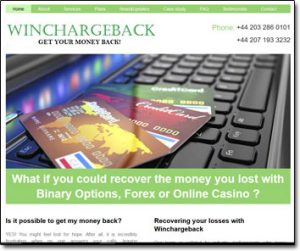 Since I spent a lot of time exposing these scam binary systems & brokers over the past couple of years I've had a lot of people who've been involved (and burned) by binary options systems reach out to me for help.
To this day I still get emails from people, but what I've noticed recently is a trend of people asking me about specific binary option chargeback companies that claim they are dedicated to helping binary options victims to get their money back.
Now these companies certainly can help, but a chargeback is actually something you can do yourself (and it's fairly straight forward too). I'm going to show you exactly how you can do it right here in this blog post & if you feel confident you can attempt to handle the case yourself.
However if you would like somebody else to take care of the case & handle everything for you then it would wise to enlist a professional company that specializes in this sort of thing – especially if you don't really feel too confident in tackling it yourself.
One of the best & most helpful chargeback companies I've come across that specialize in binary options cases is a company called MyChargeBack – many people I've spoken to have managed to get their funds back via them & told me that the experience was a good one.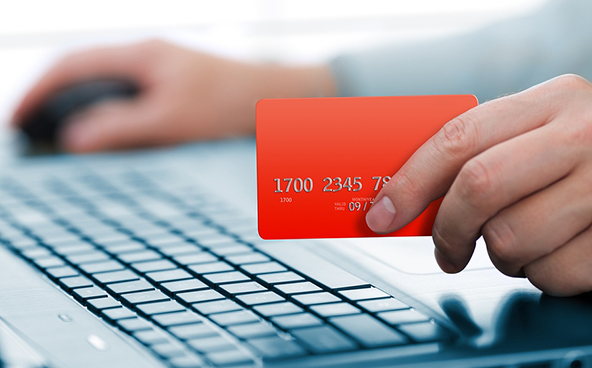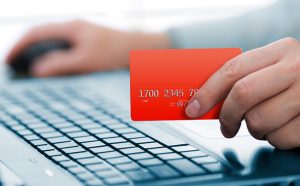 So if you decide you would like the help of a third party chargeback company then they'd be my top pick – but if you're feeling confident about tackling it yourself then read on because I'll show you the exact steps that you need to take to initiate a chargeback via your card issuer to attempt to get a refund.
However, just FYI if you have lost more than a few thousand whether it be to just one specific binary option scam or several different binary options scams then my advice would be for you to potentially seek additional legal help too. So on top of the actual chargeback help it may also be wise to seek help from a legal professional who specialises in financial service disputes.
(note: this is not necessary with MyChargeBack as they have their own legal team)
I also recommend that you do not try & find legal help online! Whilst there are many genuine lawyers & solicitors online who I'm sure can help you with your situation, there are also many rogues in between them – especially when it comes to reclaiming money lost in binary options.
My advice to you if you've lost several thousands to binary options is to go out and find a brick & mortar lawyer/solicitors office that has a solid, reputable history.
Cutting corners when it comes to legal advice will more than likely result in you getting burned once more, so spend time choosing the right legal adviser and make absolutely certain that they have a proven history in winning cases. Also when it comes to getting legal assistance in reclaiming money from binary options scams you should not have to pay any money up front for advice, in this situation your adviser should be confident enough to offer you a no win no fee case. If they do not, look for one that does.
If however like most victims you've lost around around $250 (or less than $1,000 in total) then you can simply run a chargeback yourself to claim your money back & in this particular instance if you're confident there generally won't be a requirement for 3rd party help – unless of course you'd just like to leave it all to the professionals & have them handle it for you.
How To Get Your Money Back Through a Chargeback
If you've fallen victim to a binary options scam then the easiest way to get your money back is through something known as a chargeback. A chargeback is a way of claiming your money back directly via your card-issuer or bank & it's very effective.
By issuing a chargeback you do not have to deal with the binary options company directly, instead you simply deal with your card-issuer or bank & they handle the communications with the specific company that scammed you on your behalf.
The good thing about the chargeback is that the customer is generally favoured to win the case right from the very start. As a customer issuing a chargeback your card-issuer/bank basically takes your side & then it is up to the merchant (the company that scammed you) to prove that they delivered a quality service to you.
Obviously in the case of a scam they cannot prove they delivered a quality service (because they didn't) so generally you have a high chance of winning as they do not even waste their time bothering to pursue chargeback claims.
Here are a few quick important points about chargebacks:
You can use a chargeback even if the company has since closed down
Typically you must make a chargeback within 120 days of when you first noticed the problem
Visa has an overall chargeback cut off date of 540 days from the date you initially sent the money
So basically providing that 120 days hasn't passed since you became aware that you had been scammed then you have a very strong chance of getting a refund by issuing a chargeback, even if the companies since closed down.
Here's how you can initiate a chargeback yourself:
1. Get The Address of Your Debit Card/Credit Card Company
To file a chargeback you must send details of it in written form to your card issuer, so the first thing you'll need to do is obtain the address of your debit card/credit card company.
The easiest way to do this is to use Google.
Simply enter your "card provider + address" into the search bar (without quotes) and that will bring up a list of results. As you can see below I have used Barclaycard as an example: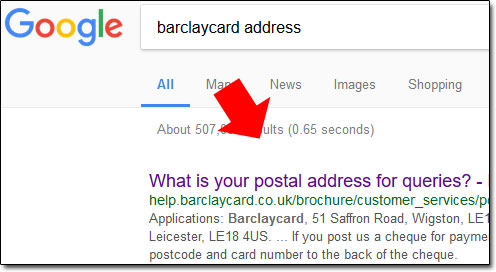 Be sure that you are getting the information from the official website as third party websites may contain mistaken information which could mean your chargeback request goes to the wrong place & doesn't get actioned. If you have any doubts then give your card-issuer a call using a known number & ask them directly which address you should send the request to.
2. Determine The Exact Details About The Payment
To be able to handle your chargeback claim your bank or card-issuer will need all the information about the payment(s) that you made. If you don't provide this the first time around then you'll be asked for more information which will increase the length of time your chargeback request takes so it's best to provide everything in one go right from the very start.
You will need the following information:
Details of what you thought you were purchasing.
The date(s) of each payment that you made.
The company that you made the payment(s) to.
Proof of the payment(s) – such as a receipt, invoice or any emails received.
The total amount of each payment(s) that you made.
3. Compose Your Letter & Request a Refund
Once you've gathered all the information about the transaction(s) that you made your next step is to compose a letter & send it directly to your bank or card-issuer.
The first important thing you need to mention is that you are claiming for a refund under the Visa Chargeback Scheme rules, and the second important thing you need to mention is how you felt that the company were in breach of their contract. When it comes to binary options scams you were more than likely promised $XX and they didn't deliver, which is a clear breach of contract.
Here is an example of a well composed chargeback letter that you model: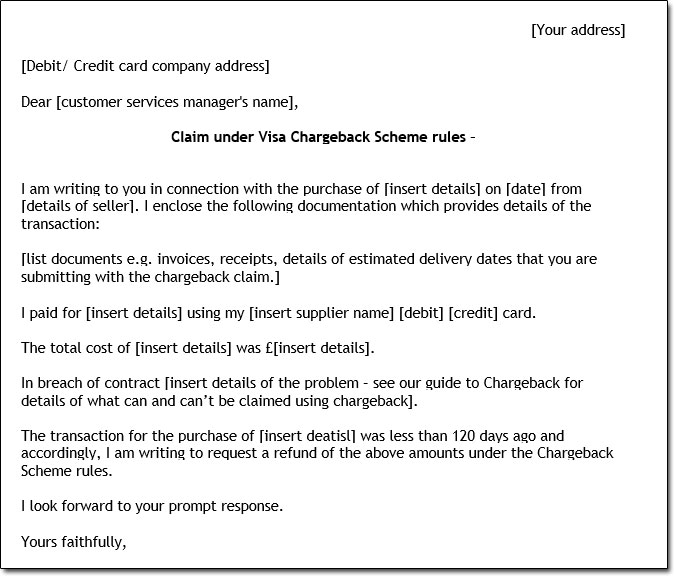 Your Next Steps…
Once you've sent the chargeback request of to your bank or card-issuer you should hear back from them with confirmation that they are pursuing the case. If you do not hear back then be sure to follow up with them to check on the progress of your claim to make sure that it hasn't been overlooked.
Generally the chargeback claim will be dealt with fairly promptly & you should hear a response within around 60 days with further information as to whether or not it has been successful in your favour.
More than likely in this instance the chargeback will be successful, but if for any reason it is not then I would recommend that you refer to information I mentioned earlier in this post & seek the help of a legal adviser operating on a no-win no-fee basis. If the amount lost is under $500 then it's likely that the case will be turned down as it will not be in the advisers interests to pursue it for such a small reward, but if it is over $1,000 then they may be willing to help you retrieve the money.
At the end of the day by choosing a no-win no-fee adviser you have nothing to lose & everything to gain so at the very least it's worth asking.
I Wish You The Best of Luck
I do thoroughly hope that you are able to successfully retrieve any & all of the money that you lost to the hands of these crooks. Over the past couple of years I've heard so many stories of the devastating impacts these scams have had on peoples lives & it truly is terrible to see.
If you do decide to pursue a claim & make an attempt at getting your money back then please document the process in the comments below as I'm sure there's many people who would appreciate to see how you've gone about it & the success that you've had. Also, if you are a victim of a binary options scam who has successfully managed to retrieve your money then please share details of exactly how you managed to do it to help other people out who are stuck in a similar situation.
Thank you for reading & I really hope that you found this information useful.