At first glance IQ Option looks like a legitimate binary options broker – it has a pretty professional looking website, appears to be regulated & it even seems to have received many positive reviews from "pro" traders elsewhere online.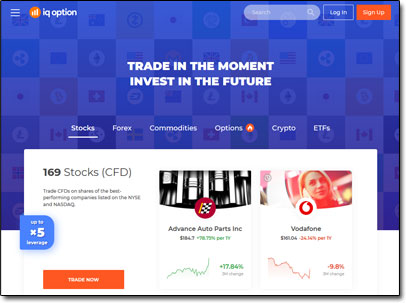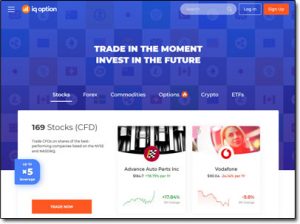 But upon taking a closer look into it myself I discovered some alarming IQ Option complaints, including worrying complaints about IQ Option withdrawal issues with some members claiming to have had money literally "snatched" from their accounts by this broker.
So I've decided to put together this 100% honest IQ Option review to find out once & for all what the deal really is.
Is it really a legitimate broker that can help you make money? Or will IQ Option scam you out of your hard-earned cash like most of the other rogue binary brokers we've seen in the past?
What Is IQ Option?   |   Is Binary Options Trading Legit?   |   IQ Option Complaints   |   Fake IQ Options Reviews   |   Is IQ Option a Scam?   |   A Better Alternative
What Is IQ Option?
So in short IQ Option is essentially one of the longest-running binary options brokers – which is pretty impressive considering that most binary options haven't lasted so long as a single year prior to being shut down… But of course, this alone doesn't determine their legitimacy.
They launched way back in 2013, which is 5 years ago now at the time of writing this review – but it wasn't until 2018 that they seen the HUGE growth that they've suddenly began experiencing, and that growth is likely down to the fact that they're now one of the few binary brokers that's still open to new traders (after a massive regulatory crackdown).
So why hasn't IQ Option been cracked down on too?
Well, the reason for that is because strangely, despite many regulatory bodies deeming binary options itself as being an outright scam in which "the consumers can never win", IQ Option does actually hold a regulatory license – something that most binary brokers do not.
In fact, to date, I have not personally seen ANY other binary options broker that holds a genuine license to operate…
The license they hold has been granted by the Cyprus Securities & Exchange Commission, but because the CySEC is inside of the European Economic Area this means they can offer services to various different countries (including the UK) providing they meet minimum standards agreed across all EEA countries.
However what you should know is that whilst this allows the firm to provide its services to the countries within the EEA, it does not necessarily mean that it is protected by those countries compensation schemes if it fails.
So for example, whilst it can operate to consumers within the UK – if it was to fail and disappear, then consumers MAY be protected by the Financial Services Compensation Service – but similarly they may not… It is a bit of a grey area… Therefore basically such compensation schemes should be not be entirely relied upon.
But anyway, according to the CySEC database IQOption Europe LTD is allegedly "legally" entitled to provide its services to the following countries:
Austria, Bulgaria, Croatia, Czech Republic, Denmark, Estonia, Finland, France, Germany, Greece, Hungary, Iceland, Ireland, Italy, Latvia, Liechtenstein, Lithuania, Luxembourg, Malta, Norway, Poland, Portugal, Romania, Slovakia, Slovenia, Spain, Sweden, The Netherlands, United Kingdom.
This – whilst not 100% trustworthy (in my personal opinion) is certainly more reassuring than trading with a broker who has absolutely no regulatory license whatsoever, but the reason why I do not 100% trust it though is because the Banc De Binary – one of the biggest binary options scams in history was also licensed by the CySEC.
Anyway, in short, though IQ Option is basically portrayed as one of the legitimate & licensed binary options brokers… Which has led to many positive reviews, and led to it becoming one of the biggest binary options brokers in the world… But is it legit? We'll take a look after we first take a closer look at binary trading in general.
Is Binary Options Trading Legit?
Whenever I hear the phrase binary options it just makes me cringe – all I can think about is all of the scams, like the Millionaire Blueprint system, the 30K In 30 Days system & so on that parted thousands with their hard-earned cash.
2014, when binary options trading was at its height was a busy year for me to say the least in terms of scams. It seemed like every day there was not just 1 or 2 new scams, but TEN or more!
And a news article (as shown below) highlighted that as much as £87,000 was being lost every single day to such binary options scams…

Thankfully though due to regulatory action it has calmed down a lot since then, but has binary options itself actually changed? Because back when I was exposing these systems it seemed like there was simply no way to win with binary options whatsoever.
In fact, through all the years of exposing binary options scams, I heard plenty of stories of losses but never anything about wins.
Is binary options trading a scam? In MY personal opinion, yes it is – and after conducting some research it seems that my opinion is shared by many, even by top investors over at Forbes (as shown below):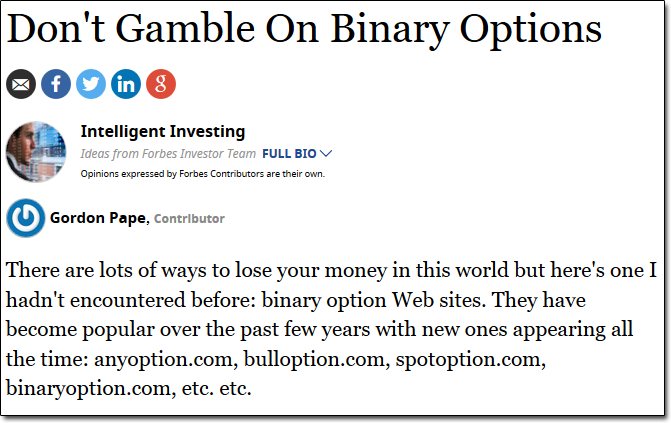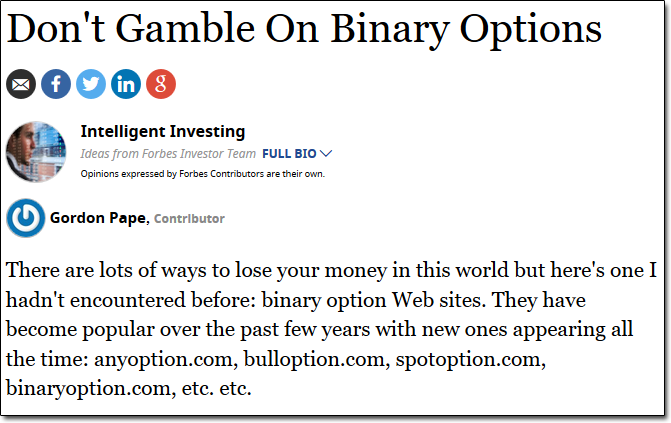 I understand that calling binary options itself a scam is a pretty bold statement, so why am I willing to say that? What makes me (and many, many others) say that binary options is just a big scam?
Well basically, the reason I say that is because I believe binary options trading is not trading at all – I believe it is merely a full-blown gamble – and a gamble that is geared towards you losing on.
You see unlike typical trading where you would invest in something & stand to profit if the value of it increased, binary options trading doesn't work the same way. When you "invest" via binary options you are not actually owning anything at all – instead, you are just betting on whether you think the value of something will increase or decrease over a set period of time.
At a glance, this may seem ideal – because it sounds easy, and it also means that you can stand to profit even if the value is dropping (providing you "bet" that it was going to drop)… But sadly, in reality, it is much, much more difficult than it looks – primarily because the time windows the bets are made over are so small, with a mere 60 seconds often being the maximum.
As far as I'm concerned there is NO way you can accurately predict whether the value of something will rise or fall over such a short period of time due to the immense amount of fluctuations – but the problem doesn't end there.
Instead, there is another BIG problem. You see, if you successfully win a binary options trade then you take back the amount you "invested" and you earn a bonus on top… However, if you lose, then you lose your entire investment.
This essentially means that the odds are stacked against you & that they are almost entirely in the brokers favour.
That's likely the reason why after years of hearing stories about binary options trading I've never heard any stories of profits – because it seems like making a profit through binary trading is almost impossible… And that's also the likely reasons why the USA & Canada chose to ban binary trading altogether.
But anyway, if you are dead set on binary trading then let's take a look back at IQ Option to see if they truly are a legitimate broker that you can actually trust to trade with it…
IQ Option Complaints
Admittedly as I pointed out at the very beginning of this IQ Option review the website for this brokerage looks pretty darn professional & many of the self-claimed "pro" traders seem to have suspiciously positive reviews about it… But what do the REAL members think?
I decided that surely there is no better indicator of a good or bad company than getting real reviews from real members, and so, as a result, I headed to TrustPilot where members are free to leave reviews.
This is where things quickly turned from looking very good to look very, very bad…
Take a look at some of the reviews below to get an idea of what I mean: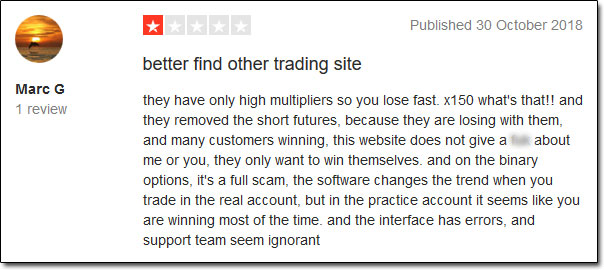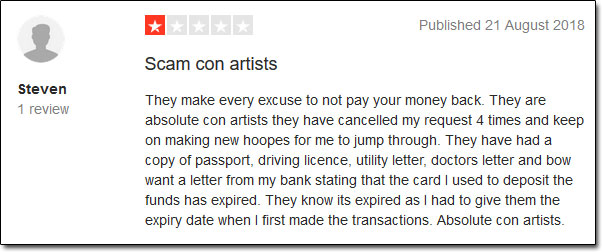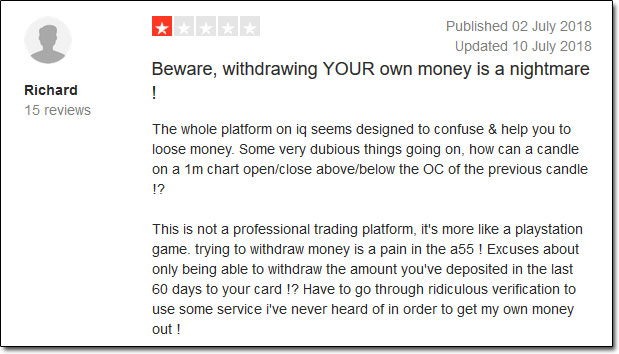 So we have complaints about the demo account performing differently to the real account (a common complaint among scam binary options brokers), withdrawal complaints, and complaints about chart manipulation.
Not good at all!
But why are over 57% of the IQ Option reviews on TrustPilot negative when all of the so-called "pro" traders are praising it? What's the deal with that?
Well, a little digging led me to discover another BIG problem…
You Might Also Like:
Fake IQ Option Reviews
After taking a closer look at the IQ Option website I discovered that they run an affiliate program – which in case you don't know is where they basically pay people for referring new members.
The members of the affiliate program essentially get given a unique link which they can share online & if anybody who clicks through the link happens to sign up & make a deposit, the affiliate gets paid a HUGE commission.
But the commission isn't just one-off either, oh no – the affiliate actually gets a 70% revenue share of the brokers profit for life.
This means that the more you lose via IQ Option, the more money both IQ Option & the affiliate who referred you there stand to make.
Now take a look at the image below which shows IQ Option's affiliate program statistics for today, the 14/11/2018:

The last number is the one you should be most interested in as it highlights that the affiliates have made in total $90,560.51 TODAY ALONE. That is absolutely insane revenue, and remember – that is 70% of the losses.
So in total if we do the calculation that means traders have lost $129,372.16 in total to IQ Option… Again just today alone!
And guess what? Almost every single positive review I have come across of IQ Option contains an affiliate link – meaning essentially those positive reviews are paid reviews written by affiliates who want a share of that revenue.
Can you trust them? In my opinion no, and that's likely why they do not correlate at all to what any of the REAL members are saying about IQ Option.
Which brings me onto…
Is IQ Option a Scam?
Despite it looking legitimate & appearing to hold a regulatory license, in my personal opinion I do believe that IQ Option is actually a scam – and I say that based on all of the complaints I've come across online.
Regardless though, legitimate or not – I simply do not & never, ever will recommend binary options trading because I believe that it is ultimately nothing but bad news & I also believe that it will only result in you losing money rather than actually making it.
So if you have been thinking about trading via IQ Option & wondering whether or not it is safe to do so then I would personally advise against it, because the likelihood is that you will just end up losing cash one way or another.
And don't forget here, IQ Option only makes money when you lose money – so despite them offering "seemingly" helpful account managers what you have to remember is that it is always in their interest for you to lose.
Therefore there is simply no way I can recommend IQ Option to you – and instead, if you really want to make good money online I suggest you simply check out this page here full of legitimate ways to do so.
Alternatively, you could also check out my number 1 recommendation which has enabled me personally to build up an income of over $10k per month which you can discover more about by clicking here.
But either way, I just hope that this honest review has given you a better insight into IQ Option & hopefully you are now much more cautious about depositing funds through such a platform.
If you do happen to have any more questions or comments though then do feel free to leave them below & I'll get back to you as soon as I can. 🙂
A Better Alternative
The sad truth is that unfortunately most of the programs promising to help you make money online are scams. I can say that confidently after exposing over 500+ of them here on this blog.
But the good news is that even though most of them are indeed scams, there are actually some very good programs in amongst them - some programs that can truly help you to earn money.
And out of all of the legit programs I've seen, the one I would recommend the most to anybody looking to get started online is Commission Academy. In my own opinion, that's the best place to start.
At Commission Academy, you'll be provided with everything you need (including the training & tools) to begin earning real money by promoting products or services for companies like Amazon online.
The best part is that there's literally no limit on the amount you can earn with it & the process is pretty simple which means that it's absolutely perfect for people that don't have much experience.
Some wealthy affiliates even earn as much as 5-figures per month... Or more!

I mean don't get me wrong, that kind of money won't just fall into your lap without doing any work... But the harder you're willing to work at it, the more you stand to earn with it.
So if you're looking to get started but don't know which route you should go down or which program you should join (and don't want to waste money on bogus things that don't actually work), then I'd highly recommend checking out Commission Academy first. You can learn more about it here.