The 30K in 30 Days app which has allegedly been put together by a guy named Joey Altair promises that it'll enable you to earn $30,000+ through their 30 day challenge and even claims that if you don't, they'll pay you $1,000 just for enrolling…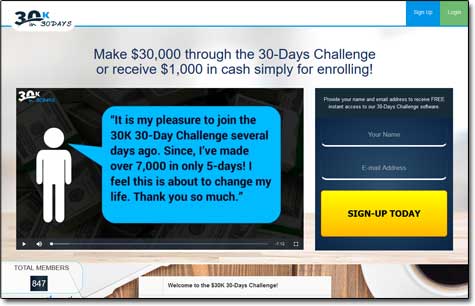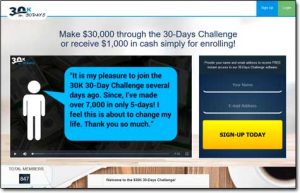 It's obviously a pretty bold claim – and no doubt it's one that's caught your attention, but is it really legit? Or is the 30K in 30 Days app a scam that'll just end up costing you money rather than actually helping you make it?
Well thankfully you've landed in exactly the right place to find out as I've personally took a closer look into the system to see how it all works & in this honest review I'll be uncovering the real truth about it & exposing it for what it really is.
What Is The 30K In 30 Days App?   |   How Does It Work?   |   Joey Altair   |   Fake News Features   |   Is The 30K In 30 Days App a Scam?   |   A Better Alternative
What Is The 30K In 30 Days App?
So the 30K in 30 Days app (as the name suggests) is allegedly an app that's been designed to make automated binary options trades on your behalf, and it's supposedly been developed by a guy named Joey Altair.
At a glance it looks pretty legit – the video presents it well, there seems to be some good testimonials, and it's apparently been featured on various news sites… Plus the whole "try it or get paid $1,000 if you don't make $30k" makes it seem pretty risk-free…
But I can tell you right from the off that the whole thing is NOT risk-free at all – in fact the truth is that the 30K in 30 Days app is actually nothing but a scam, and it's "creator" Joey Altair is a total fake too.
The reason I can say that so confidently & so soon is because I've literally exposed hundreds of these types of binary options scams over the years & I know exactly how they all work. This week alone I've already exposed 2 others named the Bitcoin Hack system & the Auto Bitcoin Generator.
In fact to be honest though even without the scams binary options trading itself is extremely risky – so risky in fact that as shown below even Forbes themselves published an article warning about the dangers: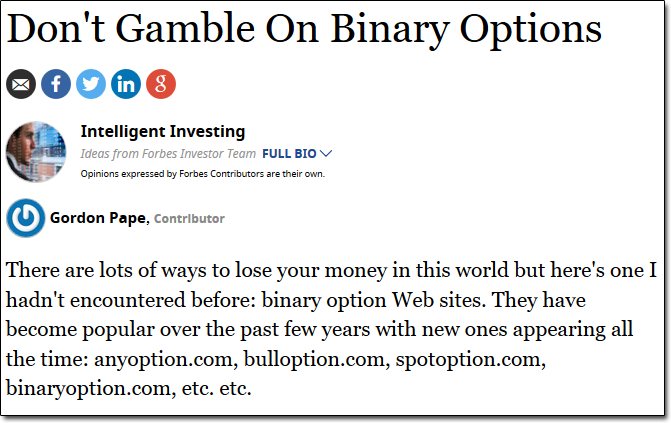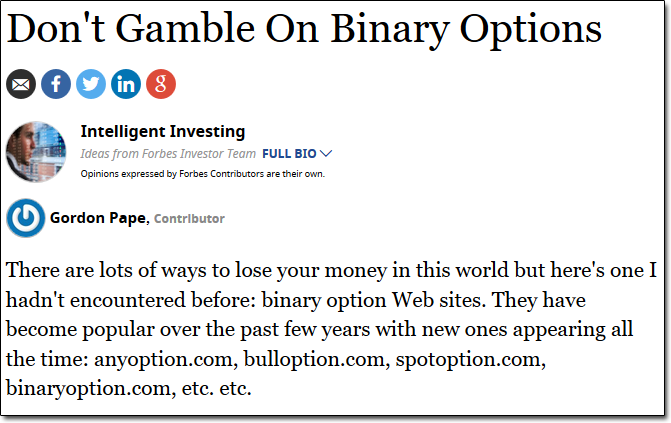 So how does it all work & how exactly does the 30K in 30 Days app scam you I hear you ask? Well don't worry just keep on reading & I'll explain all that to you below so that you can see for yourself what's really going on.
How Does The 30K In 30 Days App Work?
Well after reading what I just wrote above in this review you can probably already guess that it doesn't work as promised. The reality is that the only thing the 30K in 30 Days app will make you do is lose money rather than actually make it…
And the reason for that is because it's been solely designed to make its creators rich at your expense.
You see the concept is that the app has been built around a "secret" trading algorithm which is able to accurately detect future trends in the market & therefore able to make guaranteed profitable trades…
So in order to get started you're told you simply need to sign up, make a deposit via their "recommended" broker & then "initiate the system". From there you're led to believe that the system will begin automatically making profitable trades entirely on your behalf…
But what they don't tell you is that they're actually affiliated with their "recommended" broker & this is where the scam lies.
You see being affiliated with the broker this means that the real creators behind the 30K in 30 Days app website are getting paid commissions each & every time they get somebody to deposit with the "recommended" broker.
So in actual fact the whole 30K in 30 Days app system is a fake, and it's nothing more than a ploy to trick people into making a deposit with the broker that they recommend so that they can earn those commissions.
Sadly there are 2 big problems here…
Firstly the brokers they recommend are scam binary options brokers, meaning once you deposit any money that money is pretty much gone for good because they are not actually interested in helping you trade.
Secondly though you'll just be left to find out the hard way after making a deposit that the system doesn't actually work as promised – and instead of making profitable trades you'll see nothing other than losses.
Therefore ultimately you'll be tricked into parting with your cash, you'll be given access to an app that doesn't work as promised, and then you'll discover that the broker makes it next to impossible for you to get your money back.
Doesn't seem so risk-free now does it??
Joey Altair – He's a Phoney!
You're told on the website that the whole thing has been developed by a guy named Joey Altair – in fact it's Joey that states he's put the whole website & everything together, because he allegedly wants to enable you to generate easy profits just like him…
But in reality he's a total phony – Joey Altair doesn't even exist. It's just a fake name that's being used to hide the true people that are behind the scam, which is a common tactic for binary options scammers.
The funny thing is the image shown of Joey on the website has actually been stolen from the front cover of the "Microsoft Office 2016 For Seniors" book LOL – take a look below at the proof: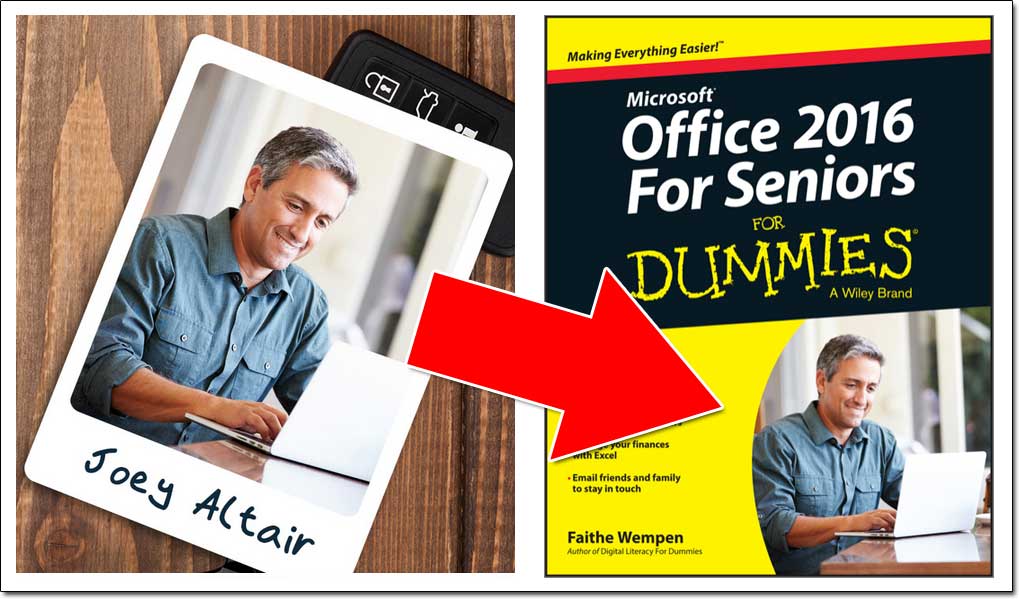 The Whole "Featured In The News" Thing Is Fake Too!
As you probably already guessed, everything else on your told on the website is complete lies too – including the whole thing about the system been featured on various news sites like Sky News, Fox & CNN.

A quick Google search along with a search on each of those sites is enough to reveal that.
They've merely included the logos onto their website & make a fake snippet to try & convince you that it's actually been featured on those sites in the whole that it'll make you think it's legit.
Thankfully though you landed here first, which brings me onto…
Is The 30K In 30 Days App a Scam?
I can tell you with 100% certainty that the 30k in 30 Days app is a scam. The whole site that promotes it is filled with nothing but lies & deceit & there's absolutely no way you'll make money with it like they promise.
Whereas it claims to be set out to help you, really the only thing it is actually set out to do is to take money from you to make it's real creators (and the scam brokers) wealthy at your expense.
So for those reasons it's safe to say that I won't be recommending the 30K in 30 Days app to you, and instead I'll be advising you to avoid it because as far as I'm concerned it's nothing but bad news.
If you really want to make good money online then it is entirely possible, but you should know that it takes work. Nothing is going to make you rich with little to no work, or in a super short space of time… That's just a pipe dream.
If you are indeed still looking for a way to make money though & are also willing to put in the work that's required then you should definitely check out Wealthy Affiliate as it's there that you'll learn how to properly get started.
But either way I just hope that my review here has given you a better insight into how the whole 30K in 30 Days scam works & more importantly I hope I was able to help you avoid it so that you didn't lose your cash. If you do still have any further questions about it though or comments then don't hesitate to leave them below.
A Better Alternative
The sad truth is that unfortunately most of the programs promising to help you make money online are scams. I can say that confidently after exposing over 500+ of them here on this blog.
But the good news is that even though most of them are indeed scams, there are actually some very good programs in amongst them - some programs that can truly help you to earn money.
And out of all of the legit programs I've seen, the one I would recommend the most to anybody looking to get started online is Commission Academy. In my own opinion, that's the best place to start.
At Commission Academy, you'll be provided with everything you need (including the training & tools) to begin earning real money by promoting products or services for companies like Amazon online.
The best part is that there's literally no limit on the amount you can earn with it & the process is pretty simple which means that it's absolutely perfect for people that don't have much experience.
Some wealthy affiliates even earn as much as 5-figures per month... Or more!


I mean don't get me wrong, that kind of money won't just fall into your lap without doing any work... But the harder you're willing to work at it, the more you stand to earn with it.
So if you're looking to get started but don't know which route you should go down or which program you should join (and don't want to waste money on bogus things that don't actually work), then I'd highly recommend checking out Commission Academy first. You can learn more about it here.