The Auto Bitcoin Generator is a brand new system that claims it can enable its users to generate profits of up to $50,000 per week through automated online cryptocurrency trades even if they don't know a single thing about cryptocurrency or Bitcoin.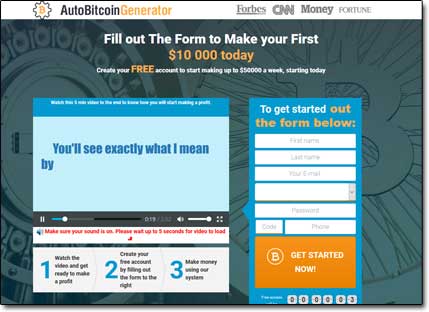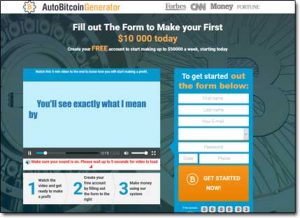 It leads its visitors into believing that they'll just be able to sign up, invest some money & begin earning a passive income from the trades the system makes…
But does it really work or will the Auto Bitcoin Generator scam you instead?
Well it's a good job you decided to do your due diligence because I can tell you right from the off the Auto Bitcoin Generator is NOT what it seems, so keep this reading this review & I'll show you the real truth about it… Including whether or not you can really make any money with it.
What Is Auto Bitcoin Generator?   |   How Does Auto Bitcoin Generator Work?   |   The Red Flags   |   Is Auto Bitcoin Generator a Scam?   |   A Better Alternative
What Is Auto Bitcoin Generator?
At first, when I heard the name "Auto Bitcoin Generator" I had assumed that the whole thing was just going to be another free Bitcoin generator scam (which I exposed on this blog before)…
The "free" Bitcoin generator scam basically involves websites pretending that they've "hacked" the Blockchain (the cryptocurrency network) and that they can therefore generate so-called free Bitcoins…
The websites seem very realistic & appear to be generating the free Bitcoins as promised, however, in order for you to get access to the so-called free Bitcoins, they then request that you either pay a fee or complete an offer via their website & this is where the scam lies.
As you can probably guess the whole thing is just a fake & they're just making money themselves by getting people to either pay them or complete one of their advertisers offers (who pay them in return).
But anyway, it turns out the Auto Bitcoin Generator system isn't actually a typical free Bitcoin generator scam – it's actually another type of scam, which is known as a binary options trading scam.
So sadly whilst the Auto Bitcoin Generator system makes a lot of seemingly exciting promises, none of them are actually true. In fact instead of helping you make money like it claims it will, the only thing the Auto Bitcoin Generator will actually do is make you lose money instead.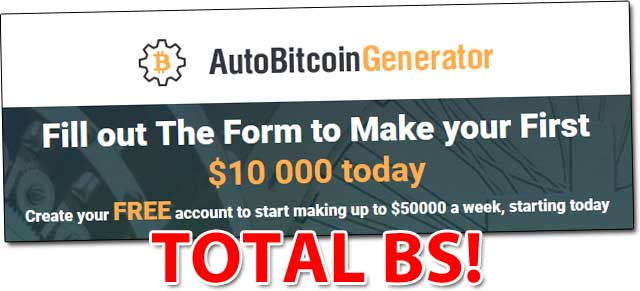 But I don't just expect you to take my word for that – after all I appreciate that you might have been hoping the system was actually going to work for you & make you money on autopilot… So instead I'll continue to show you how it all really works below so that you can see for yourself what's actually going on.
How Does Auto Bitcoin Generator Work?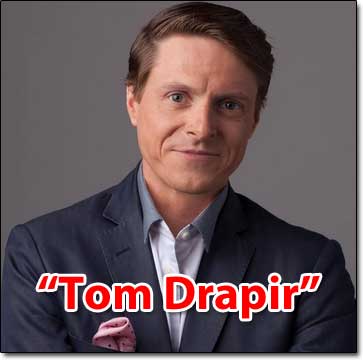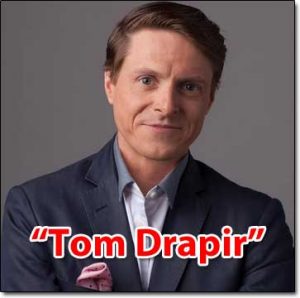 Okay, so the concept is that Tom Drepir, the guy who's allegedly behind the Auto Bitcoin Generator has come up with a "foolproof" algorithm for generating guaranteed profits from cryptocurrency trades.
He said he's built the whole system around the algorithm, so basically the system automatically trades on your behalf depending on the trends that the algorithm detects, which should, in turn, prove profitable…
But in order to get access to the software and try it out, you're forced to deposit via Tom's "recommended" broker – and this is where the scam lurks. You see Tom (or whoever the real creator is behind the whole thing) is actually affiliated with the binary options broker that they recommend you to.
This essentially means that when you sign up with the so-called "recommended" broker & make a deposit, the person who created the Auto Bitcoin Generator system gets paid a commission… And guess what happens from there? You're just led to find out that the whole things actually a big phoney.
There is no "profitable algorithm" after all, and there is no Tom Drepir either – the whole thing is just a ploy to trick you into depositing with the binary options broker so that the creator can earn a commission. Sadly though the broker is in on the scam too, meaning if you think you'll just be able to withdraw your funds back out you'll have to think again.
The broker will make it next to impossible for you to get any of your money back… In fact, in some instances, they've even been known to falsify the profits to trick you into depositing even more. Basically it's bad news!
Thankfully if you have already made a deposit prior to this review then there are now companies like MyChargeBack who have had success in helping people get their money back – but the best obvious solution is to simply not make the deposit in the first place if you haven't done so already.
You Might Also Like:
The Red Flags
The biggest red flag is the fact that the creator of the system is affiliated with the binary options broker that they refer you to. The reason this is a red flag is that binary options brokers make money when you lose money – they don't actually earn any money if you make a profit (which is extremely unlikely to happen anyway).
So why would a binary options broker pay commissions to the person behind a system that can supposedly enable all of its members to make profits? They wouldn't! Such a system would put them out of business.
But there are more red-flags than just that…
Fake Creator / Lack of Company Information
All genuine investment companies have to follow strict regulations set out by government bodies, yet the Auto Bitcoin Generator system follows none of them. Not only does it fail to display any company information or contact details, but it fails to even hold a license to carry out such investment activities…
On top of that the guy behind it all, Mr Tom Drepir is a phoney. The name is a fake alias that's being used to hide the real person behind the scam & the photo shown on the website of Tom has been taken from a stock imagery website.
The Website Is Operating Illegally
If you scroll right down to the very bottom of the Auto Bitcoin Generator website you'll notice a very small disclaimer which highlights the true risk involved with binary options trading, but it also interestingly states that "it is against the law to solicit U.S. persons to buy and sell commodity options, even if they are called prediction contracts"…
Despite that though the website is still targeting visitors from the U.S. so essentially it is operating 100% illegally. Would you trust investing money into a site that's breaking the law? I hope not!
Fake News Feature Claims
At the very top of the page (as shown below) the Auto Bitcoin Generator system features a handful of logos from various top publications such as Forbes, CNN, Money, Fortune etc:

This is done to trick you into thinking that the site has been featured within those publications when in actual fact it hasn't. A quick Google & site search reveals that – but the people behind the Auto Bitcoin Generator are just hoping that you won't take the time to run the search.
The shocking thing is that Forbes actually WARNS against binary options trading as opposed to promoting it. Take a look: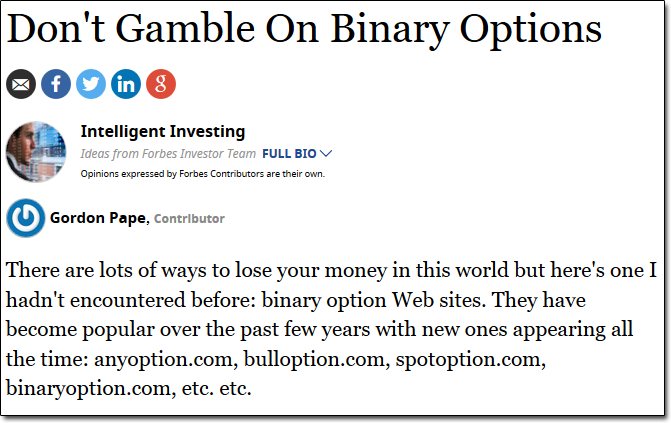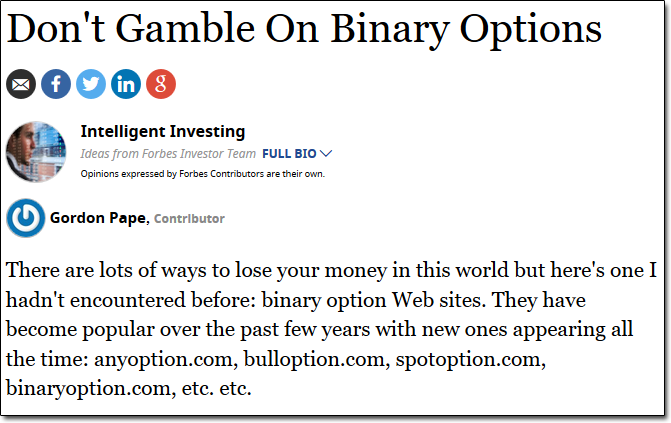 But honestly, there are just so many red flags I could be going over them for days – the bottom line is that the whole thing is just a big phoney, and that brings me nicely onto…
Is Auto Bitcoin Generator a Scam?
I can say with absolute 100% certainty that the Auto Bitcoin Generator is a scam and the reason I can say that so confidently is because I've seen this exact same type of binary options scam several times before. Just recently I exposed the Britcoin System scam which works in exactly the same way & so it's fair to say I have a good experience when it comes to these so-called "systems".
The truth is that honestly the internet is great & it provides you with many ways to make money, but it's not magical & it's not going to ever see you making lots of money without actually having to do anything like these systems claim.
I mean don't get me wrong, there are programs out there such as Commission Academy (my top-rated program) which can show you how to build a good income online but what you have to appreciate is that it will take some work to make it happen. You can't just expect to sign up & start making money, because… Well, life just doesn't work that way LOL. It would be nice if it did though!
In reality, as I mentioned at the start of this review the Auto Bitcoin Generator (and other systems like it) are just set out to part you with your cash to make their creators wealthy at your expense… They're not really out to help you. Hopefully, though my review here has helped you see that & hopefully it's helped you save your hard-earned cash.
If you do still happen to have any further questions or comments though then don't hesitate to leave them below & as always I'll do my best to respond back to you as quickly as I can.
A Better Alternative
The sad truth is that unfortunately most of the programs promising to help you make money online are scams. I can say that confidently after exposing over 500+ of them here on this blog.
But the good news is that even though most of them are indeed scams, there are actually some very good programs in amongst them - some programs that can truly help you to earn money.
And out of all of the legit programs I've seen, the one I would recommend the most to anybody looking to get started online is Commission Academy. In my own opinion, that's the best place to start.
At Commission Academy, you'll be provided with everything you need (including the training & tools) to begin earning real money by promoting products or services for companies like Amazon online.
The best part is that there's literally no limit on the amount you can earn with it & the process is pretty simple which means that it's absolutely perfect for people that don't have much experience.
Some wealthy affiliates even earn as much as 5-figures per month... Or more!

I mean don't get me wrong, that kind of money won't just fall into your lap without doing any work... But the harder you're willing to work at it, the more you stand to earn with it.
So if you're looking to get started but don't know which route you should go down or which program you should join (and don't want to waste money on bogus things that don't actually work), then I'd highly recommend checking out Commission Academy first. You can learn more about it here.