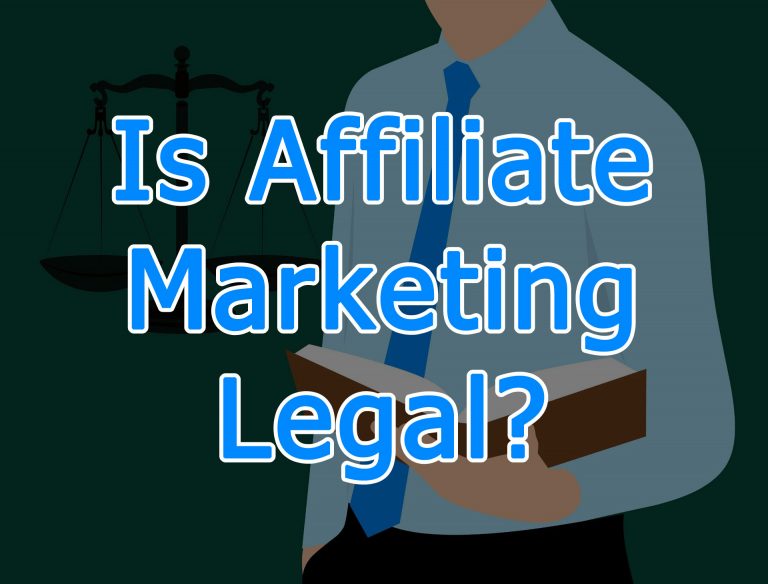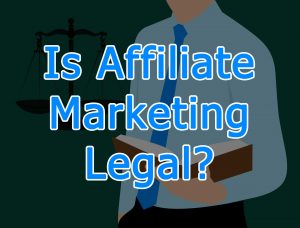 Affiliate marketing involves promoting third-party products or services in return for commissions that are paid out on successful sales & it's actually one of the most popular ways to earn money online.
In fact, some folk even manage to earn as much as 6-figures per month through affiliate marketing (yes, 6-figures!)… But there's one pressing question that might be playing on your mind.
Is affiliate marketing legal?
And if it is legal, then can anybody do it, from anywhere in the world? Or are there certain requirements that you must meet in order to participate & earn money with affiliate marketing?
Well, the good news is that you've landed in exactly the right place to find out the answers to those questions as in this blog post I'm going to be uncovering everything you need to know.
Plus, I'll also be sharing how you can get started for yourself – completely free of charge.
What Is Affiliate Marketing?   |   Is Affiliate Marketing Legal?   |   Affiliate Marketing Legal Requirements   |   Finding Legal Affiliate Programs   |   The Bottom Line
What Is Affiliate Marketing?
Affiliate marketing is a straight-forward & highly-lucrative method of earning money online. It simply involves you promoting products or services for third-party companies in return for commissions.
So as an example, you could sign up as an affiliate of Amazon (which is free to do) & then that would give you the opportunity to promote any of the products from the Amazon website to others.
You simply get provided with a unique link to the products to share & that way, when others click through it & make a purchase, the sale gets tracked back to you & you get paid a commission.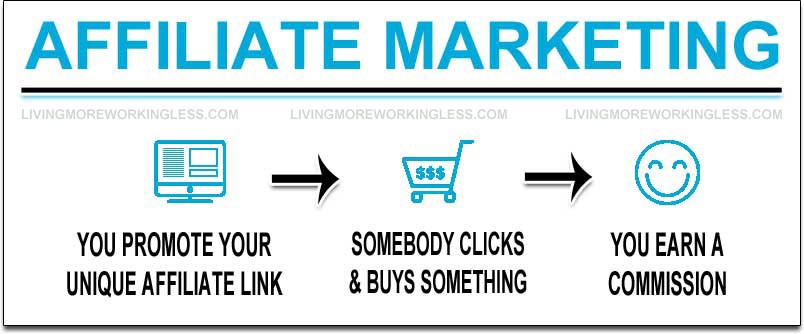 Plus, the best part is that many affiliate programs pay commissions of as much as 70% per sale & these days, almost every company with an online presence has an affiliate program through which you can promote their products or services.
So, with that in mind, you can likely see why affiliate marketing has become (and is becoming) more & more popular, especially since just about anybody can get started with it.
Is Affiliate Marketing Legal?
Typically, when somebody mentions that they're earning lots of money from the comfort of their own home, alarm bells start ringing. People will likely assume that they're up to something illegal.
But the good news is that affiliate marketing is 100% legal.
You see, as an affiliate, you are essentially just acting as an advertiser & so providing you act in accordance with the rules & regulations of advertising, you will be running a perfectly legitimate business – with "business" being the keyword.
The reality is that affiliate marketing is just a business like any other… The only main difference is that it's a business that almost anybody can easily get started with due to its low startup cost & easy points of entry.
However, of course, as with anything there are "right ways" and "wrong ways" to go about things.
This means that whilst affiliate marketing as a whole is a perfectly legitimate & perfectly legal way to earn money, it all boils down to what you're promoting & how you're promoting it.
As an example, if you signed up as an affiliate of Amazon & begun promoting pieces of furniture by publishing honest reviews about them online, then that would be a perfectly legitimate & legal way to earn money.
But on the flip side, if you were promoting a product that was excessively overpriced & you were promoting it in a manner that essentially "tricked" people into buying it… Then that could be quite clearly deemed illegal.
So, to summarise in short, affiliate marketing done with honesty & integrity is perfectly legal.
And to prove that point, you can take a look at the statistics of Wealthy Affiliate, which is one of the largest & longest-running affiliate marketing platforms in the whole world.

As shown above, they have been in business for over 15+ years & through their platform alone, over 10,000+ new affiliate marketing businesses are launched every single month.
That's some pretty impressive stuff & clearly shows the legality of affiliate marketing.
Affiliate Marketing Legal Requirements
As mentioned in the previous section of this post, affiliate marketing in itself is perfectly legal, but as with anything in life, there are some rules & requirements that you should follow.
For example, when you're promoting something it's typically good-practice (and for many countries, a requirement) for you to disclose your affiliation to the person that you're promoting it too.
On top of that, it's also important that you're always honest & upfront in your promotions & that you do thorough research into the products or services that you promote so that you can be sure of their value to the customer.
I mean yes, the good thing about being an affiliate is that a lot of this onus is put onto the companies themselves (as it should be), but still, you have a responsibility as an affiliate to promote what you believe to be the best options for the purchaser.
Then, furthermore, depending on what you're promoting you must also comply with the legal requirements of the products or services themselves (such as 18+ restrictions or medical restrictions, etc).
But overall, the legal requirements are pretty much standard with that of any business. Respect your customers, take care of your customers, keep a record of your finances & be sure to pay your taxes.
You Might Also Like:
Finding Legal Affiliate Programs
A problem for many new affiliates is that they find themselves promoting illegal affiliate programs (such as pyramid schemes) without actually knowing that they're illegal.
They often believe & have been convinced by the program owners (or recruiters) that what they're doing is perfectly legal when in actual fact it's not.
So how do you avoid those types of programs & find legal affiliate programs instead?
Well, here are some handy rules of thumb:
You should never have to pay money to join an affiliate program
Avoid ClickBank (it's renowned for hosting scams & low-quality products)
If it sounds too good to be true, it probably is
If there are multiple levels to the program (more than 2) it is generally best avoided
Avoid anything where there are no products or no products you would buy if the affiliate opportunity wasn't attached (as this is likely a pyramid or cash-gifting scheme)
Stick to finding programs through reputable affiliate networks
Get training prior to joining programs (through a platform such as Wealthy Affiliate)
And here are some of the major, legitimate affiliate networks for you to begin with:
The benefit of going through a network is that most of the time, the networks vet the companies that they list on there so that there's less chance of you getting involved with a shady program.
And with the likes of Amazon & eBay, you can easily leverage customer reviews to determine the good products from the bad ones.
The Bottom Line
Affiliate marketing is not only a legal way to earn money online, but it's actually a very good way to earn money online as the amount you can earn with it is completely uncapped.
This means that the harder you're willing to work, the more you can stand to earn… And that's how some of the top affiliate marketers are able to earn as much as 6-figures per month.
Plus, on top of that, it requires next-to-no startup cost whatsoever which means that pretty much anybody can easily get involved with it & begin generating an income with it for themselves.
But the one thing I do want to stress is that it does indeed take work to find success.
Affiliate marketing does not provide a "magical" way to begin earning money without lifting a finger, it simply provides you with an easy opportunity to start your own business from home.
Providing you understand that & are indeed willing to put in the work, then you'll definitely be able to reap the rewards & my recommended place to go if you want to get started is a place called Wealthy Affiliate.
At Wealthy Affiliate, you'll get all of the training & tools that you need to see success with affiliate marketing & most importantly, you'll also get access to 24/7 community support from other expert marketers, too.