The Bitcoin Advertising system claims it has the answer to helping you become a millionaire through Bitcoin, but not through investing – instead this system claims you'll be doing it by building your own "Bitcoin advertising empire".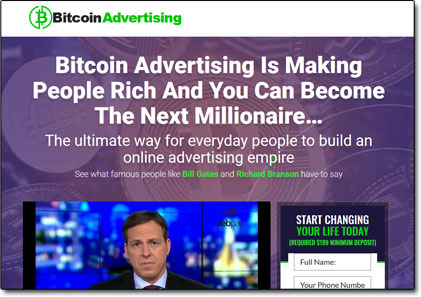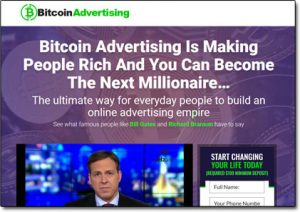 However what I've noticed, and you might have noticed it too, is that there seems to be an awful lot of misinformation on their website – so what's the deal with it?
Is it actually legit or is Bitcoin Advertising a scam that's just out to part you with your cash?
Thankfully you've landed in the right place to find out the answer to that question because I've done the digging & in this Bitcoin Advertising review I'm going to be uncovering everything there is you need to know, and of course determining whether or not you can really make money with it.
What Is Bitcoin Advertising?   |   How Does Bitcoin Advertising Work?   |   The Truth   |   Is Bitcoin Advertising a Scam?   |   A Better Alternative
What Is Bitcoin Advertising?
The first thing I'll say about the Bitcoin Advertising system is that it's all very peculiar. The majority of the recent cryptocurrency opportunities I've reviewed have all been centred around investing or trading, but this one claims to help you generate profits through advertising instead.
The website itself says (and I quote) that you can "generate a minimum profit of $13,000 daily from your own online advertising empire"…
If that on its own wasn't already sounding good enough the website goes on to state that you can generate all this cash with just 20 minutes of work per day and that because the creators are so kind they're giving members access to the software 100% free of charge (allegedly).
However, I think you'll probably agree that it's all starting to sound a lot like a typical get-rich-quick style scam… You know the ones, they promise the world, get your cash & then deliver nothing in return.
Sadly when it comes to cryptocurrency opportunities these types of scams are rife at the minute so it's super important to do your due diligence before joining – and thankfully you've landed here to get the full low down. Just yesterday alone I exposed 2 other crypto scams, BTC 1 Up & Crypto Magnet so it definitely pays to be careful.
Anyway, let's take a closer look to find out how it all actually works…
How Does Bitcoin Advertising Work?
After doing some digging into this system I was able to find out the real truth about it, and the truth is that the whole Bitcoin Advertising thing is actually complete nonsense. The system is actually nothing more than a binary options trading system, and if you know anything about that you will know that they are bad news.
I was also able to find out that this system was previously launched under the name "The Bitcoin Trader", but that particular site was closed down not so long ago as it received many, many negative reviews.
And to be honest it doesn't look like anything has changed, well other than the name and a little bit of the spiel on the website's homepage. It seems like this system is just the Bitcoin Trader system relaunched under a different name & I imagine they've done that so that they dodge the negative reviews & continue scamming people of their hard-earned cash.
The crazy thing is that they've actually been quite lazy in switching the website around. You'll see that it starts out talking about advertising, but then if you scroll further down the page you'll then realize they quickly go on to talk about trading instead…
You'll see things like claims of 99.4% accuracy, claims of being ahead of the market by 0.01 seconds and so on… These kinds of claims don't make sense in the advertising world because they're all trading terms.
What could you be accurate about in advertising? And why would it matter if you were ahead of the market? It doesn't, I'm in the advertising game myself and those things really don't matter (or make sense).
Scroll a bit further & you'll see it even begins to talk about "flipping ads"… This is nonsense, and it makes it sound like a money flipping scam. The truth though is that there is no "ad flipping" going on at all…
Here's How It Really Works…
Basically, as I said above the Bitcoin Advertising system is actually just a binary options trading system. They've just thrown the word "advertising" in the mix to try & make it somehow seem legit…
Anyway, the website is basically just a big ploy to get you to sign up & deposit with the broker that the creator recommends to you. The reason for this is because the creator is affiliated with the broker which means he will earn a commission for every member that does just that.
But don't be fooled into thinking it's just the creator of the Bitcoin Advertising website that's at fault here because both the broker & the creator are in on the scam together. The brokers recommended to you aren't even licensed, which means they're unregulated, which means that once they've got your money they ain't gonna let you get it back.
And that's how many people get tricked by these scams – they get lulled into the false sense of security of thinking that they can just "try it out". You're led to believe that you can just deposit some money, try it out & then withdraw your money back out if it doesn't work as promised.
Sadly though as I say these brokers are not legitimate & they will keep any money that you deposit, even if you haven't actually traded with it.
Oh and if you think the system actually works then think again. As I say it's purely just a ploy to get you to deposit so that these guys can take your cash from you. After depositing & getting access to the system you'll realize that it does nothing other than lose trades… Don't believe any of this 99.4% accuracy BS because it's all lies.
You see the thing you need to understand is that binary brokers don't add fees to the trades, so this means they don't make money when you profit (they actually lose money). They only make money when you lose.
So you have to step back & question why they would be paying the creator of a system commissions when the system can supposedly enable all of its members to generate them automated profits.
The answer to that though is easy, it's because the whole thing is just a big scam.
You Might Also Like:
Is Bitcoin Advertising a Scam?
The answer to that question is 100% yes, it is a complete scam. The Bitcoin Advertising system is just a re-hashed version of the Bitcoin Trader system which launched last year & was proven to be a scam.
The creators have merely switched the text around a bit, added this whole "advertising" thing & tried to pass it off as legitimate but in reality, the way it works hasn't changed at all. It's just another binary options scam & it should definitely be avoided.
I can appreciate that to an unsuspecting newbie the system may seem legitimate & you may still even be thinking about just trying it out but please don't because that's exactly what they want you to do. That's exactly how the scam works, and it's how they catch so many people out… Just stay away.
There are plenty of alternatives available, and you can see different (legitimate) ways to make money online in my free guide here. There's no need to get involved with a BS system like the Bitcoin Advertising system.
Anyway, overall I hope you found my review useful & hopefully it provided you with the insight into this system that you were looking for. If you do happen to have any further questions or comments then don't hesitate to leave them below.
A Better Alternative
The sad truth is that unfortunately most of the programs promising to help you make money online are scams. I can say that confidently after exposing over 500+ of them here on this blog.
But the good news is that even though most of them are indeed scams, there are actually some very good programs in amongst them - some programs that can truly help you to earn money.
And out of all of the legit programs I've seen, the one I would recommend the most to anybody looking to get started online is Commission Academy. In my own opinion, that's the best place to start.
At Commission Academy, you'll be provided with everything you need (including the training & tools) to begin earning real money by promoting products or services for companies like Amazon online.
The best part is that there's literally no limit on the amount you can earn with it & the process is pretty simple which means that it's absolutely perfect for people that don't have much experience.
Some wealthy affiliates even earn as much as 5-figures per month... Or more!


I mean don't get me wrong, that kind of money won't just fall into your lap without doing any work... But the harder you're willing to work at it, the more you stand to earn with it.
So if you're looking to get started but don't know which route you should go down or which program you should join (and don't want to waste money on bogus things that don't actually work), then I'd highly recommend checking out Commission Academy first. You can learn more about it here.