BTC 1 Up claims to provide you with an amazing opportunity to earn Bitcoin online, plus at the same time as you earn Bitcoin you're also said to be able to build a list & advertising anything you like through their "powerful & unique system".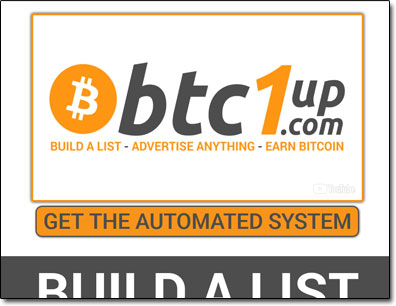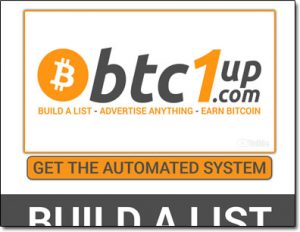 But because of the heavy focus on its recruitment scheme many people have come out & bashed it as a complete Ponzi scheme, so what's the real deal?
Is it actually legit or is BTC 1 up a scam that'll ultimately leave you with less cash & potentially in trouble?
I've done the digging to find out & in this review I'm going to be sharing everything there is you need to know, and most importantly letting you know whether or not you can really make money as a member of the BTC 1 Up program – so keep reading for more info.
What Is BTC 1 Up?   |   How Does BTC 1 Up Work?   |   The Compensation Plan   |   Is BTC 1 Up a Scam?   |   A Better Alternative
What Is BTC 1 Up?
Around this time last year, a company launched named Easy 1 Up & basically the concept was that you would pay money to join, but then you would be able to make money back by getting others to join.
At first, it might not sound like the greatest deal in the world, but the creators claimed that it could make you rich because of their "1 Up" style compensation plan. Through this compensation plan you would pass up some of your referrals to the member who referred you, and similarly, your referrals that you kept would pass up some of their referrals to you.
Essentially you were led to believe that it was almost like "going viral" and that you would start seeing money coming in left, right & centre… But whilst this did indeed turn out to be the case for some of the expert marketers who were already good at recruiting, sadly most of the average Joe's that joined only ended up spending money rather than actually making it.
Anyway, the reason I am telling you about this is that it seems like BTC 1 Up is pretty much the 2018 version of this exact program that was launched around a year ago. I'm not saying it's created by the same people, but what I am saying is that in general, it's pretty much the same thing… Only this time they're going at it from a cryptocurrency approach instead.
You see when Easy 1 Up launched there were a lot of problems because the merchants that were being used for the members to transfer payments (such as PayPal etc) deemed it a Ponzi scheme & as a result, they started banning the accounts of people that were involved with it which obviously made new people reluctant to get involved.
It looks to me that since Bitcoin has become a bit more mainstream they are trying it again with that instead in the hope that this time around they'll be able to pull it off… But that still doesn't change the fact about it potentially being a Ponzi scheme (which is of course illegal)… More on that in a moment.
How Does BTC 1 Up Work?
To be honest the process over at BTC 1 Up is actually pretty straight forward. When you first land on the website you are presented with a page which requests your name & email – you submit this, and then you're details are added to the "list" of the person that referred you.
This essentially means that whoever gave you the link to the BTC 1 Up website can now contact you about whatever they like because you have technically subscribed to their own newsletter through the BTC 1 Up system. It's likely though as you can imagine that they will probably send you emails simply convincing you to join BTC 1 Up so that they can make money from you.
Anyway, after this, you'll be presented with a video & you'll get the option to become a member of BTC 1 Up. In order to do this, you'll need to pay a one-off fee of $50 (in Bitcoin) and this will be paid directly to the person that referred you.
Then, as a member of BTC 1 Up you'll get access to some training. This training will show you how BTC 1 Up really works and how you can promote it to others to start making money through it for yourself.
The training isn't all that in-depth, but what you'll learn from it is that you'll essentially be doing exactly what the person who referred you did to make money. You'll be sharing the link to the page that asks for a person's email, you'll be getting subscribers & then you'll be responsible for emailing them to get them to join the BTC 1 Up program. If they do join then you'll get the $50 that they pay (paid to you in Bitcoin).
Now, there is a little bit of a twist to it… Remember I said about the "1 Up" style compensation plan earlier? Well, let me go over how that works in a little more detail…
The BTC 1 Up Compensation Plan
Okay so when you join BTC 1 Up you get the opportunity to make money by promoting it to other people – that's how everybody makes money through this program (technically there is no actual product being sold).
However, on top of that, you also get the opportunity to earn from other people's efforts too because BTC 1 Up actually operate a multi-level marketing style compensation plan.
Basically, when you refer people to BTC 1 Up you keep some of your referrals, but you pass others up. Every 2nd member is passed up – so you keep your first, pass up your second to the person that referred, keep your third, pass up your 4th and so on…
Now passing up members like this might not sound too great because obviously it means you don't make any money from those members, but the good news (potentially) is that the members you refer will be passing up their referrals to you… And these referrals get "locked" to you, so if they go on to refer people you will also get their passups too.
It's easy to see how this could potentially make you a lot of money, but it's unlikely that it will. The reason I say that is because whilst it sounds good in theory most people who join things like these never actually manage to get any referrals, and making a large income through this program is heavily dependant on you getting a lot of passups from the people below you.
The reality is that this is a program where it really pays to "be in first", so if you're looking at it now… Or even if you were looking at it just a few days after launch then you've pretty much missed the boat.
But is it really a boat you would want to be in anyway? After all, it's clear that there's no real product being retailed here & that the main focus is solely on recruiting. In my opinion, it does indeed look a lot like a Ponzi scheme.
The good news though is that it's not a scam that will totally run with your money, like the Banking on Blockchain system for example (another cryptocurrency make-money opportunity)… Unlike that system, you can potentially make money with BTC 1 Up but it's the way that it's done that is questionable.
Of course, they do claim that they have products – they claim that the "email list building tool" and "training" are their products, but come on… It's easy to see straight through this, and you cannot purchase these without joining the opportunity itself.
You Might Also Like:
Is BTC 1 Up a Scam?
Well as I mentioned above it's not a scam in the sense that the creators are going to take your money & run with it – you can potentially make money with it, but the way that people are making money through this program is very questionable.
I can see why many people have been calling it a flat out Ponzi scheme because there does seem to be an extremely heavy focus on recruiting – in fact, to be honest, that does seem to be the only focus. I haven't seen anybody promoting it by talking about how great the "products" are, everybody is just talking about the potential opportunity to make money which is not a good sign at all.
So overall as you can probably guess I won't be recommending the BTC 1 Up system because I just don't think it's a particularly good program to be involved with, especially when there are so many alternative & legitimate programs available to join instead.
Anyway, hopefully this review provided you with the insight into the BTC 1 Up system that you were looking for & helped you decide whether or not you really want to join. If you do happen to have any further comments or questions don't hesitate to leave them below.
A Better Alternative
The sad truth is that unfortunately most of the programs promising to help you make money online are scams. I can say that confidently after exposing over 500+ of them here on this blog.
But the good news is that even though most of them are indeed scams, there are actually some very good programs in amongst them - some programs that can truly help you to earn money.
And out of all of the legit programs I've seen, the one I would recommend the most to anybody looking to get started online is Commission Academy. In my own opinion, that's the best place to start.
At Commission Academy, you'll be provided with everything you need (including the training & tools) to begin earning real money by promoting products or services for companies like Amazon online.
The best part is that there's literally no limit on the amount you can earn with it & the process is pretty simple which means that it's absolutely perfect for people that don't have much experience.
Some wealthy affiliates even earn as much as 5-figures per month... Or more!

I mean don't get me wrong, that kind of money won't just fall into your lap without doing any work... But the harder you're willing to work at it, the more you stand to earn with it.
So if you're looking to get started but don't know which route you should go down or which program you should join (and don't want to waste money on bogus things that don't actually work), then I'd highly recommend checking out Commission Academy first. You can learn more about it here.