Banking on Blockchain is a newly launched make-money opportunity in the cryptocurrency space & it claims that it can enable you to easily earn thousands of dollars online through automated cryptocurrency trades, even if you know absolutely nothing about crypto trading at all.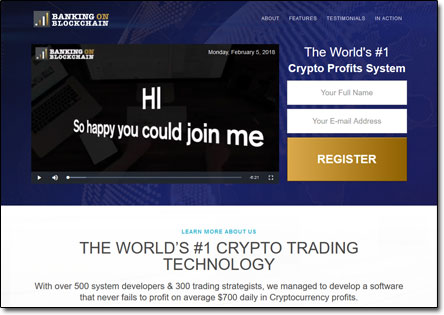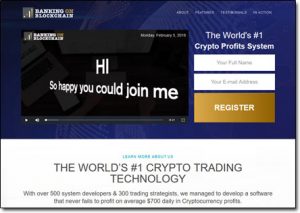 The software is said to handle everything itself so you're led to believe that all you need to do is sign up, hit start & that you can begin making money just like that…
But is it actually legit or is Banking on Blockchain a scam that'll just part you with your cash?
Thankfully you've landed in the right place to find out because I've done the digging & in this Banking on Blockchain review I'm going to be uncovering everything there is you need to know (and most importantly whether or not you can actually make money with it), so keep reading.
What Is Banking on Blockchain?   |   How Does Banking on Blockchain Work?   |   The Withdrawal Trick   |   Is Banking on Blockchain a Scam?   |   A Better Alternative
What Is Banking on Blockchain?
At a glance Banking on Blockchain appears to be a dream come true. The website claims that it's an automated piece of cryptocurrency trading software which can handle everything for you & generate you minimum guaranteed daily profits of over $700 without fail.
To make it seem even more legit the website also claims that the software has been built by over 500 software developers & over 300 trading strategists. You're even said to be able to get live access to crypto-experts 24/7 too, according to their website, "make sure you enjoy high profits".
But, sadly as you may have already suspected things are not quite as they seem. I can tell you right from the off that the Banking on Blockchain is not legit, it's actually just another binary options system that's latching onto the hype surrounding cryptocurrency in the hope of parting people with their hard-earned cash.
This means that unfortunately, everything you're told & shown through the Banking on Blockchain website is lies – lies that have been put together merely in an effort to make the creator of the system wealthy at your expense.
But don't just take my word for it, let me show you how the scam actually works…
How Does Banking on Blockchain Work?
Well, the first thing I want to stress is that in terms of making you money Banking on Blockchain certainly does not work – the whole system has been 100% designed to make you lose money so that the creators (and the brokers involved) can earn at your expense.
And yes, I did say brokers – it may come to your surprise that a cryptocurrency trading system uses brokers rather than just connecting directly to an exchange (like any legitimate system would) but as you'll soon see that's all part of the scam.
Basically the Banking on Blockchain website is just hype. It's been designed to get you really pumped about the potential opportunity of making lot's of easy cash by trading in the cryptocurrency markets – an opportunity which, through this system at least, doesn't exist.
I'll admit that the website does do a really good job of getting you hyped, and as an unsuspecting newbie, it would probably seem very professional because it's been created to quite a high standard.
However, once you've finished watching the video (which has the sole purpose of getting you excited) you'll be presented with the option to register. If you do this (which I absolutely don't recommend you do) you'll be taken to a page which asks you to then register & deposit with their recommended broker before you can get full access to the system.
They claim that all you need to do is sign up with the broker & deposit $250, then they'll connect your account with the broker to the system & that you'll be able to instantly fire the system up & start making automated profits.
But Here's The Kicker…
The creators of this system & the brokers are actually in on this together. The creators are affiliated with the "recommended broker" and this means that for each new member they refer to the broker who deposits money they get paid a commission.
Now think about this for a second – why would a binary options broker, a broker that only earns money if people lose on trades, affiliate themselves with a company who claims to have a guaranteed method of enabling people to profit?
The simple answer is that they wouldn't because this would no doubt put the broker out of business.
Here's what really happens…
After depositing the $250 (which again I absolutely don't recommend you do) you will get access to the system as promised, but you'll merely be left to find out that in terms of making you money the system does not actually work.
Sure, the system will trade with your funds but you will see absolutely nothing other than losses. Essentially the whole thing is just a big ploy to get you to deposit funds with the broker so that the creators of the system can earn themselves a commission at your expense.
The creators & the brokers are both in it together – they've seen the cryptocurrency hype, they've seen how many new people are looking to profit from it & they've created the Banking on Blockchain system to take advantage of them.
You Might Also Like:
The Withdrawal Trick
The reason these binary options scams catch so many people out is that they lull people into a false sense of security. They make you feel like there's no harm in just "trying it out", but take it from me there most certainly is, because ANY funds you deposit you will lose for good.
A genuine, legitimate broker would, of course, let you withdraw your balance at any point – but not these brokers, because surprise surprise they are not genuine or legitimate. Instead after depositing your $250, you'll find that you will be unable to withdraw any of it back out even if it doesn't all get lost to the automated trading system… Basically, you've been scammed.
So is there any way to get your money back at all? Well yes, there is, but it's not an easy process – for help getting your funds back if you've already deposited you can read my free guide here.
Is Banking on Blockchain a Scam?
I know that this system seems brilliant & as a result, sadly many people get blinded from the truth because they are so desperate for it to work for them, but take it from me that the Banking on Blockchain system is 100% a scam.
I can tell you from experience that this system will do nothing other than rob you of your cash so it is best avoided at all costs. There are many legitimate ways to make money online but this system is not one of them, it's just set out to prey on unsuspecting newcomers who are looking to profit from cryptocurrency trading.
This is not the first scam of it's kind either – I've actually reviewed several other similar cryptocurrency trading scams & I'm sure there's more to come. Some others to watch out for include The Bitcoin Code & The Crypto Edge System.
So yeah, overall the Banking on Blockchain system is going to be getting a huge thumbs down from me & it's safe to say that I don't recommend it – don't even try it because you will lose money for sure.
If you happen to have any further questions or comments about it then feel free to leave a comment below, but hopefully you found my review useful & hopefully it helped you to dodge getting caught out by this particular scam program.
A Better Alternative
The sad truth is that unfortunately most of the programs promising to help you make money online are scams. I can say that confidently after exposing over 500+ of them here on this blog.
But the good news is that even though most of them are indeed scams, there are actually some very good programs in amongst them - some programs that can truly help you to earn money.
And out of all of the legit programs I've seen, the one I would recommend the most to anybody looking to get started online is Commission Academy. In my own opinion, that's the best place to start.
At Commission Academy, you'll be provided with everything you need (including the training & tools) to begin earning real money by promoting products or services for companies like Amazon online.
The best part is that there's literally no limit on the amount you can earn with it & the process is pretty simple which means that it's absolutely perfect for people that don't have much experience.
Some wealthy affiliates even earn as much as 5-figures per month... Or more!

I mean don't get me wrong, that kind of money won't just fall into your lap without doing any work... But the harder you're willing to work at it, the more you stand to earn with it.
So if you're looking to get started but don't know which route you should go down or which program you should join (and don't want to waste money on bogus things that don't actually work), then I'd highly recommend checking out Commission Academy first. You can learn more about it here.