The Secret Investor Society claims to provide you with access to what they call the "world's most effective Free Ad Cash System" & you're led to believe that very system has made 132 people filthy rich… And that it can now do the same for you.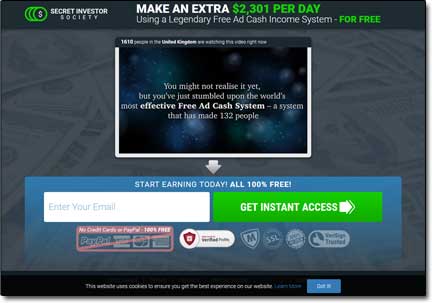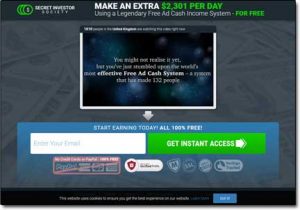 You're told by the system's creator, Simon Green, that all you need to do is sign up, follow some simple steps & that you can begin profiting by as much as $2,301 per day right from the very same day you get started…
But is it actually legit or is the Secret Investor Society a scam?
Rest assured if that's what you've been trying to find out you've landed in the right place as I've taken a closer look into it & in this honest review I'm going to be uncovering the truth about how it really works.
What Is The Secret Investor Society?   |   How Does The Secret Investor Society Work?   |   Is The Secret Investor Society a Scam?   |   A Better Alternative
What Is The Secret Investor Society?
At a glance, the Secret Investor Society seems like a great opportunity – after all who wouldn't want to generate as much as $2,301 per day with little to no work or investment being required to do so?

Sadly though I can tell you right from the off that ain't gonna happen – at least not through this particular system anyway. The reason I know that is because it's literally just a re-hashed version of the Free Ad Cash System, a scam I've previously exposed before.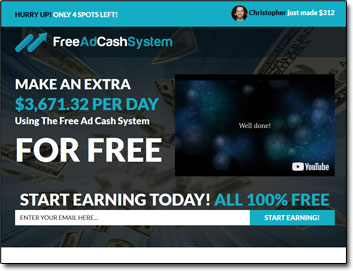 And that's why you see the words "Free Ad Cash System" appear several times through the Secret Investor Society video because despite changing the website's name & design they've still used the same video that they used on the former scam site.
The reason they've changed the name is just to try to escape the negative reviews that surfaced from all the people that got conned so that they can continue tricking people & parting them with their hard-earned cash.
But obviously, I'm not going to just expect you to take my word for all that. I appreciate that if you've come across this system you might have gotten really excited that it was going to work for you & you might be willing to want to accept that it doesn't work so easily…
For that reason, I'll show you first hand below what's really going so that you can see for yourself why it's simply not possible for it to work…
How Does The Secret Investor Society Work?
So as I touched on above the idea is that the whole thing is built around some sort of "Free Ad Cash System", but firstly I can tell you that it's not free – and that a minimum investment of $250 is required, and secondly I can tell you that the whole Ad Cash System is total BS too.

In fact, the whole Secret Investor Society website is just a doorway that funnels you through into something called Banner Bit, and this is exactly what the Free Ad Cash System (its predecessor did too).
When you arrive at the BannerBit website after signing up via the Secret Investor Society (which I don't recommend doing) you'll be shown a short video presented by a woman who tells you once again about what a great opportunity you've found yourself involved with.
She then goes on to state that all you need to do is deposit some money & pick some advertising to invest in.

You're told that you'll be able to flip the advertising as it increases in value & that you'll stand to make great profits when you do. The whole method they teach you is referred to as Ad Flipping, but it's just a name they've made up.
"Ad Flipping" doesn't really exist – and the concept they run over with you is total nonsense. If you were experienced in marketing you would likely see straight through their ploy, but they're not interested in people with marketing experience… They're just looking to take advantage of newcomers who are trying to make money online.
The whole "ad flipping" story is just gobbledegook & they're just trying to make it seem legit to convince you to invest. Sadly if you do invest you'll just be left to find out the hard way that it doesn't really work as promised.
You Might Also Like:
But The Plot Thickens…
Typically online scams trick people into investing, and then the people almost immediately realize it's a scam when it either doesn't work as promised or they find out they don't get access to what they were promised…
However, the people behind the Secret Investor Society & Banner Bit are much cleverer than that.
Instead after initially investing they actually fake your account balance to make it seem like you are making great profits. The problem though is that you can't withdraw your profits until you carry out a certain number of flips…
Again, if you're new to making money online then this may seem legit – and since it seems like you're making money you probably won't be too concerned. You'll just invest again & again to reach the required number of flips to withdraw… And you'll probably even invest larger amounts since you're under the impression you're making easy money…
But it's only after all of this that you'll then be left to find out that it doesn't really work. Once you finally hit the required number of flips to withdraw (after making multiple large investments) you'll find out the hard way that it's been a scam when the team behind it all either ignore your withdrawal request or point blank refuse it.
If you continue to try & chase it up they'll just lock you out of your account & claim a "technical error"… Then, shortly after – maybe a month or two they'll just change their name once again & entirely disappear.
That's why the Free Ad Cash System became the Secret Investor Society and soon enough the Secret Investor Society will close & change to something else too… Meanwhile, Banner Bit will remain at the heart of the scam (but hidden away behind these doorway sites).
I've heard reports of people losing literally 10's of thousands through these ad flipping scams and so it's safe to say they are VERY bad news.
Other ad flipping scams include;
Which brings me onto the following…
Is The Secret Investor Society a Scam?
I can say with absolute certainty that yes, in my opinion, the Secret Investor Society is indeed a scam. It's clear to me that it's been solely designed with the intention of parting you with your cash to make its creator(s) wealthy at your expense… It has NOT been designed to help you make money as it claims.
The whole thing is built upon nothing but lies & deception & therefore you can't trust a thing that the Secret Investor Society website tells you. The bottom line though is that it will not make you money, it'll just result in you losing it…
So for that reason, it's safe to say that I won't be recommending the Secret Investor Society system to you because ad flipping is a total scam. The good news though is that if you are still wanting to make money online there are indeed legitimate ways to do so.
One of the best ways I've come across is something called affiliate marketing, and that's actually the exact same way I personally make most of my own income online (and it's easy for anybody to get started with). If you're interested you can learn more about it over at Commission Academy which I'd highly recommend.
But obviously it's totally up to you what you decide to do, I just thought I'd let you know about it because it's a method that's truly changed my life. One thing I do hope though is that my review here helped you out & hopefully it helped you save your cash.
If you do happen to still have any further questions about the Secret Investor Society though or maybe some comments you'd like to add then don't hesitate to leave them below & I'll get back to you as quickly as possible.
A Better Alternative
The sad truth is that unfortunately most of the programs promising to help you make money online are scams. I can say that confidently after exposing over 500+ of them here on this blog.
But the good news is that even though most of them are indeed scams, there are actually some very good programs in amongst them - some programs that can truly help you to earn money.
And out of all of the legit programs I've seen, the one I would recommend the most to anybody looking to get started online is Commission Academy. In my own opinion, that's the best place to start.
At Commission Academy, you'll be provided with everything you need (including the training & tools) to begin earning real money by promoting products or services for companies like Amazon online.
The best part is that there's literally no limit on the amount you can earn with it & the process is pretty simple which means that it's absolutely perfect for people that don't have much experience.
Some wealthy affiliates even earn as much as 5-figures per month... Or more!

I mean don't get me wrong, that kind of money won't just fall into your lap without doing any work... But the harder you're willing to work at it, the more you stand to earn with it.
So if you're looking to get started but don't know which route you should go down or which program you should join (and don't want to waste money on bogus things that don't actually work), then I'd highly recommend checking out Commission Academy first. You can learn more about it here.