The Daily Banner Profits system has supposedly been put together by a guy named Dave Johnson & it promises that it can enable you to earn guaranteed profits of over $2,000 per day online by simply "flipping" online advertising.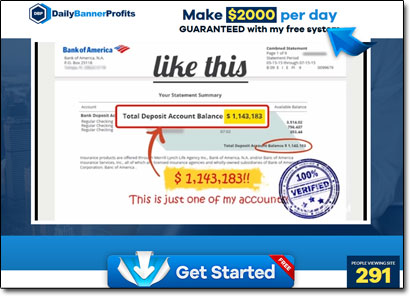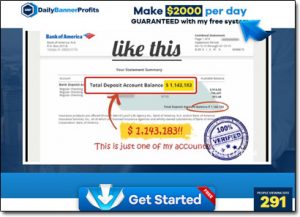 You're led to believe that all you need to do is sign up, follow some straight forward instructions & that you can begin making money on autopilot shortly after…
But is it actually legit or is Daily Banner Profits a scam that'll just result in spending money rather than actually making it?
Thankfully you've landed in the right place to find out because I've taken a closer look into this system & in this review, I'll be uncovering everything you need to know including how it all works & of course whether or not you can really make any money with it.
What Is Daily Banner Profits?   |   How Does Daily Banner Profits Work?   |   The Complaints   |   Is Daily Banner Profits a Scam?   |   A Better Alternative
What Is Daily Banner Profits?
As I briefly touched on above Daily Banner Profits is a system that claims it can enable you to earn lot's of money online simply by "flipping" online advertising. You're literally led to believe that you can just sign up & start making money, even if you have absolutely no prior experience at making money online…
But with claims like "guaranteed profits of $2,00 per day" you might be thinking that it sounds a little bit too good to be true, and I can tell you right from the off that you'd be correct in thinking that.

The Daily Banner Profits system is indeed too good to be true – the reality is that it's actually nothing but a get rich quick scam & I the reason I can be so confident in saying that is because I've seen this exact same scam before.
In fact, I've actually seen it a handful of times because it keeps re-launching under different names in an attempt to escape the negative reviews so that the creators can continue scamming people of their hard-earned cash.
Some of the other names it's previously launched under include Banner Bit, Bitcoin Advertising & the Free Ad Cash System.
Basically all these systems work in exactly the same way, and like I said the only reason the creators keep changing the names is to try & escape the negative reviews so that they can keep on scamming people… The truth is that you will NOT make any money through these systems like you're told you will, instead they've just been built to take money from you.
But that will soon become clear when I show you how it all works…
How Does Daily Banner Profits Work?
The truth is that the Daily Banner Profits system isn't actually a system at all – it's just a sales funnel that's been designed to "trick" you into signing up to something named Banner Bit (which I mentioned above).
And Dave Johnson the creator – he's a fake too. The name is just an alias that's being used to hide the real people behind the program, and you can probably imagine the reason why they would want to keep themselves hidden…
But yeah, basically if you sign up through the Daily Banner Profits website (which I don't recommend you do) you're essentially just signing up to Banner Bit which is a big scam that I've previously exposed.
At a glance Banner Bit & the whole concept of "flipping advertising" might seem legit if you're new to this type of thing, but as somebody that's worked in the marketing industry for several years, I can tell you that it's all total nonsense… There is no way you could make money through their platform, they've just created it purely to take money from you.
Basically the guys at Banner Bit (whoever they are) claim that you can simply deposit some money, buy some advertising & then earn profits from the revenue that the advertising generates. They also claim that you can later re-sell this advertising & that you could potentially stand to make money from it if the visitors to the website the advert is on have increased.
Like I say if you're new to this type of thing it might sound legit, but it's 100% not.
Knowing how online advertising works I can tell you that the whole "flipping advertising" concept is flawed – it simply wouldn't work in practice & it's clearly just a ploy to part you with your hard-earned cash.
And Things Get Even More Worrying…
Creating an account via the Daily Banner Profits website or the Banner Bit website is actually free – all you need to do is enter your name, email & phone number… However in order to get your account eligible to receive payments you have a submit a LOT of information – information that could potentially enable them to totally wipe out your bank account.
Usually to make deposits companies will only need your account number & sort code at most, however through the Banner Bit website you're asked for a copy of a utility statement that shows your home address and a scanned company of both the front & back of the bank card you wish to be paid to.
Giving the fact that the website is a scam & that you will not actually be able to make money (meaning nothing to withdraw) I'm extremely suspicious as to why they ask for so much information here. It's a huge red flag & like I say if you do actually give them the information they ask for (which I totally don't recommend) then they could completely empty your account without a trace.
You Might Also Like:
Then There Are The Complaints…
When I previously exposed Banner Bit on this blog I took a look around to see what others had to say about the company & honestly there were literally hundreds of member complaints. Here is a couple of them so you can see what actual members had to say about the whole thing themselves:


Which brings me onto…
Is Daily Banner Profits a Scam?
As far as I'm concerned yes, the Daily Banner Profits website is a scam. The whole concept is flawed & it's extremely suspicious that they ask for so many details in order to "make payment" to you.
Couple that with all of the negative reviews & scam reports I've seen & it definitely doesn't look good. It seems to me like the whole thing has just been set up to take cash from you to make the creator wealthy at your expense.
Therefore as you can probably imagine I am not going to be recommending it to you because I know that if you sign up to it you will likely just find yourself disappointed & you certainly won't be able to make money as they promise. You'll just likely end up losing money rather than making it.
The truth is that yes it is possible to make money online through advertising, but to do so you'll be required to put in some sort of work… You can't just do it by "flipping advertising" as these guys claim. The good news though is that if you are prepared to put in some work then you can learn how to actually make money by going through a legitimate program like Commission Academy instead.
Anyway, that's all I've got to say about this Daily Banner Profits system because like I say I've already exposed it several times before & I know that it's just a scam to avoid… But hopefully, this review helped you dodge it.
If you do happen to have any more questions about anything you think I haven't covered then feel free to leave them below & I'll do my best to get back to you as soon as possible. You can also leave any comments you might have there too which you think might help other people looking into this program.
A Better Alternative
The sad truth is that unfortunately most of the programs promising to help you make money online are scams. I can say that confidently after exposing over 500+ of them here on this blog.
But the good news is that even though most of them are indeed scams, there are actually some very good programs in amongst them - some programs that can truly help you to earn money.
And out of all of the legit programs I've seen, the one I would recommend the most to anybody looking to get started online is Commission Academy. In my own opinion, that's the best place to start.
At Commission Academy, you'll be provided with everything you need (including the training & tools) to begin earning real money by promoting products or services for companies like Amazon online.
The best part is that there's literally no limit on the amount you can earn with it & the process is pretty simple which means that it's absolutely perfect for people that don't have much experience.
Some wealthy affiliates even earn as much as 5-figures per month... Or more!

I mean don't get me wrong, that kind of money won't just fall into your lap without doing any work... But the harder you're willing to work at it, the more you stand to earn with it.
So if you're looking to get started but don't know which route you should go down or which program you should join (and don't want to waste money on bogus things that don't actually work), then I'd highly recommend checking out Commission Academy first. You can learn more about it here.