The Quantum Biz Code is a newly launched system that claims it can easily enable you to earn lot's of money online all for free & it supposedly enables you to do this through something called "ad flipping"…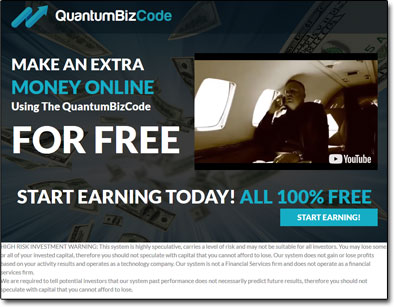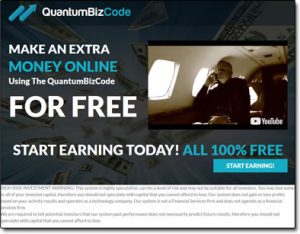 You're led to believe that you can simply sign up & begin earning money the very same day, but no doubt you'll be pretty sceptical about the whole thing… So what's the deal?
Is it really legit or is the Quantum Biz Code a scam that'll just result in you losing money rather than making it?
Thankfully if that's what you've been looking to find out then you can rest assured that you've landed in exactly the right place as I've taken a closer look into the whole thing & in this honest review I'll be uncovering everything there is you need to know.
What Is Quantum Biz Code?   |   How Does Quantum Biz Code Work?   |   Is Quantum Biz Code a Scam?   |   A Better Alternative
What Is Quantum Biz Code?
The Quantum Biz Code system has allegedly been put together by a man named Michael Crawford, and Michael claims that it can essentially provide you with an automated way to make lots of money online.
You're led to believe that pretty much all you need to do is sign up & that the system will do all of the work for you whilst you just sit back & enjoy the profits… But sadly, in reality, the whole thing doesn't quite work like that.
In fact, I can tell you right from the off that the whole thing is just a big fat scam, and rather than being designed to help you make money like it claims, in reality, it's just make designed to make the creator money at your expense.
The reason I can be so certain about that is that I've seen this exact same scam several times before launched under various different names. For example, even though it's now called the Quantum Biz Code, as shown in the image below you'll actually see that it's hosted at FreeAdCashSystem.com & that's because it was previously called the Free Ad Cash System, which I exposed here on this blog.

Some other names I've seen it operating under include Clicks Dealer, Banner Bit & the Gemini Software System. The reason the person (or people) behind it keep changing the system's name is to try & escape the negative reviews so that they can continue scamming people out of their hard-earned cash.
But obviously I don't expect you to just my word for it when I say it's a scam, so instead I'll show you exactly how it all works (or should I say doesn't work) so that you can see for yourself what's really going on…
How Does Quantum Biz Code Work?
Okay so firstly just in case you happened to scroll straight down to this part of the review let me re-iterate the fact that the whole Quantum Biz Code thing doesn't actually work as promised.
In reality, it's nothing but an ad flipping scam & there's absolutely no way you'll make money with it – instead, if you do happen to deposit the likelihood is that you will just end up losing money (and potentially lots of it).
The whole thing is literally built upon lies, for example right from the start you're told several times that you can get started with the Quantum Biz Code system for free – yet just moments after entering your details (which I don't recommend you do) you're left to find out that you need to deposit a minimum of $250 to get started… So it's absolutely not free at all.
And as you likely know lies like this are a common trait of a get-rich-quick scam.
So anyway the idea is that you sign up, deposit some funds & then invest in online advertising. From there you are told you have 2 options – you can either hold onto the advertising & earn an ROI, or you can sell the ads (known as flipping ads) for a profit.


Now if you're new to making money online or new to internet marketing then this might seem like a legitimate way to earn money, but let me tell you that the whole thing is just a flat-out scam & that there is NO way you can earn money "flipping ads" as they claim.
In fact, let me point out that I've been working in the online marketing industry for several years now & there's literally no such thing as "flipping ads". It's just a hoax they've formulated to trick newcomers into investing money… Which they'll then steal.
You see the scam itself is pretty simple… They trick you into investing money, then they pretend that you're actually making money to get you to invest even more… But when it finally comes to withdrawal time you'll be left to realize the hard way that they don't actually pay.
Instead, your withdrawal request will just get ignored or even point-blank refused… Basically the guys behind the Quantum Biz Code & the other ad flipping scams are just out to take money from you, not help you make it.
Is Quantum Biz Code a Scam?
Yes, in my opinion, there is absolutely no doubt about it – the Quantum Biz Code is a flat-out scam & rather than helping you to make money like it claims the only thing it's really been designed to do is take money from you.
Based on my experience I can tell you that the "ad flipping" method they claim the system is based on is just total nonsense. There is absolutely no way you can make money as they claim & the whole thing is just a trick to part you with your hard-earned cash.
If you really want to make money online then there are plenty of legitimate opportunities out there like Commission Academy where you can actually get started for free. There is simply no need to invest large amounts like $250 with bogus systems like the Quantum Biz Code.
So overall it's safe to say I won't be recommending the Quantum Biz Code system because I don't believe you'll find any value from it & like I say the likelihood is that it will just see you losing money.
I just hope though that you came to this review before signing up & that my review has helped save you from losing your cash. If you do however still have any questions or comments about it then, of course, feel free to leave them below & I'll do my best to get back to you as quickly as possible.
A Better Alternative
The sad truth is that unfortunately most of the programs promising to help you make money online are scams. I can say that confidently after exposing over 500+ of them here on this blog.
But the good news is that even though most of them are indeed scams, there are actually some very good programs in amongst them - some programs that can truly help you to earn money.
And out of all of the legit programs I've seen, the one I would recommend the most to anybody looking to get started online is Commission Academy. In my own opinion, that's the best place to start.
At Commission Academy, you'll be provided with everything you need (including the training & tools) to begin earning real money by promoting products or services for companies like Amazon online.
The best part is that there's literally no limit on the amount you can earn with it & the process is pretty simple which means that it's absolutely perfect for people that don't have much experience.
Some wealthy affiliates even earn as much as 5-figures per month... Or more!

I mean don't get me wrong, that kind of money won't just fall into your lap without doing any work... But the harder you're willing to work at it, the more you stand to earn with it.
So if you're looking to get started but don't know which route you should go down or which program you should join (and don't want to waste money on bogus things that don't actually work), then I'd highly recommend checking out Commission Academy first. You can learn more about it here.