The Gemini Software System (also known as the Gemini Ad System) has allegedly been put together by an ex Google engineer named Brandon Lewis & you're led to believe that it can enable you to earn as much as $97,253 per month all on complete auto-pilot…
But no doubt an extremely bold claim like that has probably made you pretty skeptical about the whole thing… So what's the deal, is it really legit or is the Gemini Software System a scam that'll just end up seeing you spending money rather than actually making it?
Well if that's what you've been looking to find out then thankfully you've landed in the right place because I've took a closer look into the system & in this review I'll be uncovering everything you need to know about it, including how it all works & of course whether or not you can really earn anything with it. 🙂
What Exactly Is The Gemini Software System?
The Gemini Software System claims to be an automated trading system & as I touched on above you're told that it's all supposedly been put together by an ex Google engineer named Brandon Lewis…
Now on the website of the Gemini Software System website system you're shown a video of so-called Brandon Lewis driving around in a Lamborghini whilst telling you about a "discovery" he apparently made when working in Silicon Valley… A discovery which allegedly enabled him to accurately predict whether or not a binary options trade was going to win or lose.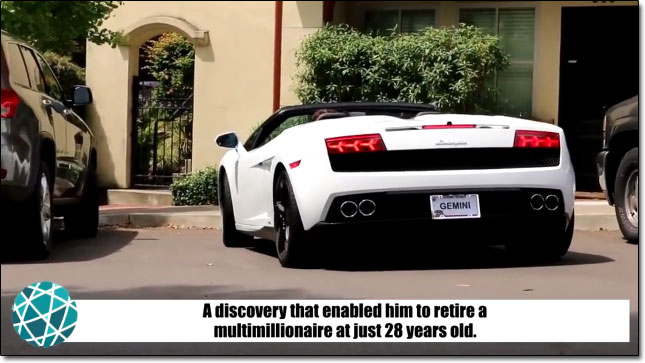 And he then goes on to tell you how he went further with his discovery & created a fully automated software that could make trades entirely on your behalf & generate guaranteed profits… Which I think you'll agree sounds almost like a dream come true.
But this is the part out where I'll point out that sadly it is just a dream, because in reality the whole thing is actually just a phony. The Gemini Software System is a scam that's purely set out to part you with your hard earned cash…
And there are 2 reasons why I know that for certain…
The first reason is because the video used on the website of the Gemini Software System has actually just been taken from a system named Gemini 2, which was a scam from 2016 that I previously exposed on this blog.
And the second reason is because after entering your details into the Gemini Software System to find out more (which I don't recommend you do) you're then redirected through to a website named Clicks Dealer, which is an ad flipping scam that I've also exposed on this blog.
So basically the person behind the Clicks Dealer scam is just using the video from an old scam to promote his new scam… If that makes sense? LOL.
But I appreciate that you might not just be willing to take my word for it, after all you I understand that you might have been really hoping that the Gemini Software System was going to work for you… So instead I'll show you exactly how it all works so that you can see for yourself what's really going on. 🙂
How Does The Gemini Software System Work?
Okay so in reality there isn't actually Gemini Software System at all, like I mentioned above the creator behind this whole scam has just stolen a video from a previously launched scam named Gemini 2 to use to promote his new scam named Clicks Dealer…
So ultimately what we're actually looking at her isn't the Gemini Software System, it's the Clicks Dealer program because that's exactly what you'll be redirected to if you happen to enter your details (which again I don't recommend doing).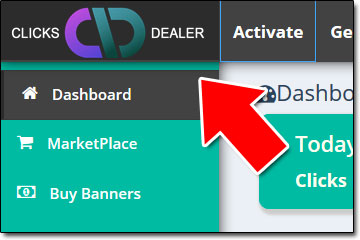 Which will likely leave you wondering what the heck is Clicks Dealer… Right?
Well Clicks Dealer is basically just an ad flipping scam, and this is a scam I've exposed several times before on this blog. I've seen the exact same scam launched under several different names such as Banner Bit & Daily Banner Profits but ultimately they all work on the same principle & they're all out to part you with your hard earned cash.
Essentially Clicks Daily (and the other ad flipping scams like it) just claim that you can make a ton of cash by investing & "flipping" online advertising.
They give you a whole bunch of spiel about how it all works & how you can make a ton of money by doing it, but the problem is it's all lies. I've worked in the online marketing industry for several years & I can tell you that there's no such thing as "ad flipping", and you certainly can't make money with it like the guys behind these programs claim you can.
However the big problem with it is that they when you invest with them to try it out (which I don't recommend), they "pretend" that you're making money by increasing your account balance… This is done to make you invest more money with them to continue making profits… But the issue with this is that when you come to withdraw your so-called profits you'll find out the hard way that the whole thing has actually just been a big scam.
The only people making money from these things are the people that have put them together. Someone actually reached out to me not so long ago to tell me that they had been duped by the Free Ad Cash System in the exact same way & that they had lost thousands to it, so these ad flipping sites are definitely to be avoided.
Basically if you want to learn how to make real money online the right way then you should just check out a legitimate company like Wealthy Affiliate instead – a company which has been around for many years & has a very positive reputation of helping people find success.
There's simply no need to invest stupid amounts of money with bogus programs like the Gemini Software System when there are plenty of legitimate ways to make money online out there that you can actually get started with for free (or next to free).
My Verdict – Is The Gemini Software System a Scam?
Yes there's no doubt about it, in my opinion the Gemini Software System is a complete utter scam & it's been designed purely to make it's creators wealthy at your expense… It's not really set out to help you make money at all.
And that's the reason that the system has been changing it's name so many times over the past few months – they are simply trying to escape the negative reviews so that they can continue parting people with their hard earned cash.
But like I say there is simply no reason to waste money on a bogus program like the Gemini Software System when there are much better legitimate opportunities out there like Wealthy Affiliate which you can get started with for free.
So overall it's safe to say that I won't be recommending the Gemini Software System (or Gemini Ad System as it's alternatively known) because I don't believe you'll find any value from it & the likelihood is that if you join you'll just end up losing money.
Hopefully though this review helped you dodge it, and hopefully it gave you a good insight into how it all really works. If however you do happen to have any further questions or queries then of course don't hesitate to leave them below & I'll do my best to get back to you as quickly as possible. 🙂