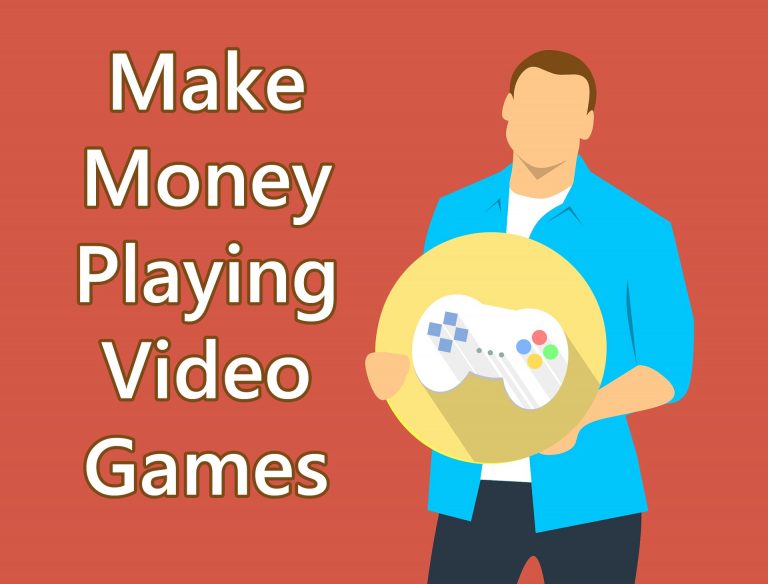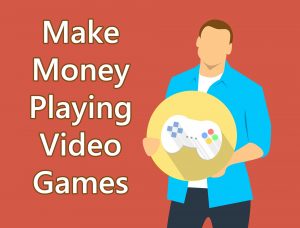 Ever dreamt about being able to make money by playing video games? Well, the good news is that you can actually (quite easily) turn that dream into a reality.
Yes, that's right – you CAN make money gaming & in this blog post I'm going to show you how.
And the best part is that all of the methods to make money playing video games that I'll be sharing are actual realistic methods that you can literally get started with today.
So if you're interested in making money by gaming then stick around & read this post right through to the end because it'll contain everything that you need to know (including how to avoid the scams).
Become a Video Game Tester   |   Make Money Gaming On YouTube   |   Stream Video Games & Get Paid   |   Create a Money-Making Gaming Blog   |   Compete In Tournaments   |   Farm In-Game Currency or Level Up Accounts   |   The Bottom Line
Become a Paid Video Game Tester
The first & most sought-after way to make money playing video games is to become a paid video game tester, which as the name suggests simply involves you "testing" video games in return for cash.
As a video game tester, you'll be responsible for checking games for bugs & glitches & you'll provide feedback as to what you think about the overall gameplay.
And as you can see from the chart below (produced by PayScale), it's not a badly paid number either: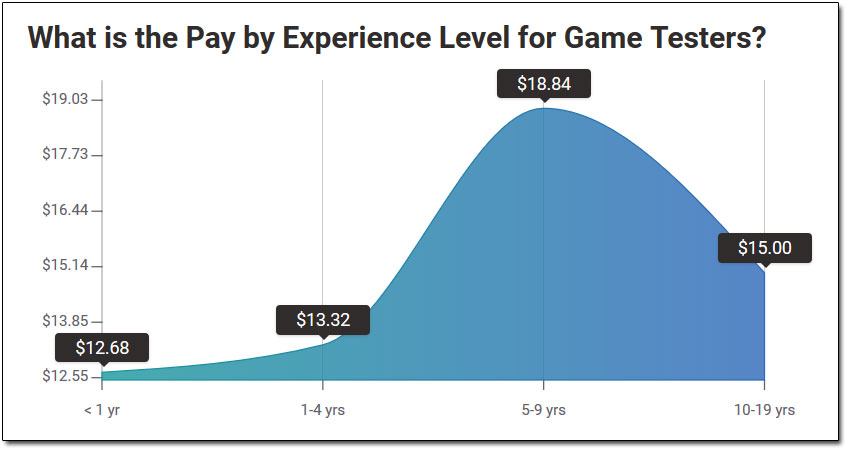 But there is a downside… (well, a couple actually).
The downside is that because paid video game testing is so highly sought after, it's pretty competitive & therefore it's pretty difficult for the average Joe to snag a job as a game tester.
I mean it's not impossible, but it's certainly not easy.
This also means that there are a lot of video game tester job scams looking to take advantage of people too. In fact, one of my very own friends actually fell victim to a video game testing scam some years ago.
And I've also exposed some video game testing scams right here on this blog, such as Gaming Stock Profit & Gaming Jobs Online.
So how do you tell a legit video game testing job apart from a fake one?
Well, you should NEVER have to pay any money upfront in order to get access to a job, so if at any part of the application process you're asked for money, it's very likely a scam.
And in the case of a scam, the opportunity will also typically sound "too good to be true". The reality is that a real video game testing job will consist of long-hours & hard work.
If a "job application" makes it seem like you'll literally just be getting paid for having fun & playing games then again, it's likely a scam.
You see, sure – video game testing can certainly be fun but there's also a lot of boring "paperwork" that comes with it. You'll need to produce reports based on your experiences & spend time brainstorming ideas for improvement.
It's not all fun & games (literally).
So how can you get access to legit video game tester jobs?
Well, as mentioned a little further above – it's going to be difficult for the average Joe to secure a video game testing job. This means that you'll need to first make yourself stand out from the crowd.
To do that, it's a good idea to create a YouTube channel or start a blog sharing your gaming experiences which can come in handy as a "portfolio" when applying for jobs.
Then, to find game testing jobs you just need to look through job sites where you'd find other regular jobs. The truth is (despite what many of the scam video game testing websites claim) there are no so-called secret sources for game testing jobs.
When game testing jobs become available, they'll be listed on job sites just like any other jobs…
But remember to still be wary of the scams because many of those promote through legitimate job sites, too.
Another good way to find legit video game testing jobs when they become available is to set up something called a Google Alert.
Through Google Alerts you can be alerted whenever Google finds some new content that matches your chosen keywords, so as an example you could set up an alert to monitor the phrase "video game testing jobs San Fransico" or "video game tester required Chicago".
If Google finds some new content matching that phrase (which could potentially be a job listing) then you'll be notified & you can check it out. Plus it's free to do, via Google's alerts page here.
Make Money Gaming on YouTube
If you're a gamer, then no doubt you'll have already watched countless hours of gaming footage on YouTube… But did you know that most of those YouTubers are actually getting paid whilst you watch?
And more importantly, did you know that you could be getting paid too?
Gaming on YouTube is probably one of the easiest ways to earn money by playing video games yet it's overlooked by nearly single every video-gamer ever.
The best part is that it requires almost NO extra work whatsoever.
All you need to do is create a channel, begin filming your gaming adventures & build a following. The more entertaining your content, the larger your channel will grow.
And once you've begun getting viewers, you can begin making money as YouTube will allow you to place adverts on your videos & they'll pay you cash each time that they're viewed.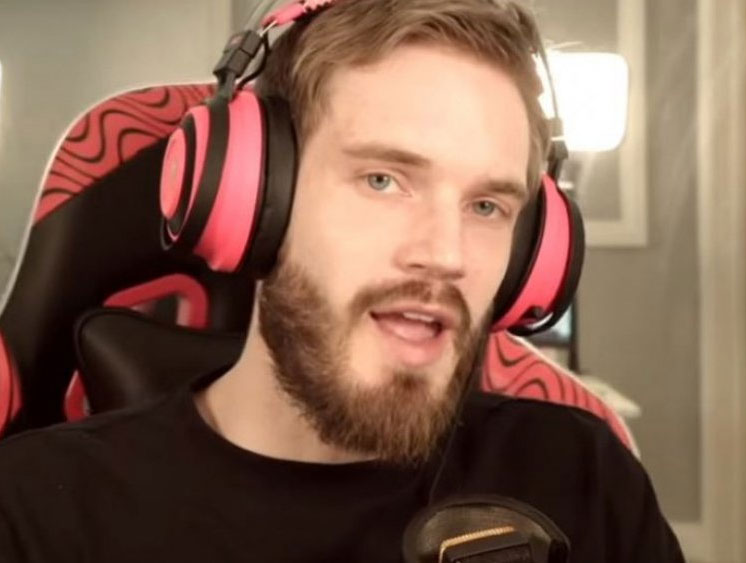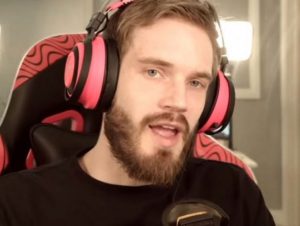 Some video game YouTubers, such as PewDiePie – who I'm sure you've heard of, earn on average as much as $30,000 for every single video that they publish.
Crazy, right?
But what's craziest is the number of video-gamers that spend countless hours playing games, yet don't record them & upload their footage to YouTube to make money.
It's literally pretty much money for nothing.
And earning money from adverts isn't the only way you can make money gaming on YouTube, either. You can also promote products as an affiliate & earn additional commissions too.
Or it can also lead you onto other, bigger things such as being scouted by companies to become a video game tester as they often pay attention to the big names on YouTube.
Either way, if you're gaming & want to make money from it, you should certainly be YouTubing.
Make Money Streaming on Twitch
Twitch is a pretty straight forward platform that enables people to live-stream content & enables others to follow it & chat amongst each other (and with the host) as they do.
It's also HUGELY popular among gamers.
But best of all, you can actually make money by streaming on Twitch, too, just like you can with YouTube.
And one Twitcher (who goes by the name of Ninja) actually managed to earn a whopping $10 million in 2018 alone by simply streaming his Fortnite gameplay through the platform.
So it's safe to say that as a gamer there's a lot of potential to make money by streaming on Twitch & it's reported that the "average" streamer actually earns between $10,000 to $40,000 per year.
But when I say "average", what I mean is the average "Twitch partner" – because not every member can make money right away. Instead, you have to become a partner.
Thankfully, however, becoming a partner is relatively straight-forward, you just need to meet the following criteria:
Have at least 500 total minutes broadcast in the last 30 days.
Have at least 7 unique broadcast days in the last 30 days.
Have an average of 3 concurrent viewers or more over the last 30 days.
Have at least 50 followers.
Then once you're a partner you'll be able to run adverts on your channel & earn money each time they're viewed or clicked just like you can on YouTube.
And of course, there's nothing stopping you from running Twitch streams alongside a YouTube channel or blog. In fact, it's actually recommended that you do as many as you can.
The more places you publish your content, the more viewers you'll get & the more money you'll be able to make. Plus you could quite easily use your YouTube channel to promote your Twitch channel & vice versa too.
Make Money With a Gaming Blog
The other methods that I've listed so far include quite a fair amount of social interaction or "putting yourself out there". For example, as a tester, you'll have to relay feedback to a team & as a YouTuber or Twitcher, you'll need to interact with your audience.
However, it's a well-known fact that a lot of gamers are shy or unsociable. That may be due to things like anxiety, or it may just be a personal preference. Either way, it's a fact.
But that might mean that the 3 methods above may not be any good to you. You might not want to work with a team & you might not want to publish videos online.
That's fine.
Thankfully there's an alternative which doesn't involve "putting yourself out there", and that is to create a money-making gaming blog (which you can even actually do for free).
Blogging is a GREAT way to earn money online & these days it's really easy to get involved with. Plus, writing a blog can actually be a pretty fun way to kill some time, too.
So how do you make money with a gaming blog?
Well, it's simple really. Whenever you publish content online, search engines like Google, Yahoo & Bing automatically detect it & list it within their results as an option for people to click on.
So if you wrote a blog post about Fortnite, then that would appear in the results whenever somebody searched for something related to what it was you wrote about.
If they click on it, they come to your blog, and the that gives you the opportunity to earn money by either placing advertising on your blog or leveraging something called affiliate marketing.
And as far as I'm concerned, affiliate marketing is the BEST way to earn money online. As an affiliate, you simply recommend products & get paid commissions if anybody happens to purchase them.
Easy, right?
So if you'd like to make money with a gaming blog then I'd highly recommend you check out my guide on how to start a website for free AND my step-by-step guide to affiliate marketing.
With affiliate marketing there's literally no limit to the amount you can earn & as a result, there are several affiliates who actually earn as much as a whopping 6-figures per month.
Hint: I myself even managed to make $10,000 per month with affiliate marketing.
Compete In Tournaments
Every so often various game companies hold worldwide tournaments through which they offer prize money to a set number of winners or top-performers.
Now, this is a method which admittedly can't really guarantee a steady income from gaming, however, there are some gamers that literally manage to earn hundreds of thousands of dollars per year by simply competing in tournaments. Timothy Miller (Bizzle) is a prime example.
It comes without saying, however, that in order to profit from competing in tournaments you will have to be VERY good at gaming.
With the tournaments being opened up to a worldwide audience there is typically an insanely large number of competitors & so to stand any chance of winning you really do have to be in the "elite" class of gamers.
And even if you do feel that you're in the elite class of gamers, there's still no guarantee that you'll win. You could find yourself spending countless hours playing in tournaments only to end up winning nothing at all.
But how can you find gaming tournaments to compete in?
Well, typically the tournaments are run by the gaming companies themselves, so it's always a good idea to get yourself onto their email marketing lists if you have any interest in competing.
Alongside that, you can also use Google Alerts to keep track of any new & upcoming tournaments.
And gaming blogs are also a good source of gaming tournament information, so if you haven't already done so then you should check out & subscribe to a few of those as well.
Here are two great gaming tournament (esports) websites to also keep your eye on:
Farm In-Game Currency or Level Up Accounts For Money
This is an extremely popular & extremely easy way to make money from video games. It's also a method that many, many years ago I once did myself (and made good money from).
Plus, coincidentally, I also recently happened to meet somebody who was literally making a relatively modest living by doing this.
You see, there are many gamers that want things & that want those things quickly. They don't want to have to spend countless hours earning in-game currency or levelling up their accounts & instead, they're willing to pay somebody (you!) to do it for them.
So yes, the immediate downside of this method is that it will indeed eat up quite a lot of your time… But the upside is that, well, pretty much anybody can do it with relative ease.
If you're willing to play the game & earn the currency, then you can sell it outside of the game (in the real world) for a profit. Plus, people will also pay you to literally log in to their accounts & play with their characters to "level them up" on their behalf.
It's something that's really easy to do & even though it's not hugely rewarding in return for your time, if you enjoy playing the games anyway then it'll just feel like money for nothing.
The one thing I'd advise with this method, however, is that you make sure you check the terms & conditions of the game to make sure that you're not breaching any rules which could get you into trouble.
Here are some good sites that you can sell your in-game items through:
And if you end up buying anything through those sites then remember, do you due diligence to avoid getting scammed. There are a LOT of scammers when it comes to buying in-game items.
The Bottom Line
There are many ways to make money by playing video games, right from selling in-game items all the way through to working full-time for a company as a paid video game tester.
What I will say, however, is that I believe the best way to make money playing video games is to leverage a combination of the following four methods:
Start a YouTube channel (and earn from adverts)
Stream gameplay on Twitch
And the best part is that you can get started with all of those methods completely free of charge & you can even get started on setting them up as soon as today.
But the key is to not expect to get rich (or to begin making good money) overnight because, in reality, it will take some work to initially build up your audience.
If you want to make money playing video games then you should set yourself a more realistic goal of 3-6 months before seeing your first earnings come through as that's usually how long it will take.
The good news, however, is that once you do begin earning then if you stay consistent your earnings will begin building like a snowball meaning that by year 1 or 2, you could literally be doing it full-time.
But that's only if you stay consistent. Consistency is key.
Sadly most people who try to make money playing video games end up giving up before they actually make any money because they're too used to "instant gratification" from playing games. Having to actually wait for something can seem like a bit of an odd concept to a gamer who is used to getting instant wins & bonuses.
So try to put that to one inside & approach with a long-term vision. If you do that, you WILL find success & you will likely find yourself earning some pretty good money.
Anyway, that's a wrap for my blog post but I hope that the information I provided here has been useful to you & of course I also wish you the best of luck in your money-making venture.
If you happen to have any additional questions or comments then don't hesitate to leave them below. 🙂