So you want to start a blog, and you want to make a money from it… But you don't want to pay the seemingly "extortionate" hosting costs that many web hosts seem to charge & you're also struggling to find a host that'll let you start a free blog and make money… Does that sound about right?
Well fear not as you have landed in exactly the right place because in this blog post I've put together here today I'm going to be showing you exactly step by step how to start a blog for free and make money – even if you're totally brand new to the blogging scene (like I was back when I first started out myself).
And yes when I say free I really mean it… No catches… None whatsoever! So unlike many of the other bloggers out there who promise to help show you how to start a free blog step by step & then hit you up with a several hundred dollar hosting bill towards the end, when I say free I truly mean it… So keep on reading! 🙂
How To Start a Blog For Free
No messing around here – I'm gonna jump straight into it & show you right from the off how you can get your blog setup… And like I mentioned above this guide is going to be SUPER easy meaning even if you're totally brand new (or a monkey ?) you'll be able to get your blog on the web in no time at all… Then we can get swiftly onto the making money side of things which is what I know you're eager to hear about ?
Step 1
First things first you'll want to go on & create your free account over at SiteRubix, as this is the company that's going to be providing you with the free blog. Powered by the Amazon hosting network they're actually one of the fastest hosts around & their free plans even rival most paid plans at other hosts (because they're powered by the huge Wealthy Affiliate community).
So yeah, go on over there – create your free account & then come back here to see what you need to do next! ?
Step 2.
Once you've grabbed your free SiteRubix account, login – then from the menu on the left hand side (as shown below) click on "Websites" and then click on "Site Builder" from the next menu that appears.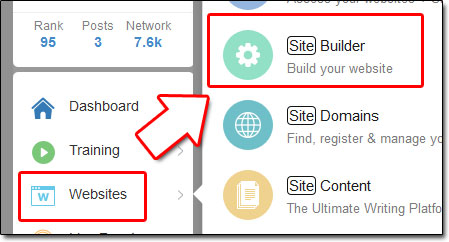 Step 3.
Now it's time to decide how "free" you want to be… You see, if you really don't want to spend a single penny at all then you can secure yourself a subdomain which won't cost you anything.
This means that the URL to your blog will look like "yourblogname.siterubix.com"…
Now this isn't too much of a bad thing if you just want to fool around with your blog – but the problem is that if you go down this route then you won't really put yourself in too great of a position to make money from your blog as these types of domains (which as I mentioned are known as subdomains) are much hander to rank in search engines – like Google.
Harder to rank = harder to get visitors, and with less visitors you'll make less money.
So whilst you don't have to, it's advised that you get a "proper" domain instead which will look like "yourblogname.com".
I'm sure the latter is what your more familiar with seeing, and a domain name like that will only set you back around $10 to $15 so it's really not much at all… But the decision here is up to you. If you truly want FREE and nothing else, then go for the subdomain – but know that if you do, you'll just be making life harder for yourself when it comes to the making money part.
…(meaning take my advice and just get a proper domain!)
You can trust me when I say that if you spend the money on the domain then there is literally NOTHING else to spend other than that. The SiteRubix (aka Wealthy Affiliate) web hosting is entirely free… Though they do offer an optional Premium membership which costs $47/mo (no upsells whatever) which gets you access to their extensive training platform.
The Premium membership is 100000% worth it – but like I say it's entirely optional. If you want free, you get free! ?
So anyway after deciding which route you're going to go down, from the "Site Builder" dashboard that you clicked on you'll want to select one of the 3 options. Either use a subdomain, use a domain you already own – or register a new domain (the latter being the best choice).

Step 4.
Once you've decided what you're doing about the domain the next step is to give your site a title & select a design… Then once you've done that your new blog is literally ready to launch live on the web. And yes I'm serious…. It REALLY was that easy!
Plus just look at all those juicy professional looking designs they have for you over at SiteRubix: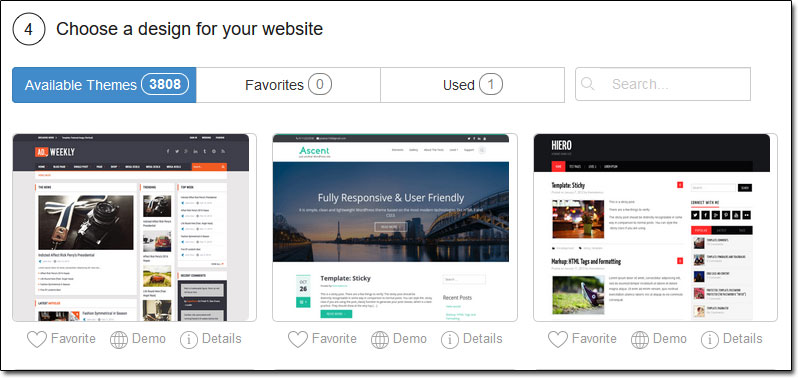 Literally as I was on that page (as you can see from the image) it showed a whopping selection of 3808 themes that you could use on your site – and more get added all of the time, so it's fair to say you get a pretty neat selection for sure.
Not bad for free huh!??
But What About The Making Money Part?
You're probably thinking I've left you in the lurch about the making money part but don't worry I haven't! I just wanted to firstly show you how freaking easy it is to start a blog for free over at SiteRubix…
Hopefully you believe me now ?
Anyway, I appreciate that you came here looking to find out how to start a blog AND make money… So here we go, onto that side of things now…
There are actually several different ways that you can make money from a blog, and if you wanna read my super detailed post on all of the different ways to make money blogging then do feel free to click here…
However there is one way in particular that most bloggers make their money from – and this is the one way in particular that bloggers will be most likely to make a full-time income from… It's called affiliate marketing.
The concept of affiliate marketing is actually pretty darn simple, and the potential of it is INSANE. In fact just to highlight the true potential of it, I've personally been able to build up an income of over $10,000 from affiliate marketing – and I've seen several others who've actually been able to build up incomes of over HUNDREDS of thousands per month… It's crazy!
But what is it? How does it work? I hear ya!
Well basically affiliate marketing consists of you promoting 3rd party products or services online in return for commissions. You simply get a unique "tracking link" – often referred to as an affiliate link, which tracks all of the visitors that you send to the product/site.
So let's say you became an affiliate of Amazon (which you can) – this means you can then promote any of the products from the Amazon website & earn commissions from any sales you generate.
They'd simply give you a unique link for the products (which is just like a normal link but with a few numbers or letters at the end that are unique to you), and if anybody clicked through that link & then bought something – you'd get paid a commission.
So it's simply your job to promote the links as much as possible, because the more people that click them – the more commissions you'll stand to earn ?.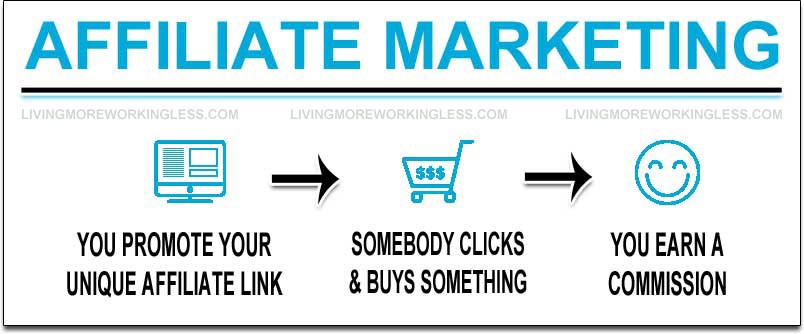 But How Does This Tie In With Having a Blog?
Well having a blog actually provides you with a MASSIVE advantage when it comes to affiliate marketing, and that's because with a blog rather than having to hunt down people to buy stuff via your links you can actually attract them to you instead….
This also means that things can become pretty passive – so whereas with other methods of affiliate marketing (like paid advertising etc) you have to continually keep on top of your game & keep working, with a blog once the work is done you can sit back & the money can still keep on coming in…
So eventually it gets to the point where you find yourself building money on top of money & that's why so many bloggers are making SO much money (like those crazy figures that I talked about towards the start of this post).
Enough waffling though – how does it work??
Well basically when you publish a blog post it gets indexed by search engines like Google, Yahoo, Bing & all of the others. Indexed by the way just being a fancy word for "getting listed".
So for example this post right here that you're reading is called "How To Start a Blog For Free…" and after I finish writing this and submit it, it'll get listed in all of those search engines that I just mentioned above.
This means that if somebody happens to search about starting a blog for free, my post might just happen to be one of the ones that they're presented with – which means that I might get a visitor to my blog ?
And even if I didn't happen to do any more work on the site for a while the post would still be listed in the search engines, meaning from that one-time effort I would still stand to be able to get a stream of visitors to my blog.
Now here's the part where the money comes into play – because visitors mean money!
Essentially a visitor to your website should be seen as just like a person walking into a shop. Sure, they might just look around & walk right back out – but if you have good on stuff on offer then they might just happen to stay, click something & make a purchase.
And you know what happens if they do? You earn a commission!
That's how great affiliate marketing is ? and that's why if you haven't done so already you absolutely NEED to check out the free affiliate marketing over at Wealthy Affiliate which is an amazing place to get started.
But anyway, now that you know the basics – and now that you know how to create a blog for free, let's tie it all together…
How To Start a Blog For Free And Make Money!
So backtracking now & putting it all together, the first thing you want to do is think of a niche market to target – and a "niche" is basically just something "targeted" that a specific audience would be interested in.
For example maybe you like dogs – and you might want to create a blog about dogs, but this market is pretty wide. How do you know what the people coming to your website are coming there looking for? You don't – therefore it's hard to pinpoint products to offer them, because at that moment in time that they're on your website you don't really know what they might be interested in buying.
So the easier thing to do is to narrow it down, and this narrowed down version would be your niche… So our initial market was dogs, and the narrowed down version for example could be dog leads.
This makes your life as a blogger MUCH easier if you have a narrowed down site because you know exactly what your visitors are looking for. You have a much more interested audience, and you know exactly what products to offer.
Anyway – once you've thought up your niche, it's then time to create your blog – and you can do that by following the step by step instructions that I outlined towards the very beginning of this post.
You already know that setting up your blog only takes a minute or two, so that bit is no big deal at all ?.
Then, once your blog is set up it's time to get to work on publishing content to attract those visitors. So let's continue with the example of the dog leads niche – you could publish content related to dog leads (such as "Should You Keep Your Dog On a Lead?") & then after some time these posts would begin getting indexed by various search engines.
When they do, you'll begin getting visitors (providing you've published enough posts). You should picture your posts as a fishing net in the search engines – the more posts you have, the bigger your net & the bigger the chance you have of visitors landing in it & being drawn in to your site.
Then from here comes the fun part – the money making – because once you've begun getting visitors you're all set to make money, and all you need to do in order to do so is tactfully promote your affiliate links on your site.
The best way to do this? Easy – provide the product your promoting as a solution to the visitors problems… If you do that, you'll make a sale every time.
For example, once again going with the dog leads scenario… Let's say your visitor has a problem – they don't know which dog lead to buy. They head to the search engine & type "what is the best dog lead?" but guess what? You've been smart and you've put together a post called "The Best Dog Leads You Can Ever Get", so naturally the person clicks through to your site…
This is where you can get the chance to solve their problem. Their problem is they don't know what to buy – your solution is to point them in the right direction… And boom, if you do, you'll make a sale ?
But like I say this is just one of the MANY ways that you can make money blogging – and you can check out all of the other ways that you can make money from a blog in detail by reading my other post here.
Regardless though if you were looking to start a blog for free & make money blogging then I hope this step by step guide that I've put together on this page here has been insightful for you – and if you do happen to have any further questions or comments then don't hesitate to leave them below. As always I'll do my best to respond to you as quickly as I can. ?
Oh and if you want even MORE detail on how to start a blog and make money blogging then be sure to check out to my MASSIVE post on exactly that by clicking this link here. After reading that post you'll be a total blogging expert for sure!! ?