CPALead is an awesome way to make money online. If you're not familiar with CPAlead, basically they pay you for getting people to "do stuff" hence CPA which stands for cost-per-action. This could be anything from getting someone to sign up to something, complete a survey or install an application.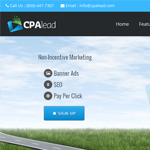 The great thing about CPALead is that they offer both non-incentive & incentive offers. Generally with most advertising networks you cant offer visitors incentives for clicking your ads, and if you did you'd probably get banned pretty sharpish. However with CPALead the ads might say something like "Click here to get a free iPhone", and if they complete the offer then you get paid.
It's great because not only do they offer high payouts (for me usually around $1 to $20), but they convert really well too since their offers give the visitor an incentive to actually complete the offer.
Various monetization options.
Not only do CPALead offer high payouts & great adverts but they also offer a wide range of ways you can monetize your traffic.
Here's an example of just some of their widgets:
Content Locker
Download Widget
Link Locker
File Locker
Exit Traffic Tool
Banner Tool
There always adding new widgets & offers onto their website but I'll explain what the ones I've listed above (my favorites) are:
Content Locker.
Basically you can lock a page on your website & require that the visitor completes an offer in order to gain access. There's a lot of money to be made with this widget but it's important to make sure the content on your page is valuable enough to make sure that the visitor will stick around and complete the offer otherwise they'll just leave your website.
Download Widget.
With this widget you can lock a file & require a user to complete an offer before they can download it. For example you might have an e-book & rather than selling it you could offer it for free but lock the page & require the user to complete an offer in order to download it.
Link Locker.
You don't even need a website in order to use this widget, basically you can lock any link you want. So let's say you've found something on the web, you can lock the link to the page using CPALead's link locker and require people to fill in an offer before they're redirected to the link you locked. You could post your locked link on social media etc & drive traffic through really easily.
File Locker.
This ones similar to the download widget mentioned above however with this one you don't need your own website.
Exit Traffic Tool.
One of my favorites – with this one you can make money from the people that are leaving your website. When they go to leave they'll be prompted with an offer which is a bit intrusive but since they were leaving anyway who cares right?
Banner Tool.
Fantastic banner tool – you can choose non-incentive or incentive banners (I love incentive banners!). It can act as a normal banner whereby it's basically an image on your page, or you can choose to have it slide in from one of the sides of the page – I find the slide in banners convert extremely well.
Control your offers.
One of the best things with CPALead is that they give you full control over your offers – you can pick and choose which ones you want to display. You could base this on a variety of factors such as best converting, highest paying or ones most relevant to your niche etc etc.
Here's an example of all the different offers they have available:

So how do you make money with CPALead?
Making money with CPALead is so easy because of 2 reasons really. Firstly, they give you incentive offers so getting a user to complete in your offer is straight forward. Secondly, they have a community where you can chat amongst each other and discuss which methods are working best.
Plus they actually have their own marketplace where other members have written guides that you can buy. You can read reviews from other members & judging by the reviews you can tell which guides seem like they might work best & be helpful to you.
Basically when it comes to CPALead it's all about finding something that someone really wants access too, so much so that they're willing to complete an offer in order to get it. These things include things like:
Ways to make more money
Ways to quit smoking
Trending things (e.g. leaked pictures)
etc etc.. I'm sure you get the idea.
Once you've found something it's simply a case of just driving traffic to your page which is really easy, and you can read one of my guides on getting traffic here. That guide refers to getting traffic to your blog, but it can also be used to get traffic to your CPALead website quite easily.
Already have a website?
If you already have a website I'd definitely recommend implementing the exit traffic tool or at least trying it to see how it converts with your visitors. Making money from people who are leaving your website is a great way to boost your websites revenue without being too intrusive to your regular visitors.
Furthermore I've found their banner tool to work extremely well, especially the sliding one. For me it averages payouts of around $1 per submission but being an incentive offer it received an awful lot of submissions on my website.