CPL One defines itself as a unique all-in-one advertising platform & it promises to provide an easy way for you to begin generating affiliate commissions online, even without prior experience.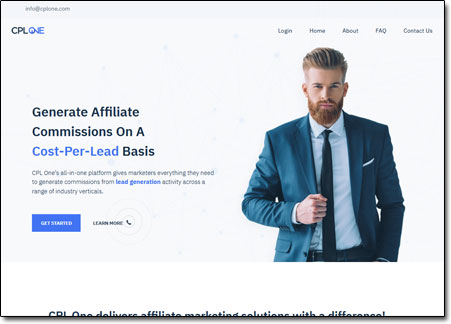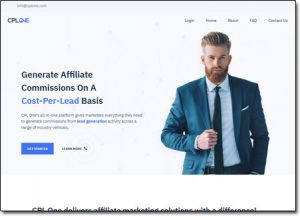 You're led to believe that you can simply sign up, create (or invest in) adverts & then earn money for each person that happens to click through them & proceed to enter their details.
But is it legit? Or is CPL One a scam?
Well, thankfully you've landed in the right place to find out because whilst there are many fake CPL One reviews out there, this is an honest one in which I'm going to be exposing the real truth.
And I can start by telling you that things are NOT what they seem.
You'll see what I mean in a moment…
What Is CPL One?   |   How Does CPL One Work?   |   The Truth   |   Fake Reviews   |   The Red Flags   |   Is CPL One a Scam?   |   A Better Alternative
What Is CPL One?
CPL One is a newly launched platform that promises to provide both beginner & expert online marketers with an easy & revolutionary way to earn money online.
You see, CPL One claim to have essentially taken the hard work out of marketing.
They claim that through their platform you can simply sign up & invest in premade banner advertising, then earn commissions whenever the banners that you invest in happen to generate leads for the companies that they're promoting.
And I'll admit, it almost sounds legit.
But is there really a way that you can just "invest in premade banners" like they claim & earn money?
Well, as an experienced online marketer I can tell you that no, there isn't.
You see, CPL One claim that the banners that you invest in are run on a network of websites that they own (which they keep a secret) & that the banners are already generating profits.
But if that's true, then why does CPL One want YOU to invest?
Surely, if the banners are generating profits then it would be wiser for CPL One to not have people investing & to instead simply keep all the profits for themselves.
So the fact that they want to "give away profits" and let people invest makes it extremely suspicious.
But it quickly became clear to me why they want people to invest, and the reason is simply that the whole thing doesn't really work as the CPL One website promises it does.
You'll see what I mean in a moment as I explain how it all works, but I'll point out that it has links to another company named Click2Sell & that might give you a good hint as to what's really going on.
If not, then keep on reading to find out the truth…
How Does CPL One Work?
In short, here is how CPL One claim that their platform & opportunity works:
CPL One claim to own a large network of highly-trafficked websites
On those websites, they claim to run banners promoting 3rd party companies
The 3rd party companies pay them each time somebody clicks an add & enters their details
CPL One claim to give you the opportunity to invest in the banners & take a share of the profits
And as I mentioned in the previous section of this CPL One review, it almost sounds legit… And if you're totally new to online marketing then it could be very easy to get drawn in.
But in reality, I can tell you as an experienced online marketer that it just doesn't make any sense whatsoever.
You see, let's say CPL One really does only a large network of highly-trafficked sites like they claim (which they don't) – you have to question why they would want you to invest in their banners.
For example, let's say Banner 1 on Website A generates average revenue of $500 per month.
Why would CPL One want to give you the opportunity to invest in that advert for a lower amount through their platform? As a business, it just doesn't make any sense whatsoever.
They would literally be LOSING money by letting you invest, rather than making it… So it would make absolutely no sense to build a platform that can only possibly lose you money as a business.
But I can tell you that the real reason they're providing the opportunity for you to invest is that the whole thing is simply a ploy to trick you into parting with your cash so that the people behind it can earn at your expense.
There isn't really any "large network of websites" on amazing opportunity to invest in profitable ads. It's all just a con & it's simply just a rehashed version of the Click2Sell scam that I previously exposed on this blog around a year or 2 ago.
The people behind it have merely changed the name of it in an attempt to escape the negative reviews that were written about it so that they can continue luring people in.
The Truth About CPL One
The reality is that CPL One is just a rehashed version of the Click2Sell scam which launched around a year or two ago & promised to provide people with an amazing opportunity to flip online advertising.
Click2Sell failed to deliver on its promises & essentially, the people behind it just outright took the money from those that invested & lined their own pockets with it instead.
As a result, Click2Sell received many negative reviews which meant that in order for the people to continue tricking people & luring people in, they needed to change its name.
That resulted in a few variations then being launched, such as:
And now CPL One.
But one thing I know for sure is that the creators of the CPL One scam have indeed gone to extreme lengths in order to make it seem legit so that they can trick people into investing large sums.
For example, they have actually created a platform through which you can sign up, choose banners & invest… And the same platform even makes it appear that you are generating profits.

Furthermore, some profits are indeed paid back to you (but always less than what you invested) in an effort to get you to trust the scam & then go on to deposit even larger sums in the future.
It's a very, very cunning ploy… But you only need to take a look at the comments on my Click2Sell review to see the truth about it.
Fake Reviews
Another part of the cunningness of the CPL One scam is the fake reviews which the creators have heavily invested in prior to letting the scam go alive, in an attempt to hide the real truth.
You see, months before the launch of CPL One, reviews started appearing about it on the web.
Those CPL One reviews now hold all of the top positions on the first pages of the search engines such as Google, Yahoo & Bing… But the problem is that none of them actually speak the truth.
And it's easy to see this because not only do all of the reviews say only positive things about CPL One but they also ALL provide direct links which take you to the CPL One website as shown below: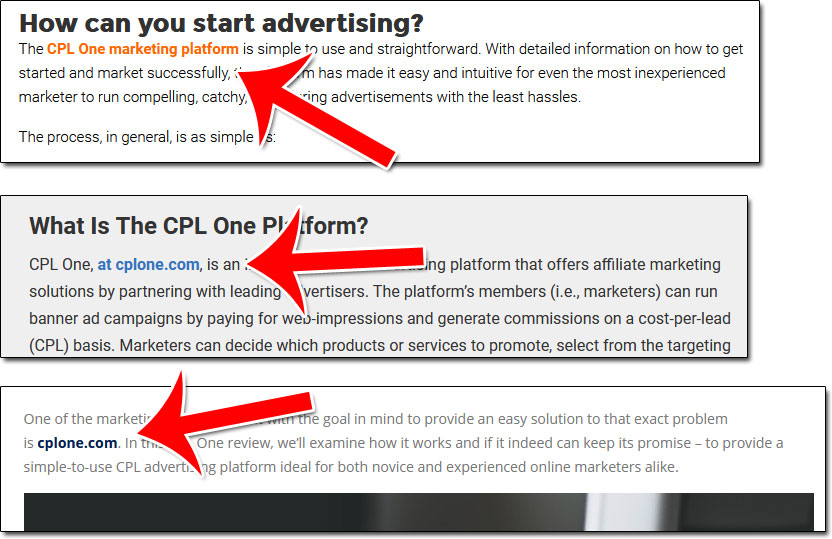 It's therefore quite clear to see that the CPL One reviews currently dominating the search engine results are paid reviews which have been written in a further effort to trick people into investing.
Not good.
You Might Also Like:
The Red Flags
Firstly, there is the fact that the CPL One opportunity was actually brought to my attention by somebody who left a comment on my Click2Sell review, claiming to have been scammed by CPL One as shown below:

And further digging into the CPL One scam reveals similar comments on other websites, such as those shown below: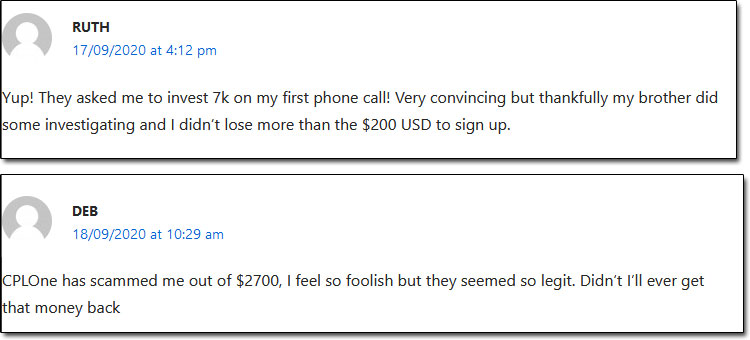 But on top of that, there are further red flags, too… Such as the fact that despite CPL One claiming to be a big player in the online advertising industry, their website is merely built off a cheap template as shown below: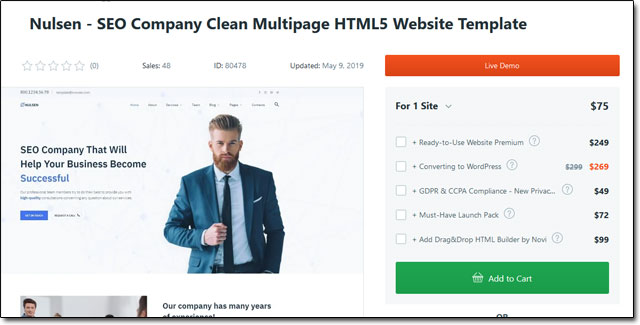 And the reason they've just used a cheap template is that they know that their website is disposable.
You see, whilst a legitimate company would invest in bespoke website design to make their brand look good, CPL One knows that they will likely be shutting down their scam very soon & relaunching under a new name, so a ready-made cheap template makes more sense.
And there's also no information to be found about their company, SAILORYX LTD, either – other than the fact that it was incorporated just a mere 2 months ago at the time of writing this CPL One review.
Is CPL One a Scam?
Yes, CPL One is a scam. After reading this review of CPL One you can probably now see that the evidence is overwhelming & that the CPL One opportunity is nothing but a fraudulent one.
Not only does it have links with past scams such as Click2Sell & Ads Supply, but it has also begun receiving several scam complaints despite only launching some months ago.
As an experienced online marketer, I can tell you that you can indeed legitimately earn money by promoting third-party companies online through something called affiliate marketing, but it does not come without work.
CPL One claims to have taken the work out of it & made the opportunity easy, but it's just false promises & the reality is that they're set out to do nothing other than part you with your cash.
So it's safe to say that CPL One should be avoided, and instead, if you truly want to earn money online I would suggest you stick with a proven platform such as Commission Academy.
Or alternatively, you can check out the additional methods on my top picks page right here.
But whatever you decide to do, I simply hope that my review of CPL One here has given you a good insight into how the whole thing really works & most importantly, I hope it's helped you to avoid it.
A Better Alternative
The sad truth is that unfortunately most of the programs promising to help you make money online are scams. I can say that confidently after exposing over 500+ of them here on this blog.
But the good news is that even though most of them are indeed scams, there are actually some very good programs in amongst them - some programs that can truly help you to earn money.
And out of all of the legit programs I've seen, the one I would recommend the most to anybody looking to get started online is Commission Academy. In my own opinion, that's the best place to start.
At Commission Academy, you'll be provided with everything you need (including the training & tools) to begin earning real money by promoting products or services for companies like Amazon online.
The best part is that there's literally no limit on the amount you can earn with it & the process is pretty simple which means that it's absolutely perfect for people that don't have much experience.
Some wealthy affiliates even earn as much as 5-figures per month... Or more!

I mean don't get me wrong, that kind of money won't just fall into your lap without doing any work... But the harder you're willing to work at it, the more you stand to earn with it.
So if you're looking to get started but don't know which route you should go down or which program you should join (and don't want to waste money on bogus things that don't actually work), then I'd highly recommend checking out Commission Academy first. You can learn more about it here.