The fastest way you can earn $2685 today! – that's what Mr Steven Jenkins the so-called creator of the Daily Cash App claims that his "revolutionary" new money-making app will provide you with… But clearly that's a pretty darn bold claim.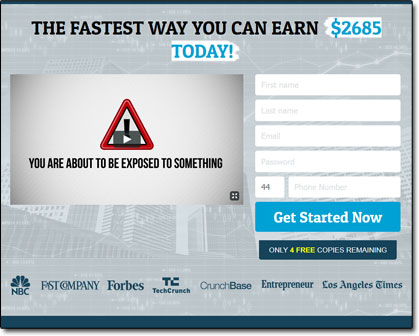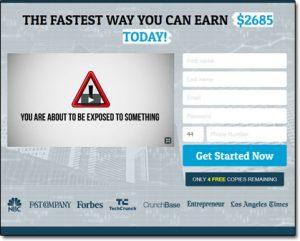 So is Steven Jenkins telling the truth? Can you really make (any) money with his new app as he claims?… Or is the Daily Cash App a scam that'll just end up conning you out of your own hard-earned cash instead?
I think the fact that you're here at this review suggests that you likely already believe it's the latter but rest assured you've landed in exactly the right place to find out for certain as I've personally taken a closer look at it & in this review I'll be explaining exactly how it all works.
Plus, I'll also be uncovering whether or not you can really make any money with it.
What Is The Daily Cash App?   |   How Does It Work?   |   What You're Really Signing Up To   |   The App's Shady Past   |   Who Is Steven Jenkins?   |   Is The Daily Cash App a Scam?   |   A Better Alternative
What Is The Daily Cash App?
The Daily Cash App is a relatively new app that is supposedly enabling average people to earn $2685 per day all on complete auto-pilot – and Steven Jenkins the person that's allegedly created it wants you to believe that you too can sign up & start making money from it as well…
Plus as if that wasn't already sounding good enough he even claims that he wants to give you access to it for free, because apparently he just loves helping people to make tons of cash… But I know what you're thinking, what's the catch?
Well right from the off I can tell you (as you probably suspected) that the whole thing is absolutely NOT what it seems. In fact despite being called the Daily Cash App the truth is that there isn't really any app at all…
You see the whole Daily Cash App website is just what's known as a "doorway page" and as the name suggests it basically leads you through to an entirely different website which is named Click2Sell.
In short, the creator of the Daily Cash App website is affiliated with the Click2Sell website which means he/she earns money for every new member that signs up to Click2Sell as a result of visiting the Daily Cash App site.
Hopefully, that makes sense?
Well, as a result, the Daily Cash App has just been built in a way to completely mislead you so that you'll arrive at Click2Sell assuming that you'll be getting provided with a sure-fire way to make money so that you'll almost certainly sign up…
The problem though is that you will NOT be getting provided with a sure-fire way to make money, instead, as the disclaimer on the Daily Cash App website states you'll actually just be getting access to a binary options auto trading system that could (and likely will) ultimately see you losing money instead of making it.
So let me backtrack a bit & show you what's really going on here to give you a better understanding of how it all works (or should I say doesn't work)…
How Does The Daily Cash App Work?
Essentially the Daily Cash App website has just been built to get you hyped up about the potential opportunity of making lots of money online really quickly & easily all through some sort of "done-for-you" app (which sounds exactly like a get-rich-quick scam).
But the reason it's been built in this way is just to raise your curiosity because the creator of it's true intentions are merely to get you to sign up to something entirely different so that he (or she) can earn some money at your expense.
So all throughout the website of the Daily Cash App, you're told that you'll be able to make money really easily, that you'll be able to get started for free, and that you don't need any kind of knowledge to profit from it…
However, if you happen to scroll all the way to the bottom of the page (which they're hoping you won't do) you'll be hit with a whole bunch of disclaimers which basically state the exact opposite as shown below:
We are required to tell potential investors that our software's past performance does not necessarily predict future results, therefore you should not speculate with capital that you cannot afford to lose.

Trading Forex, CFDs and Cryptocurrencies is highly speculative, carries a level of risk and may not be suitable for all investors. You may lose some or all of your invested capital, therefore you should not speculate with capital that you cannot afford to lose.
Those are just a handful of sentences from the almost full-page-long disclaimer found at the bottom of the Daily Cash App website which continues to basically reiterate how unlikely you will be to actually make money from it.
But I know the question you're asking…
What Exactly Is It You're Signing Up To?
So the Daily Cash App is a doorway page to something else, I think I've probably made that clear already… But what exactly is it that you're actually getting redirected to? And can you make any money with it?
Well as I mentioned towards the beginning of this review the Daily Cash App website was redirecting its visitors through to a website named Click2Sell, but it seems they keep switching things up as the website is now redirecting visitors through to a binary options trading broker named IQ Option.
Either way, they're both not good news as they'll both likely result in you losing money – especially due to the way that you're being led into them via the lies sold to you on the Daily Cash App site.
As I've already outlined on this blog several times before there is simply NO way you will find yourself making money with binary options. In fact, the whole concept is literally so bad that even Forbes themselves published an article warning against it as shown below: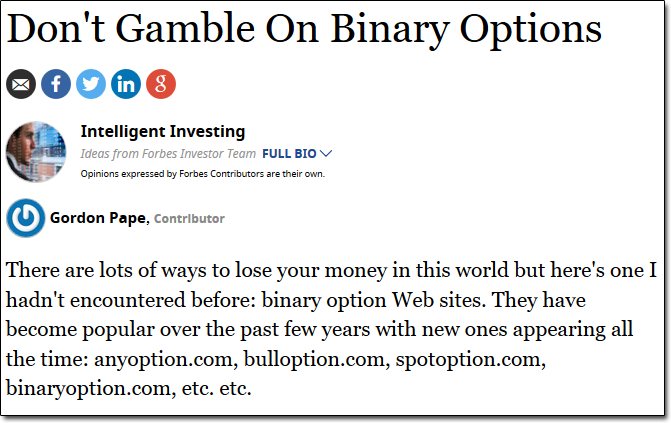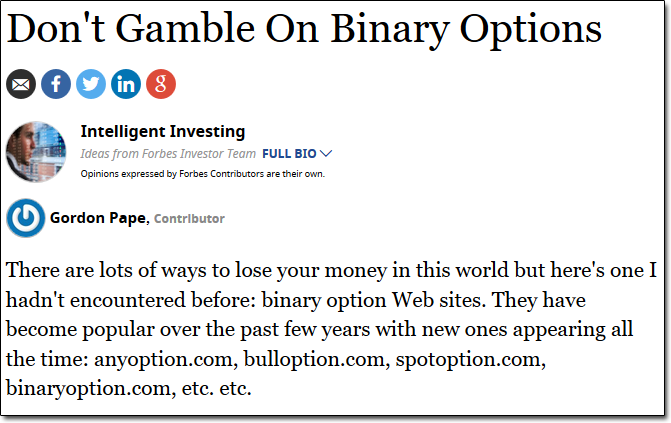 But This Is Not The First Appearance of The Daily Cash App…
Sure, the Daily Cash App website has just launched & the so-called creator Steven Jenkins claims that the whole thing is brand new, but after doing some digging I can tell you that it's not… In fact, I have seen this exact same scam way back in 2014 under a similar but different name.
Back in 2014 I actually exposed it right here on this blog when it was called the Fast Profits system, and the way I was able to find out that the 2 systems were linked was by discovering that the same person who had uploaded the Daily Cash App promo video had actually uploaded the Fast Profits one too.
And guess what? Surprise surprise his name wasn't Steven Jenkins – it was actually Lee Walker, so it looks like we're being lied to about the creator as well (but I'll share more on that in a moment).
For now, here's proof of the 2 systems being linked: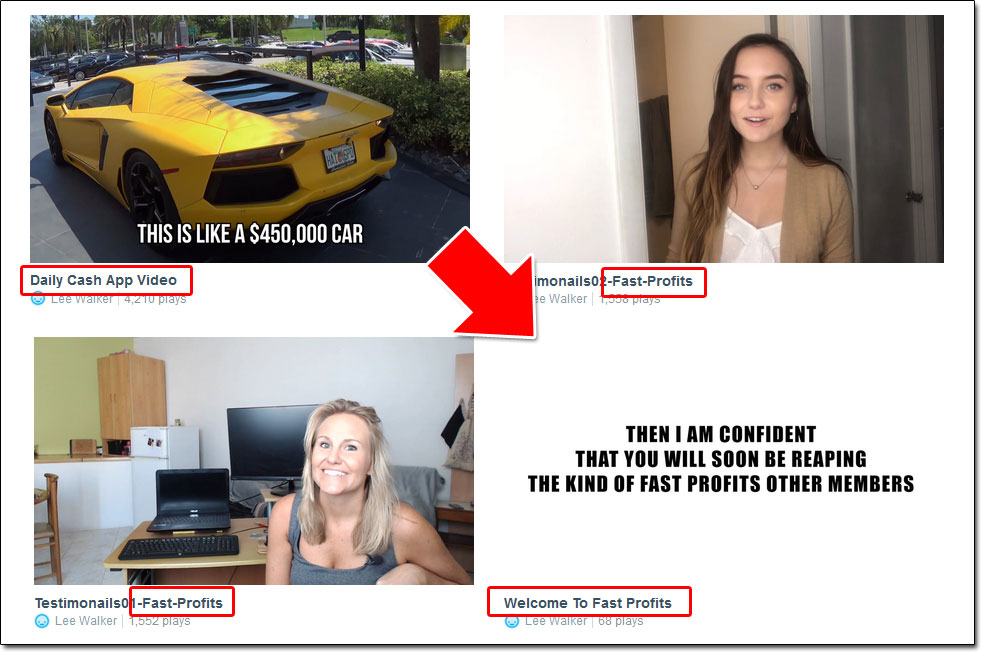 Notice how it's also the exact same people that provided the "testimonials" for both the Fast Profits and Daily Cash App systems? They're just paid actors from Fiverr that have been hired to read from a script that's why.
But anyway…
You Might Also Like:
Back on to Steven Jenkins
All throughout the content on the Daily Cash App website you're told time & time again that Steven Jenkins is the guru behind the whole money-making app & the website even offers a picture of Steven as shown below: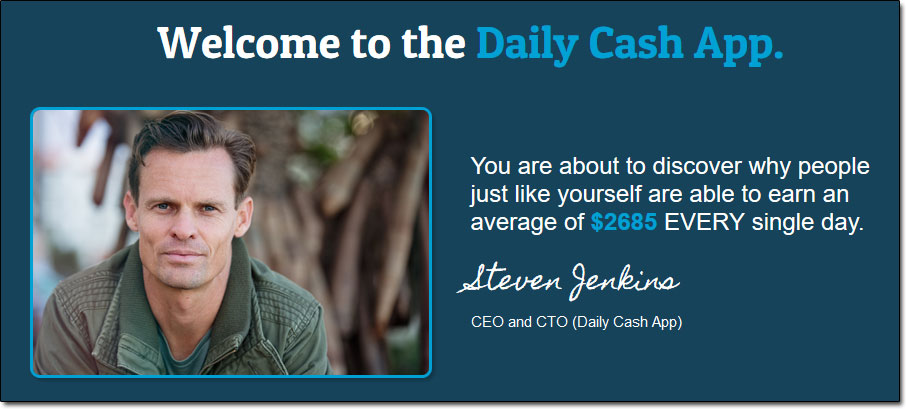 However, a quick reverse image search on Google revealed that the man pictured is not named Steven Jenkins at all, the image is actually that of a photographer named Nathan Cowley as shown below:

So not only is the creator of the Daily Cash App scam guilty of creating a website with the intention of luring people into a get-rich-quick scam, he (or she) is also clearly guilty of identity theft too… Or should I say "identity creation" as essentially they've just made up a fake alias to hide behind so that they can keep their true identity hidden from the public eye.
And things bring me right onto…
Is The Daily Cash App a Scam?
There's absolutely no doubt about it, yes the Daily Cash App system is 100% a scam & there is absolutely no way that you will earn money with it – not even so much as a single dollar, let alone the promised $2685 per day.
The entire thing has just been built upon pure lies in an attempt to trick you into signing up to a get-rich-quick scheme so that the "app's" creator can earn himself or herself some money at your expense.
Steven Jenkins the creator as highlighted in the previous section of this review is totally fake – and all of the other claims made by the website are totally fake too. The app has never featured in any news publications like the site claims & the "testimonials" are just paid actors from Fiverr.
So it comes without saying that there is simply no way I will be recommending the Daily Cash App to you because it's totally bogus. Instead, I'll be advising you to steer clear from it otherwise you'll likely find yourself losing money.
Don't worry though because if you were hoping it was going to help you make money then all is not lost – even though this particular app is bogus there are still several legitimate ways that you can make good money online.
And if you're still interested in that then I highly recommend you check out my top-rated program for building an income online here before you go…
But regardless as to what you decide to do I just hope that my review here has given you a good insight into this system & hopefully it has helped you save some of your hard-earned cash as it always sucks to lose money! If you do still have any questions though or any additional comments you'd like to add then of course don't hesitate to leave them below.
A Better Alternative
The sad truth is that unfortunately most of the programs promising to help you make money online are scams. I can say that confidently after exposing over 500+ of them here on this blog.
But the good news is that even though most of them are indeed scams, there are actually some very good programs in amongst them - some programs that can truly help you to earn money.
And out of all of the legit programs I've seen, the one I would recommend the most to anybody looking to get started online is Commission Academy. In my own opinion, that's the best place to start.
At Commission Academy, you'll be provided with everything you need (including the training & tools) to begin earning real money by promoting products or services for companies like Amazon online.
The best part is that there's literally no limit on the amount you can earn with it & the process is pretty simple which means that it's absolutely perfect for people that don't have much experience.
Some wealthy affiliates even earn as much as 5-figures per month... Or more!

I mean don't get me wrong, that kind of money won't just fall into your lap without doing any work... But the harder you're willing to work at it, the more you stand to earn with it.
So if you're looking to get started but don't know which route you should go down or which program you should join (and don't want to waste money on bogus things that don't actually work), then I'd highly recommend checking out Commission Academy first. You can learn more about it here.