Fisher Investments, which was founded by Ken Fisher (hence often being referred to as Ken Fisher Investments) is a huge money management firm based out of the United States that helps people in various countries (including the UK) to make good money from their investments.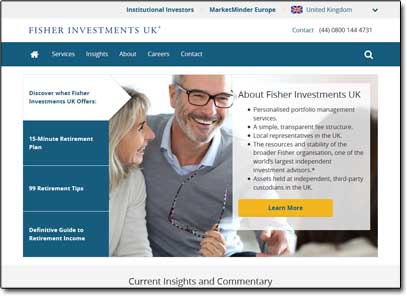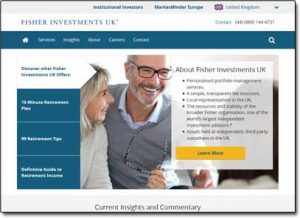 The company is over 20 years old & it helps both institutions & individuals to achieve their financial goals…
But is it a good or bad way to invest your money? And what does Fisher Investments performance actually look like?
Thankfully if you've been looking into the Ken Fisher Investments company you can rest assured that you've landed in exactly the right place to find out everything you need to know about them, including whether or not the whole thing is actually even legit.
What Is Ken Fisher Investments?   |   How Does Fisher Investments Work?   |   Fisher Investments Performance   |   Is Fisher Investments Legit?
What Is Ken Fisher Investments?
So as I briefly touched on above Fisher Investments is a wealth & asset management firm catering for both institutions & individuals across various countries all over the world, including the UK & USA.
Primarily their service is geared towards those with a high net worth, though their interesting tiered fee structure realistically makes it accessible for pretty much almost anyone looking to grow their wealth through investing.
In terms of being legit, Fisher Investments is definitely that as at present they currently have around 50,000 customers worldwide & manage over £75 billion in total assets. Ken Fisher founded the company out of the USA over 20 years ago but they have also been offering their services to UK investors right-back since the millennium.
And like I just mentioned, one of the most interesting things about Fisher Investments is their pricing policy. Many brokers & banks typically have multiple layers of fees, whereas Fisher Investments boasts a more transparent model, with a tiered annual fee based on the size of your investment portfolio.
They also provide all of their customers with a dedicated Investment Counsellor who provides the customer with a unique service – alongside sending out regular reports which contain important market updates to keep you in the loop.
How Does Fisher Investments Work?
The process is actually pretty simple – it simply involves firstly contacting Fisher Investments to discuss what sort of goals you want to achieve from your investments and letting them advise you of a plan of how to proceed.
Then from there if you decide that investing with Ken Fisher Investments is something you'd like to do you can set up an appointment with a local representative to discuss it further, and discuss the potential gains.
Should you decide to go ahead with it & invest then the experts at Fisher Investments will manage your money as best they can to achieve the goals that you set out with the representative.
The good news is that even though the Fisher Investments team is primarily based out of the USA, if you are a UK citizen & you decide to invest then whilst your money will be managed from the USA, it will actually be within the UK by independent third-party custodians.
This means that your investments will fall under UK regulatory law giving you further peace of mind.
From there you will receive regular contact from the team at Ken Fisher Investments. Unlike many banks or brokers, they are not just a "forget about you" type of investment company – instead, they take a rather personal approach.
You will receive your very own dedicated Investment Counsellor who will keep you up to date with regular communication & will provide a proactive service based on your goals & needs. On top of that, you'll also be sent regular reports from Fisher Investments outlining any important market updates & basically just generally keeping you in the loop of what's going on.
If you prefer then you could simply ignore all of that & let them do their thing… But if you do like to be kept in the loop then the option is most certainly there, whereas with many other companies it isn't at all (aside from generic newsletters).
It's also worth pointing out that Fisher Investments seem to be specialists when it comes to managing portfolios with the aim of generating retirement income, hence their 15-minute retirement plan & 99 retirement tips offered via their website.
You Might Also Like:
Fisher Investments Performance – Good or Bad?
Obviously the most important thing to consider when it comes to a wealth & asset management company is the performance. If the company has poor performance then it would simply make no sense to invest with them… So what does Fisher Investment's performance look like?
Well, as you can imagine – having around 50,000+ customers & managing £75 billion in total… Fisher Investment's performance is pretty darn good!
The team managing the investments, known as the Investment Policy Committee, have over 130+ years combined investment experience & so you can rest assured that your money is being managed by a team of genuine experts.
Some more facts about Fisher Investments that should reassure you:
Ken Fisher (the founder) had the longest continually running column in Forbes magazine – which was his "Portfolio Strategy" column that ran from 1984 to 2017.
From 2014 to 2017 Fisher Investments was listed on the Financial Times' FT300 list for the 4th consecutive year.
Pensions and Investments/Towers Watson ranked Fisher Investments #164 out of the worlds 500 largest money managers in October of 2016.
With regards to expectations though – obviously Fisher Investments shouldn't be seen as anything magical. It is not going to make you rich, and should not be seen as some sort of get-rich-quick opportunity.
Fisher Investments is all about focusing on the long-term to build a steady investment growth whilst minimizing risk. As a result in this article on Money Observer, Ken Fisher the found stated that you should expect average returns.
Is Fisher Investments Legit?
Ken Fisher Investments as far as I'm concerned is absolutely 100% legit, and if you're looking to steadily grow your money in the long term then there expert team of fund managers should be able to help.
Obviously as with any investment though there is no guarantee of profit & of course your money could actually go down rather than up. On top of that, the whole thing should not be looked at as some way to get-rich-quick as the focus is on building wealth in the long-term, not the short term.
And anything that promises you can build a lot of wealth in the short term is, as you probably know, likely just a get-rich-quick scam.
But yeah, if you have a high net worth & you are looking to grow a portfolio then Fisher Investments could certainly be the right company to help you do exactly that & their fees are definitely very competitive.
So overall Fisher Investments will be getting a thumbs up from me as I do believe they are a solid company with a good reputation. Hopefully, you too can see that now after reading my review – and hopefully, my review has given you a good insight into the company as a whole.
If you do still happen to have any further questions or comments though then don't hesitate to leave them below – and of course if you do happen to be interested in any other ways to grow your wealth then be sure to check out this page here before you go.