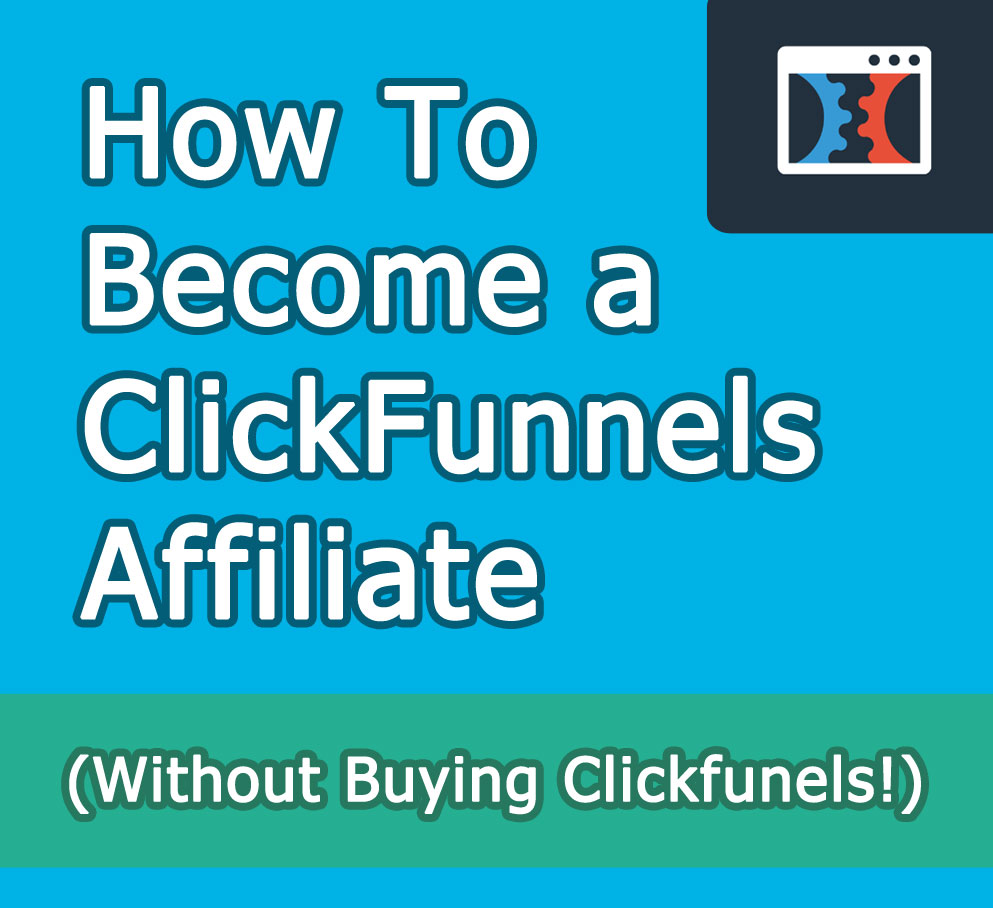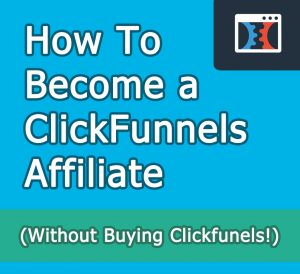 Have you found yourself trying to figure out how to become a ClickFunnels affiliate without actually buying it?
Maybe you've already got a website or traffic source already & would like to promote ClickFunnels to others, but you personally don't actually need (or want) to pay for the product itself.
Well, I've got good news for you – it's 100% possible.
And in this post, not only am I going to show you how to become a ClickFunnels affiliate without actually buying ClickFunnels, but I'm also going to share some important points about their program that you'll definitely need to know.
Sound good? Awesome, let's dive right in…
How To Become a ClickFunnels Affiliate   |   What Are The Commission Rates?   |   How Does ClickFunnels Pay Affiliates?   |   The 1 Thing I Hate About ClickFunnels Affiliate Program   |   The Bottom Line
How To Become a ClickFunnels Affiliate
The main part of ClickFunnels marketing pushes you towards purchasing the ClickFunnels software (obviously) and so does a lot of the affiliate program material as well.
After all, affiliates make up a huge part of ClickFunnels customer base so where better to try & sell ClickFunnels than on the actual ClickFunnels affiliate program page?
But the good news is that you don't actually have to purchase ClickFunnels in order to just promote it.
Phew.
Because let's face it – although ClickFunnels is a pretty cool tool, it's also pretty darn costly… And if you've already got a WordPress website, chances are that you just don't need it.
So paying for ClickFunnels just to promote it, in most cases, simply wouldn't make sense.
The good news is that you can create a free ClickFunnels affiliate account right here.
You just need to fill in the short application form & once completed, you should be approved for a ClickFunnels affiliate account without making any payment… And I believe in most cases, the approval is instant (and automatic).
Then, to get into your ClickFunnels account you just need to make sure you go to the same page & hit the button under the heading "Non-ClickFunnels Users" at the very top, as shown below:

This is the ONLY way that you will be able to login to your free ClickFunnels affiliate account so I would highly recommend that you bookmark the page so that you can come back to it when you want to check your stats.
All of the other pages on the ClickFunnels site will want your ClickFunnels product credentials (which if you haven't bought it, you won't have) meaning you won't be able to get in.
Your free affiliate account is totally separate.
But yeah, the actual process of creating your ClickFunnels affiliate account (without buying the ClickFunnels software) is as simple as that & you should be able to begin promoting right away.
Well, begin promoting "some of it" at least (I'll explain more about the restrictions in the section below).
What Are The Commission Rates?
ClickFunnels has a bit of a "funky" affiliate program. They have different commission levels & different requirements for you to be able to promote their different products.
In my opinion, it's kind of weird & pretty confusing.
And here's the real kicker – as a new ClickFunnels affiliate, you will not be able to promote the ClickFunnels software. Well, not until you generate at least $1,000 per month in sales, anyway.
Instead, when you try, you'll just get the message "ClickFunnels Affiliate Center  – Unable To Promote Currently".

Super weird, right?
So… What can you promote as a new affiliate?
Well, as a new affiliate you'll be required to promote what they refer to as their "front end offers" & those include things such as:
The DotCom Secrets book
The Expert Secrets book
The Traffic Secrets book
You get 40% on the sale of those, and on some of them (such as the One Funnel Away challenge) you also get a $100 CPA commission as well.
But what about the ClickFunnels product itself? The SAAS?
Well, as a new affiliate the only way to earn commissions on that is by promoting it via the front end offers listed above. So, if your referral buys a front end offer THEN buys ClickFunnels, you'll get a 20% commission on their subscription.
And in my opinion, that's kind of a shame, because there's a lot of instances where I want to recommend the service, but I don't necessarily want to push people into buying a book or something first.
But hey-ho, it is what it is.
And then there are the levels…
You see, once you manage to earn $1,000 in a single month as a ClickFunnels affiliate, you can apply to have your commission rate (on the subscriptions) bumped from 20% to 30%.
And then once you have at least 40 people paying for a subscription for at least 30 days each, you can apply to have that commissions rate bumped from 30% to 40%.
How Does ClickFunnels Pay Affiliates?
ClickFunnels integrates with a platform named Tipalti, meaning that in order to get paid as a ClickFunnels you'll need to also set up a Tipalti account along with your initial ClickFunnels affiliate account.
Tipalti is free to set up, but the process can take some time as there are various tax forms that you will complete & submit.
The good news, however, is that through Tipalti you'll be presented with a number of different payout options that you can choose from as shown in the screenshot below:

This means that you should be able to find a way to easily get paid in just about any country.
There is a downside, though, and that's that you'll need to earn at least $100 before you can withdraw your earnings.
And let's face it, $100 is a pretty large sum of money. The harsh reality is that most affiliates will not pass that amount meaning they'll never get paid & instead, ClickFunnels will just keep the cash.
Not cool. 😥
But that's not actually the worst thing about the ClickFunnels program…
There's something WAY worse (in my opinion).
You Might Also Like:
The 1 Thing I Hate About ClickFunnels Affiliate Program
ClickFunnels provides the WORST affiliate reporting I have ever seen in over 9+ years of doing affiliate marketing.
Heck, they don't even show you how many clicks you're getting on your links…
And to get any commission reports you've got to create & download them in CSV format.
It's honestly absolutely crazy. ClickFunnels is one of the biggest SAAS companies in the entire world (or at least the fastest growing), it boasts so many awesome features…
And yet it fails to offer basic reporting inside of its affiliate portal.
I mean, it's so bad that I feel that it *has* to be done on purpose. Maybe ClickFunnels just doesn't convert as well as they claim it does & so they don't want to make the stats easily accessible?
I don't know, but it sucks either way.
And it's SO bad that I've actually made sales but literally haven't even been able to determine where they came from. I just log in & find the odd mysterious commission.
I mean don't get me wrong, I'll take mysterious commissions all day long… but you know it's bad when you can't even determine what you're actually earning those commissions for promoting.
In fact, I don't even think "bad" is the right word. It's just weird.
Like, just spend a day setting up a decent portal… It should be easy (especially for a company that claims to be built on such advanced tech).
🤷‍♂️
The Bottom Line
ClickFunnels makes it kinda difficult to join their affiliate program for free.
ClickFunnels has the worst affiliate reporting portal I've EVER seen in 9+ years of doing affiliate marketing.
And ClickFunnels has a really confusing multi-level affiliate structure.
But they put SO much money into their marketing campaigns that you've kinda just *got* to become an affiliate & promote it because if you're not… Well frankly, you're just missing out.
So if you haven't done so yet, here's the link again to create your free affiliate account.
That'll give you to access to their affiliate program without needing a ClickFunnels membership & you'll be able to begin promoting their front end offers (such as the Traffic Secrets book).
You'll get 40% on the front-ends, an additional $100 CPA (on a select few of them) & 20% commissions on any ClickFunnels subscriptions that are purchased via the front end offers.
So hopefully all-in-all this post has been helpful to you & of course if you still happen to have any questions don't hesitate to leave them below. I always try to respond as quickly as I can.