Secrets of the Wealthy is the name of a new online money-making system that promises it can provide you with access to a means of earning thousands of dollars per day online all on complete autopilot.
The creators of the system who go by the names of Matt & Orlando lead you towards believing that you can just simply sign up, activate the system & begin earning money even if you're totally brand new to earning online.
But is it actually legit? Or is the Secrets of the Wealthy system a scam that you should just avoid?
Well I'm really glad that you decided to ask the question & came here to this honest Secrets of the Wealthy review before you signed up because I can tell you right from the off that the whole thing is nowhere near as good as it's made out to be.
In fact rather than earning money with it you'll be much more likely to just end up losing money with it instead…
I'll explain why in a moment but first before I do I'll point out that if you'd prefer to just head straight to something legitimate instead then you can check out my number 1 recommendation via the link below:
Go here to see my no.1 recommendation for making money online
(This 100% free training shares my exact strategy for making 5-figures per month)
Click Here To See My #1 Recommendation For Making Money
Or simply just keep on reading for my full review of Secrets of the Wealthy…
What Exactly Is Secrets of the Wealthy?
So as I briefly touched on above, basically Secrets of the Wealthy is a newly launched money-making program which can allegedly see you earning thousands of dollars per day without even having to lift so much as a single finger.
The creators of the system who go by the names of Matt & Orlando claim that they've done everything for you so that you can just essentially "sign up and profit".
But if you can, then why isn't everybody using the Secrets of the Wealthy system?
Why are people still working at jobs that they dislike if they could just sign up to the Secrets of the Wealthy & earn more money from the comfort of their own home without actually having to do anything?
And why do the creators want you to hand over $3,000+ before you can get started?
It all sounds a little bit fishy, and a little bit too good to be true… Doesn't it?
And the reason it all sounds too good to be true is because it IS too good to be true. I can say that so confidently because the Secrets of the Wealthy system is basically just a re-hashed version of a former system I exposed on this blog named the Big Profit System.
Yes, it may be possible to make "some" money with it but in short it's very unlikely that you will & instead you'll be much more likely to find yourself losing money with it as it's primarily geared towards making its creators wealthy, not its members.
And the creators will simply be making themselves wealthy at your expense… Hence why they request that you hand over such a large sum of money in order to get started. That'll be going straight into their pockets.
You'll see what I mean as I explain exactly how it all really works below…
How Does Secrets of the Wealthy Work?
Well here's the funny part – the Secrets of the Wealthy system's main selling point is that it's apparently automated, requires no work & has nothing to do with selling, affiliate marketing or MLM…
But none of that's true.
You see the Secrets of the Wealthy is basically just an expensive recruitment scheme that costs between $3,000 & $21,000 to get started with… And despite trying to come across as being legit, it's actually illegal.
The reason I say that is because whilst there's a mention of products being involved, there's absolutely no emphasis on them whatsoever… Instead the sole emphasis is put on the money-making opportunity.
And in short, here's the concept of how it works:
You sign up to Secrets of the Wealthy (for between $3,000 to $21,000)
You then pay for advertising (costing $1,000+'s)
You try to encourage those you advertise to to sign up & spend money just like you did
You earn commissions at their expense if they do
But there are also some catches…
The first catch is that you're only able to earn commissions on & up to the levels inside of the Secrets of the Wealthy system that you've personally purchased.
So as an example there are 4 levels inside of Secrets of the Wealthy which are as follows:
Gold level – $3,000 + $247 admin fee
Platinum level – $7,000 + $447 admin fee
Diamond level – $14,000 + $647 admin fee
Royal level – $21,000 + $847 admin fee
Therefore if you only buy in the Gold level, you'll only be able to earn commissions by reselling the Gold level. If you get somebody to sign up to the Royal level & you don't own it, you'll miss out on the additional commissions.
And the commissions you can earn are 50%, unless you buy in at the Royal level which will then raise your commission percentage to 75%.
The second catch is that they claim to have built an automated sales system with "success coaches" to help you get it all set up but the coaches aren't coaches at all… They're just sales people who are being paid to get you to upgrade.
So when you call the "success coach hotline" (which I don't recommend doing), you'll basically just be pressured into buying in at the highest level you can possibly afford, with no guarantee of earning anything back.
And the chances are you WON'T earn anything back because as outlined in an FTC report (shown below) less than 1% of the people that participate in these types of schemes actually go on to make a profit: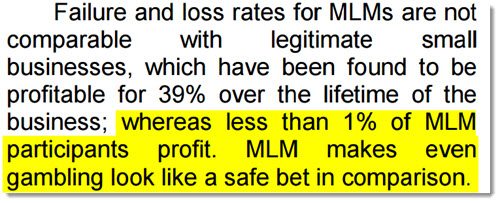 There's also the problem with these types of schemes getting closed down without warning too when the authorities decide to take action on them, which is exactly what happened with former ones like MOBE & Digital Altitude.
They worked in an almost identical way to the Secrets of the Wealthy system & they disappeared overnight after the FTC took action on them which left thousands (maybe even hundreds of thousands) of people parted from their investments.
But What About The Testimonials?
You've probably noticed that the Secrets of the Wealthy website bombards you with testimonials from so-called members that are allegedly making thousands of dollars with the system & they each claim that it has been "life-changing" (as shown below):
So after reading what I've said above, you're probably wondering what's the deal with those…
Well the truth is that yes, it is indeed possible to earn money with the Secrets of the Wealthy system if you're already an experienced online marketer – as the way you earn money with it is simply by recruiting others.
So the people that are boasting about their results are basically the "big guys" at the top of the scheme that are heavily promoting it online & recruiting people in… But unfortunately their results are extraordinary & won't be the case for the average Joe.
Of course though the Secrets of the Wealthy website doesn't make that clear, instead it leads you towards believing that all of those people are indeed average Joe's or newcomers that have just joined with no experience… Which they're not.
And I can say that so confidently because it was the exact same group of people that seemed to be associated with something called the Big Profit System, which was an extremely similar system that I previously reviewed here on this blog.
As you can probably guess, I didn't recommend the Big Profit System either… Which brings me onto…
My Verdict – Is Secrets of the Wealthy a Scam?
In my opinion yes, the Secrets of the Wealthy system is a scam and I say that because whilst it's technically "possible" to make money from it it's unlikely that you will & really it's just been setup so that it's creators can earn at your expense.
The whole thing is extremely misleading & there's just simply no way the average Joe will find themselves earning thousands of dollars with the Secrets of the Wealthy system & they certainly won't be doing it on "autopilot" like the sales page leads you towards believing.
It's just another hyped-up program that promises the world, encourages you to hand over your cash to "try it out" and then leaves you to find out the hard way after handing over your cash that it doesn't really work as promised.
As far as I'm concerned the Secrets of the Wealthy system should be 100% avoided & instead if you truly want to earn good money online I would advise that you stick with a proven, legitimate program like Wealthy Affiliate.
It's at Wealthy Affiliate that you'll get the training & tools you need to learn about the same method that I personally use to make most of my own money online which is a method known as affiliate marketing.
In my opinion affiliate marketing is one of the best ways to earn good money online & it simply involves you promoting products or services in return for commissions… Plus the best part is that the amount you can earn is completely uncapped.
The harder you work, the more you can earn… So if that sounds like something you're interested in then I'd highly recommend you check out Wealthy Affiliate.
Or alternatively you can also check out this list of other great ways to earn online too.
But whatever you decide to do I just hope that my honest review of Secrets of the Wealthy here has given you a good insight into what you can really expect from the program & I also hope it's helped you to save your cash.
If of course you still happen to have any further questions or comments though then don't hesitate to leave them below. 🙂