The Commission Machine is a money-making program that's been put together by a guy named Michael Cheney & it claims that it can enable you to generate as much as $2642.60 per day online by leveraging a so-called "super affiliate secret weapon".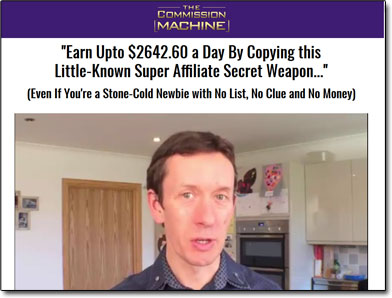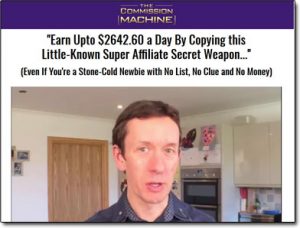 You're led to believe that it's totally newbie friendly & that you can allegedly find success even if you have no money to start with…
But is it actually legit or is The Commission Machine a scam that'll just see you spending money rather than earning it?
Thankfully you've landed in the right place to find out because I've taken a closer look at this system & in this review, I'll be uncovering everything you need to know, including how it all works & whether or not you can really make money with it.
What Is The Commission Machine?   |   How Does The Commission Machine Work?   |   Is The Commission Machine a Scam?   |   A Better Alternative
What Is The Commission Machine?
As I briefly touched on above The Commission Machine is an affiliate marketing training program that's been put together by Michael Cheney & it claims to provide you with access to a so-called "super affiliate secret weapon" that will allegedly see you going from zero to as much as $2642.60 per day online… All with very little effort.
You're led to believe that Michael's method will work for you even if you're brand new, even if you have no email list, and even if you have no money to spare… But considering the program costs $47 just to initially access, clearly, the whole "no money required" statement isn't quite so true.
And I'll point out right from the start that overall the program will certainly see you spending a lot more than $47… In fact, if you follow it right through you'll likely end up spending several hundred dollars & signing up to multiple monthly subscriptions…
That's before you even manage to get the ball rolling & start making any money.
But Michael also claims that his method provides the quickest & easiest way to make serious money online. He says that after finishing his program, with just a few minutes per day you'll be able to "start making several hundred if not several thousand dollars per day" as shown below: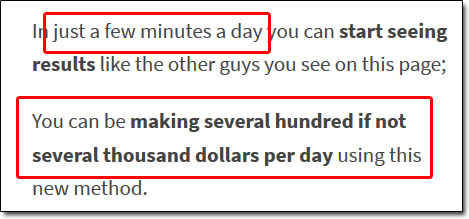 At one point on the sales page, Michael even claims his method is literally "magical"…
So investing several hundred dollars into his program might be OK right?… Well in my opinion not really – in fact, to be honest as far as I'm concerned this program will not actually help you get started online at all.
You'll soon see what I mean when I show you how it all works…
How Does The Commission Machine Work?
Basically The Commission Machine is just an email list building course through which Michael shows you how to get subscribers & how to promote affiliate products (mainly JVZoo products) to them via email…
The problem though is that he doesn't really go into much detail. In my opinion, the whole thing is pretty vague & by the end of the course, you'll likely just be left scratching your head wondering where to start.
The fact that you could quite easily get through his entire course in just 2 hours pretty much says it all… And the other downside is that after getting through the course you'll find that if you want to pursue his method you'll then need to buy several other 3rd party tools in order to get started…
These tools include things like capture page creators, email autoresponders & tracking tools. So you'll be looking at spending at least another $30 to $50 per month on top of the initial $47 fee if you actually want to stand a chance at making money with his method.
Anyway, let me show you what his course actually consists of…
After signing up The Commission Machine for $47 you'll get access to what Michael calls his "Core Training". This consists of just 7 training videos & I'll outline what each one covers below:
Video 1 – Getting Started (just an introduced video – nothing special)
Video 2 – Research
Video 3 – Angle
Video 4 – Offering Incentives / Lead Magnets
Video 5 – How To Write Good Emails
Video 6 – Putting The Method Into Action
Video 7 – Making Money With An Email List
Like I said above the majority of the videos are pretty vague & other than the "how to write your emails" training every other video is under 30 minutes long which probably gives you an indication of what to expect.
Again even if you follow the training videos right through you're not going to be able to make money with The Commission Machine program alone – so if you bought it with the expectation of actually just being able to sign up for $47 & make the promised $2642.60 per day (or even just a few hundred dollars per day) you'll likely find yourself very disappointed.
On top of that $47 though as I mentioned at the start of this review there are a couple of additional upsells.
The first upsell is what Michael calls "The Golden Ticket". This basically gives you access to a "done-for-you" sales funnel that's updated to you once a month & it will cost you either $27 per month or $197 one-time (whichever you choose).
The second upsell is what he calls "Commissionology". This one costs $97 and it basically gives you access to 7 more "done-for-you" sales funnels, along with some pre-written emails & email templates.
Is The Commission Machine a Scam?
Well, it's certainly not a scam as such since if you buy into it you do get provided with some affiliate marketing training as promised, however, the sales page selling you into it, in my opinion, is extremely misleading.
You're led to believe that the system will provide you with an easy way to make up to $2642.60 per day but that's simply not true. Yes, in theory, you can make that amount of money with Michael's method but ultimately as far as I'm concerned he doesn't go into great enough actionable detail to show you how to get properly started with it.
If it's the first time you've come across anything like this or if you're just a beginner at affiliate marketing then you'll likely just end up confused about where to start after going through his training. On the other hand, if you have the experience to deploy what he talks about then you probably won't find his information all that useful since it's essentially pretty vague & basic stuff that you'll likely know anyway.
Therefore overall I won't be recommending The Commission Machine to you because as far as I'm concerned there are better step-by-step training programs out there such as Commission Academy for example which is actually free to get started with. In my opinion, if you buy into The Commission Machine, even just for the initial fee of $47 you'll likely just be disappointed at what you receive.
Anyway, I hope my review here provided you with the insight that you were looking for into the program & if you do happen to have any further questions or comments then don't hesitate to leave them below.
A Better Alternative
The sad truth is that unfortunately most of the programs promising to help you make money online are scams. I can say that confidently after exposing over 500+ of them here on this blog.
But the good news is that even though most of them are indeed scams, there are actually some very good programs in amongst them - some programs that can truly help you to earn money.
And out of all of the legit programs I've seen, the one I would recommend the most to anybody looking to get started online is Commission Academy. In my own opinion, that's the best place to start.
At Commission Academy, you'll be provided with everything you need (including the training & tools) to begin earning real money by promoting products or services for companies like Amazon online.
The best part is that there's literally no limit on the amount you can earn with it & the process is pretty simple which means that it's absolutely perfect for people that don't have much experience.
Some wealthy affiliates even earn as much as 5-figures per month... Or more!

I mean don't get me wrong, that kind of money won't just fall into your lap without doing any work... But the harder you're willing to work at it, the more you stand to earn with it.
So if you're looking to get started but don't know which route you should go down or which program you should join (and don't want to waste money on bogus things that don't actually work), then I'd highly recommend checking out Commission Academy first. You can learn more about it here.