Affiliate Victory is a newly launched affiliate marketing training program that claims to provide you with access to a method that will allegedly see you turning a mere $10 into a passive income of $50 to $100 per day.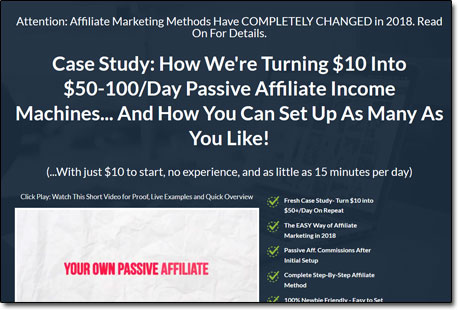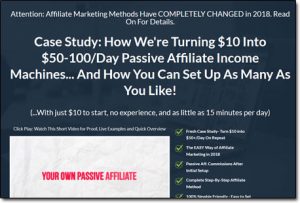 And on top of that, the program claims you can do it all with total ease even if you've never made money online before…
But is it actually legit, or is Affiliate Victory a scam that'll just see you spending money rather than making it?
Thankfully you've landed in exactly the right place to find out because I've taken a closer look into it & in this review, I'll be uncovering everything there is you need to know including how it all works & whether or not you can really make money with it.
What Is Affiliate Victory?   |   How Does Affiliate Victory Work?   |   Things I Like About It   |   Is Affiliate Victory a Scam?   |   A Better Alternative
What Is Affiliate Victory?
Affiliate Victory is a training program that makes some very bold claims. It leads you into believing that affiliate marketing has completely changed in 2018 & that their "new method" will see you generating a passive income of $50-$100 per day from just a mere $10 investment…
You're told that their method is the easiest way of affiliate marketing in 2018 & that you'll be able to profit from it even if you have no experience providing you have just 15 minutes to spare per day & $10 to start…
Which to be honest in my opinion just makes it sound like a typical get-rich-quick scam so it's likely that you'll be sceptical about the whole thing and that's probably why you've landed here at this review.
Can the Affiliate Victory program really enable you to see a 500% to 1000% return on your investment as they claim? It's a pretty bold claim & I'm doubtful, but let's dive right in & take a look to find out…
How Does Affiliate Victory Work?
Essentially the method taught through the Affiliate Victory program is nothing new at all – it's a method that many people have been using for years, some with success and others with not so much success…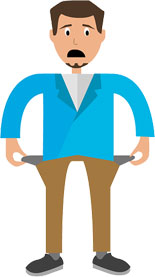 The one thing I'll point out is that it's a method that involves a lot of risks – especially as a newcomer to affiliate marketing & it could potentially see you burning through your bank balance before you even manage to make your first commission.
The reason for that is because Affiliate Victory focuses primarily on Facebook advertising. It basically shows you how to choose a product from ClickBank, how to create a squeeze page to promote it & how to drive traffic from Facebook using their paid ads.
They make out like you will just be able to set everything up, send $10 of traffic & see $50-$100 in commissions but in all honesty, this is unlikely to be the case. Even the best marketer in the world would struggle to see an ROI like that.
The truth is that paid advertising requires a lot of trial & error. Yes, it can be profitable eventually, but initially, you will have to keep on tweaking it to get it right & what works today might not work tomorrow… All the while it will be costing you money.
So whilst the Affiliate Victory program does actually provide some good training if you think you'll be able to make money as easily as they claim you will then think again because it ain't gonna happen.
And as you can probably imagine the idea of a mere $10 being enough to get started is also another fantasy. To start out properly with paid ads & to expect a fair chance of turning a profit you should really have a budget of several thousand behind you.
But don't get me wrong I'm not totally bashing on the Affiliate Victory program because as I say they do actually provide some good training – I just want to point out that the income claims they make are pretty unrealistic.
You Might Also Like:
Things I Like About Affiliate Victory
The method of generating traffic taught by Affiliate Victory is the programs biggest fall down in my opinion (and sadly that's the most vital part) but aside from that, there are a few things I quite liked about the program.
I mean for a cost of $10.22 the program does a pretty good job at teaching you how to choose profitable affiliate programs, how to set up landing pages & how to create automated email follow-ups… So if you don't need a great deal about that then I guess it could help you in that respect – however, it's worth pointing out that realistically with a big of searching via Google you could quite easily get similar information elsewhere for free.
But still, it's a plus point in my opinion…
On top of that, the program does actually give you some good introductory guidance on setting up a Facebook campaign, so at least you'll learn how to do it… But realistically, in my opinion, it's not in-depth enough to help you figure out how to tweak it & turn it into a profitable campaign.
And it's all very well laid out so you'll be able to follow it through with ease.
So overall I'd say for the initial price of $10.22 it still acts as a good "introduction" into affiliate marketing, it's just a shame that they've gone over the top on the income claims & lead you into believing you'll make loads of money with it.
Anyway – notice I said the initial price of $10.22 above, that's because surprise surprise there are quite a few upsells hidden away inside the program & ultimately it could cost you a fair chunk more than $10.22.
Here's a breakdown of the upsells:
The first upsell, the Case Study Package costs an additional $27 & this basically gives you access to the creator's best niche ideas. You're led to believe that by following the case study you'll be able to "copy & paste" what the creator does… But again this is mainly hype & whilst it might aid you on your learning curve it'll still be unlikely to see you making much money.
The second upsell, the Done For You Package costs an additional $27 again & as the name suggests this basically gives you access to done for you squeeze pages & pre-written promotional emails along with a few other things. Ultimately though this too is unlikely to have a massive impact on your results.
And finally the third upsell, the Resellers Rights costs an additional $47 & this basically gives you the ability to promote the Affiliate Victory program & earn 100% commissions as a result. It might sound tempting, but I personally don't believe in paying someone for the privilege of them having YOU promote their product. There's plenty of other products you could promote without having to pay an upfront fee so don't get tricked into paying it.
Is Affiliate Victory a Scam?
It's definitely not a scam, it's a legitimate step-by-step training program that outlines the basic principle of generating traffic from Facebook advertising, building an email list & promoting ClickBank affiliate products.
The problem though is that in my opinion it's just way too hyped up & the income claims you're presented with prior to signing up are just unrealistic. Yes, they are possible to achieve, but with the Affiliate Victory course alone it's unlikely you'll make it happen, instead you'll probably just find yourself burning money through Facebook ads as you try to build a profitable campaign.
As far as I'm concerned there are better step-by-step programs out there such as Commission Academy for example so for that reason I won't be recommending Affiliate Victory to you because based on how misleading it is it's possible you'll only end up disappointed as a result of signing up to it.
Anyway, I hope my review here gave you the insight into it that you were looking for & of course if you happen to have any further questions or comments then don't hesitate to leave them below.
A Better Alternative
The sad truth is that unfortunately most of the programs promising to help you make money online are scams. I can say that confidently after exposing over 500+ of them here on this blog.
But the good news is that even though most of them are indeed scams, there are actually some very good programs in amongst them - some programs that can truly help you to earn money.
And out of all of the legit programs I've seen, the one I would recommend the most to anybody looking to get started online is Commission Academy. In my own opinion, that's the best place to start.
At Commission Academy, you'll be provided with everything you need (including the training & tools) to begin earning real money by promoting products or services for companies like Amazon online.
The best part is that there's literally no limit on the amount you can earn with it & the process is pretty simple which means that it's absolutely perfect for people that don't have much experience.
Some wealthy affiliates even earn as much as 5-figures per month... Or more!


I mean don't get me wrong, that kind of money won't just fall into your lap without doing any work... But the harder you're willing to work at it, the more you stand to earn with it.
So if you're looking to get started but don't know which route you should go down or which program you should join (and don't want to waste money on bogus things that don't actually work), then I'd highly recommend checking out Commission Academy first. You can learn more about it here.