The Auto Home Profits system claims to be the number 1 choice for an internet career & states that it can guarantee jobs paying up to $379 per day to anyone who can spare a mere 60 minutes of their time working from home.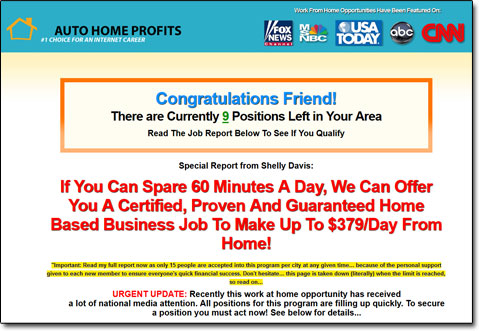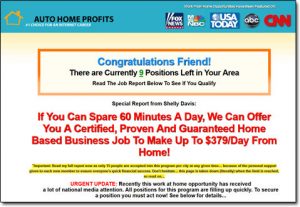 It's hardly surprising that this system has got a lot of people talking, but is it really legit, and can you really make any money from the Auto Home Profits system?
Those are the 2 things that I aim to uncover right here in this review so if you're looking to find out if the AHP system a worthwhile opportunity then you can rest assured that you're in the right place to find out.
What Is Auto Home Profits?   |   How Does It Work?   |   The Truth   |   Fake Testimonials   |   Is Auto Home Profits a Scam?   |   A Better Alternative
What Is Auto Home Profits?
According to the website itself, it claims to be "the web's highest profiting work-from-home program" & it has supposedly been launched by a lady named Shelly Davis (but that's unverifiable & likely to be untrue).
You're led to believe that after purchasing the program for $97 you'll be guaranteed a home-based job that will pay you up to $379 per day with just 60 minutes of work & whilst the sales-letter for the program is very long the website employs a few tricks to rush you through it & get you to purchase the program ASAP.
But despite the sales-letter for the program being extremely long, you're given very little information on how it is actually supposed to work. In fact to put it into perspective out of the 6,106 word long sales letter only 84 of those words go on to mention how it's supposed to work which is pretty shocking.

Usually when programs conceal information on how they work they do it because they know if they told you the full truth upfront you probably wouldn't purchase it, so this raises my suspicions right from the start.
The rest of the content on the website is just hype that's been put together in an attempt to get you excited about the possibility of working from home, possibly to draw you into what potentially looks like a scam.
How Does Auto Home Profits Work?
Even at just a glance, this system looks very suspicious but what raised my concerns, even more, was the process as to how it's actually supposed to work… that really is suspicious.
As you can probably imagine generating $379 per day online (or offline) is no small feat, and if it was then everybody would be doing it. It's possible, but it's going to take a lot of work there are no 2 ways about it.
So when a program promises (or should I say guarantees) that you can start making that kind of money in "just 3 easy steps" alarm bells really do start ringing in my head.
Especially when the steps are along the lines of this:
Step 1
Log into your Auto Home Profits account & copy the unique code they give you.
Step 2
Choose a company that you'd like to post links for (companies include the likes of Oakley, Netflix, Amazon).
Step 3
Build a website using their system (and yes, their instructions are literally as brief as that).
Confused?
Don't worry, I was too – and that's because even the creators of this product don't really know what you actually need to do to make money with it. They've tried to put together some false steps to make it seems like there is a genuine method behind the system but the truth is, there isn't.
Basically, the website consists of nothing but lies & that became obvious when I took a closer look at the disclaimer at the bottom of the page. There is one sentence that reveals the truth about this system.

If you can't quite see the text in the image above, then basically you're told that the typical purchaser does not make any money with this product and that they do not guarantee income or success (despite them saying they do at the top of their website).
The Truth About How It Really Works
Basically, once you buy into the "system" for $97 you'll be told to start spamming social media sites with affiliate links & promised commissions for each of the sales that are made through your links.
Whilst you can potentially make money, I can confidently say that using this particular method you will not make a dime. Nobody is going to buy a pair of Oakley sunglasses or HP printers from a stranger that sent them a link via Facebook messaging – in fact chances are they won't even click on it (or see it).
You'll be down $97, you'll have a duff method to make money & you'll quickly have all your social media accounts banned too. Unfortunately, the only people making money from this scheme are the creators.
You will certainly not be making anywhere near the promised $397 per day and even if you put in hours upon hours of work with this method you would be very lucky to even see as little as $1 per day.
Fake Testimonials & News Endorsements
Just in case you are still interested in trying out this system (despite my warnings), I want to make it clear to you that the testimonials & alleged news coverage displayed on the Auto Home Profits is all fake too.
Well, they are not necessarily fake as such – they are simply just not in reference to this system (despite the creators trying to make you think that they are).
As highlighted in the image below the website states that "work from home opportunities have been featured on…" and lists a bunch of media channels. It's true that various work from home opportunities have been featured on these channels but Auto Home Profits system is not one of them.

Similarly, the video that automatically starts playing on the homepage is not a news story about this particular system – it's a news story that's talking about work from home opportunities in general.
There are genuine work-from-home opportunities, but the Auto Home Profits system is not one of them.
You Might Also Like:
Is Auto Profits a Scam?
This system is preying on newcomers & leverages various falsified testimonials in the hope that it can convince them into believing that it's a genuine opportunity to earn a lot of money online. Unfortunately, it's not, but you'll be left to find this out the hard way since you're required to part with $97 to gain access.
There are lot's of genuine ways that you can make money online but Auto Home Profits is not one of them & for that reason, I won't be recommending that you buy into this program (or even bother visiting their website).
In return for your money, you'll be provided with nothing more than a duff method for making money online which involves spamming social media sites with affiliate links for things like sunglasses & printer cartridges.
There's absolutely no doubt in my mind that the only people making money from this system are the creators who have put it together and the affiliates that are getting paid commissions for getting people to sign up to it. Take my advice, give it a wide berth & keep hold of your hard-earned cash.
A Better Alternative
The sad truth is that unfortunately most of the programs promising to help you make money online are scams. I can say that confidently after exposing over 500+ of them here on this blog.
But the good news is that even though most of them are indeed scams, there are actually some very good programs in amongst them - some programs that can truly help you to earn money.
And out of all of the legit programs I've seen, the one I would recommend the most to anybody looking to get started online is Commission Academy. In my own opinion, that's the best place to start.
At Commission Academy, you'll be provided with everything you need (including the training & tools) to begin earning real money by promoting products or services for companies like Amazon online.
The best part is that there's literally no limit on the amount you can earn with it & the process is pretty simple which means that it's absolutely perfect for people that don't have much experience.
Some wealthy affiliates even earn as much as 5-figures per month... Or more!

I mean don't get me wrong, that kind of money won't just fall into your lap without doing any work... But the harder you're willing to work at it, the more you stand to earn with it.
So if you're looking to get started but don't know which route you should go down or which program you should join (and don't want to waste money on bogus things that don't actually work), then I'd highly recommend checking out Commission Academy first. You can learn more about it here.