The BTC Robot 2.0 system claims to be able to help you generate automated profits through Bitcoin trading. You're led to believe that you can simply purchase the software, download it & begin making lot's of money with just the click of a button.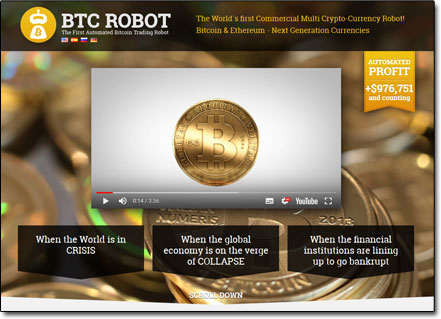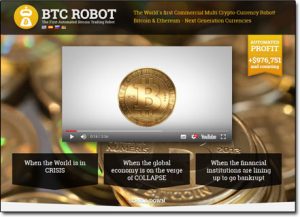 But is it actually the real deal?
Or is the BTC Robot 2.0 a scam that'll just part you with your cash & provide you with some defunct software in return that won't actually help you make money at all?
Thankfully you've landed in the right place to find out because I've done the digging & in this BTC Robot 2.0 review I'm going to be sharing all the facts & determining whether or not you can really make money with it.
What Is BTC Robot 2.0?   |   How Does BTC Robot 2.0 Work?   |   Is BTC Robot 2.0 a Scam?   |   A Better Alternative
What Is BTC Robot 2.0?
The BTC Robot 2.0 system is a piece of software that is downloaded to your computer & can supposedly enable you to begin profiting from Bitcoin as it makes automated trades on your behalf.
Essentially it's a piece of software which you're allegedly able to download, fire up & begin making money with. The creators claim that you don't need any experience & that you don't even need to know what Bitcoin is, you just need to run the program & then that'll handle everything for you.
I'm sure you'll agree it sounds great – I mean who wouldn't want a piece of software that could make them money on complete autopilot? And not just any old money, the creators of the BTC Robot 2.0 claim that it will make you rich (apparently)…
But as the name suggests BTC Robot 2.0 is actually the 2nd version of the software. They were forced to release a version 2 because their first version (BTC Robot) which claimed to do the exact same thing was a total failure. Everybody who tried it lost money & as a result, thousands of negative reviews appeared online…
So the creators of BTC Robot quickly scrambled together & then shortly after launched BTC Robot 2.0, which was supposedly a new & improved version that contained a "fix", and could this time around supposedly generate you profits for real.
How Does BTC Robot 2.0 Work?
Unlike many of the other automated cryptocurrency traders (which by the way I've exposed on this blog as scams) the BTC Robot 2.0 does not work online from your web browser. Instead, you must download it to your PC.
However, before you can download the software you must purchase a subscription plan – the options are as follows:
BTC Robot 2.0 Silver – $19.99
BTC Robot 2.0 Gold – $39.99
BTC Robot 2.0 Platinum – $399
The higher the plan the more trades the software will make for you on your behalf so in theory the more money you will make. However, when it comes to these kinds of things I always find it a little strange that they charge an upfront fee.
I mean if this software (and the others like it) could really generate guaranteed profits as they claim then why don't they just offer it out for free & take a percentage of the profits? That would benefit everybody overall & I'm sure you'd much prefer that too.
The likelihood is that the reason for this is because it does not work as promised.
When the creators of BTC Robot launched version 2 they claimed they had fixed the loophole that was causing the original software to produce losses instead of profits, but according to many online reviews, nothing seems to have changed.
Based on this it looks more like BTC Robot is in fact just a scam & that the creators only switched to version 2.0 to dodge the negative reviews & catch even more people out.
I know this alone is just a theory, but what's even more worrying is that I recently discovered that the BTC Robot 2.0 is associated with a known binary options cryptocurrency scam named the Crypto Magnet system. Whilst I was carrying out research into that scam (and exposing the scam) I noticed that the video on the webpage promoting that system was actually hosted on the BTC Robot website (as proven in my review).
This means that the creators of the BTC Robot 2.0 software are 100% associated with cryptocurrency scams, so it's looking very likely that the BTC Robot 2.0 software itself is just a highly convincing scam.
Either way, based on this I personally would not be willing to pay the purchase fee to try it out. As I say this fee is very suspicious because if the creators were so confident in the software's ability they would merely take a percentage if anything.
Is BTC Robot 2.0 a Scam?
I am going to say yes, in my opinion, I do believe BTC Robot 2.0 to be a scam. The reason for that is because firstly the original BTC Robot (before version 2.0) was proven not to work & secondly because there is solid evidence that the creators are associated with other cryptocurrency scams as I mentioned above.
I, therefore, believe that the whole BTC Robot website is just a ploy to get you to hand over your cash to "try it out". From what I've read the creators do indeed provide you with the software as promised however everybody who's tried it has claimed that it has not produced and results that kept them in profit – overall the software made nothing but losses.
There are a few positive reviews in which the reviewers claim to have made tens of thousands (some even hundreds of thousands) with the software but after investigating these further it's clear that they have been written by affiliates who are promoting the software for commissions. Obviously they are going to say good things about it because they are getting paid to, but if it really worked then they would just be using the system to make money rather than wasting time promoting it to make money.
So yeah overall I certainly won't be recommending this software to you because it all seems very dodgy. The fact you have to pay to access it & the fact that the creators are involved with other scams means that it's just way too risky to get involved with.
Anyway, I hope this review provided you with the insight you were looking for into this system & hopefully it helped you save your cash. If you do happen to have any further questions or comments don't hesitate to leave them below.
A Better Alternative
The sad truth is that unfortunately most of the programs promising to help you make money online are scams. I can say that confidently after exposing over 500+ of them here on this blog.
But the good news is that even though most of them are indeed scams, there are actually some very good programs in amongst them - some programs that can truly help you to earn money.
And out of all of the legit programs I've seen, the one I would recommend the most to anybody looking to get started online is Commission Academy. In my own opinion, that's the best place to start.
At Commission Academy, you'll be provided with everything you need (including the training & tools) to begin earning real money by promoting products or services for companies like Amazon online.
The best part is that there's literally no limit on the amount you can earn with it & the process is pretty simple which means that it's absolutely perfect for people that don't have much experience.
Some wealthy affiliates even earn as much as 5-figures per month... Or more!

I mean don't get me wrong, that kind of money won't just fall into your lap without doing any work... But the harder you're willing to work at it, the more you stand to earn with it.
So if you're looking to get started but don't know which route you should go down or which program you should join (and don't want to waste money on bogus things that don't actually work), then I'd highly recommend checking out Commission Academy first. You can learn more about it here.