Builderall is an all-in-one digital marketing platform that offers tools for website creation, sales funnels, email marketing, membership sites, and more.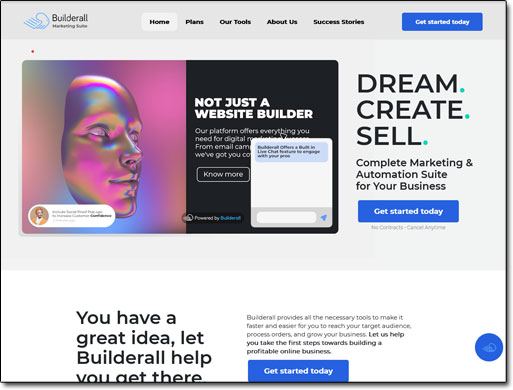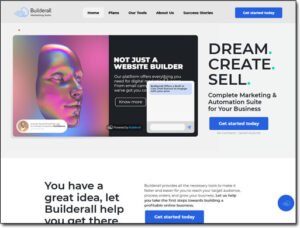 Erick Salgado created this platform with the intention of providing a comprehensive solution for business owners and entrepreneurs to establish their online presence and increase their revenue.
You no longer need to use separate platforms for email marketing, website building, sales funnel creation, and social media management, as Builderall may just be the solution to all your needs.
With Builderall, you're led to believe that you get access to everything you need to make your online business a success, all on one convenient and easy-to-use platform.
But does Builderall deliver on its promises? To find out, we've taken a closer look at this all-in-one platform and its features. In this review, we will dive into the depths of Builderall, covering everything from its user interface and ease of use to its pricing and customer support.
Whether you're a freelancer, a small business owner, or a marketer for a large corporation, there's no denying the appeal of a single platform that does it all.
So, sit back and relax as we uncover what makes Builderall stand out in today's crowded digital world.
What Is Builderall?
Builderall contains a variety of tools and features that businesses can use to create, manage, and promote their online presence. With this platform, users can build and launch a website, create professional-looking landing pages, send and manage email campaigns, design and publish mobile apps, and more.
One of the primary benefits of Builderall is that it is an all-in-one platform, meaning that businesses don't have to use multiple different tools and platforms to manage their digital marketing efforts. Instead, everything can be done through Builderall, which saves both time and money.
Builderall also provides users with a drag-and-drop website builder, which makes it easy to create a website even if someone isn't a web developer. This builder makes it possible to create professional-looking websites in minimal time, which is ideal for small businesses that may not have a lot of resources to devote to web development.
Another key feature of Builderall is its email marketing tool. With this tool, users can create and send email campaigns to their subscribers and customers. The tool also includes analytics and reporting features, which make it easy to track the success of email campaigns and adjust content as needed.
In addition to these primary features, Builderall also includes a range of other tools and features that can help businesses with their digital marketing efforts. For example, there is a social media management tool, a CRM (customer relationship management) system, and even a chatbot builder.
Overall, Builderall is a comprehensive digital marketing platform that can help businesses of all sizes manage and grow their online presence. Whether someone wants to create a basic website, launch email campaigns, or build mobile apps, Builderall provides the tools and features needed to succeed in today's digital marketplace.
Who Is Builderall Best For?
With Builderall, businesses can create websites, landing pages, sales funnels, email marketing campaigns, and much more.
One of the best things about Builderall is how easy it is to use. Even those with no web design or coding experience can create professional-looking websites with the drag-and-drop builder. There are also hundreds of templates available, so businesses can get started quickly and easily.
Another advantage of Builderall is its affordability. Unlike other digital marketing platforms that charge a hefty monthly fee, Builderall offers its all-in-one services at an affordable price. This makes it a great option for small businesses and entrepreneurs who may not have a large budget but still want to create a strong online presence.
Builderall is also great for businesses that want to increase their online visibility and drive traffic to their website. With its SEO tools, businesses can optimize their websites for search engines and improve their search engine rankings.
Additionally, Builderall is an excellent option for businesses looking to streamline their digital marketing efforts. Instead of using different platforms for different tasks, such as email marketing or website hosting, everything can be managed from one central platform with Builderall.
Finally, Builderall allows businesses to create and manage social media campaigns, which can help increase brand awareness and drive traffic from social media platforms. By using a single platform, businesses can save time and money while also improving their overall efficiency.
Builderall Features
Builderall offers a wide range of features that are essential for building and growing an online business. In this section, we will explore the various features of Builderall that make it a popular choice for businesses.
Drag and Drop Website Builders
Dedicated Servers
App Creator
Templates
Sales Funnel Template
E-commerce
E learning
SEO Tool
Design Section
Membership sites
Webinars
Email marketing
WordPress 3-Click Integration
Facebook Messenger Chatbot Integration
Script Generator Tool
Analytics, Heat Mapping and Split testing
Knowledge, Support and Help Options
Integration with Other Platforms
Drag and Drop Website Builders
An impressive feature of Builderall is its drag-and-drop website builder. This feature allows users to design their websites effortlessly without needing any programming skills.
Users can customize their websites by selecting one of the many templates, and the drag-and-drop editor allows for easy modification of elements.
The website builder makes it easier for businesses to create their online presence and showcase their offerings. Multiple website builders are available within Builderall, which include:
Drag and Drop Pixel Perfect Builder
Drag and Drop Responsive Builder
Mobile First Drag and Drop Builder
The Pixel Perfect Builder gives you complete control over how your site appears across mobile, desktop, and tablet devices by letting you construct it in three distinct forms. This allows you to have complete creative freedom in how your site looks across all devices, but it also requires you to devote more effort to customizing the layout of your site specifically for each gadget.
You can build your site once with the Drag and Drop Responsive Builder, and then let Builderall worry about making it mobile-friendly. Similar functionality can be found in both builders, including the ability to rearrange elements, customize existing ones, and add new ones with a simple drag and drop.
You can also rapidly make a site that works well on mobile devices without having to learn any code by using the Mobile First Drag and Drop Builder, which offers the same intuitive interface as the other two builders.
Dedicated Servers
One of the significant advantages of Builderall is its dedicated servers. Having a dedicated server means that users can avoid issues such as downtime, slow loading speeds, or crashing that may occur with shared hosting.
Builderall's five-continent global CDN network ensures quick page loads and dependable service. You can host your websites, sales funnels, webinars, and anything else you create and publish with the help of Builderall's in-house servers.
Being a hosted solution, Builderall takes care of updates, backups, and security so you can concentrate on running your business. Each plan comes with unlimited bandwidth and allows you to register up to 15 domains.
The dedicated servers have a significant capacity, ensuring that users get reliable and efficient service.
App Creator
The app creator is another significant feature of Builderall. This feature allows users to design and publish their mobile apps without needing any coding skills.
With the expanding trend of mobile device usage, businesses need to have a mobile app presence to remain relevant and accessible. The app creator makes it easier for businesses to gain an online presence without the need to hire expensive developers.
With Builderall's app creator, you can make, modify, and release your own app, which can then be distributed across all platforms and major app stores, such as the Apple App Store, the Google Play Store, and the Amazon Appstore.
Creating a mobile app for your company is a fantastic way to spread awareness of your brand, interact with customers, and encourage repeat business. Customers who download your app may be eligible for special offers and discounts. Email addresses and other personal information can also be collected for more precise marketing.
Social media integration, blog feeds, and more can all be incorporated into your app's design. To further ensure that your app's user experience is centered around your brand, Builderall will not include any third-party advertisements.
Templates
Builderall's vast array of available templates is one of the program's best features. It offers various templates for users to choose from when creating their online presence.
There is a vast range of industries and specializations covered by these templates, which include but are not limited to events, design, music, travel, news, beauty, and health.
The templates are professionally designed and tailored to suit the needs of businesses. The numerous templates available make it easier for users to design their online stores, websites, and landing pages.
The templates in Builderall can be totally modified after you've selected them. For individuals who don't have the time, energy, or expertise to create a website from scratch, these templates are a fantastic resource.
In addition to premade designs, Builderall has a selection of blank layouts for brand-new projects.
Sales Funnel Template
Sales funnels are another impressive feature of Builderall. This feature allows users to automate their sales processes, leading to increased conversions.
The sales funnel is developed with one goal in mind: to boost business by increasing sales and conversion. The templates provide a number of customization choices as well as integrations and checkout methods (including one, two, and even three steps).
Conversion-focused sales funnels may be quickly created with Builderall's dedicated templates. The sales funnel feature is definitely an excellent tool for businesses seeking to streamline their sales processes and maximize their revenue.
While the world is growing mobile-first, there are currently no sales funnel templates that are compatible with the mobile-first builder. You can get past this by utilizing a sales funnel template that is compatible with the adaptive builder.
However, it may be challenging to coordinate sales funnel templates with your chosen website builder. In the case of the adaptable builder, you'll want to make sure that your sales funnel template is also adaptive.
E-commerce
E-commerce is a crucial aspect of online business, and Builderall makes sure to offer this feature to its users. The platform provides users with the tools to create and manage their online stores.
With the e-commerce feature, businesses can sell their products and services online, expanding their reach to a wider audience.
Builderall E-Commerce makes it possible to manage product inventory, accept online payments, and create shipping rules all within the platform. Adding your products to the Builderall Marketplace is as easy as selecting your preferred payment and shipping methods.
With Builderall, you can set up your own online shop and start selling immediately. You'll have quick access to all the features you need to make the most of online shopping, including promotional offers, pop-up windows, and a simplified checkout experience.
You may also use Builderall to launch your own affiliate marketing website. If you want other people to sell your items for you, you can promote things in exchange for a commission without ever having to interact with a customer directly.
The Builderall Business affiliate program is also noteworthy. You can start promoting Builderall and earning commission on sales as soon as you sign up for the business plan.
E-learning
E-learning is another essential feature of Builderall. Builderall's eLearning software is a versatile platform that can be used for a wide variety of educational purposes.
The platform provides users with a robust e-learning platform, allowing businesses to create, market, and sell their courses online. This feature is an excellent tool for businesses seeking to create and sell their courses online and increase their revenue.
With Builderall, creating engaging online tutorials or lessons is simple, and users can track their student's progress and measure the effectiveness of their courses. The e-learning platform Builderall allows users to make videos, conduct tests and exams, and put up lecture notes.
To discourage students from skipping lessons, you may use triggers to restrict their access to certain sections of the course until they reach a certain point in the curriculum.
If you're looking to expand your online eLearning business, Builderall is an excellent option because it lets you make and sell as many courses and lessons as you like.
SEO Tool
SEO is an essential aspect of digital marketing, and Builderall recognizes this fact. The platform provides users with the tools to optimize their websites for search engines such as Google.
Search engine optimization (SEO) refers, in essence, to how well you do in a Google search. It's important to rank highly in Google searches for terms related to your product or service.
SEO optimization is crucial in today's competitive online business environment, and businesses can leverage this feature to increase their online visibility.
The Builderall SEO tool evaluates your entire site's SEO performance and provides recommendations for improvement. To get started, enter your site's URL and a term that you wish to rank highly for.
After selecting a keyword, Builderall will analyze it and provide optimization recommendations to help your site rise in search engine rankings.
Your customized SEO report will provide you with helpful advice, such as the proper usage of keywords, how to organize your links, meta descriptions, titles tailored for search engines, the SEO score for the entire page, and much more.
The report will also explain which SEO aspects are mandatory and which are discretionary. You can acquire an SEO report not just for your own site but also for sites in your industry. This can give you a clear picture of who you're up against and on what terms.
Design Section
The design section of Builderall is another impressive feature. The design section offers users a wide range of graphic design tools, such as a photo studio, video editor, and mockup studio.
The tools provide users with the ability to create their own designs and marketing materials. You can rely on Builderall's array of design capabilities and tools to help your media and visual pieces stand out and create an impression. These design tools encompass:
Photo Studio which enables you to personalize your photographs by cropping, resizing, adding text, and altering the background.
Creating your own animated videos, customizing them with transitions, titles, and music, and sharing them on social media with the help of the video editor.
Creating stunning visual content for your online store, online courses, eBooks, social media, and more with the help of the Design Studio.
Using the Builderall Image Spinner to make eye-catching 3D representations of your images.
Grabbing your viewers' interest with floating videos on your websites. Creating a floating video is as easy as adding a pixel to the page where you want it to play.
Clearly, Builderall provides the features necessary to meet the requirements of every design endeavour.
Membership Sites
Membership sites are another impressive feature of Builderall. With this feature, businesses can create and manage their membership sites.
The Builderall platform allows you to transform a portion of your site, or the entire thing, into a membership community that allows users to offer exclusive content to members, creating a sense of community and loyalty.
You may achieve this by creating a private section within one of the Builderall Builders and adjusting the parameters for registration and login to suit your needs.
You have the option of offering your site's membership for free or for a fee. However, collecting a monthly subscription charge from your users is a great way to monetize your website.
This feature makes it possible to restrict access to valuable content behind a paywall, and the platform handles payments, account management, and content delivery on behalf of the user.
Webinars
Webinars are a growing trend in the digital marketing world, and Builderall recognizes this fact. The platform offers users the tools to create and host webinars effortlessly.
Webinars attract potential customers' attention, and Builderall makes it possible to create and launch impressive webinars in minutes. The webinar feature allows businesses to connect with their audiences in a more personal and engaging manner.
With Builderall's webinar feature, you can make professional-looking videos that are sure to attract viewers. The Builderall webinar platform has features such as:
Uploading files from your computer, YouTube, and other sources.
Setting up start times for a webinar
Protecting webinars with a password and chat features.
Analyzing data from webinars
Compatibility with Mailing Boss
Email Marketing
Email marketing is an essential aspect of digital marketing, and Builderall offers users the tools to manage their email campaigns. The platform provides users with an email autoresponder, allowing businesses to automate their email marketing campaigns, saving time and money.
Mailing Boss, Builderall's email marketing autoresponder, is a powerful tool in the suite that provides no restrictions on your email marketing efforts, so you may contact as many people as you want.
This feature goes beyond sending newsletters; it includes email autoresponders, subscriber management, and other essential email marketing capabilities. Let's take a peek at what Mailing Boss can accomplish for you.
Subscriber growth can be monitored directly on your site or landing pages
Manual addition of new subscribers
Creating email marketing campaigns, and
Keeping an eye on the analytics and stats for your campaign.
Setting up a new campaign with Mailing Boss is simple, and you can use the given templates and ready-made elements to create emails that seem polished and professional in no time. By sending customized messages to specific user subsets, you can improve your open and clickthrough rates and achieve more of your campaign's objectives.
Email marketing remains a powerful tool in digital marketing, and Builderall makes sending effective email campaigns easier than ever before.
WordPress 3-Click Integration
The addition of the WordPress installation tool allows Builderall users to take advantage of WordPress' many features. With this feature, businesses can easily integrate their WordPress website with Builderall with just three clicks.
This function is built with search engine optimization (SEO) in mind, provides a large library of responsive templates, and includes useful add-ons.
This also allows users to access more features and functionality that Builderall offers, including the drag-and-drop website builder, sales funnel builder, and more.
Likewise, it was designed with WordPress users in mind, so they won't have to start from scratch when migrating their site to Builderall.
WordPress integration with a Builderall account is a breeze. Indeed, all it takes to get started is a few clicks. To get started, go to Builderall's WordPress integration, add your domain name (or use the one provided), fill out the necessary fields, and then click the Create Website button.
Facebook Messenger Chatbot Integration
Keeping in touch with your Facebook followers has never been easier with this new tool. This allows businesses to automate their customer service and support efforts, increasing efficiency and improving the customer experience.
Chatbots are becoming increasingly popular on social media platforms like Facebook, and Builderall allows businesses to easily create and integrate their chatbot with their Facebook page.
When people respond to your Facebook postings, you may build and automate entire dialogues with them. This increases the likelihood that a viewer will become a paying customer.
The Facebook chatbot included in Builderall is very much like the email automation features. Broadcasting messages on Facebook is comparable to sending an email to a large number of people at once.
Bookings, lead nurturing, product sales, and more can all be handled using the combined power of Facebook Messenger and email marketing.
One of the many automation features available in their Facebook chatbot is termed "flows." The Flows tab's Steps List is where you'll first create your chatbot. Here you have the option of beginning your message in text format or adding a combination of text, graphics, and buttons.
Flows allow you to create automated chatbots similar to those you may have seen before. You have the option of sending your leads to an external landing page, linking to your blog, or even including a call-to-action button.
The duration of your automated flow is up to you. The lead's actions will allow you to make the next logical move. After you've created your initial flow, you can use the "Growth Tools" and "Automation" sections to kick off your chatbot's interactions.
With the help of automation, you can set off chatbot sequences with simple keyword interactions and other possibilities.
Script Generator Tool
The script generator in Builderall may be used to generate unique content for your website. Effective sales letters, websites, emails, and more can all be created with the help of this feature.
This tool helps businesses create sales letters, email campaigns, and other types of marketing messages quickly and easily. Writing persuasive sales copy can be a challenge for many businesses, but Builderall's Script Generator Tool makes it much easier.
Copywriters can use the script generator found in Builderall while using this tool to craft copy for emails, funnel, webinar, advertising scripts, product descriptions, subject line, headlines, titles, etc.
The script generator will speed up the process of writing scripts for a wide variety of purposes.
That way, users can easily create a script that fits any scenario.
Analytics, Heat Mapping and Split testing
Analytics, heat mapping, and split testing are essential features of Builderall. These features provide users with insights into their website's performance, allowing them to make data-driven decisions.
Users can access extensive data reporting on their website to derive insight into critical metrics like traffic, engagement, and conversion. Heat maps and split testing provide valuable insights into what works and what doesn't, making data-driven decision-making possible.
With these tools, businesses can optimize their websites, increasing their online conversions. To help you keep tabs on who is visiting your site and how they are interacting with it, Builderall can sync with Google Analytics.
Click Map, a heat mapping app, is also included in Builderall. You'll get a feel for how people are surfing your site because you'll be able to see exactly where they're clicking.
It is also possible to conduct A/B testing or split testing on Builderall's landing page, sales funnel, and website templates. This will help you zero in on the designs that garner the greatest interest from your target audience and yield the best results.
Knowledge, Support and Help Options
The Builderall Quick Start Guide is an excellent resource. These videos were made with new users in mind, with the goal of providing essential onboarding information in a simplified format that allows anyone to dive right into using Builderall.
Users can learn how to use Builderall's many features with the aid of the app's comprehensive knowledge base. You can choose from hundreds of instructional videos that cover every aspect of building a website, an email list, a sales funnel, and more.
A YouTube channel is also available, with even more video content. These feature additional Builderall training as well as advice, methods, and ideas for getting started with and expanding your online business.
In addition, Builderall hosts a weekly meeting that is broadcast live on YouTube, where members can debate the features of the platform and ask questions of the developers.
The Builderall Facebook page is another fantastic social feature where users can join the Builderall user community to find solutions to common issues, get expert advice, and share their own insights.
If you still have questions after exploring these options or need any assistance along the way, you can always contact the support staff. Create a ticket and explain your issue on the Support page. After that, a member of Builderall's support staff will get back to you as soon as they can.
On the other hand, we've seen that responses to support tickets often take longer than 24 hours. There's a blue chat bubble in the lower right corner if you don't like to wait. During regular business hours, questions asked via live chat get answered within minutes.
Integration with Other Platforms
Last but not least, Builderall has an integration feature that allows integration with popular third-party platforms such as Shopify, Mailchimp, Stripe, Aweber, PayPal, and many more.
There are a large variety of additional services and programs that are compatible with Builderall. This means that you can tailor your project's solutions to the specific needs of your business, no matter what that business may be.
This feature makes it possible to connect seamlessly with other digital marketing tools and platforms, streamlining workflows.
Overall, Builderall is a powerful all-in-one marketing platform that provides users with a broad range of features.
The features listed here are simply the tip of the iceberg when it comes to everything Builderall has to offer. From creating websites, online stores, and online courses to email marketing, webinars, and analytics, Builderall offers the tools to manage it all seamlessly.
Builderall Pricing
Builderall's pricing options are designed to cater to the needs of different users, from those who are just starting to build their online presence to those who have well-established businesses.
There are four price tiers available for Builderall:
Starter Plan $17.90/month
Marketer Plan $77.90/month
Premium Plan $87.90/month
Funnel Club Plan $87.90/month + $199 first payment
Builderall Free Trial
Builderall offers a free trial. This trial allows users to experience the full range of Builderall's tools for 14 days. This is a great option for those who want to test the platform before committing to a paid plan. It's important to note that no credit card is needed.
Builderall Starter Plan
The first pricing option is the Starter Plan, which costs $17.90 per month. This package is ideal for individuals or small businesses that are starting to build their online presence.
This plan includes access to MailingBoss, Booking & Calendar Builder, as well as the DNS Manager, Knowledge Base Articles and Training Videos, Live and Ticket Support System, and Facebook Community.
With the Builderall Starter plan, you can link your domain with 3 subdomains, amass up to 2,000 email subscribers, and gain access to more tools for as little as $17.90. You will also receive 2 gigabytes of disk space with this subscription.
Builderall Marketer Plan
The second pricing option that Builderall offers is the Marketer Plan. Priced at $77.90 per month, this package is designed for entrepreneurs and marketers who require advanced marketing tools.
This plan includes access to all the features of the Starter Plan, as well as SMS Messaging, WhatsApp Automation, Launch Management Builder, and Telegram Automation.
Builderall Premium Plan
The Premium Plan is the third pricing option offered. Priced at $87.90 per month, this plan offers access to all the features included in the Marketer Plan, including access to the e-learning/course-building platform, a webinar/chat builder, a chatbot for your website, and an integrated customer relationship management (CRM) system.
In addition, this plan offers unlimited subdomains, 10,000 subscribers, 10GB of disk space, and 15 domain connections.
Builderall Funnel Club Plan
Lastly, the Funnel Club Plan is priced at $87.90 per month with an additional one-time payment of $199. This plan is designed for advanced users who require more advanced and personalized features.
It includes access to all the features of the Premium Plan, as well as funnel training, funnel templates, and more.
Although it is the most expensive plan available, it is a wonderful alternative for companies, agencies, and entrepreneurs who want to have access to even more expert templates as well as pre-made sales funnels and marketing campaigns.
In summary, Builderall offers a range of pricing options tailored to the needs of different users, from those who just want to try out the platform to those who require advanced marketing tools.
Builderall Pros and Cons
Pros
This section delves into the various pros of Builderall, including its affordability, integrated tools, frequent updates, affiliate program, external website and app connections, synchronization capabilities, support options, and free trial.
One of the most significant pros of Builderall is its affordability. Unlike many marketing software programs, Builderall's pricing plans are quite reasonable, making it budget-friendly for small and medium-sized businesses.
It comes with 30+ integrated tools.
Additionally, businesses do not have to spend extra money purchasing separate tools since Builderall comes with over 30 integrated tools that serve multiple functions. This saves users a lot of time and money they would have spent sourcing and purchasing separate tools.
There are constant updates.
Builderall frequently updates its platform with improvements, new tools, and nifty features. This means that users are not stuck with outdated technology since the platform keeps up with the latest trends in digital marketing. The updates are free for the users, and they are automatically integrated into the software.
There's a lucrative affiliate program included.
Another significant benefit is the affiliate program that BuilderAll offers. Business owners can generate income by promoting the platform to their audiences. The commission is recurring, meaning that affiliates can earn as long as the customers they bring in stay engaged with Builderall. This is a win-win situation for both the platform provider and the affiliate.
It has great connections to other external websites and apps.
Builderall has great connections to other external websites and apps, making it an excellent integration tool. This means that businesses can leverage other marketing tools they are already using and sync them with Builderall to enhance their marketing operations.
There are various support options.
The platform provides various support options, including onboarding, a support team, a Facebook group, and a YouTube channel. This ensures that users get timely solutions to any issues they may encounter while using Builderall. The onboarding process is comprehensive, helping businesses get started quickly and make the most of the software's features.
There is no risk when you try them out for yourself.
Finally, Builderall comes with a completely free trial, allowing users to test the software's full features before they commit. This helps businesses determine whether the platform is the right fit for their operations, ensuring that they make informed decisions.
Cons
Despite its numerous advantages, there are several cons that one should consider before using this platform.
The vast array of resources accessible may seem daunting.
Perhaps the biggest disadvantage of Builderall is the sheer number of tools available on the platform. For someone who is new to digital marketing or not tech-savvy, the sheer volume of choices can be overwhelming. It can be difficult to identify the right tools for a particular task, and this can lead to confusion, frustration, and even wasted time.
It's not easy to navigate.
Builderall can be difficult to navigate, particularly for beginners. The platform lacks proper categorization of tools and can be quite confusing to navigate. This interface requires some effort and perseverance to master.
It can be frustrating when features don't function as expected.
There are instances where certain features on the platform do not function as intended. This can be frustrating and lead to additional time and effort being expended to get things right.
The Funnel Club plan may be out of your price range.
Another drawback of the platform is its pricing structure for the Funnel Club Plan. The Funnel Club plan is a bit expensive and may not be suitable for those who are just starting out and on a tight budget. As a result, it may not be accessible to small business owners or entrepreneurs who are still trying to establish their companies.
It may take a while to hear back from the support staff.
Lastly, while Builderall does provide support to users, it can take a while for the support team to respond to help requests. This delay in response can lead to potential delays in getting issues resolved, which can be stressful and frustrating for users.
You Might Also Like:
Is Builderall Right For You?
With its comprehensive set of features, Builderall aims to be the only tool businesses need to create their online presence. But is Builderall right for you?
The platform includes a drag-and-drop website builder that makes it easy for even those with no technical expertise to create professional-looking websites. Builderall also offers a range of templates to help users get started quickly.
In addition to website building, Builderall also includes a range of marketing tools. Users can create email campaigns, sales funnels, and even mobile apps. This level of flexibility makes Builderall an excellent choice for businesses of all sizes.
One potential downside to Builderall is the learning curve required to use all of its features. Given the wide range of tools on offer, users may need to spend some time familiarizing themselves with the platform's different options. However, Builderall offers extensive documentation and video tutorials to help users get started.
The platform also offers various subscription plans, with prices ranging from around $20 to $90 per month. While this may be more expensive than some other platforms on the market, Builderall's range of features justifies the cost for those businesses that need the comprehensive suite of tools.
So, is Builderall right for you? Ultimately, this depends on the needs and goals of your business. If you're looking for a comprehensive all-in-one platform that offers a range of digital marketing tools, then Builderall is an excellent choice.
However, if you have more specific requirements or are looking for a more straightforward platform, then some competing solutions may be a better fit.
Final Thoughts
Builderall has gained a lot of hype in recent years thanks to the remarkable vision of its inspiring founder, Erick Salgado. Given the array of features Builderall provides, it begs the question: does it deliver on its promises?
In our final thoughts, Builderall is undoubtedly an incredible platform that can help businesses of all sizes establish and grow their online presence. The benefits of using Builderall include the ability to create professional-looking websites and sales funnels, as well as automate various marketing campaigns. As such, it is highly effective in generating leads, acquiring customers, and driving sales.
By consolidating all of these tools into a single platform, users can save time and money by avoiding the need to sign up for and manage multiple systems. It also offers a range of pricing plans to suit a variety of needs, and the cost of a subscription is much cheaper than most competitors in the market.
However, it is worth noting that some features of Builderall may not be as robust as those offered by specialized tools. For example, the email marketing functionality is relatively basic compared to specialist email marketing software.
Nonetheless, Builderall is perfectly suited for businesses that require a powerful, all-in-one platform that is affordable and easy to use. It is also ideal for digital marketers who are on a budget but still require powerful, constructive tools.
To sum up, Erick Salgado's vision of Builderall does deliver on its promises. The platform has brought together several digital marketing tools in a single place, making it a great, cost-effective solution for businesses looking to leverage their online presence.
While there may be limitations to some of the platform's individual features compared to specialized software, it still offers an incredible value proposition for small and medium businesses that require a comprehensive digital toolkit.
In addition, Builderall is always developing, and the newest version, Builderall 6.0, will be released very soon. Overall, we would highly recommend Builderall for its affordability and diverse range of tools.
A Better Alternative
The sad truth is that unfortunately most of the programs promising to help you make money online are scams. I can say that confidently after exposing over 500+ of them here on this blog.
But the good news is that even though most of them are indeed scams, there are actually some very good programs in amongst them - some programs that can truly help you to earn money.
And out of all of the legit programs I've seen, the one I would recommend the most to anybody looking to get started online is Commission Academy. In my own opinion, that's the best place to start.
At Commission Academy, you'll be provided with everything you need (including the training & tools) to begin earning real money by promoting products or services for companies like Amazon online.
The best part is that there's literally no limit on the amount you can earn with it & the process is pretty simple which means that it's absolutely perfect for people that don't have much experience.
Some wealthy affiliates even earn as much as 5-figures per month... Or more!

I mean don't get me wrong, that kind of money won't just fall into your lap without doing any work... But the harder you're willing to work at it, the more you stand to earn with it.
So if you're looking to get started but don't know which route you should go down or which program you should join (and don't want to waste money on bogus things that don't actually work), then I'd highly recommend checking out Commission Academy first. You can learn more about it here.