The "gurus" are continually coming out with new programs claiming to be different and lucrative. This time, we have Bulletproof Commissions on our radar – a training program that promises to enable you to generate up to 4-figures per day.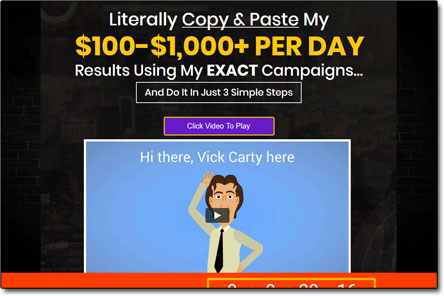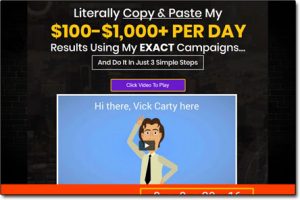 We have spent a few days researching the ins and outs of this program and now we are ready to publish this third-party Bulletproof Commissions review.
We are going to tell you what this training program offers, how much it costs, how exactly it all works, and whether or not Bulletproof Commissions is a scam.
What Is Bulletproof Commissions?   |   The Costs   |   How Does It Work?   |   Is Bulletproof Commissions a Scam?   |   A Better Alternative
What Is Bulletproof Commissions?
Bulletproof Commissions is allegedly the creation of Vick Carty's brain. This is a training program that promises to help you make 4-figures per day through email marketing and affiliate promotions.

Vick Carty claims that with the help of this training program, you can start making $100 a day in the beginning and climb the ladder up to around $1,000 a day and more.
He further says that you don't have to do anything significant because this program walks you through simple copy/paste campaigns. In addition, Vick wants you to believe that Bulletproof Commissions is "done-for-you" even for the newbies and that the subscribers don't need to acquire professional digital marketing expertise in order to be able to profit with it.
Well, these claims are no different than what we hear from the promoters of Proximity training. They simply love telling you what you actually want to hear. But the problem is that the world is maturing day by day and most of us are now aware of the fact that such exaggerated claims don't really mean anything…
Still, some individuals do take the bait – mostly the newbies who don't exactly know how affiliate marketing and email marketing works.
So is there any truth behind the claims? Can we really make any money with Bulletproof Commissions? Well, that's exactly what I'll uncover but first let's take a look into the costs that are involved with the program…
How Much Does Bulletproof Commissions Cost?
The price of the Bulletproof Commissions training program starts at $12.95. It is amazing to know that a training program that promises to generate $100 a day in the beginning, actually costs just $12.95. This is the thing that does the trick. Potential customers think this way – it is just $12.95, not too much, it's worth trying because it could be a jackpot if it worked.
Sadly though as you can imagine these things never really work as promised & instead they just leave people to find that out the hard way after handing over their cash. I mean if it could really generate $100+ per day the creator could easily sell access to it for thousands, he/she wouldn't sell it for just $12.95 – that's ridiculous.
How Does Bulletproof Commissions Work?
Once you pay $12.95 to access the member's area, you actually witness a delicate and clean page that is fairly easy to navigate. Here you come across different orientation videos. These videos are actually there to introduce the VIP program. So, there is obviously something more they want to sell.
Bulletproof Commissions Module-4 Training
This is the main training and we regret to tell you that Module-4 is extremely disappointing. It is basically the orientation to affiliate marketing and email marketing. But the content quality is sub-ordinary. This is the common stuff you find in free tutorials on YouTube…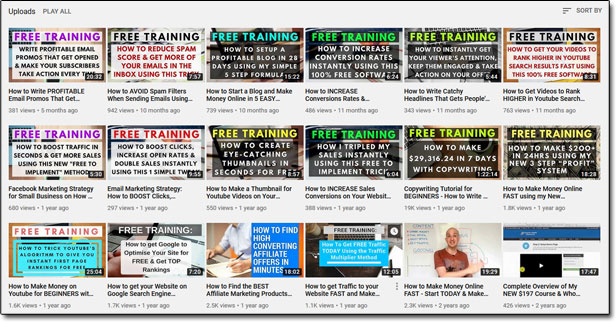 The module comprises of short 2-minutes to 6-minutes videos. This module doesn't offer a sufficient amount of information. It is just the basic stuff which answers nothing to the questions in the mind of a newbie. Obviously, newbies will be attracted to such training programs. No professional would believe what the advertisement claims.
Just Information – No Training
It is disappointing to know that the Bulletproof Commissions basic training doesn't actually train you for anything. This is just the basic information about some Swipes. These tools work for everyone and have generated good results for thousands of email marketers. But the problem is, carrying a bat in your hand doesn't mean that you can make runs in a Cricket match. Having a football under your feet doesn't mean that you can scores goals. Having these marketing tools doesn't mean that you are going to generate successful campaigns.
This is simply far from expectations. Training must teach you something new that actually works. They are introducing you to the tools and equipment but are not telling you how to make use of these tools. Email marketing either requires subscribers on your website/blog or you opt for paid lists. It doesn't work on its own. These tools are not going to bear fruit unless you water them properly.
It is better to look for a proper training program to first learn email marketing and how to use certain tools. Only then you can generate affiliate sales through email marketing… And a training program I would highly recommend is Commission Academy.
Commission Academy is one of my all-time recommendations because not only is the training of exceptional quality, but they also provide you with the tools you need, access to a large community & the ability to get started for free.
But back onto Bulletproof Commissions I think it's time for…
Is Bulletproof Commissions a Scam?
To conclude our Bulletproof Commissions review we can only say that this program doesn't serve the cause. It is not a scam but the material they offer is below-ordinary. This is something that only tells you what you can do but misses the 'HOW' part. Even after the training, the question remains, 'BUT HOW CAN I DO IT?".
For that reason, I won't be recommending Bulletproof Commissions to you because I believe that if you buy into it you will just be left feeling frustrated & disappointed & no doubt the creators will then make it difficult for you to get your money back.
Instead, if you really want to learn affiliate marketing I would recommend you join a proven & legitimate program like Commission Academy instead as I just mentioned in the previous section of this review.
There's no need to mess around with gimmicky hyped-up systems like the Bulletproof Commissions system as they are just set out to trick you. Instead of wasting money on things like those, just focus on a program that has been around for over a decade & backed by proven success like Commission Academy.
Or alternatively check out the alternative ways to make money on this page (but I will say I do believe affiliate marketing to be the best).
Whatever you decide to do though I just sincerely hope that my review of Bulletproof Commissions here has given you a good insight into how the system works & hopefully it has helped you to save your cash. If of course, you happen to have any further questions or comments then don't hesitate to leave them below. 🙂
A Better Alternative
The sad truth is that unfortunately most of the programs promising to help you make money online are scams. I can say that confidently after exposing over 500+ of them here on this blog.
But the good news is that even though most of them are indeed scams, there are actually some very good programs in amongst them - some programs that can truly help you to earn money.
And out of all of the legit programs I've seen, the one I would recommend the most to anybody looking to get started online is Commission Academy. In my own opinion, that's the best place to start.
At Commission Academy, you'll be provided with everything you need (including the training & tools) to begin earning real money by promoting products or services for companies like Amazon online.
The best part is that there's literally no limit on the amount you can earn with it & the process is pretty simple which means that it's absolutely perfect for people that don't have much experience.
Some wealthy affiliates even earn as much as 5-figures per month... Or more!

I mean don't get me wrong, that kind of money won't just fall into your lap without doing any work... But the harder you're willing to work at it, the more you stand to earn with it.
So if you're looking to get started but don't know which route you should go down or which program you should join (and don't want to waste money on bogus things that don't actually work), then I'd highly recommend checking out Commission Academy first. You can learn more about it here.