CBD BioCare specializes in the manufacturing of CBD oil products. As we all know the CBD industry is on the rise and it presents a promising opportunity to affiliate marketers.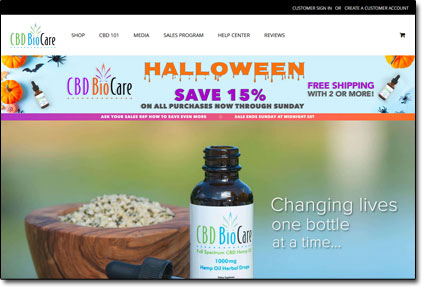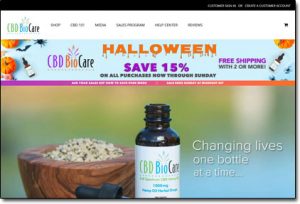 But this is not the only manufacturer so we need to see why should you consider or reject this relatively new MLM structured platform.
Rest assured though you've landed in the right place as this third-party CBD BioCare review will help you to find out the level of profit-generating potential.
There is no doubt that CBD industry continues to attract millions of buyers but nothing is going to happen on its own because competition is also on the rise.
After reading our honest CBD BioCare review you will be in a better position to make the right choice.
With ever-intensifying competition in the market, the big question is how you can stand out. We will also see if it is yet another pyramid scheme scam or actually a legitimate offer.
What Is CBD BioCare?   |   How Does CBD BioCare Work?   |   How Much Can You Earn?   |   Is CBD BioCare a Scam?   |   A Better Alternative
What Is CBD BioCare?
In addition to manufacturing CBD oil products, CBD BioCare offers a business opportunity as well. The company has their headquarters in Florida and the founders are named Stacey Pitts and Matthew Pitts.
They claim that Matthew found one of his old friends suffering from cancer and nothing could get him out of the worsening condition but cannabis. It was the time when medical marijuana was not as popular as it is now and its use was illegal at that time.
Matthew saw this as an opportunity and decided to establish CBD BioCare to allegedly help others in the same situation. The company's products are known as full-spectrum CBD oil and they are tested by third-party experts, but our focus here is more on the business opportunity.

The company welcomes you as an affiliate seller of the products that it manufactures. You also have the opportunity to recruit other salespeople & earn from their efforts too (as part of an MLM structure).
This is a common business model that most of the newly launched (and launching) CBD companies are using & actually just the other week I reviewed a very similar company named HempWorx.
The problem though is that the FTC put out a report stating the only 1% of participants in these types of MLM companies actually manage to turn a profit – the rest just end up spending money (as shown below):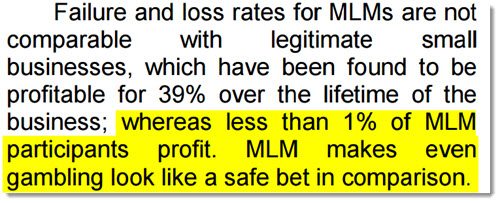 So will CBD BioCare actually help us turn a profit? Let's take a closer look into how it works to find out…
How Does CBD BioCare Work?
To become a salesperson, you need to first select the right package. The good news is that you don't have to purchase their products like you're forced to do with many other MLM companies.
Your job will be to promote and sell CBD BioCares products as affiliates promoters do. The first option is free of cost. You simply have to access the member's area. It presents the dashboard, sales, visitor statistics, and commissions, etc.
Then there is a $99 (+$49.99/yr) offer that qualifies you for using the customized landing pages, extended dashboard, and coupons.
The third tier is the $199 (+$49.99/yr) offer where you have some more coupons, dashboard features, and some CBD oil products from CBD BioCare.
And finally, they have a fourth tier option which comes in at $349 (+$49.99/yr) and again contains more features, the same as listed above.

So the one thing you should note here though is that whilst you aren't "forced" to spend money in order to promote their products, you're heavily pushed towards doing so & a lot of material is held from you if you don't.
This is extremely strange in my opinion because I don't see why a company would charge you for things that would help you to promote THEIR company… Do they want more sales or not? It seems odd to charge you for helping to generate sales for them.
Usually, I run a mile when I see such a tactic, but let's give them the benefit of the doubt…
You Might Also Like:
How Much Can You Earn as a CBD BioCare Sales Representative?
You begin as the CBD BioCare Sales Representative. You earn 20% commission against each successful sale. The platform also has a ranking system through which you could achieve higher ranks to earn as much as a 40% commission on each sale.
For instance, once you manage to achieve total sales of $1,000, you become eligible for a 25% commission. As the total sale reaches $5,000, you then start earning 30% commission, and so on.
The last tier is $40,000 in total sales that qualifies you for 40% commission. There are no deductions, no fees, and no sales quotas.
Yes, you also have the option of recruiting more sales representatives as I mentioned earlier in this review but the problem is that the website doesn't talk much about the commissions you can earn through indirect sales.
I believe the reason for this is because they want to actually try & hide the fact that they're a multi-level-marketing company because they probably know that most people associate MLM programs with pyramid schemes.
And to be honest I have to say that there is a VERY fine line between the 2 so typically I do not recommend MLM companies as I personally believe that there are many much better alternatives available.
With that being said I think it's time for…
Is CBD BioCare a Scam?
In concluding our third-party CBD BioCare review we have to admit that we didn't manage to notice anything malicious. This is a legitimate platform. And the good news is that you can try your affiliate marketing skills using a free membership to see if you can make it work.
If things look promising, you can then feel free to jump on to the paid options. But you must not forget that affiliate sales don't materialize easily. You have to be an expert affiliate marketer if you wish to see success as CBD BioCare in my opinion doesn't provide enough training for beginners.
If you're not an expert affiliate marketer then you should stick with a program that is more beginner-friendly such as Commission Academy as they will show you how to effectively promote things & earn money from doing so.
Also when it comes to CBD BioCare you need to have sufficient funds to meet the expenses needed for email marketing, promotional tools, and paid ads as those are the things they suggest you should use to promote.
Overall though we see CBD BioCare as a transparent and reliable opportunity for affiliate marketers however, even so, I will be making the decision not to recommend it because it is based around a MLM model.
As I mentioned further up in this review it's a fact that less than 1% of participants make a profit – the rest just end up spending more money than they actually ever make & there is simply no way I could recommend something with such low success rates.
Instead, if you truly want to make good money online I would advise you stick with one of these other methods – or alternatively like I mentioned above you could join a program which is much more geared towards beginners such as Commission Academy.
Whatever you decide to do though I just sincerely hope that my review of CBD BioCare here has given you a good insight into how it works & hopefully it has helped you to decide if it's really right for you or not.
If you still happen to have any questions or comments though then, of course, don't hesitate to leave them below. 🙂
A Better Alternative
The sad truth is that unfortunately most of the programs promising to help you make money online are scams. I can say that confidently after exposing over 500+ of them here on this blog.
But the good news is that even though most of them are indeed scams, there are actually some very good programs in amongst them - some programs that can truly help you to earn money.
And out of all of the legit programs I've seen, the one I would recommend the most to anybody looking to get started online is Commission Academy. In my own opinion, that's the best place to start.
At Commission Academy, you'll be provided with everything you need (including the training & tools) to begin earning real money by promoting products or services for companies like Amazon online.
The best part is that there's literally no limit on the amount you can earn with it & the process is pretty simple which means that it's absolutely perfect for people that don't have much experience.
Some wealthy affiliates even earn as much as 5-figures per month... Or more!


I mean don't get me wrong, that kind of money won't just fall into your lap without doing any work... But the harder you're willing to work at it, the more you stand to earn with it.
So if you're looking to get started but don't know which route you should go down or which program you should join (and don't want to waste money on bogus things that don't actually work), then I'd highly recommend checking out Commission Academy first. You can learn more about it here.