It all started after I clicked the ad for her Consistent Profits program on Facebook… Now, Valerie Fox (the Forex trader) is a person I just can't seem to get away from.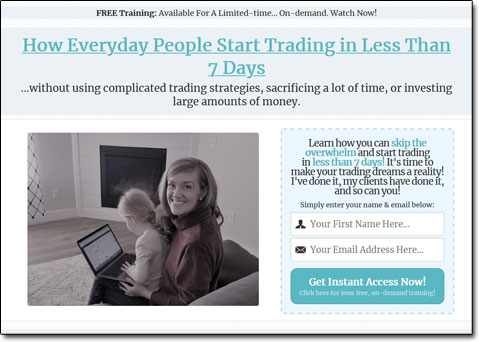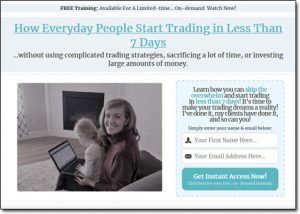 Everywhere I go online, there she is once again, trying to get me to sign up for her Forex course…
But despite Valerie Fox seemingly being legit (and from what I can see, a fairly nice person), there are good reasons why I didn't (and won't) join her Consistent Profits program.
In this Consistent Profits review, those reasons are exactly what I'll be sharing with you.
So if you've also discovered Valerie Fox's Consistent Profits program & have been wondering what it's all about & whether or not it's actually legit, be sure to stick around & read this review.
It's going to contain everything you need to know.
What Is Consistent Profits?   |   Who Is Valerie Fox?   |   Does Consistent Profits Work?   |   What I Don't Like   |   What I DO Like   |   Is Consistent Profits a Scam?   |   A Better Alternative
What Is Consistent Profits?
Consistent Profits, as Valerie Fox puts it, is a program that can allegedly enable you to start trading in 7 days without using complicated trading strategies, sacrificing a lot of time, or investing large amounts of money.
Here's a screenshot of that claim from her website:

She also then goes on to claim that you can start with just $100, scale quickly and, I quote, "make your trading dreams a reality".
But to be honest, you probably sussed all that out from the name.
In short, her course claims to provide you with an easy way to begin generating Consistent Profits from Forex trades… And her marketing almost leads you to believe there's no possible way that you could fail.
But is that really true?
Will Valerie Fox's Consistent Profits course really see you making money so easily?
We'll find out in just a moment but first, before we do, let's take a closer look at Valerie Fox herself.
Who Is Valerie Fox?
Well, according to her own website, Valerie claims to be "a proven, profitable trader and an online, trading strategy and mindset coach".
She also claims that she "empowers traders to achieve time and financial freedom so they can do more of what they love".
But is that really true? Is Valerie Fox really a proven, profitable trader?
Well, I did some research on Valerie & stumbled across her LinkedIn page. It seems she's certainly had a lot of jobs over the years with her most recent job coming to an end in June 2020.
That's fair enough.
However, after that job came to an end, Valerie added another position to her LinkedIn profile in which she claims to be an "Investor & Analyst" in the FX markets.

What I find odd about that, however, is that she claimed to begin doing this in 2011… And yet, during that period she changed jobs 5 times.
I mean, why not just let Forex pay the bills?
My only guess is that her Forex profits during that period weren't too exciting.
But the reality is that we'll never know because despite claiming to be a "proven, profitable trader", what I'm trying to highlight here is that there isn't really any proof at all.
So we'll have to take that claim with a pinch of salt.
However, on the coaching side of things, I can say more positive things about Valerie.
From her social media pages, it's clear for me to see that she knows a lot about the Forex markets & more importantly, it's clear to see that is spending quite a lot of time actively helping people with their trading.
So Kudos on that side of things.
But does that mean she can actually help us to make money with Forex? Let's find out…
Does Consistent Profits Work?
Well, Valerie certainly knows a thing or two about the concepts of Forex trading & she appears to actively help the members of her course in her social groups so as far as Forex courses go, Valerie's looks fairly decent.
However, there is one important thing that you should take into account & that's the fact that when it comes to making money with Forex, the only realistic way to do is to sell courses teaching others how to do it.
That's why there are so many people trying to sell Forex courses. Most of these "Forex mentors" don't even make any trades at all, they just fake it to sucker people into their courses.
I wrote a more in-depth post on that right here.
You see, given that the Forex market is what's known as a zero-sum market, this means that making money with Forex trading itself is extremely tough & that the odds are pretty much set against you.
And in case you don't already know, a zero-sum market means that for one trader to make a profit, another trader will need to make a loss. The Forex market does not itself add value to the market.
So because a lot of the currency movements are directed by large well-financed corporate institutions and banks, who are better informed about the market as a whole, the undercapitalised trader is always likely to lose.
This means that whilst making money with Forex looks appealing from the outside (and is made to look appealing by many "mentors"), in reality, it's not all that great… And it will likely just result in you losing money.
My advice? Forget Forex, do affiliate marketing.
That'll see you generating results much more quickly & more importantly, much more safely since you won't have to put up a whole bunch of capital in order to get started. You can get started for free.
…"but Valerie Fox says I can get started with just $100"…
It's true, you can get started with quite a little amount when it comes to Forex as it's a high leverage market but this doesn't necessarily mean you'll find it easier to make any money.
You'll just likely lose the $100.
And here's the biggest reality check. This law firm says the following within their section entitled "how do I spot a Forex scam?":
Be aware that like any professional skill, it can take years to master the Forex trade properly. Any claim that says 'you can make money quickly' should be avoided.
So back to Valerie Fox's claims about getting started in just 7 days… Well, that just simply ain't gonna happen. As nice as she may seem, she's just yet another "mentor" trying to lure you in & make money at your expense.
I'd personally give her course a wide-berth.
What I Don't Like
Valerie leads you towards believing it'll much easier and "faster" than it is
Valerie skips over the fact that there's a high chance you'll lose money
Her course is very expensive ($1,995)
Valerie uses fake scarcity tactics (claiming that 1-on-1 coaching is limited to the first 20 signups)
Valerie claims to offer guarantees but then makes you agree to terms that waiver the guarantees
What I DO Like
Valerie does appear to spend a bit of time answering questions in her social groups
She has daily trades discussions in her social groups
She hosts weekly group coaching calls
Her training has a good amount of positive feedback
You Might Also Like:
Is Consistent Profits a Scam?
The Consistent Profits Forex trading course by Valerie Fox isn't a scam, but at the same time I think it's a little misleading & in reality, Forex trading is way more difficult than Valerie makes it out to be.
Furthermore, Valerie also goes on to claim that her program yields members an average of 10-16% per month & as far as I'm concerned that is just a completely outlandish claim.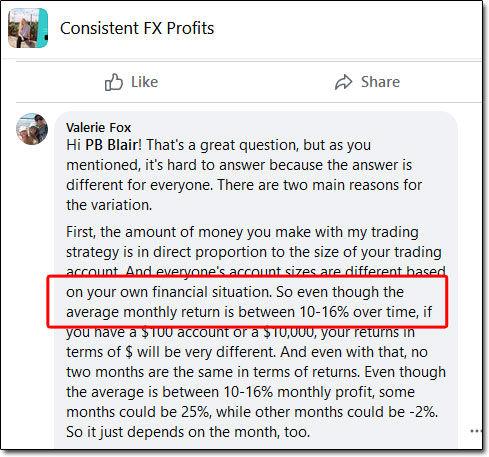 As stated in this article, for the majority of professional traders, the average Forex monthly return is between 1 to 10 per cent per month… So, 10-16% on "average" is just a fantasy, as far as I'm concerned.
But does that alone make Consistent Profits a scam? In my opinion, I don't believe so. Her course undoubtedly provides helpful information, but for a whopping $1,995… You can count me out!
So, as for my final verdict… Consistent Profits is not a scam but at the same time, in my opinion, $1,995 is just way too expensive for a course that isn't backed up by any verifiable proof of results.
Valerie Fox does certainly appear to be a very nice & helpful person but for me, that alone is simply not enough to justify the cost of her course.
Proceed at your own risk!
A Better Alternative
The sad truth is that unfortunately most of the programs promising to help you make money online are scams. I can say that confidently after exposing over 500+ of them here on this blog.
But the good news is that even though most of them are indeed scams, there are actually some very good programs in amongst them - some programs that can truly help you to earn money.
And out of all of the legit programs I've seen, the one I would recommend the most to anybody looking to get started online is Commission Academy. In my own opinion, that's the best place to start.
At Commission Academy, you'll be provided with everything you need (including the training & tools) to begin earning real money by promoting products or services for companies like Amazon online.
The best part is that there's literally no limit on the amount you can earn with it & the process is pretty simple which means that it's absolutely perfect for people that don't have much experience.
Some wealthy affiliates even earn as much as 5-figures per month... Or more!


I mean don't get me wrong, that kind of money won't just fall into your lap without doing any work... But the harder you're willing to work at it, the more you stand to earn with it.
So if you're looking to get started but don't know which route you should go down or which program you should join (and don't want to waste money on bogus things that don't actually work), then I'd highly recommend checking out Commission Academy first. You can learn more about it here.