Earlier this morning I happened to stumble across a website named The 1K Club by Markay Latimer which claimed it could enable me to become a part of a special group of traders.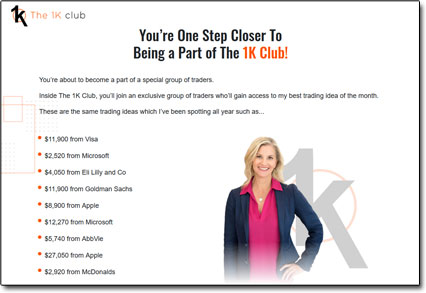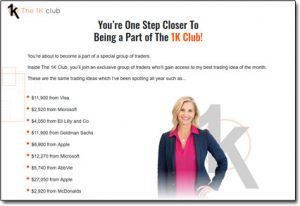 The website stated that by becoming a part of the trading group I'd be provided with access to Markay Latimer's best trading idea of the month & that I could find myself earning literally thousands per month.
And I'm sure you'll agree, that sounds great… Right?
But as you've probably guessed, there was a catch – and that "catch" was that in order to actually become a part of the group, I had to firstly hand over some of my own hard-earned cash.
So what's the deal? Is The 1K Club legit?
Or is it simply yet another trading scam to avoid?
Well, the good news is that you've landed in exactly the right place to find out because I've taken a closer look into it & in this 1K Club review I'm going to be revealing everything you need to know.
What Is The 1K Club?   |   Who Is Markay Latimer?    |   What Do You Actually Get?   |   What Are The Costs?   |   Is The 1K Club a Scam?   |   A Better Alternative
What Is The 1K Club?
The 1K Club is an online stock trading course that's been put together by a lady named Markay Latimer, who a self-taught trading expert most well-known for reportedly managing to turn $2,000 into $2 million over the period of 2 just years.
Through The 1K Club's website, you're told that you'll be given access to a stock trading course created by Markay herself which allegedly reveals how she identifies winning trades and how she executes on those ideas from start to finish.
And on top of that, you're also promised you'll be provided with access to Markay's best trade idea each month, which could help you make an extra $1,000 or more (as per her claims).
But no doubt you'll agree with me when I say that it sounds a little bit "too good to be true"… And when it comes to promises of easy money online it's safe to say that you have to be very careful.
So one of the main reasons that you found yourself coming to this review of The 1K Club was probably to find out whether or not it was actually legitimate… And the good news is that I can immediately confirm that it is.
I mean it's by no means a "sure-fire" way to earn money (and there is still the potential for you to LOSE money with it) but Markay Latimer is the real deal & her training & recommendations are legitimate.
She's also very upfront about what her program consists of as well, in my opinion, and she doesn't seem to go too overboard on trying to trick you into buying it through the use of false promises.
I'll explain exactly what you actually get access to inside (as well as the costs involved) in just a moment, but first, let's take a closer look into Markay herself since she's the one providing the training…
Who Is Markay Latimer?
Prior to stumbling across Markay's The 1K Club, Markay Latimer wasn't actually a name I'd ever heard of. Then again, I'm not entirely "big" on trading as I believe there are better alternative means of making money.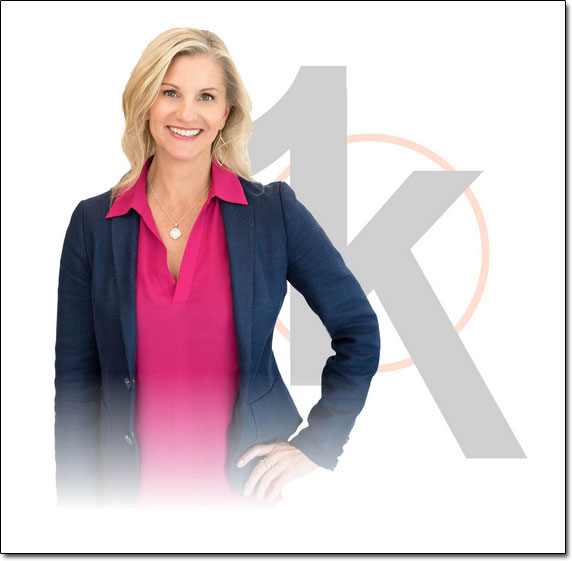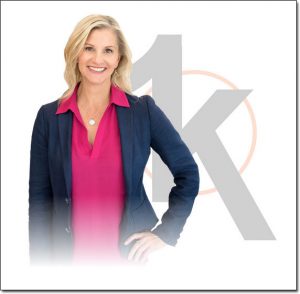 However, since the entire 1K Club is essentially based around Markay Latimer, I decided to do some research… And it's safe to say that surprisingly, I actually found myself pretty impressed.
It turns out, that funnily enough despite Markay now being a professional stock trader, she actually started out life having quite a major struggle with her maths. On her own about page, she even claims that she failed her first algebra class.
As a result, she ended up pursuing arts instead – graduating with a BA of Arts in the College of Communications… But later came to realize that arts just didn't quite pay the bills.
She claims that her "breakthrough" came years later after discovering a book about the stock market on her mother's bookshelf.
After discovering the book she reportedly threw herself into studying and researching the stock market and options strategies… And after a lot of hard work and study, she began seeing some success.
Those successes grew & later, she found herself turning $2,000 into $2 million… Which is definitely pretty amazing, especially since she was entirely self-taught on the markets.
In 2017, Markay then went on to start her own company, offering what she claims to be the online classes, guidance, and advice that she wishes she'd had when she was learning to trade.
She even claims that her system has helped thousands of people grow their personal wealth in the stock market… And through The 1K Club, she claims that you can be one of the next success stories.
So, with that in mind…
What Do You Actually Get In The 1K Club?
Inside of The 1K Club, you get various forms of training which are all geared towards helping you to begin trading successfully. There are some videos, but the bulk of the material is in PDF format.
Here's a breakdown of the exact things you get:
The 30-Minute Trading Day Blueprint
This is a PDF booklet that explains how Markay's system works & it also runs over her 3 favourite patterns to trade. You're also led to believe that you'll be able to learn how to trade 100% risk-free, but NO trading is risk-free. In fact, Markay's website even displays a high-risk warning, despite claiming to be 100% risk-free, so I was a little disappointed by this claim.
Training Videos
Alongside the PDF training that is offered by Markay, there are also some training videos that you can access as a member. This includes a masterclass that teaches you step-by-step how you can begin trading with as little as $500.
The Markay Market Breakdown
At the end of each month, Markay sends out a breakdown of the market outlining her thoughts & sharing what she believes you need to look out for in the next month (such as upcoming trends).
Urgent Trading Updates
You'll receive urgent updates if Markay believes there's any quick action you need to take so that you put yourself into a better position to secure your profits in the event of things changing.
Monthly Trading Idea
One of the biggest selling points of Markay's program is her monthly trading idea. It's a simple idea that she sends out once a month claiming that it could potentially make you $1,000 or more. Her monthly "top pick", if you like.
You Might Also Like:
What Are The Costs?
When it comes to online trading courses, the courses are usually extortionate. Typically they'll be hundreds of dollars & I've even seen several of them ranging in the thousands.
Thankfully, not The 1K Club.
In fact, I actually got quite a shock at the price of The 1K Club. Standard membership is just $49 for a whole 12 months, or $279 if you opt for the VIP option which gives you some extra benefits (such as the VIP monthly mastermind call.)
That's pretty darn reasonable for what you get, in my opinion, and it also comes with a 12-month moneyback guarantee.
I think it's actually one of the first make-money related programs I've ever seen to come with such a long guarantee. I mean, whether they honour it or not is another thing… But hopefully, you won't have to put that to the test.
Either way, it seems Markay is doing things pretty responsibly with her program.
Is The 1K Club a Scam?
When it comes to online trading courses you do have to be very careful indeed. More often than not they're either flat-out scams (as outlined in my Instagram Forex traders scam post) or extremely overpriced.
In the instance of The 1K Club, however, things are very different.
The 1K Club, as far as I'm concerned, is a perfectly legitimate program… And it's one of the first-ever trading programs that I've actually leaned towards thinking about recommending.
It provides good value for money, and you're learning from an expert.
The only reason I'm NOT going to be recommending it is simply because I believe there are better ways to earn money online, without putting your money at risk on trades.
And one of those ways is a way named affiliate marketing…
Through affiliate marketing, you can earn commissions by simply connecting people with the products or services that they're looking for online & it's really easy for anybody to get started with.
So if that's something you'd be interested in instead, I'd highly recommend you check out Commission Academy. It's at Commission Academy that you'll get the tools, training & resources you need to see success, all in one place.
But if you're dead-set on trading then, by all means, feel free to try out The 1K Club… Just remember that it is not a "guaranteed" way to make money & should not be seen as one.
Either way, whatever you decide to do I just hope that my review of The 1K Club here has given you a good insight into what to expect from the program & helped you to determine its legitimacy.
Feel free to leave any comments or questions below.
A Better Alternative
The sad truth is that unfortunately most of the programs promising to help you make money online are scams. I can say that confidently after exposing over 500+ of them here on this blog.
But the good news is that even though most of them are indeed scams, there are actually some very good programs in amongst them - some programs that can truly help you to earn money.
And out of all of the legit programs I've seen, the one I would recommend the most to anybody looking to get started online is Commission Academy. In my own opinion, that's the best place to start.
At Commission Academy, you'll be provided with everything you need (including the training & tools) to begin earning real money by promoting products or services for companies like Amazon online.
The best part is that there's literally no limit on the amount you can earn with it & the process is pretty simple which means that it's absolutely perfect for people that don't have much experience.
Some wealthy affiliates even earn as much as 5-figures per month... Or more!


I mean don't get me wrong, that kind of money won't just fall into your lap without doing any work... But the harder you're willing to work at it, the more you stand to earn with it.
So if you're looking to get started but don't know which route you should go down or which program you should join (and don't want to waste money on bogus things that don't actually work), then I'd highly recommend checking out Commission Academy first. You can learn more about it here.