The Crypto Coin Sniper system claims to provide you with access to a "little known secret" that will allegedly enable you to begin making thousands from the cryptocurrency market, even if you have absolutely no idea about cryptocurrency at all…
You're led to believe that all of the hard work has been done for you & that after joining the system you can simply "push a button" to begin making money… But is it actually legit or Crypto Coin Sniper a scam that'll just end up taking money from you instead?
Thankfully if that's what you've been trying to find out you can rest assured that you've landed in the right place as I've took a closer look into it to see how it all works & in this review I'll be uncovering everything you need to know. 🙂
What Exactly Is The Crypto Coin Sniper System?
The Crypto Coin Sniper system is a newly launched piece of cryptocurrency auto-trading software & it's supposedly been put together by a professional trader named Paul Scott, though there's no verifiable evidence proving that Paul is actually a real person.
You see I've seen several other similar so-called automated cryptocurrency trading systems in the past (such as the Crypto Cash System) & many of them have used fake aliases to hide the true creators… And the reason they want to stay hidden is because in reality they're just set out to part people with their hard earned cash.
So when the creator of a system like this is unverifiable it's safe to say I quickly become pretty suspicious about the whole thing.
And I'm not gonna lie there are plenty of other things that make me suspicious about it too – such as the fact that the software claims it can make you as much as $3,000 per day right from the very same day you get started – yet only costs $37 to access.

Why on earth would somebody sell a piece of software that could make people $3,000 per day on complete autopilot for such a small amount? You may as well either give it away for free, or charge the millions of dollars that it would truly be worth.
Charging $37 doesn't seem to make sense, unless of course it's a scam…
But is it a scam? Or can you actually make any money with it at all? Let's take a look…
How Exactly Does The Crypto Coin Sniper System Work?
You're told that absolutely everything has been done for you & the way it supposedly works is pretty simple – you sign up, deposit some money, hit "start" & begin generating hands-free profits.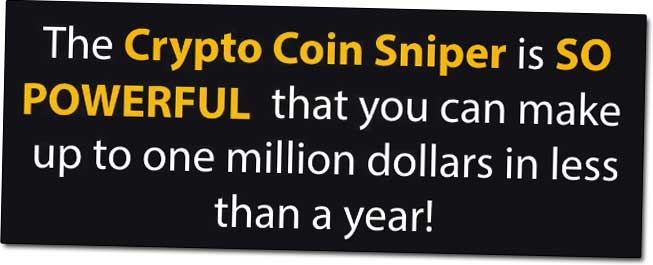 Sounds nice right? After handing over the $37 you'll have access to a system which will pump thousands of dollars into your bank account on a continuous basis without you having to do anything at all.
Okay okay, time to wake up!
It's certainly a nice dream but sadly there's no way that will happen in real life – the whole system is just another bogus platform & like I mentioned above in this review in reality it's just been setup to make the creator wealthy, not you.
I mean sure, you do actually get access to an automated trading system as promised but it definitely won't make you guaranteed profits like Paul claims it will. Instead it'll likely make you nothing but losses.
But by this point Paul won't care because he's already got his money from you. You've paid $37 to access the program (which he's pocketed) and then you'll be forced to deposit via a broker he's affiliated with meaning he's pocketed more money from you again.
So even if you manage to get a refund on the $37 program fee he'll have still made money at your expense because the broker that he referred you through will have paid him a pretty hefty commission.
Basically it's a win-win for Paul (or whoever the real creator is) and a lose-lose for you.
Classic Get-Rich-Quick Style Trap
The Crypto Coin Sniper system basically just plays on the classic get-rich-quick style trap. You're promised the world but told that you'll need to hand over a fee in order to get access to it…
You can usually tell these types of systems a mile off because they never give away any information about the actual method that you'll be getting access to and they never fully explain how it all works.
Instead you're told that all this information is just reserved until you hand over your money…
But the guys behind these things are clever – they make the whole thing seem so tempting, and they make you believe that maybe it could work to trick you into handing over your cash… But it's then that you've been scammed.
After handing over your cash you'll discover the hard way that the system doesn't actually work as promised & then the creators will typically make it very difficult for you to get any of your money back. They'll either just ignore your refund requests or they'll simply point blank refuse them.
The good news in this particular instance though is that the Crypto Coin Sniper program is being sold via a 3rd party company named ClickBank, so even if the creators of the Crypto Coin Sniper refuse to give you a refund you should still have a good chance of getting your money back by contacting ClickBank directly. ?
My Verdict – Is Crypto Coin Sniper a Scam?
Yes, in my opinion the Crypto Coin Sniper is indeed a scam. As far as I'm concerned rather than being set out to help you make money like it claims the whole thing has just been set out to take money from you instead.
If you do happen to sign up to the program for the fee of $37 (which I don't recommend) then you'll just be left to find out the hard way that the whole thing doesn't work as promised & instead of making money you'll just end up losing it.
The good news though is that if you are still looking to make money online there are indeed legitimate programs out there like Commission Academy where you can learn the proper ways to do it. All you have to understand though is that there is no "autopilot" way to make lot's of money… It takes work.
If you are prepared to put in the work though then programs like Commission Academy can certainly help you there's no doubt about that.
But anyway it's safe to say that I am not going to be recommending the Crypto Coin Sniper system to you because as far as I'm concerned it's just total junk & it'll result in you wasting money not making it.
Hopefully though this review has helped you dodge it & keep hold of your hard earned cash. If you do happen to have any further questions or comments though then don't hesitate to leave them below & I'll get back to you as soon as I can. 🙂