When it comes online money-making opportunities, for one reason or another – the claims often go beyond the reader's imagination. The Crypto Cash System is yet another apparently attractive platform claiming a once in a blue moon opportunity to turn pennies into gold, possibly in a year, and even a week if you happen to invest at the right time.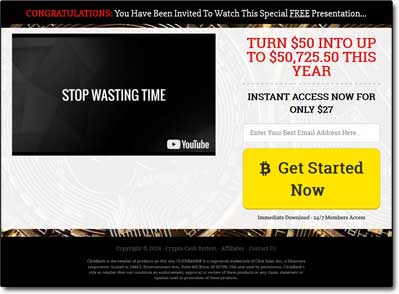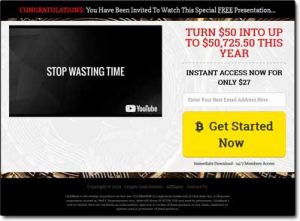 Even if you force your mind to believe what's claimed in the 19-minute video presentation you can't distance you thoughts from doubts. There's no doubt that people made millions investing in Bitcoin but gone are the golden days. The downfall by the end of the year 2017 has already triggered sceptical fears. I've decided to dig a bit deeper to present an unbiased Crypto Cash System review.
If you're not sure whether to test this system or to call it a Crypto Cash System scam then you've landed just the right place. You need to dig deeper before the stream of emotions takes you away.
As you begin watching the video presentation it catches your attention and almost convinces you to believe that nobody lives life but a millionaire. This is where the psychology makes its move and forces you to consider the unrealistic return for just a $50 investment.
Some would say, "OK! It is just a mere $50 loss if it doesn't pay back so no worries, but what if it actually hits the jackpot?" But wait, you don't need to worry about confusing thoughts as I'm going to throw light on what Crypto Cash System really is, how it works & whether or not it's a scam.
What Is The Crypto Cash System?   |   How Does The Crypto Cash System Work?   |   Is The Crypto Cash System a Scam?   |   A Better Alternative
What Is The Crypto Cash System?
The Crypto Cash System features an amazing advertising header encouraging its visitors to invest $50 for a massive $50k+ return within a year. I consistently come across such claims, especially when searching for the best work from home or online passive income opportunities. There is a $27 membership fee and the transaction is made via ClickBank.

The registration system is simple and quick as it only requires so email address. Clicking Get Started Now takes you to the payment page. Before paying anything, you'll surely want to go through the video presentation… However, the video doesn't actually focus on the Crypto Cash System rather it talks extensively about how much people have generated unrealistic profit. It talks about making as much a 100,000% gain if you smartly invest in digital currency through this system.
Brian Daniels is the creator of the Crypto Cash System. According to Brian, the system is one of its kind, the likes of which haven't yet been invented. He also anticipates that the second half of 2018 is going to feature another magnanimous wave in digital currency's value fluctuation but only choosing the right currency at the right time shall turn your pennies into gold bars.
Crypto Cash System is actually a program that features complex algorithms to anticipate the level of currency fluctuation. Timing is the most important factor to determine the success level. Today, we've over 1500 digital currencies which suggests that finalizing the right choice isn't that simple. Does cryptocurrency have the potential to pay back in such magnanimous proportions? Well, it has done it in the past. I purchased 52 Bitcoins back in 2012 when the price was just $19 per coin. During the same year, the magical crypto-spell worked and the price hit the $1,000 mark which took away my sleep for the good reason. I sold a few but retained 35 coins for future. In my opinion, the potential is still there.
The Claims
While watching the video, I noticed that the creator of the video didn't want to let any chart stay on the screen for over 5 seconds. It forced me to pause the video wherever any came up. When watching the video, you'll notice that the first chart is suggestive of an unbelievable 403% shift with just eight hours. Yes, you read it right, 8 hours! Close observation revealed that the x-axis (timeline) was actually squeezed to demonstrate turn 8 months into 8 hours.
Some charts actually demonstrate the true statistics, for instance, the chart featuring MaidSafeCoin trends which once grew from $0.45 to $1.13. The problem is that the immediate downfall of its value was horrible i.e. 400% steep drop. But the demonstration video never claims that the value doesn't drop so we can't call it a scam. The whole video talks about smart investment, the right choice, and super accurate timing and Crypto Cash System facilitates the members to master these three factors. It doesn't guarantee that everybody who invests $50 is going to get back $50k+.
How Does The Crypto Cash System Work?
First, you need to register with your email and purchase the $27 plan to become a member. Once you become a member, the Crypto Cash System facilitates you by presenting the best investment opportunities. Obviously, with over 1500 digital currencies, you can't manually go through the trends and charts of each currency. This program serves you as a financial advisor.
Well, I've extracted one great tip from this system at least… Which is that you've to act now if you want to invest and think of hitting the jackpot. The reason is, as soon as a coin grabs the attention of the mainstream media, its potential for dramatic growth decreases. You've to invest before a currency earns fame. The opportunities are still there but you've to act smartly. Brian Daniels – through the Crypto Cash System – allegedly helps the members with precious investment suggestions and expert advice.
Is The Crypto Cash System a Scam?
It doesn't guarantee a virtually impossible profit but it just talks about historical trends and future possibilities. Like any other investment advisor, Crypto Cash System claims to be an advisor. As I'm here to present an unbiased Crypto Cash System review, I'll doubt the misleading charts in the video demonstration and the fact that the charts don't stay on the screen for a few seconds. I had to copy the video link and watched it on YouTube to pause the video wherever I wanted.
Secondly, an expert cryptocurrency investment advisor will never identify himself/herself to such a nominal fee ($27) while offering 24/7 support.
As far as the claims are concerned, we never know which currency boosts at which time and we can't marginalize the possibility. There are rumours that some governments are thinking of launching their own digital currencies backed by their state banks. It doesn't seem possible until 2025. I haven't registered with Crypto Cash System so I can't tell you exactly what happens once you pay but based on my experience of coming across similar things before, in my opinion, the whole thing does look likely to be a scam.
I mean the truth is you can make good money online, but the internet is not magical & there is no system out there that is just going to make you rich with the click of a button like the Crypto Cash System claims it will. If you really want to make good money then you must be prepared to put in at least some degree of work to make it happen.
The good news though if you are prepared to put in the work is that there are plenty of proven & legitimate opportunities out there such as Commission Academy that you can get started with. It's at a place like Commission Academy that you'll get all the training & tools you need to find real success online & in my opinion, it would be much wiser to get started with a proven program like that than to try your luck & risk money with a system like the Crypto Cash System.
A Better Alternative
The sad truth is that unfortunately most of the programs promising to help you make money online are scams. I can say that confidently after exposing over 500+ of them here on this blog.
But the good news is that even though most of them are indeed scams, there are actually some very good programs in amongst them - some programs that can truly help you to earn money.
And out of all of the legit programs I've seen, the one I would recommend the most to anybody looking to get started online is Commission Academy. In my own opinion, that's the best place to start.
At Commission Academy, you'll be provided with everything you need (including the training & tools) to begin earning real money by promoting products or services for companies like Amazon online.
The best part is that there's literally no limit on the amount you can earn with it & the process is pretty simple which means that it's absolutely perfect for people that don't have much experience.
Some wealthy affiliates even earn as much as 5-figures per month... Or more!

I mean don't get me wrong, that kind of money won't just fall into your lap without doing any work... But the harder you're willing to work at it, the more you stand to earn with it.
So if you're looking to get started but don't know which route you should go down or which program you should join (and don't want to waste money on bogus things that don't actually work), then I'd highly recommend checking out Commission Academy first. You can learn more about it here.