In this review, I'm going to be taking a look at the new cryptocurrency DasCoin which claims to be the next step in the evolution of money.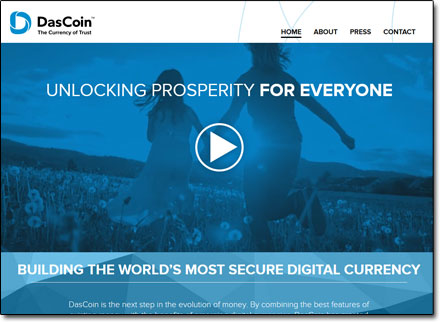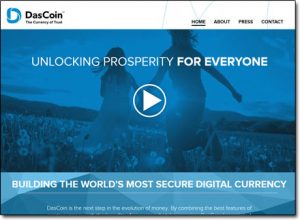 It's said to be allegedly "unlocking prosperity for everyone" & reckons it's the currency of trust.
But can we trust it? Or is DasCoin a scam currency that's going to disappear a few months down the line & leave you with less money than you started with like we've seen so many times before?
That's exactly what I'll be uncovering here in this DasCoin review, so if you've come across this currency & have been wondering if you can make money with it then you can rest assured you've landed in the right place to find out.
What Is DasCoin?   |   The Problem   |   Is DasCoin a Scam?   |   A Better Alternative
What Is DasCoin?
Firstly let me start out by saying that DasCoin is extremely similar to something called OneCoin so if you have any experience with that then you'll probably already have a good idea as to how DasCoin works.
It's also worth mentioning that OneCoin – the extremely similar currency has had a lot of legal trouble (mainly in countries like Italy & Germany) where the governments have slammed OneCoin as being nothing more than a pyramid scheme.
So that doesn't bode well for DasCoin as the OneCoin model is very similar indeed (only it seems that DasCoin doesn't have any products at all) so long-term sustainability is certainly an issue in my opinion.

Anyway, for those of you that haven't already come across OneCoin let me explain how DasCoin works…
Basically, if you want to invest in DasCoin you must do so through a company called NetLeaders where you'll need to purchase a license. You can pay for your NetLeaders license in real money (between €100 to €25,000) and the more money you pay for the license the higher the value you'll get from your DasCoins.
You can then use this license to gain access to the DasCoin network named DasNet.
However, since DasNet claims that it will only ever produce a total of 8.5 million coins you don't get all of your DasCoins given to you in one go. Instead, DasCoin operates an affiliate program & in order to retrieve your coins you'll need to refer new investors into the program.
The amounts of coins that you'll be awarded for referring new investors depends on the package that they bought when they joined – the higher the package the more coins you'll have released to you.
To get started though you too will have to buy a package & the money you'll be able to make through the DasCoin opportunity is also dependent on which package you buy as each package offers different cycles & upgrades as you can see below:
Standard – invest €100 EUR – receive 1265 cycles and 1 upgrade
Manager – invest €500 EUR – receive 6325 cycles and 1 upgrade
Pro – invest €2000 EUR – receive 27,600 cycles and 1 upgrade
Executive – invest €5000 EUR – receive 74,750 cycles and 2 upgrades
Vice-President – invest €12,500 – receive 247,500 cycles and 2 upgrades
President – invest €25,000 EUR – receive 373,750 cycles and 3 upgrades
The cycles do vary but I'm not going to go into great detail on the compensation plan because it gets extremely confusing & as you continue to read this review you'll see why I won't be recommending DasCoin at all.
There's a Clear Problem…
The problem here is that it's clear to me DasCoin is heavily based around recruiting. I mean there's absolutely no product involved at all (other than the NetLeaders license which isn't really a product) so the money getting paid out to investors is completely reliant on the money coming in from new investors.
Therefore once the investments stop there will be no new money coming into the company & since DasCoin themselves claim they'll be limiting production to 8.5 million coins I just don't see how this company can be sustainable.
The people who buy in just before the new investments stop will not make any money, since there will be no new money coming into the company so it doesn't make sense & it looks to me like this company is set to crumble from the start.
This is not a real cryptocurrency investment – it's an MLM scheme (or straight out Ponzi scheme) there are no 2 ways about it. You invest, then you earn money by recruiting people who also invest below you.
Is DasCoin a Scam?
Well, I think "scam" is a bit of a harsh word as DasCoin is not a company that is set out to purely take your money & run – they do give you the opportunity to earn money back through their "scheme" but ultimately a scheme is all it is & a very risky one at that.
I feel like DasCoin has merely latched onto the hype surrounding Bitcoin & is targeting people who might not be too knowledgeable about cryptocurrencies, making them feel like it's going to be the "next big thing" when in reality there doesn't even seem to be any outside value to a DasCoin as it's not publicly traded.
So this certainly isn't something I'm going to be recommending to you because it's blatantly a case of investing money & then making your money back by getting other people to invest in the same scheme.
Personally, I don't see why people would want to get involved in such a thing because it's way too risky & when buy-ins range from €100 to €25,000 you could see yourself losing an awful lot of money when the company inevitably collapses. All I can imagine is that the people who are getting involved with these schemes are getting involved by accident because they don't know a great deal about cryptocurrency & believe it's a sound investment (which it's absolutely not).
Regardless people must be investing though because I've seen several of these schemes launch recently, in fact just last week I reviewed a company named Xtreme Coin which operated in a similar manner to DasCoin.
A Better Alternative
The sad truth is that unfortunately most of the programs promising to help you make money online are scams. I can say that confidently after exposing over 500+ of them here on this blog.
But the good news is that even though most of them are indeed scams, there are actually some very good programs in amongst them - some programs that can truly help you to earn money.
And out of all of the legit programs I've seen, the one I would recommend the most to anybody looking to get started online is Commission Academy. In my own opinion, that's the best place to start.
At Commission Academy, you'll be provided with everything you need (including the training & tools) to begin earning real money by promoting products or services for companies like Amazon online.
The best part is that there's literally no limit on the amount you can earn with it & the process is pretty simple which means that it's absolutely perfect for people that don't have much experience.
Some wealthy affiliates even earn as much as 5-figures per month... Or more!

I mean don't get me wrong, that kind of money won't just fall into your lap without doing any work... But the harder you're willing to work at it, the more you stand to earn with it.
So if you're looking to get started but don't know which route you should go down or which program you should join (and don't want to waste money on bogus things that don't actually work), then I'd highly recommend checking out Commission Academy first. You can learn more about it here.